Constructors
Red Bull Racing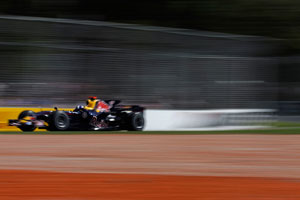 In November 2004 Austrian energy drink firm Red Bull, a longtime Sauber sponsor, bought Jaguar Racing from the Ford Motor Company. Red Bull boss Dietrich Mateschitz announced that the management of the team would not be changed and appointed Tony Purnell to be the team principal of the new Red Bull Racing. The team would continue to be run by managing-director David Pitchforth. In the weeks that followed the team hired ex-McLaren driver David Coulthard but there was much discussion as to whether the team should retain Red Bull protege Christian Klien or take on Vitantonio Liuzzi, the Formula 3000 champion of 2004 who outshone Klien in testing in the winter months. In the team this led to a crisis with Mateschitz dumping both Purnell and Pitchforth and taking on Arden International Formula 3000 team boss Christian Horner to run the F1 show. The team also took on Gunther Steiner to be the new technical director and he quickly moved to build up the technical team. The Austrians decided to give Klien a chance to prove himself and in the course of 2005 edged Liuzzi into the role of test driver. The team continued to make headlines off the track by hiring Adrian Newey at the end of the 2005 season.

For 2006 Liuzzi was pushed out to Scuderia Toro Rosso but Klien was still overshadowed by Coulthard, although neither did very well as the car was not a success because of serious cooling problems. It was not long before the new technical management ruled that development waste of time and energy and that it would be better to concentrate everything on the 2007 car.

Although having plenty of money and some star names, the team lacked performance. After lengthy discussions over Red Bull Racing's obligation to continue to use Ferrari engines for 2007, the team announced they would use Renault engines instead and the Ferrari contract was passed on to junior team Toro Rosso.

In an odd move given all the investment that Red Bull had made in promoting young drivers, Mark Webber was signed on to join David Coulthard in a season which started with Coulthard colliding with Alexander Wurz of Williams in Australia. The team's best performance that year was when Webber managed a podium finish at the European Grand Prix, with Coulthard also finishing fifth after starting 20th.