Drivers
Mark Webber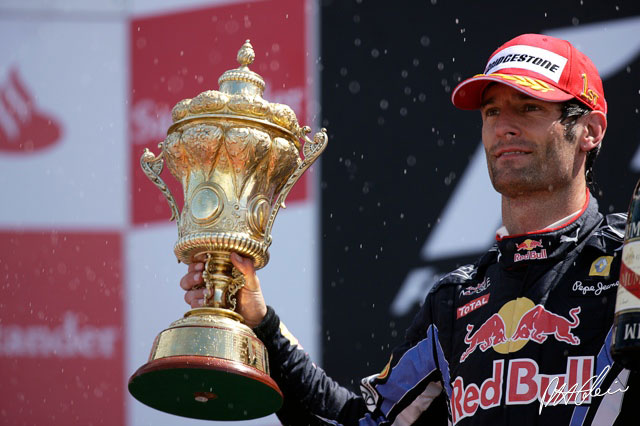 The son of a motorcycle dealer Webber started out in motocross but then switched to karts but he was more interested in other sports in his teenage years and although he watched F1 on the television it was not until 1993 that he began to get serious about the sport and won the New South Wales state karting championship. The following year he moved into Formula Ford and ran his own team and at the end of 1995 he went to Europe and talked his way into a test with Van Diemen and was asked if he would like to race a works car in the Formula Ford Festival. He did well and Ralf Firman offered him a drive for 1996. He did not win the title but he did win the all-important Festival at the end of the year. He did a deal to drive for Alan Docking in the British F3 series but struggled for money. Despite this he won at Brands Hatch and this helped him to find support from Australian rugby legend David Campese, who produced some much needed finance in the midseason. His performance attarcted the attention of Mercedes-Benz motorsport boss Norbert Haug and having no money for 1998 Webber decided to join the Mercedes-Benz sportscar team as team mate to Bernd Schneider. This gave him many miles of invaluable testing in powerful machinery but Webber decided to call it a day in 1999 after he survived not one but two flips at 185mph at the Le Mans 24 Hours because of an aerodynamic problem. Webber decided to try to get into F1 and was introduced to Paul Stoddart by Eddie Jordan. Stoddart was building up his Formula 3000 team and agreed to finance Webber for the 2000 season and he finished third in the championship. This led to a testing deal with the Benetton F1 team and a drive in 2001 with the Super Nova Racing F3000 team. Webber fought for the title with Justin Wilson but lost out at the end of the year but despite this he was signed to drive for Minardi (now owned by Stoddart) in 2002. Webber's debut in Australia was a miraculous affair with the Minardi coming home in the points for a fairytale finish. The rest of the year underlined Webber's promise and he was duly signed by Jaguar Racing for 2003.There followed two frustrating seasons with the team before Webber was hired by BMW Williams for 2005. The timing was bad as Williams and BMW were about to split and performance dropped off, although Webber finished third at Monaco. He stayed with the team in 2006 but it was a tough year with the team suffering from reliability problems. Webber was in a position to win at Monaco but the car failed him and at the end of the year he signed for Red Bull Racing for 2007.

2007 proved to be another tough season for Webber and Red Bull. The RB3 was the first Red Bull designed by Adrian Newey, but it took time for his ideas to be implemented and reliability was a problem. While Webber's qualifying prowess meant that he usually started in the top 10, he didn't score a point until he finished seventh in round seven in the USA. He took third in Germany, the team's only podium, but with only one more seventh place to his credit he ended up 12th in the championship. Webber might have finished second in the rain in Japan, but was knocked out of the race after being hit by Sebastian Vettel while the cars were running behind the Safety Car.

Webber managed nine finishes in the points in 2008, including five consecutive races early in the season, but only moved up to 11th in the drivers' championship. Still, as in 2007, he outscored his vastly more experienced teammate David Coulthard. His best race was Monaco where he took fourth. He qualified second in Britain but spun in the rain on the opening lap. The Red Bull was far more reliable in 2008, but it level of competitiveness dropped off in the second half of the season.

Webber had broken his leg and shoulder in a nasty cycling accident in Australia in November 2008, and while not 100 percent fit he was ready to race in 2009. Throughout his F1 career Webber had managed to beat or match his teammates, but he faced his stiffest challenge ever when Vettel, 13 years his junior, joined Red Bull in 2009. That point was proved when Vettel beat Webber to win in China and gave Red Bull its first F1 victory. Still, by midseason the duo were equal in points. Webber earned his first ever F1 pole in Germany and dominated the race even though he had to serve a drive through the pits penalty for barging over on Rubens Barrichello just after the start. Another dominating victory came in Brazil. Four second places and two thirds helped Webber place fourth in the final standings. But Vettel finished second and challenged for the title.

Red Bull insisted that it treated its drivers equally, but there were several times during the 2010 season that Webber definitely felt that Vettel was the team's favored son. Vettel outfoxed Webber to win in Malaysia, but Webber was utterly masterful in Monaco, Spain, England and Hungary. He also earned six other podium finishes. The Red Bull Renault RB6 was the class of the field in 2010. Webber led the championship on three different occasions while Vettel was hampered by driving errors and mechanical failures. Had he not spun out in the rain in Korea, Webber would have won the championship, but it's not fair to pin things on that one race. Where Webber really lost out was in qualifying where Vettel would often beat him by less than a tenth of a second. That tiny margin was enough to put the German, who had 10 poles, ahead of the Australian, who had five poles, in the races. Vettel outperformed Webber in the final four races. Although Webber was ahead of Vettel in points, a lackluster race in the season finale in Abu Dhabi by Webber meant that he ended up third in the championship while Vettel won the title.