United States GP 2015
OCTOBER 26, 2015
Race Report - An Amazing Feeling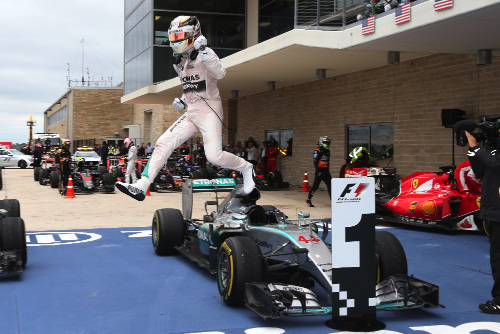 © Active Pictures
BY DAN KNUTSON AT THE CIRCUIT OF THE AMERICAS
What does it feel like to win the world championship for the third time?
Amazing!
Lewis Hamilton clinched his third world championship after winning a dramatic and thrilling United States Grand Prix in his Mercedes.
When none other than Sir Elton John did the post race interviews on the podium he asked fellow Brit Hamilton how he was feeling.
"Amazing!" came the reply. "Firstly, thank you so much for coming up here today and being here. I want to say a huge thank you to the whole crowd, for coming out and staying through the rain and staying with us. I hope we put on a good show for you today. But I can't really find the right words right this second to tell you how amazing this feels.
"I couldn't have done it without this team who have empowered me for the last three years and really taken me on board and really helped nurture me with the car and just faultless. I love you guys, thank you so much for everything you do for me. And all the guys back at home. And then, my family who are watching. I love you all."
It was a see-saw race for Hamilton who squeezed by Mercedes teammate and pole winner Nico Rosberg in the first corner " they rubbed wheels " and led for 14 laps. It was a see-saw race for many of the drivers including Daniel Ricciardo who took the lead on lap 15 in his Toro Rosso and held it until lap 21.
The track was still wet for the first 18 laps, and the drivers all started on Pirelli's intermediate rain tire. The changeover to slicks came just before the 20 lap point. While Ricciardo and his Red Bull teammate Daniil Kvyat had been quick in the wet, they struggled in the dry.
Then it was Rosberg's turn out in front until he made a pit stop at the end of lap 38. Back into first went Hamilton but he was on worn tires. Yet when the safety car came out after Daniil Kvyat banged his Red Bull into the wall at the end of lap 42, Hamilton was able to dive into the pits at the end of lap 43 for a fresh set of tires.
Rosberg led laps 44 through 46, but then he ran wide and Hamilton dived through to take over first place and went on to win the race and the championship.
"I just got wheel spin," Rosberg said. "It's never happened to me, ever. Not even in testing or racing, never, ever something like that. I can't explain it; it's unbelievable. I don't know. Just need to look into it afterwards but obviously that was really, really tough at the time, to lose the lead like that and to lose the win, because I was feeling really good at that point and it just went wrong."
A dejected Rosberg finished second, and a delighted Sebastian Vettel, who had started 13th in his Ferrari, finished third. Vettel tried a different tire strategy by going to the medium compound slicks rather than the soft tires like most of the other drivers. The idea was to go to the end without a second pit stop, but then another safety car came out so his competitors could pit for fresh sets of softs.
"Today it was another great race, a great recovery and the car was fantastic," Vettel said. "I think you can't ask for more if you start from P13. A good first lap helped a lot and after that we had the pace, especially changing to the dry tires in mixed conditions. We seemed to fly for a few laps, a couple of seconds quicker than everybody else.
"Maybe without the last safety car we could have won the race: but if 'ifs' and 'buts' were candy and nuts¦ It was a difficult race and we managed it very well."
Max Verstappen finished fourth for the second time in his rookie season. He too had many a fight on the track.
"There were some very good battles out on track," the Toro Rosso driver said, "and I'd say this was the most complete ace of the season so far, everything worked out as it should have: I made no mistakes and the team did a perfect job with the strategy, making all the right calls."
Sergio Perez took fifth in his Force India.
"The track was very damp to begin with and I was lacking pace on the intermediates " sliding around with a lot of degradation," he said. "Then, when we switched to the softs and eventually the mediums, it was not easy to get the temperature in the tires and I struggled for grip with each restart. There was so much happening in the race and you really had to concentrate because it was very easy to make a mistake.
"In the final few laps I was getting close to Max Verstappen who was struggling on the soft tires, but there was not enough time to catch him."
Jenson Button finished sixth in the McLaren Honda.
"This was a strategic race today " and, strategy-wise, we did a perfect race," he said. "The team should be very happy with what we achieved; we made all the right calls, but still we need to go away and look at our lack of performance.
"In the opening laps, I really enjoyed racing in the drying conditions, and I felt like I was able to make a bit of a difference. We got onto slicks before the others, and made the right calls, but, once it was dry and everybody knew where to brake, it became a lot more difficult for us. We just couldn't match the others' pace once they all found their feet."
His teammate Fernando Alonso ended up 11th but could have finished much higher.
"This was one of the best races of my career," he said. "To be running one minute behind the penultimate car on lap two, and then be running as high as fifth position with 10 laps remaining was quite a feat.
"After such a strong recovery, it was a shame that a mechanical issue in the closing laps put us out of the fight. That meant my feelings after the race were more sad than happy " but we can go away and continue to try to improve these issues."
Ricciardo snatched 10th from Alonso on the last lap.
"The beginning was really fun between both Mercs and both Red Bulls," Ricciardo said. "It was a good four-way battle. To see the Mercs not getting away from us was awesome. I was enjoying that. In the lead we were quite quick for a few laps and it felt like old times.
"That obviously didn't last long and once we put the slicks on we just didn't have the pace. We struggled with the warm up with the tyres and also struggled a lot with braking today. It was so tricky in the dry and then obviously there were the collisions with Hulkenberg and Carlos Sainz. It went downhill from then on."
At least Ricciardo did not end up in the wall like Kvyat did.
"The opening laps were mega," Kvyat said. "It was very enjoyable and it was nice fighting, but then the track dried out. If it was a wet race I felt it could have been a victory today. It's easy to say that, but there's no point really, because once it dried out we were an easy target for everyone, which was a bit frustrating.
"We weren't able to be as competitive in the dry as in the wet so we'll have to have a look at that. In the dry, I was driving a bit over my limit when I crashed, I put the wheels on the artificial grass, tried to carry a bit more speed but it didn't work out."
It certainly all worked out for Hamilton who won a race that say battles galore and thrilling action throughout the 56 laps.
"I just can't believe it," Hamilton said. "Honestly, I really, really can't believe. It's not even the end of the season yet and I can't believe how well this year's gone; how amazing my team has been. Sitting in front of you (media) guys for, God knows how many times I've been up here, but it never gets old and I just feel incredibly grateful right now and extremely humbled and excited.
"Today, there were so many times I thought I'd lost the race. I'd fallen back and then Nico (Rosberg) pitted under the safety car and he was really quick at one stage but I never for one second believed that I couldn't second and then we pushed and pushed.
"It is a very humbling experience, especially to equal Ayrton Senna who meant so much to me and still does today."
"I have no idea what I'm doing next. I'm going out of here, I know I have to stand in front of some cameras; I'm going to hug lots of people. I definitely need to have a drink after that race. Yeah, just continue to enjoy this life and the many blessings that are around me."
An amazing feeling indeed.