United States GP 2013
NOVEMBER 16, 2013
Saturday Team Quotes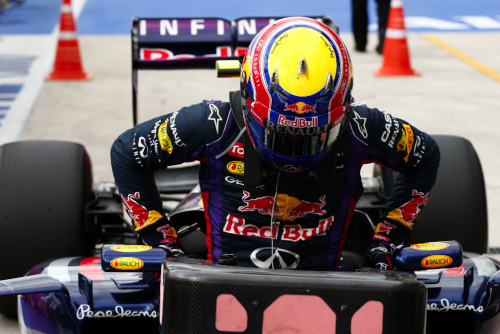 © Active Pictures
Red Bull-Renault
Sebastian Vettel (1st, 1:36.338): "It's obviously great for the team to have both cars on the front row for tomorrow. It was a tricky session as the wind had picked up quite a bit since this morning; it does influence the behaviour of the car and it's not that easy, especially in the corners, I wasn't that happy with my first run in Q3, but I think I had a solid run at the end which was enough. It was very close with Mark, he seemed to get closer and closer as the weekend went on, so fortunately I was just able to stay ahead. I think he might have had a mistake on his final run. I'm very happy with pole position today, I like this place and the circuit and I'm looking forward to tomorrow. It's important to start on the clean side, so we'll see what we can do."
Mark Webber (2nd, 1:36.441): "I didn't think I had done enough on the second run in Q3, we (Seb and I) both had two shots with two sets of options. The first part of my final lap was very good, I was happy with that, but I didn't quite get Turns 19 and 20; if I'd done what I did there initially in Q3, it would probably have been enough, but I tried to squeeze a bit more out and it's easy to load the car a bit too much in these conditions. Sometimes you're happy and think you've given your best, but today it slipped through the fingers. Well done to Seb, he put the three sectors together and I put two and a half together. I just dropped it in the last sector and it's not satisfying when you do that, but I'm still pretty happy with second."
Christian Horner, Sporting Director: "A fantastic performance from both drivers today in what was a really exciting Q3. It yo-yoed between Mark and Sebastian trading fastest sectors and in the end Sebastian, by the smallest of margins, managed to achieve the pole and a team front row lock out, with Mark joining him alongside. It was a great team performance and a great 40th birthday present!"
Thierry Salvi, Renault: "A great result in qualifying today, with another full front row. The gap between Red Bull and the third car emphasises the competitiveness of our package yet again: no one was able to go quicker in the US today. Both drivers challenged each other, with Mark being quicker on the first run in Q3 and then the other way on the final run. Now the baseline is done, we have to confirm that result tomorrow and push to the maximum from the start of the race. Let's see how it goes."
Ferrari
Fernando Alonso (6th, 1:37.376): "I feel reasonably satisfied with the result of today's qualifying, because after the problems we have had almost all weekend long and even in Q1, we had little hope of getting through to the third part. It just goes to show how much things can change with around ten degrees higher track temperature: here we have suffered a lot in getting the tyres to work, especially in the morning sessions, when the temperatures were lower. But looking at the pace we showed in the afternoon, I think that the sunshine predicted for tomorrow could help us to have a good race. It would be nice to make it to the podium, but my main aim is to help the team to take second place in the Constructors' Championship. In order to do that, we need to beat the Mercedes, preferably right from the start, which will condition the way the race goes, even if it will not be easy, as the dirty side of the track here in Austin is one of the worst of the year."
Felipe Massa (15th, 1:38.592): "That was a very difficult qualifying. From yesterday afternoon onwards, I haven't been able to drive the car properly, something isn't working and we haven't managed to work out why. I don't think I've got a specific problem, but there really is very little grip, both at the front and the rear and I wasn't quick on either compound. It is very strange, because Fernando managed to adapt better to the car-tyre package and I can't understand why I can't do the same, especially as I like this track a lot. I never expected to find myself struggling so much. Now we must find a solution for tomorrow, because even if it will be a difficult race, we have to do our utmost to move up the order and bring home points that will be valuable for the Constructors' classification."
Pat Fry: "Leaving aside the outcome of this qualifying, it's hard to give a clear explanation of how the weekend has gone. The performances seen up to today have been affected by a series of variables and, if one leaves out the Red Bulls, I think that for the rest of the field, it's been more demanding than usual to understand the behaviour of the cars. The changing weather and the varying levels of grip have added an extra challenge when it comes to establishing the set up and understanding the behaviour of the compounds chosen for this race. I am sorry for Felipe who didn't manage to get to Q3. Even though he gave it his all, he struggled a lot to find the right feeling, mainly because of the lack of grip. Fernando was better able to adapt and the result he got today during a very difficult weekend, is down to his great talent. Certainly our aims are higher than a sixth place, but the reduced gap to third place is a great boost for all the team to do their very best in this final part of the season."
McLaren-Mercedes
Sergio Perez (7th, 1:37.452): "Obviously, I'm very pleased, but, when you're so close to the cars in front, you still want to improve. In that respect, I'm slightly disappointed ' but if you'd told me I'd be seventh before the start of qualifying, I'd have taken it. For quali, I was just able to relax and focus. At the end of the day, I'm a racing driver ' I've been doing this my whole life. When I get in the car, I just forget about everything else and concentrate on my own performance. Tomorrow, I'll be racing in front of my own people ' that makes me feel hugely proud. I'll be starting from the clean side of the grid, I'll be hoping for a good start, and I'll be really hoping to put on a great show for all my Mexican fans."
Jenson Button (13th, 1:38.217): "I don't know what happened. I couldn't find the balance or the grip. The pace just wasn't there. That's tough, especially when we've looked pretty quick for most of the weekend. But I don't know where our pace has gone in qualifying ' it's not the first time it's happened. It wasn't necessarily the weather conditions ' other drivers seemed to cope ' although I guess it may have contributed. We'll investigate. It was weird though ' especially when you saw that Valtteri [Bottas] could go quickest in Q1 but his team-mate couldn't even get through to Q2. My three-place grid penalty means I'll be starting 16th ' that won't be ideal, as it means I'll be starting not only from a long way back but also from the dirty side of the grid."
Martin Whitmarsh, Team Principal: "Checo did a great job to end up P7 in qualifying here in Austin today, and I'm sure he'll be keen to convert his good quali form into a fine race result tomorrow. Jenson struggled a little with the balance of his car, and undoubtedly the very windy conditions didn't help. Nonetheless, despite his three-place grid penalty, tomorrow he'll be determined to force his way through the field from his lowly grid position, as we've so often seen him do to great effect in the past. Last but far from least, I hope that we at Vodafone McLaren Mercedes will be able to do our bit to make the 2013 United States Grand Prix a fabulous event. Formula 1 may not yet be as big in the United States as it is in some other countries, but undoubtedly the fans here in Austin are enthusiastic and knowledgeable, and the superb organisation we see here at the Circuit of the Americas is an excellent conduit to their entertainment and enjoyment."
Lotus-Renault
Romain Grosjean (3rd, 1:37.155): "It's not been the easiest weekend in terms of finding the right balance with the car, so to be third on the grid is a good result. We managed to go through Q1 on the hard tyre which was not the plan initially, but it was a nice surprise and gave us options for the two following sessions. It's great for the team to have Heikki [Kovalainen] in the top ten too ' especially with Mercedes and Ferrari struggling a little bit ' as we're still fighting them hard in the Constructors' Championship, so hopefully we can score good points with both cars tomorrow. Sebastian [Vettel] and Mark [Webber] were very quick today, but of course we'll do our best to round up the bulls in the race; we are in Texas after all!"
Heikki Kovalainen (8th, 1:37.715): "I knew yesterday that we had a good car, but I didn't really set myself a target for qualifying. I felt that I got pretty much everything I could from it today, as I struggled a bit compared to yesterday with the cooler temperatures this afternoon. Overall, everything's been positive so far and we got into the top ten. I'm not making any predictions, but we've seen that Kimi could do pretty well working forwards from similar grid positions so hopefully tomorrow we can have another good day."
Alan Permane, Chief Race Engineer: "We're very happy with today's performance from both drivers. Romain is once more leading the charge against the Red Bulls after a reasonably straight-forward progression through the qualifying sessions. Heikki has come in and demonstrated that he's certainly got the ability to deliver at the front of the pack; progressing through to the top ten with no real dramas despite his limited experience with our car. He's jumped into the car and delivered exactly what we've wanted from him. He qualified solidly in the top ten and has a realistic opportunity to score good points tomorrow. As we've seen this year, our car is often stronger in the race than it is in qualifying so he has great potential tomorrow; especially as he's learning the car more with every lap. Our long run pace looks good and there are overtaking opportunities here. The track has evolved well since last year, so there isn't such a hunt for grip and that should help tyre performance. We're feeling quite confident."
Mercedes GP
Lewis Hamilton (5th, 1:37.345): "That was a really tricky session this afternoon so I have to be pleased with fifth place although, of course, I'd rather have been fighting for a position on the first two rows. The car was quick out there and I had a good balance but we just couldn't get the tyres to work. The track was completely different from the final practice session this morning and it was really gusty round the back which affected our car quite a lot. In practice, the car has felt really strong this weekend so I hope we have a good set-up for tomorrow. I need to have a good start in the race and, if we can achieve that, then there is still a lot to play for."
Nico Rosberg (14th, 1:38.364): "I had real problems getting my tyres into the right working window today and it's so disappointing to have not gone through to Q3. It was all about finding the right compromise in the conditions which saw very hard tyres on a very soft track surface, and we saw a lot of surprises today as a result. Tomorrow should be warmer which will improve the situation for us but starting so far back is not ideal. We've worked a lot on our race pace so the car should be strong tomorrow and I'll be pushing really hard to move forward, overtake some guys and score good points."
Ross Brawn, Team Principal: "That was a very tough qualifying session and certainly not what we were hoping for. Our car appeared to suffer more than most in the prevailing conditions: the blustery wind was upsetting the car and it was also tricky to bring the front and rear tyre temperatures into the right window in harmony. However, conditions are predicted to be very different tomorrow, and I am optimistic that, with the set-up we have on the cars, we can achieve a decent race result."
Toto Wolff, Mercedes Motorsport Director: "A very disappointing afternoon for the team. The main challenge was to get all four tyres into the operating window with the front and rear sets working well at the same time. We clearly didn't do that as well as our competitors, which is reflected in the grid positions. But tomorrow is another day where the warmer conditions should bring the track towards us so we are optimistic that the race could play to some of our strengths."
Sauber-Ferrari
Nico Hulkenberg (4th, 1:37.296): "I have felt comfortable with the car over the whole weekend, but it was a different story in Q1 and Q2, as the wind picked up compared to FP3 this morning. It was a tail wind out of turn one and, therefore, also sector one and a bit in sector two. It was tricky, because our car is pretty sensitive to wind. But we made a few changes to it and put it all together in Q3. I think this was the maximum today for us and I am happy with my lap. P4 is a good position to start the race from tomorrow."
Esteban Gutierrez (10th, 1:38.034): "Overall it was a good qualifying. With the change of wind it was tricky to decide on how to warm up the tyres in order to get the most out of them. We discussed several strategies, but at the end we decided to do one out lap and then push. It was pretty challenging and it was not an optimal lap, but getting into Q3 is a good thing, especially here in Austin. With all the support we have here from the fans it's great to have two Mexicans qualifying in the top ten."
Monisha Kaltenborn, Team Principal: "This is a fantastic qualifying result! It's great that the team is able to continue its momentum, and with both cars. This puts us in an excellent position for the race tomorrow."
Tom McCullough, Head of Track Engineering: "Today was difficult, especially in qualifying with the increased wind levels. The engineers and drivers displayed excellent awareness of the situation to ensure we got both cars into Q3. However, there are no points on a Saturday, so today is only part one. Now we need to ensure we deliver a strong result tomorrow."
Force India-Mercedes
Paul di Resta (12th, 1:38.139): "I'm reasonably happy with today's result because this is a track that does not particularly suit my driving style. The wind picked up quite a bit before qualifying, which made the conditions tricky and I think we made the most of that. We out-qualified some quick cars today and in the end I was just a tenth away from making Q3. I was planning to go for a final quick lap in Q2, but I came across Lewis [Hamilton] on my out lap, who was cooling his tyres. It meant my out lap was compromised so we aborted the run. We can make a free choice on tyres tomorrow and we've shown recently that our performance on race day has been our strength. If we can make a good start and optimise the strategy, then points will be within reach."
Adrian Sutil (17th, 1:39.250): "It's a disappointing result today. The car has been quick through all the sessions, but things didn't go to plan today. I had to overtake a lot of traffic on my quick lap in Q1, including a Marussia going into the final corner, and that cost me the chance of making Q2. I then started another lap and suffered a brake disc failure on the front right, which ended the session for me. So I'm starting in P17 and I just hope we can do something with the strategy to try and get up into the points tomorrow."
Dr. Vijay Mallya, Team Principal: "A mixed qualifying result for Sahara Force India. Paul had a good session and made a big improvement between final practice and qualifying. He's put himself in a strong position to race for points tomorrow. Adrian was unlucky with traffic compromising his best opportunity in Q1. His final chance of a quick lap ended with a brake disc failure on the front right corner, which resulted in a puncture. It's unfortunate because he was not able to show the true speed of the car. The task for us now is to try use the strategy to bring him into contention for points."
Williams-Renault
Valtteri Bottas (9th, 1:37.836): "I really enjoyed today and I am happy with that performance. To be honest I expected a bit more in Q3 because we were competitive in Q1 and Q2. I'm very happy for the team; they've all done a great job and improved the car a lot from practice to qualifying. We are in a good position for tomorrow and we need to try and gain from this and score some points in the race."
Pastor Maldonado (18th, 1:39.351): "We have struggled this weekend and today showed that; the car doesn't feel right in terms of the tyres pressures or temperatures so we need to take a closer look at that. We got held up by a bit of traffic, which meant that we weren't able to get into Q2. We will try to do our best in the race tomorrow from the position we're in."
Xevi Pujolar, Chief Race Engineer: "The Circuit of the Americas is quite unique in terms of track layout, roughness and temperature which, mixed with the fact that the tyre compound choices are on the conservative side, makes getting the tyres working well the key to a good qualifying lap. We had better performance in FP1 and were working to bring this back in practice this morning. We had both cars on similar configurations targeting the same optimum operating window for the tyres, and knew if we could achieve this then there was potential for a good result with both cars. Valtteri got the tyres working well and put in a consistently strong performance throughout qualifying to get into Q3. We didn't quite get the tyre performance with Pastor, but despite starting 18th he always makes a good start and fights through on the opening laps, so we still expect him to move forward in the race. Overall, it was great to have Valtteri qualify in ninth and we now aim to convert a good result today into points tomorrow."
Toro Rosso-Ferrari
Daniel Ricciardo (11th, 1:38.131): "Overall, I am pretty happy with eleventh, which is clearly very close to making the cut to Q3. However in Q1 I was frustrated with the balance of the car and I felt I was quite lucky to get into Q2. I believe the wind conditions were making life tricky for everyone and I don't think I was the only one struggling. I was pretty happy with my Q2 lap even though the car was moving around a lot. Now I'm looking forward to the race: I'm just outside the top ten, I'm on the clean side of the track and I get a free tyre choice."
Jean-Eric Vergne (16th, 1:38.696): "I can't explain my performance or lack of it this afternoon. We struggled with the car right from the start of the weekend, but we had made progress overnight and improved it in FP3. Then, this afternoon, on my first run in Q1 I was struggling on my first run on the Hard tyre, but as soon as I fitted the Medium, I gained two seconds and all of sudden, I had a driveable car and set a good time and was much happier. But in Q2, when I had opted to go for just a single timed lap on the new Option, I again found the car very difficult to drive. Maybe it is linked to the warm-up of the tyres, as it is very difficult to get them up to temperature, so we will have to look at that, but generally, I just didn't feel comfortable driving the car. Tomorrow we will see what happens, when hopefully the improvement we made overnight will pay off over the long runs."
Laurent Mekies, Head of Vehicle Performance: "We had a lot of work to do last night, after lacking pace on Friday and the result was that today, we went in different directions with our two cars. With Daniel, we recovered well to be eleventh, about one tenth off P8 in Q2 and only a tenth behind cars that were ahead of us by a second yesterday. With Jev, it's been a bit up and down between this morning and qualifying, at times showing a good pace and at others not. Unfortunately, that progress from the morning was not sustained in qualifying. He was quick in Q1 but could not match that performance in Q2. However, with the general progress we made since the first day, we can expect our long run pace to be better tomorrow and we can aspire to having two cars competitive enough to run at the front of the mid-field."
Caterham-Renault
Giedo van der Garde (19th, 1:40.491): "Right from the start of FP3 it was clear the changes we'd made overnight had worked well. The track conditions were a bit better but the car was back to how it had been in the last few races, much more balanced which meant I could push round the whole lap. We still had a bit of front locking to deal with and I was struggling a bit with traction, but overall it was a good start to the session. We tried a camber change for run two but it didn't improve anything so we stuck to what was working and the rest of the session was ok. On the performance run I didn't have a clean lap so my final time was definitely away from what it could have been, but overall I was reasonably happy going into quali. We went for two three lap runs in quali and I have to say I'm very pleased with where I finished. Considering the fact this is a new track for me, and I missed FP1, to finish ahead of the other guys we're fighting with is, I think, good work. The car felt really good in Q1, I'm not sure there was a lot more in it but still, we start tomorrow in 19th and I think it'll be an exciting race."
Charles Pic (21st, 1:40.596): "We had a small mechanical issue at the start of FP3 which meant I had to come in earlier than we'd planned on run one. It was fixed quickly and I was back out on the primes for the first full run and, compared to Friday, the car was definitely better. It was a little on the oversteer side, especially in the medium to high speed turns, but it was good in the lowspeed sections. In qualifying the car balance felt very different form FP3. Maybe the change inwind direction affected it a bit but it was understeering through turns four to nine and in 11, and then oversteer came in on the exit of turns 13 and 19 so I couldn't really attack as I had in FP3. We have a penalty anyway because of the gearbox change we had to make this morning so I was always going back a couple of places, but even with that it would have been good to carry through the pace from the morning session to qualifying."
Marussia-Cosworth
Jules Bianchi (20th, 1:40.528): "After the problems we have experienced so far this weekend, we absolutely needed to find the right solution in time for qualifying. I'm very happy that we did this and although we haven't been able to spend the time to tune the car, we made enough progress to split the Caterhams, which is a good result from where we were. Had we been fully there with the balance, who knows, it may have been possible to get ahead of Van Der Garde as we were just a few hundredths away. It was pretty windy in Sector 1 also, so if we look at the overall picture we have to be pretty pleased with the result. My thanks to the Team for all the hard work in resolving our problems and now we can look forward to the race with a little more confidence."
Max Chilton (22nd, 1:41.401): "I'm a little disappointed with my qualifying result. We've struggled with the car balance all weekend. We went back to where we started with the set-up to try to reduce the instability, but this made it worse and we've had to try quite a few things to improve. I was actually quite happy with the lap I did this afternoon, but the time just wasn't there, which is frustrating. Our car is always better in the race and that's what we've been focusing on, so we hope for better things tomorrow."
John Booth, Team Principal: "After a long night spent looking through a huge amount of data, we identified some of the problems that had plagued our car balance yesterday, in particular with Jules. This morning's FP3 session was really about gathering more data to see what solutions we could find for these problems and we believed we were on top of them, however when we got to the final option run, the car was again struggling for balance. Between the sessions we evaluated all the data and came up with a revised solution, going back to a set-up that was more in line with Suzuka and this appeared to help the car balance considerably. As usual in this situation you are often faced with more than one problem, so it's good that we have been able to fix several issues, which enabled Jules to take the fight to Caterham. In hindsight we have probably spent a little too much time focusing on our race balance and this is perhaps how we lost our way a little, but it seems that we are now back on the pace and we'll see how this set-up solution fares in the race tomorrow. Max has not been without his issues today and his balance, although improved in qualifying, certainly wasn't quite as good as Jules. It's a shame that we weren't able to give him the car to move forward, but we will look into what went wrong and see what we can do to help him improve. All in all, it should be an interesting race."