Singapore GP 2015
SEPTEMBER 21, 2015
Race Report - The Replacements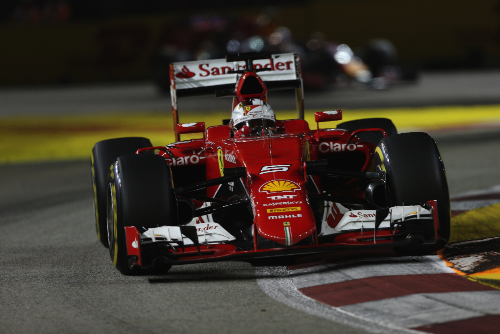 © Active Pictures
BY DAN KNUTSON IN SINGAPORE
Change the colors and the Singapore Grand Prix would have been just like many other races this year. There was one car out front the whole way " that would be Lewis Hamilton in the Mercedes " and then there was another car that was fast but not quite as fast at the leader " that would be Hamilton's Silver Arrows teammate Nico Rosberg.
But Singapore was not just like any other grand prix. It was Sebastian Vettel who dominated in his red Ferrari, and it was Daniel Ricciardo who finished second in his purple-blue Red Bull. As for the Mercedes drivers, they were mysteriously off the pace in qualifying and not much better in the race.
So, at least for this race, Vettel and Ricciardo were the replacements for Hamilton and Rosberg.
Vettel started from the pole and led every lap. Ricciardo started second and ran second, and was able to close in on Vettel a bit during the end of each stint.
"The race was intense and long," Vettel said. "I had some pressure from Daniel behind me, we were the quickest two cars out there today, but I was able to control the pace and look after the tyres, which ran ok for the whole weekend. The car felt fantastic, I could control the gap until the end. Today we are in paradise, but we know we're still a long way to go. It has been a surprise that Mercedes hasn't been on the pace this weekend, we don't know why, but to be honest we don't really care."
It was Vettel's third win of the season. Ricciardo finished on the podium for the second time this year.
"I think this was our best chance of a win and we got close," Ricciardo said," so we can be proud of what we did. We have made the most of our opportunities here. At the start Seb just went away and then I was coming back to him and if it hadn't been for the Safety Car, we'd have got pretty close and maybe an undercut would have been possible at the pit stop. Making both stops under the Safety Car affected our chances and I think that dictated the race really.
"In the first stint we were coming on quite strong, with Seb pushing hard to break the DRS gap. But as the laps were ticking down, we were starting to come alive and I was able to lean on the tyres a bit more. Then I was frustrated to see the Safety Car come out, but I knew I still had to make one more stop so I had one more chance.
"But Seb seemed to have learned from the first stint and started easier than in the first one and was able to pull away later. I was able to close on him again, before we had another Safety Car. That was that really because it's hard to overtake here. We got the fastest lap right at the end and we can be proud of that."
Kimi Raikkonen had a rather lonely race on his way to third place in his Ferrari. There were times when he was fairly close to Ricciardo but he never was close enough to challenge him.
"I have mixed feelings," Raikkonen said. "I'm happy to be third, considering how difficult it was yesterday, struggling with the grip and the handling of the car, but I'm a bit disappointed for not having been able to fight for a better position.
"Today I knew it was not going to be easy: it was a tricky race, on new tires I was able to follow Daniel easily, but then I was starting to have the same problems as yesterday, and I did not have enough speed for trying to catch him. First and third is a great result for the whole team, but of course it could have been better. It's hard to predict how is going to be in the next races, but I don't think we should get carried away. Obviously some tracks fit you better that others."
After being way off the pace in qualifying, and gridding fifth and sixth, Lewis Hamilton and Nico Rosberg got by Daniil Kvyat during first round of pit stops triggered by the Safety Car, and they were running in fourth and fifth in the race when Hamilton started to slow. He had lost boost pressure and had to retire for the first time this season.
"The race was going very well," Hamilton said. "For me it felt like I was driving at my best in the race. I think I had the pace to win. I did everything. I was on the prime keeping up easily with the guys at the front on the option. My pace was really good when I started to lose power.
"It's unfortunate for the team as I was feeling real good out there, so optimistic. But it was better to retire and save the engine. We will work really hard on figuring out what it was but I am not worried about losing this engine. Our reliability is really high as we had an amazing season so far."
Rosberg, who finished fourth, said that the weekend was disappointing.
"We were far off the pace the whole weekend and Lewis' car had to retire," he said. "So I really hope that these were unique circumstances and our car didn't suit the track and conditions. The problem is that we don't really understand why Red Bull and Ferrari were so much quicker here.
"The start of the race was a bit chaotic. In the installation laps my engine went off a few times, so I couldn't do the same start procedure, which I practiced 100 times. I had to adapt but it worked out okay, so I was able to keep the positions. P4 was the maximum today, so we have a lot of work to do for Suzuka to understand what went wrong."
Given that Williams does not do very well on high downforce tracks, fifth was a good place for Valtteri Bottas to finish.
"It was a good race for me," he said. "The start was good, the pace was a little bit better than we expected. I could put a bit of pressure on the guys in front and undercut some people. The pit crew did an amazing job today under pressure. We did what we had to, got our heads down and took our opportunities. This was the maximum result today so I'm pleased."
Kvyat was in fourth place when he made his first pit stop.
"I was unlucky with the timing of the Safety Car as I pitted a lap before it came out," he said after finishing sixth. "It seemed the Safety Cars didn't like me at all today, it must be something personal! But that's life. That worked against us and it wasn't a good race for me, but we couldn't have done anything else.
"I lost two places to Mercedes after the first stop and a place to Bottas after the second one. After that, I was always in traffic behind cars that were a tiny bit faster down the straights, which was just enough for me to be unable to pass. On the plus side, we kept it on the track and scored some points. The team did a very good job this weekend and the car worked very well. Eight points is the maximum we could have got with all that bad luck. My time will come."
Sergio Perez held off Toro Rosso drivers Max Verstappen and Carlos Sainz to cross the line in seventh place in his Force India.
"It's a good feeling to end such a demanding race with seventh place and six points," Perez said. "The start was very important because I knew I had to get ahead of Fernando (Alonso) and I also jumped ahead of Romain (Grosjean). After that I managed to keep up a good rhythm and I had new tyres immediately after the first safety car so I concentrated on looking after them and building a gap to the cars behind.
"The second safety car didn't help us because it gave the Toro Rossos a big advantage with their fresh tires. We knew they were catching us quickly and it was tough to stay ahead because my tyres were getting old and it wasn't easy to keep the car away from the walls. So the last 15 laps of the race were very demanding but fortunately we could hold on for seventh."
Verstappen and Sainz wound up eighth and ninth and with some tension brewing between them.
"After stalling at the start I thought it was over," Verstappen said, "as I was pushed to the pit lane and then rejoined the race one lap behind. But I just kept on pushing and to finish P8 is just fantastic! My pace was great and once again I really enjoyed all the overtaking! I don't think there was any reason for me to give up my position after going from being one lap behind to being back in the points; I think I deserved that P8."
Sainz also made a charge after suffering a brief mechanical problem.
"I had a good start, some very good pace at the beginning and the strategy was looking great," Sainz said. "Suddenly, during the restart of the race after the first Safety Car, my gearbox went into neutral and I found myself at the back of the field.
"Then I started to overtake and have a lot of fun, climbing back up to P9, behind Max, who was pushing (Sergio) Perez. After seeing him try to overtake him for 10 laps, I just thought maybe I could try during one lap, and if I hadn't been able to I would've given the position back to Max. I just wanted my chance, but he decided not to give it to me. It's something we need to talk about as a team."
Sauber teammates Felipe Nasr and Marcus Ericsson passed Romain Grosjean (Lotus) to claim 10th and 11th late in the race.
California's Alexander Rossi had a solid race in his F1 debut with the Manor Marussia team. He finished 14th and beat his teammate Will Stevens.
"My Formula 1 debut has been a long time coming," Rossi said, "but today has been pretty special. All the hard work to get here finally paid off and it was a fantastic feeling to be racing on the streets of Singapore in my first ever grand prix. It wasn't the most straightforward of races; I didn't get the best of starts, and as the procedure is quite new to me, it's something I'll need to work on.
"I recovered quite well though and managed to get a good run into Turn 5, where I was able to get past my team-mate. Everything was going well until around the midpoint of the race, when I lost radio communications. This was particularly challenging because of the second Safety Car period and I wasn't able to receive instructions from the team about when to un-lap myself. Despite that, I think we managed everything well and I'm very appreciative of all the effort put in by the team to make my grand prix debut a successful one."
Now it is on to Suzuka and the Japanese Grand Prix. Will Hamilton and Rosberg be able to replace their replacements in Japan?