Singapore GP 2012
SEPTEMBER 22, 2012
Qualifying Report - Hamilton takes decisive Singapore pole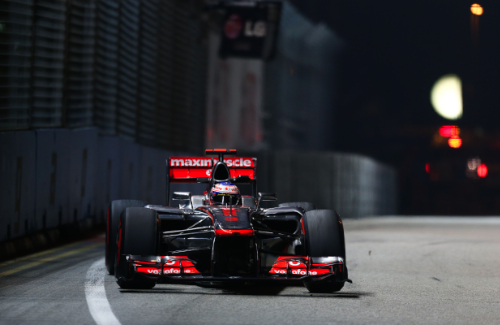 © Active Pictures
Lewis Hamilton kept his championship challenge on track with a fine 24th career pole for the Singapore GP on a day when series leader Fernando Alonso could only qualify fifth in the Ferrari.
Hamilton became the first repeat Singapore pole sitter with a lap in 1:46.362, which was 0.44s clear of a great effort from Pastor Maldonado, who put his Williams on the front row of the grid for the first time since the Spanish GP, which he won.
Hamilton knows that Singapore is the toughest race on the calendar, physically and mentally, with tyres likely to be a significant factor, but he also knows that he is starting it from the best position.
"I'm really happy," he said. "But it's an incredibly hard circuit for tyre degradatuon and I think everybody is going to struggle with that."
Maldonado was a surprise, the Venezuelan only 12th in Q1 despite running the supersoft tyre. That improved to sixth in Q2 before he found 0.8s to do his 1:46.804 in Q3.
"We were working very hard because at the beginning of the weekend we were a bit lost with set-up," he admitted. "But by Q2 the car felt well balanced and I'm really looking forward because we showed consistent race pace in practice."
Having been quickest in every practice session, Sebastian Vettel had to be content with third on the grid from where, behind Maldonado, he could find it difficult to keep Hamilton in range.
"I'm a little disappointed because in Q3 we don't know why we couldn't do the performance step," Vettel said, "but it's a long race and a lot of things can happen. In Q2 I got the lap in and was only a tenth and a half behind Lewis but at the end of Q3 I was struggling to repeat the lap I did in the beginning."
Jenson Button (1:46.939) failed to demote Vettel by just 0.03s on his final run and lines up fourth, one slot ahead of Alonso's Ferrari (1:47.216).
On the back of his strong Monza performance, Paul Di Resta (1:47.241) did a fine job to qualify the first Force India just three hundredths behind Alonso, and almost quarter of a second clear of Mark Webber in the second Red Bull (1:47.475).
Romain Grosjean starts eighth in the first Lotus (1:47.788) after a spin on his first Q2 run.
More interesting strategically, however, could be Kimi Raikkonen's sister car starting 12th with freedom of tyre choice. The Singapore pit stop time is one of the season's longer ones and anyone who can make a two-stop race work could be looking good. The ability to start on the prime tyre might just make that a possibility, with a prime-prime-option tyre choice the likely way for Kimi to go.
Unfortunately for him, however, both Mercedes made it into Q3 by dint of ninth and tenth best times in Q2, and both elected not to go out on the option tyre to set times, meaning that they too can start on the prime.
The same will be true of Nico Hulkenberg's Force India, which starts 11th, so for Kimi to keep his championship challenge on track, he is likely to be faced with some overtaking and will have to hope that he is not made vulnerable by a badly timed Safety Car.