Korean GP 2012
OCTOBER 15, 2012
Race Report - Vettel on a roll!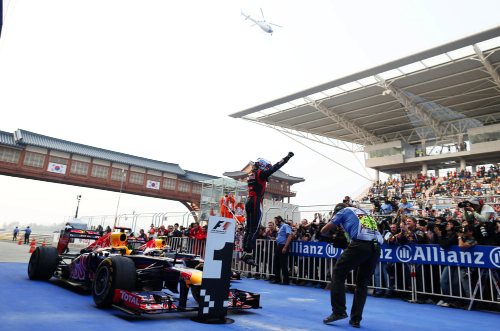 © Active Pictures
Red Bull Racing's first 1-2 of 2012 could not have come at a more important time. Sebastian Vettel's hat-trick of Asian wins: Singapore, Suzuka and now Korea, took him to the top of the championship table by six points with four races remaining. That third successive world title now looks probable rather than possible.
Red Bull's double DRS, first run in Singapore, was joined by revised sidepods, aimed at further improving rear downforce. Back-to-backed on Friday and on both cars for qualifying, they helped the team to its second successive lock-out of the front row, but this time with Webber pipping his team mate to top spot.
That lasted only as long as Turn 1 when Vettel, off a better start, got up the inside and was never headed. Friday had shown Ferrari to have decent long run pace and an interesting race looked in prospect when Fernando Alonso got around Lewis Hamilton on the opening lap.
A resurgent Felipe Massa backed him up well by demoting Kimi Raikkonen's Lotus and may have been able to do something about the McLaren early on as well, had it not been for yellow flags at the end of the run down to Turn 3.
That was caused by Nico Rosberg's second successive opening lap removal. It's a short run down to Turn 1 at Yeongam and it was very busy, with Sergio Perez, looking a touch out of control, clipping the back of Hulkenberg's Force India and Button's McLaren. Then, as they all fanned out approaching Turn 3, braking from the best part of 200mph, Kobayashi's Sauber clipped Rosberg to its right, then caught Button's right front on its left, putting Jenson out of the race.
Button, who had qualified 11th, had opted to start on the prime tyre and on a circuit where overtaking is possible, had been looking forward to a strong, tactical race. He was not happy, struggling to hold his tongue about the Sauber drivers, even if one will be his team mate next year!
'I don't understand why some people are driving as if the race is two corners long' he grimaced.
It took some time for Rosberg's Mercedes to be removed to safety and the yellows effectively meant a status quo among the leaders.
Going into the race a two-stop was the most likely strategy but with not much difference between the supersoft and soft Pirelli tyre compounds, a variety of different approaches was anticipated. As it transpired, however, option/prime/prime was the selection of choice by all the front runners and it became a question of making sure that you looked after the right front.
Locking up and flat-spotting a tyre was only going to increase wear rate and Vettel admitted he'd done just that towards the end of his second stint. Examination of the rubber coming of the car told the team had been almost down to the canvas and there ensued some concerned radio messages to Vettel during the final stint. But with a 9-10s cushion in hand over Webber and no threat from the Ferraris, there were no dramas. Despite the warnings, Vettel did his usual trick of setting his quickest time on the last lap...
Webber needed to get 23 laps out of his final set of primes and looked like coming under pressure from Alonso but responded, to the point where Fernando realised that third place was all that was on the table and backed off, his rear guarded by Massa.
Felipe, in fact, looked as if he could have been the quicker Ferrari driver. And how many times has it been possible to say that for the past couple of seasons? At one stage Massa was on the radio asking what Webber's lap times were. The inference was clear: if I was past Fernando and in free air, I could attack him. That call was never going to come but it does look very much as if Massa has done enough to safeguard his future with the team.
Kimi Raikkonen kept himself in with a very outside chance of the title, with fifth place, although on this showing Lotus does not have the pace to trouble the big boys. The Finn lost a lot of time behind Lewis Hamilton's McLaren in the opening stint and although all over the McLaren in the final sector, was losing out in sector one, where top speed was important. The Coanda exhaust being run on the Lotus for the first time provides additional rear downforce but the downside is a power loss of around 12bhp.
Team mate Romain Grosjean, of course, was constrained by other factors. Under close scrutiny after his series of incidents and knowing that he was likely to be black-flagged if he was involved in another, Grosjean practically drove off the circuit if he found himself in close proximity to another car. Involved in a battle with Lewis Hamilton with around 15 laps to go, he was gentlemanly enough to allow Nico Hulkenberg to go around the outside of the pair of them exiting Turn 4!
But that is doing an injustice to what was a superb move by Hulkenberg and definitely the highlight of the race according to Force India team principal Bob Fearnley. It was another fine drive by the German, who got home in sixth place, splitting the Lotuses.
It was a good day for Toro Rosso too, the little Italian team mirroring its Spa result by getting Jean-Eric Vergne and Daniel Ricciardo home in eighth and ninth places as Williams had a race to forget. They tried an adventurous strategy by starting Pastor Maldonado on the option tyre and aiming at a one-stop, but ultimately the Venezuelan and two-stopping team mate Bruno Senna could only get home 14th and 15th.
And so, what of Lewis Hamilton? The McLaren ran a couple of seconds behind Alonso's Ferrari in fourth place for much of the opening stint but then called in that his tyres were gone. He stopped on lap 13 and just five laps into his second stint on primes, he was back on the radio complaining that they were going away.
By this stage he had lost a position to Massa's Ferrari and the Brazilian's race engineer, Rob Smedley, got on the radio to tell his man to try to open up a gap because Hamilton's problem was most likely tyre graining and it would clean up.
Oh how Lewis must have wished! In fact, his rear anti-rollbar was broken his second rear suspension problem in as many races and his balance was all over the place. The car was inconsistent. Hamilton has reported earlier in the weekend that he was finding it hard not to lock the fronts under braking, that by comparison his peers looked as if they had ABS! This didn't make things any better and neither did running over a piece of loose astroturf that had unglued itself on the exit of Turn 13.
The offending strip attached itself to the right-hand sidepod, stalling the diffuser for the rest of the race in the process. 'Totally heroic,' was Martin Whitmarsh's description of his man delivering McLaren the final point. With Ferrari scoring strongly, however, McLaren dropped to third place in the constructors championship chase.
With a 77 point lead, a third successive manufacturers' crown should be a relative formality now for Red Bull. Vettel also has to be a strong favourite for a hat-trick of drivers' titles but Ferrari team principal Stefano Domenicali warned on Sunday night: 'anyone who thinks that losing the lead will leave us discouraged, is making a big mistake' Alonso made the right noises too, but will know he now has his work cut out.