Korean GP 2012
OCTOBER 13, 2012
Qualifying Report - Webber pinches Korean GP pole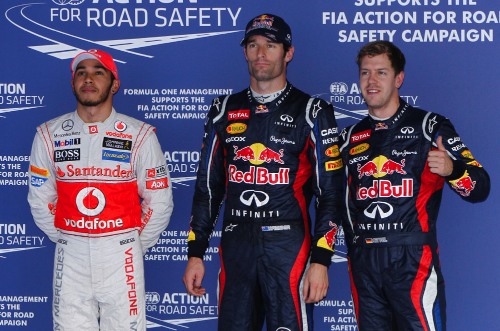 © Active Pictures
By Tony Dodgins (@TonyDodgins)
Mark Webber (1:37.242) clinched a fine last run pole position for the Korean GP -- Renault's 200th since it's F1 debut in 1977, ensuring that, as at Suzuka, Red Bull locked out the front row of the grid.
It was a fine effort from Webber, who did not get a run on the supersoft (option) tyre in the final session of free practice due to an engine issue. Team boss Christian Horner explained that it was just a data send problem and that no problem was expected in qualifying.
"Because of the problem in the morning my information on the option tyre was limited and my run in Q2 had a few balance issues," Webber said. "There was a bit of catching up to do and it was satisfying to get the job done."
Sebastian Vettel (1:37.316), now just four points behind Fernando Alonso in the world championship, lines up second, just 0.07s slower than his team mate.
"It's a long race and we'll see what happens tomorrow," Vettel said. "My lap was fine but it should have been a bit quicker in the second sector. The target was pole, we missed by a bit, simple as that, but second is okay."
Lewis Hamilton (1:37.469) was the only McLaren representative in the top 10 after Jenson Button had a poor first Q3 run and then was unfortunate to encounter a yellow flag for Daniel Ricciardo's stricken Toro Rosso in the final sector on his second run.
Hamilton, who did not use a set of Pirelli's option tyres to escape Q1, got through with just quarter of a second to spare as Bruno Senna joined the Caterham, Marussia and HRT drivers in missing out on Q2.
"I struggled with traffic in Q1 and my lap was a bit poor and I was lucky I got through," Hamilton admitted "I've been off a few times at Turn 1 as well, where we've had some lock-ups. It's like some of the guys have ABS brakes! I didn't have a great session yesterday afternoon and didn't do a long run, so I'll have to hope I'm as competitive as Jenson's Friday long run showed we can be."
Fernando Alonso (1:37.534) was less than three tenths from Webber's ultimate pace and if Ferrari's long run speed on Friday was indicative, will still be a threat in the race.
Kimi Raikkonen (1:37.625), using a Coanda exhaust on the Lotus E20 for the first time, starts sixth, two slots ahead of team mate Romain Grosjean (1:37.934), whose car was in standard specification, the pair sandwiching Felipe Massa's Ferrari (1:37.884).
Nico Hulkenberg (1:38.266) is optimistic of strong points from eighth on the grid with the first of the Force Indias, as team mate Paul Di Resta missed out on Q3 and starts the race 14th. Di Resta reported that the car felt better in race trim on Friday than at any time this year, so the team will be optimistic about closing the 35 point gap to Sauber in the constructors' championship.
After the highs of Suzuka and Kamui Kobayashi's podium, the Swiss team starts 12th (Sergio Perez) and 13th (Kobayashi) in Korea, so will be looking to use creative strategy once again, rather than outright pace to try to close the 20 point gap to Mercedes, who have both Nico Rosberg (1:38.361) and Michael Schumacher (1:38.513) in the top 10.