Korean GP 2012
OCTOBER 12, 2012
Practice 2 Report - Red Bull impressive in second Korean practice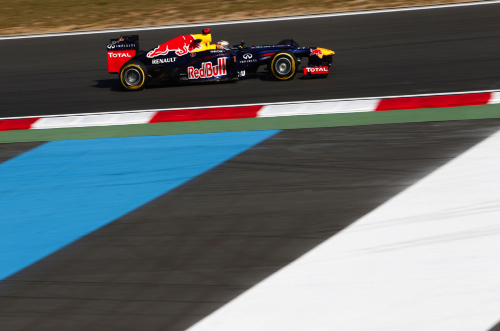 © Active Pictures
Sebastian Vettel (1:38.83) and Mark Webber (1:38.86) topped the second session of free practice for Sunday's Korean GP for Red Bull Racing.
The Red Bull RB8 appeared to have made a big step forward in Suzuka and it will be with anxious eyes that its rivals look to see how much that was track specific to Suzuka and how much it manifests itself in Korea this weekend. Certainly, with the lengthy straights in the opening sector of the lap, Red Bull's DRS should give it a decent boost in qualifying performance and both RB8s had three tenths in hand over Fernando Alonso's Ferrari (1:39.16).
Jenson Button's McLaren (1:39.219) was fourth quickest, ahead of Michael Schumacher's Mercedes (1:39.330), Felipe Massa's Ferrari (1:39.422) and Nico Rosberg's Mercedes (1:39.584).
Lewis Hamilton (1:39.717) did not get a clear lap on Pirelli's supersoft tyre and had to be content with eighth quickest time, in front of Nico Hulkenberg's Force India (1:39.739) and the Lotuses of Kimi Raikkonen (1:39.839) amd Romain Grosjean (1:39.957).
The long run pace of the leading contenders -- Red Bull, Ferrari and McLaren -- seemed evenly matched, with Mercedes not far from the pace although there was concenr again about overheating the tyres.
Lotus ran its Coanda-effect exhaust on Raikkonen's car only, some of that down to the time needed to produce the parts and some of it down to the desire to have a baseline for comparison with Romain Grosjean's car.
Team engineers report seeing downforce increase to the extent that was expected and technical director James Allison says that although no decision has yet been taken, the team will probably carry on with the new exhaust on Raikkonen's car for the rest of the weekend.