Korean GP 2011
OCTOBER 17, 2011
Race Report - Vettel win in Korea clinches Red Bull constructors crown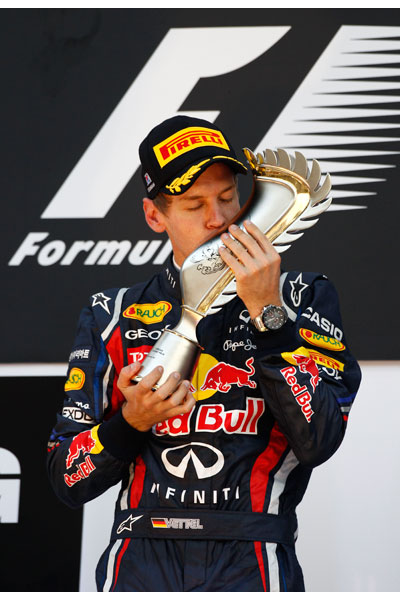 © Active Pictures
BY TONY DODGINS
Sebastian Vettel scored his 20th Grand Prix win and his 10th of the season as a Red Bull Racing 1-3 in the Korean Grand Prix sealed back-to-back constructors' titles for the team.
If Saturday belonged to Lewis Hamilton and McLaren, Vettel did everything he could to reverse the situation as quickly as possible despite fears that starting from the dirty side of the grid would see him lose out to Jenson Button's McLaren off the line.
In fact, both Red Bull drivers, from second and fourth on the grid, had great opening laps.
Vettel managed to get through Turn 1 behind Hamilton and immediately nailed the McLaren down the inside of Turn 4.
"My start was not perfect," Vettel said. "Lewis got away a bit better but then on the long straight with a big headwind I was able to close the gap and focus on the straight from Turn 3 to Turn 4. Very late I went for the gap. I was right on the edge and nearly went straight on. Lewis was very fair."
Perhaps Hamilton was also surprised, or maybe did not use his KERS to the same effect.
"Losing that position to Sebastian was really the end of my opportunity to win," Hamilton said. "It was probably my fault, I left a bit of a gap but I'd already moved once and I thought that if I moved again I would probably be in trouble. After that it was impossible to get close enough to overtake him."
Behind them, Webber looked to have lost places but fought back.
"Massa tried a pretty big move into Turn 3, got me and JB (Button) and then I was under pressure from Fernando," he explained. "I managed to get Felipe and JB back in the tight section as they fought, so it was a good opening lap."
That put Button on the defensive and he lost out to both Ferraris. The order across the line at the end of the opening lap, therefore, was: Vettel, Hamilton, Webber, Massa, Alonso, Button, Rosberg, Petrov, Di Resta and Schumacher.
The great unknown was tyre degradation. Red Bull had opted to save new sets of prime tyres for the race, thinking that may be the superior race tyre. McLaren admitted they weren't sure and said that it was going to be all about being dynamic - monitoring the first stint data and then reacting.
In fact, in keeping with other races where there has been performance drop-off concerns, the Pirellis held up well. At one stage there had been talk of four stops; the reality among the front-runners was two.
This was not to be one of those races in which Vettel simply checked out. With 10 laps down Sebastian had 2.9s in hand over Hamilton, Webber was a further 4.2s adrift and then the Ferraris and Button ran line astern another 1.6s behind, with Rosberg holding on.
"I was expecting a lot of degradation but it didn't come and we were able to delay the first stop," Vettel explained.
The first of the front-runners to stop, after 13 laps, was Button, trying to achieve an undercut that would get him free of the Ferraris. McLaren bolted on a set of options and away he went. Rosberg also stopped and Mercedes went for the prime.
The pair rejoined as one, Button on the inside as they left the pit lane. Jenson cut inside the Mercedes thorugh Turn 1 after Nico went too deep but Roberg immediately re-passed Jenson with DRS, the McLaren going by once more on the following lap.
Massa and Webber were in next time and both opted for the prime tyre. Alonso and Hamilton stopped after 15 laps, Lewis taking the supersoft rubber and Alonso the soft.
Vettel was last of the leaders to pit. His second Q3 run and the first 16 laps of the race had been done on a single set of supersofts. So much for performance concerns... Unsurprisingly, Sebastian bolted on more supersofts.
After the stops had shaken themselves out, Vettel's 5s margin to Hamilton was wiped out by a Safety Car. Schumacher and Petrov had also made earlier stops than the Ferraris. When Alonso pitted he rejoined just behind Schumacher, almost collecting him. Michael was ahead as they raced down to Turn 3 on lap 16
Petrov then passed Alonso with the aid of DRS, Fernando tucked back into the Renault's slipstream and jinked out to attempt to go around Vitaly again on the outside of Turn 3. The upshot was that they both arrived at the corner way too quick. Alonso was able to make use of the run-off area but Petrov cannoned into Schumacher's Mercedes, which was minding its own business.
Michael was out on the spot with his rear wing hanging off and Petrov retired at the pits. The misjudgment earned him a drop of five places on the grid in India a fortnight hence.
Both Ferraris had been jumped by Rosberg, to the detriment of their second stint pace, and Alonso was telling the team he was being held up by Massa.
"I didn't need the Safety Car..." Vettel said. "Lewis was close again. I was pushing to try to keep him out of the DRS zone and I was struggling with the tyres for a while. Then they came back and I could open a gap before the second pit stop."
When the race restarted after four laps behind the official Mercedes, Webber found he could keep pace with the leading pair on the prime tyre and was suddenly looking good.
As the second stops approached with 32 of the 55 laps done, Vettel led Hamilton by 3.2s - both of them on Supersofts - while Webber was a further second behind but matching their times on the softs.
Red Bull's decision to split tyre strategies for the second stint and the manner in which they did it was logical. Webber didn't like the balance and had been unable to stay with Vettel/Hamilton in the opening stint on the option tyre, but the car felt much better on the prime tyre.
Surely the Red Bull move was to pit Webber early, undercut Hamilton and put the team in a good position to achieve a 1-2? They may have jumped Webber ahead of Vettel in the process but, as a team, you could have dealt with that later if need be.
Failing that, as race leader Vettel could have been pitted first to cover any such move from Hamilton, leaving Webber to have a couple of laps in clear air when Lewis stopped.
Christian Horner confirmed they looking for the undercut but what actually happened was that Webber followed Hamilton down the pit lane on lap 33 as both teams bolted on new sets of primes.
It seemed all the more bizarre given that a radio instruction telling Hamilton to pit was issued early in the lap, so there was no doubt about McLaren's plans.
An instruction to Webber to do whatever Hamilton didn't - stay out if he pits, come in if he doesn't -- might have been more understandable. Or, even, a tad ambitious this, attempt a one-stop race, which would have meant 41 laps on a set of primes and was probably a step too far.
"I don't know if that would have been possible," Webber said, "but earlier in the stint we did speak about going longer. I stayed with Lewis to keep using the DRS and I was expecting to go quite a bit longer but we didn't get to do it in the end. I think we did the worst thing, stopping on the same lap, which was disappointing."
One man very pleased to see Webber following Hamilton into the pits was McLaren's Martin Whitmarsh.
"I was surprised," he said, "but very pleased that they decided to come in and race us in the pitlane."
Hamilton and Webber left the pits in the same order and spent much of lap 34 side-by-side, Lewis only just hanging on. It was great racing but the upshot was that by beating each other up their 'out' laps were getting on for three seconds slower than Vettel's when the race leader stopped a lap later. Sebastian was home and dry.
Both McLaren drivers reported understeer with Hamilton especially handicapped. They put in as much front wing as possible and played with the diff until there was nothing more to give, but still the problem remained, Hamilton having to use more and more lock as the race progressed.
"We thought about changing the front wing," Whitmarsh admitted. "We did so very quickly in an earlier race this year but we would still have lost two or three seconds, which would have ceded a place to Mark.
"Lewis was missing around 10 points of front downforce from early on and we didn't know why. In the circumstances, under constant pressure from a determined driver in a faster car, his was a great, great drive - inspirational. "
Investigation later revealed the front wing slot gap to be blocked by congealed rubber.
Button's troubles were also traced to a damaged front wing, caused by running over a rock, which also cost him downforce and meant that he was never quick enough in sector three to challenge Webber in the DRS zone.
When Vettel pitted on lap 34, Alonso's Ferrari led for three laps before Fernando stopped for new primes and emerged clear of team mate Massa for the first time. Now the quickest car on the track, Alonso started to reel in the second place battle but it was too late. Fifth was all he would achieve today.
Jaime Alguersuari was a fine seventh for Toro Rosso, passing Rosberg's Mercedes on the last lap. Nico, defending from the Ferrari's earlier in the race, badly flat-spotted a front tyre and had to make his second stop earlier than anticipated - on lap 27. That spelled a 28-lap stint on the prime tyre and Rosberg could do little to stop Alguersuari on tyres that were 10 laps fresher.
Sebastian Buemi made it a double helping of points for Toro Rosso with ninth place, while Paul Di Resta, who started on the option tyre, made it to the flag 2.6s clear of Force India team mate Adrian Sutil, who started on the prime.
Another absorbing race had once again fallen to the year's stand-out driver even if, for Martin Whitmarsh at least, Hamilton's had been drive of the day. With both titles in the bag, all that remains for Red Bull is to get Webber into runner-up spot in the drivers' championship over the final three races.
As things stand, Button has 222 points to Alonso's 212, Webber's 209 and Hamilton's 196. In order to complete the Red Bull symmetry, Webber may need to win a race or two and with Vettel still able to tie Michael Schumacher's record 13 wins from 2004, that may be no easy task...