Korean GP 2011
OCTOBER 15, 2011
Qualifying Report - Hamilton breaks Red Bull pole streak in Korea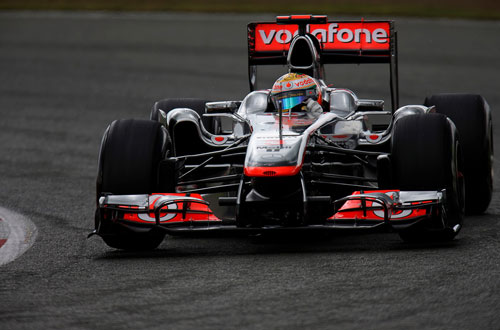 © The Cahier Archive
BY TONY DODGINS
Lewis Hamilton took McLaren's first pole position of the season and it's first in 27 races when he spoiled Red Bull's 100% 2011 pole position record in Korea.
Hamilton looked unbeatable when he topped Q2 by more than seven tenths but Vettel hit back in Q3 with a first run that was just three hundredths behind Hamilton's.
Lewis found more on his second run and was the only man to dip below 1m36s, leaving pole at 1:35.820. Vettel also found time on his final run but could get no closer than 1:36.042.
There was no wild celebration and Hamilton looked like a man with a weight on his shoulders as he said: "I'm happy but it's probably one of the first positives I've had for a while. Tomorrow is the most important day and we'll try to redeem ourselves then."
If his enthusiasm was in check, it belied a performance that suggests Hamilton is in a slightly different league in Korea - for one lap pace at least.
After a rare reversal at Suzuka and second place in qualifying here, Vettel was still confident that Red Bull is in a strong position for the race.
"To be honest McLaren looked very competitive yesterday in the wet and you could see that they were a fair chunk ahead in FP3 in the dry," he admitted. "But we pushed them very hard and got closer than they, and we, expected.
"We also saved all our prime tyres, which will be crucial for tomorrow. Tyre wear will be crucial and Jenson did a very good job of that at the last race."
Whether that was a way of trying to ratchet up the psychological pressure on an apparently fragile Hamilton is open to debate, but there is no doubt that Button (1:36.126) should again be a strong factor in a race in which tyre conservation is expected to be key.
"We all want to be on pole but I'm reasonably happy with where we are," Jenson said. "I've not got a clue what's going to happen with tyre degradation on high fuel, so I'm looking forward to the challenge.
"We know the tyres will have a short life but we don't know how short and whether you can make a difference by looking after them. I thought I could fight for pole but Lewis was just too quick today."
Mark Webber (1:36.468) put the second Red Bull fourth on the grid, four tenths slower than his team mate. One potential fly in the ointment for Red Bull is the fact that both cars start from the dirty side of the Korean grid - one of the dustiest on the schedule.
It's an affliction that also affects Fernando Alonso (1:36.980) who, for the fourth time in six races, was outqualified by Felipe Massa (1:36.831).
In a season where the qualifying score was 10-0 in Alonso's favour after the German GP at Nurburgring, that's a stat that made you wonder whether there was a fundamental explanation.
"No," Alonso said, "It's just that at some races I haven't maximised the performance and Felipe has done a fantastic lap. What is not usual is having 15 qualifyings in front of your team mate. The points come on Sunday..."
Ferrari, unlike Red Bull and McLaren, did not fly in the face of their normal strategy by using the supersoft (option) tyre in Q1 so as to save three sets of new prime tyre for the race.
"We couldn't take the risk," Alonso said. By that he means that while McLaren and Red Bull obviously suspect that the prime tyre will be the better race tyre, that's not necessarily the case for Ferrari.
Alonso concedes that he may well lose at least another place off the grid through being on the dirty side, most likely to Nico Rosberg's seventh placed Mercedes (1:37.754).
Vitaly Petrov (1:38.124) seems to be having one of his 'on' weekends and starts eighth - team Bruno Senna lines up 15th - while the Force India drivers, Paul Di Resta and Adrian Sutil, again did a fine job to complete the top 10.
Both drivers elected to save tyres and did not post a Q3 time.