Korean GP 2011
OCTOBER 14, 2011
Practice 2 Report - McLarens quickest in wet Korean FP2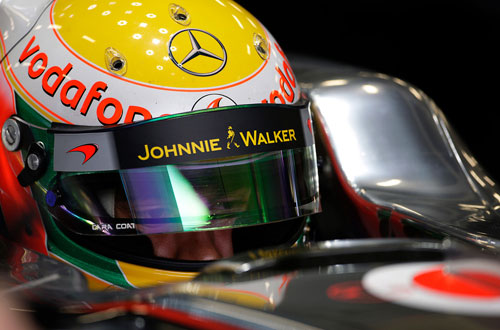 © The Cahier Archive
The McLaren Mercedes of Lewis Hamilton (1:50.828) and Jenson Button (1:50.922) were conclusively quickest in the second session of free practice for Sunday's Korean GP.
The two McLaren drivers traded quickest laps at the start of the session, ending up just a tenth apart but more than a second and a half clear of Sebastian Vettel's Red Bull (1:52.646), which was third quickest.
The problem the teams face is that Pirelli has gone aggressive on tyre choice for Korea, with the supersoft and soft being the selected compounds, and as yet nobody has managed to do any running on a dry track to gauge wear rates.
A few drivers tried the supersoft at the end of the session, Button included, but it proved impossible to generate any heat in the rubber with the circuit still clearly too wet.
"It's difficult to know what the situation is," said Mercedes team principal Ross Brawn, whose driver Michael Schumacher topped the morning session. "We are still in the dark with the tyres and have to hope that Saturday morning practice is dry. If you are talking about four stops I thinks that's too many, two or three is probably ideal, but we will have to wait and see what the situation is."
Half an hour before the end of the session, Nico Rosberg missed his braking at the end of the straight and collected Jaime Alguersuari's Toro Rosso, which was emerging from the pits.
Rosberg was summoned to see the stewards but he could do little about the timing of his problem, the safety of the pit exit has to be called into question.
Although the times were largely meaningless given that a dry race is predicted on Sunday, the second session top 10 was completed by Fernando Alonso's Ferrari (1:52.774), Mark Webber's Red Bull (1:53.049), Alguersuari's Toro Rosso (1:53.402), Felipe Massa's Ferrari (1:53.707), Rosberg's Mercedes (1:53.914), Sebastian Buemi's Toro Rosso (1:53.948) and Paul Di Resta's Force India (1:53.957).