Korean GP 2010
OCTOBER 25, 2010
Race Report - Joy for Alonso, disaster for Red Bull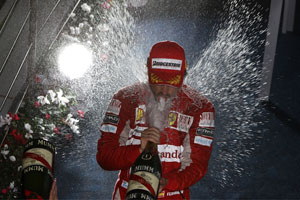 © WRI2, All Rights Reserved: www.wri2.net
Fernando Alonso struck a crushing blow in the world championship battle when he scored a superbly judged win in the inaugural Korean Grand Prix, his fifth of the season, on a heartbreaking day for Red Bull Racing. Series leader Mark Webber dropped a wheel onto the wet Turn 12 kerb early in the race and spun out, collecting Nico Rosberg, while Sebastian Vettel was leading when he suffered an engine failure with 10 laps to go. Alonso now leads the championship by 11 points from Webber with two races remaining.
Korea could not have been more drama-filled. As predicted, rain arrived and the great unknown was how the newly-laid track surface would cope with the water.
The man in the hot seat with the decision to make was once again FIA race director Charlie Whiting, who elected to start the race behind the Safety Car with a small delay. It then became a case of when to release the field. Whiting was able to take into account the opinion of drivers circulating behind Bernd Maylander's Safety Car but in Korea, more than anytime previously, it was all too easy to see what a mixed blessing that is!
The Red Bull drivers had the most to lose from anything interfering with a 'normal' race, having claimed the front row. Not surprisingly perhaps, they were reporting too much standing water.
Fernando Alonso, behind them, radioed in that conditions were the worst in which he'd ever driven a racing car. Whiting took the decision to red-flag the race and the cars returned to the grid, where they sat until the resumption almost an hour later, again behind the official Mercedes.
It was still a tough call for Whiting. Initial reports from the Red Bull drivers were that conditions were not much different. Vettel said he could see very little behind the Safety Car and that there was a lot of aquaplaning, while Lewis Hamilton, among those with most to gain from tricky conditions, was champing at the bit. "I've raced in much worse than this, it's what racing's about, let's hope Charlie doesn't stop it..." he radioed in, before adding a bit later, "it's drying up so much we can be thinking about intermediates..."
Given Korea's efforts to get the race on and the fact that, increasingly, the timetable was being constrained by the impending arrival of darkness, Whiting was in an invidious position. There was every chance that the new surface would disperse water even less readily than normal and everyone bar Vettel was still practically driving blind. With comments like Alonso's broadcast worldwide, had Whiting let them go too soon prompting a serious incident - which, in such conditions, lies in the lap of the Gods -- Charlie could have looked bad in these 'elf 'n safety days.
The general consensus is that he got it as right as he could have done and when the cars were finally released it wasn't Hamilton but Nico Rosberg who made strong early progress, diving inside the McLaren to take fourth place behind the Red Bulls and Alonso. That turned out to be unfortunate for Nico, however, as he was first on the scene when Webber dropped the Red Bull out of T12, spun across the road, hit the wall and came back across the track. Rosberg could do nothing to avoid him and they were both out on the spot.
"Totally my mistake," Webber admitted, holding his hands up and resisting any temptation to blame conditions as the Safety Car re-emerged. "It was a bit of a slow motion moment and I thought I'd caught it but it wasn't enough. It wasn't my day today and obviously I wrecked Nico's race as well."
At the front, Vettel was driving with huge confidence and seemed to have the situation well under control while Alonso was adopting a more cautious approach.
"There was no reference for driving in wet conditions here and I thought it was better to lose four or five seconds in the first 10 laps and then build up the pace slowly," the '05/6 champion said. "The car performed well with both tyres, the extreme and then the intermediates later in the race. Maybe we weren't as good as Sebastian in some parts of the race but when Mark had the problem and we saw his retirement, it changed the picture and finishing on the podium was enough for us."
When the Safety Car went back in at the end of lap 22 after the debris was cleared, it was Michael Schumacher who was quickly on the move, passing Button for fifth. The seven times champion had been visibly exploring how much grip there was to be had at various points of the circuit, including the kerbs, and looked strong.
Button, always expected to be a major threat in varying conditions, never had the grip he was hoping for. He was the first of the major runners to make a stop to go onto intermediates, pitting two laps after he was passed by Schumacher. Button fans hoping that the reigning champion's race might come alive once the tyre switches had been made were disappointed -- all the other front runners got practically a free stop a couple of laps later when Buemi assaulted Timo Glock's Virgin and brought out the Safety Car once again. The Swiss received a five slot grid penalty at Interlagos for his trouble (see separate story).
In piled everyone for intermediates but Vettel did another lap before pitting, and Alonso covered him. Now it was Fernando's turn to have some drama as he lost second place to Hamilton with a slow pit stop when the wheel nut on the right front went AWOL.
In a day of magnanimity among the championship pretenders, Alonso also admitted liability. "We made the tyre call at the last moment because we saw Sebastian coming into the pits," he explained, "we were not planning to change tyres but when we saw him we changed strategy and in the stress it was my mistake. I locked the tyres and arrived sideways so it was difficult for the mechanic in the position that I stopped."
But Lady Luck was smiling on Alonso. When the Safety Car went back in on lap 34 Hamilton ran too deep into Turn 1, went wide and ceded the place back to the Ferrari.
Despite Alonso's comments about a podium being enough with Webber out, he was able to run at Vettel's pace on the intermediate where he hadn't been able to do so on the full wet Bridgestone. It was clear that looking after the tyres for the final part of the race was going to be key. Ferrari, noticing Alonso spinning up the tyres under acceleration, asked Fernando to be a little less aggressive and, judging by how much better shape he was in relative to Hamilton in the closing laps, it was sound advice.
It was now time for some more radio tennis. "The visibility in Turn 1 is dangerous, I can't pick out the braking points," Vettel radioed, suggesting, if you were cynically minded, that he was concerned about Alonso's proximity. Suspiciously, this came one lap after the race had reached 75% and hence full points distance...
In comedic fashion, McLaren responded: "Lewis, can you comment on the light level please?"
Immediate response: "The light level is fine!"
Alas for Vettel, we never got to see how the final laps would have played out between the three of them. As they blasted across the line to begin lap 46 the Red Bull suddenly sounded very sick and was emitting tell-tale smoke as Vettel headed into Turn 1. Alonso jinked left and was by in a flash, Sebastian's engine expiring spectacularly as he headed down the following straight. He parked disconsolately and climbed out.
Christian Horner summed it up perfectly afterwards. "Motor racing can be cruel," he said. "Mark hadn't made many errors but he made one today and it bit him hard. Sebastian has been remarkably philosophical, which is testimony to his character. It was particularly cruel for him because it's not the first time. Racing is tough but today it was particularly tough on him..."
The entire Red Bull team could be applauded for the manner in which it took the grave disappointments on the chin, publicly at least. This one must have hurt. They will undoubtedly hit back.
Michael Schumacher equalled the best finish of his F1 return with fourth place, Robert Kubica got the Renault home fifth and Tonio Liuzzi scored important points for Force India in its constructors' championship battle with Williams, for whom Rubens Barrichello was seventh and Nico Hulkenberg 10th after a late tyre stop, rendering a stalemate between the two teams. Splitting the Williams drivers and completing the point scorers were the Saubers of Kamui Kobayashi and Nick Heidfeld, eighth and ninth respectively.
"It's my first wet race win so I can be more than happy," beamed a delighted Alonso. "But we know that with the new points system anything can change in each race, so anything can happen."
It can indeed, but you can bet he's much happier being 11 points in front of Webber than 14 behind. It's now Alonso, 231; Webber, 220; Hamilton, 210; Vettel, 206; Button, 189. Jenson is now effectively out of it and Red Bull needs to give serious thought to its strategy in the remaining two races. Alonso could afford to finish third behind Red Bull 1-2s at Interlagos and Abu Dhabi provided that Vettel won both. If Webber won one of them, he couldn't...