Korean GP 2010
OCTOBER 24, 2010
Race Notes - Webber spins, Vettel blows up, Alonso wins Korean GP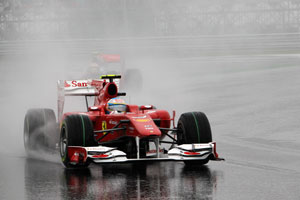 © WRI2, All Rights Reserved: www.wri2.net
Fernando Alonso won a chaotic rain soaked Korean Grand Prix today as darkness fell in his Ferrari, while both Red Bull drivers did not finish. Lewis Hamilton finished in second place in his McLaren-Mercedes, 14.9 seconds behind, followed by Felipe Massa in the Ferrari in third place, 30.8 seconds behind the leader.
Alonso takes his fifth win of the season and 26th of his career. Alonso retakes the Drivers Championship lead with 231 points, ahead of Webber with 220, Hamilton with 110, Vettel with 206, and Jenson Button with 189 points. Red Bull-Renault still holds the Constructors' Championship with 426 points to McLaren-Mercedes with 399, Ferrari with 374, and Mercedes with 188 points.
Michael Schumacher (39.6s) finished in fourth place in his Mercedes GP, followed by Robert Kubica (47.7s) in the Renault in fifth place, Vitantonio Liuzzi (53.5s) in the Force India-Mercedes in sixth, Rubens Barrichello (69.2s) in the Williams-Cosworth was seventh, Kamui Kobayashi (77.8s) in the BMW Sauber-Ferrari was eighth, his team mate Nick Heidfeld (80.1s) was ninth and Nico Hulkenberg (80.8s) in the second Williams finished in the final points paying position.
Before the race a light rain is falling. Overnight, Alonso's Ferrari was repaired for a water leak. The drivers trying intermediate and full-wet tyres on their reconnaissance laps. Massa, Bruno Senna and Timo Glock have gone off track, but have not damaged their cars. Entering the race, Webber leads Alonso and Vettel by 14 points.
Officials announce that the start is delayed for 10 minutes. The rain is coming on and off, and expected to be very light, and settle down during the race. The race will start behind the Safety Car. The drivers report that the grip levels are not too bad in the wet conditions.
Because the race is starting behind the Safety Car, all drivers will start on extreme wet tyres. The field leaves the grid and the race is now officially started behind Bernd Maylander in the Safety Car.
Button reports that the straight is like a lake. Ferrari report to Felipe Massa that the rain will continue for 20 minutes.
On lap 1 Senna pits for a new set of full-wet tyres.
Alonso reports that it is the worst conditions he has ever driven a car. Low visibility from the spray clearly giving the drivers a difficult time.
On lap 3 the red flag comes out. The drivers return to the grid.
Some drivers get out of their cars and take bathroom breaks. The race clock is stopped, but if the race resumes the sun sets at 17h50m local time. After two laps the race is official, but unless 42 laps are completed, only half points would be awarded.
The rain has eased slightly, but the track is still very wet.
If the race were called now, Webber would have a 10.5 point lead over Vettel, and 15.5 point lead over Alonso.
The rain has almost stopped. Webber and Alonso are talking the the Safety Car driver, Bernd Maylander, voicing there concerns. The 10 minute board is given, and the race will resume at 16h05m local time. The drivers start getting back into their cars. The medical car is checking the track. A light rain is falling.
The grid clears and the race resumes behind the Safety Car on lap 4.
Vettel tells his team that there is still a lot of water and spray. Button says it is a little better but very wet.
On lap 6 Lucas di Grassi pits for new wet tyres. Sakon Yamamoto goes off-track, but rejoins.
Williams tells Barrichello to expect light rain for the next 25 minutes. Hamilton says the conditions are improving.
On lap 8 Schumacher goes off the exit of a turn but continues.
Reports that the rain is coming down harder. Webber reports that the conditions are the same. Ferrari tells Alonso that there is a forecast to rain for five more minutes.
On lap 14 Di Grassi pits a second time for new tyres.
Hamilton reports that it is so dry, that they could run on intermediates.
On lap 16 Liuzzi runs wide but continues.
The Safety Car comes in at the end of lap 17 and the race is finally underway.
Vettel leads Webber. Rosberg passes Hamilton for fourth place. Button attempts a pass on Massa for sixth, but the Ferrari stays ahead. Adrian Sutil slides off at the first corner, but continues - the two Williams pass him. Trulli spins.
Webber runs across the outside kerbing, spins and hits the wall, slides back across the track and collects Nico Rosberg. Both drivers are out of the race. The Safety Car is deployed.
Kobayashi, Vitaly Petrov, Heidfeld and Sebastien Buemi pit.
At lap 20 Vettel leads from Alonso, followed by Hamilton, Massa, Button, Schumacher, Kubica, Hulkenberg, Barrichello and Sutil in tenth place.
Jarno Trulli pits.
The rain has stopped, but more is expected in 5-10 minutes.
The Safety Car comes in at the end of lap 22 and the race resumes. Vettel continues in the lead from Alonso, Hamilton, Massa and Button.
On lap 25 Trulli tries the inside of Senna - the two make contact and the Lotus loses it's front wing. Trulli pits for a new nose.
At lap 25 Vettel leads Alonso by 2.5 seconds, followed by Hamilton (5.3s), Massa (7.5s), Button (9.1s), Schumacher (10.3s), Kubica (11.6s), Hulkenberg (12.6s), Barrichello (13.4s) and Sutil (14.4s) in tenth.
Kobayashi passes Yamamoto but runs wide and loses several places.
On lap 26 Di Grassi spins into the wall on intermediate tyres. Schumacher passes Button for fifth place.
Vettel sets a number of consecutive fastest laps.
On lap 28 Button pits for intermediate tyres - he rejoins in , Sutil pits as well.
Buemi tries to pass Heikki Kovalainen - the two touch, and Kovalainen spins. Sutil spins on his own on intermediates.
At lap 30 Vettel leads Alonso by 3.6 seconds, followed by Hamilton (8.5s), Massa (14.2s), Schumacher (17.5s), Kubica (23.4s), Barrichello (25.0s), Hulkenberg (26.2s), Alguersuari (29.1s) and Liuzzi (30.0s) in tenth.
Hulkenberg pits.
Buemi tries to brake down the inside of Glock, losses control and hits the German driver and is out.
The Safety Car is deployed.
Hamilton, Massa, Schumacher, Kubica, Barrichello, Jaime Alguersuari, Liuzzi, Glock and Kovalainen all pit.
The next lap Vettel and Alonso pit for intermediate tyres, Ferrari has a slow stop when a mechanic loses the wheel nut, and Alonso comes out in third behind Hamilton.
Buemi is under investigation by the race stewards.
The Safety Car comes in at the end of lap 34 and the race continues once again. Hamilton goes wide at turn 1 and Alonso retakes second place.
On lap 36 Kobayashi, Button and Sutil battle. Button runs wide but continues - he runs in 12th place.
Alonso sets fastest lap and closes to 1.2 seconds behind Vettel. Sutil passes Heidfeld for 12th place.
Vettel responds and re-sets fastest lap. Sutil battles with Kobayashi. Sutil goes off track, but rejoins.
On lap 39 Kovalainen pits to serve a drive-through penalty for speeding in the pits.
Ferrari tells Alonso to not drive to aggressively in turn 7 and 8 to save his tyres.
On lap 40 Alguersuari passes Sutil for 13th place.
At lap 40 Vettel continues to lead Alonso by 2.3 seconds, followed by Hamilton (4.2s), Massa (7.2s), Schumacher (14.6s), Barrichello (16.0s), Hulkenberg (20.7s), Kubica (21.8s), Liuzzi (24.2s) and Kobayashi (28.4s) in tenth place.
On lap 41 Petrov loses the back-end and crashes into the barrier near pit entrance. The Russian gets out of his Renault.
Alonso re-sets fastest lap. The gap to Vettel back down to 1.1 seconds.
Vettel complains of visibility problems with the light at turn 1. Hamilton says the light is fine.
At lap 45 Vettel leads Alonso by 0.6 seconds, followed by Hamilton (2.1s), Massa (6.7s), Schumacher (19.6s), Barrichello (20.7s), Hulkenberg (26.5s), Kubica (28.2s), Liuzzi (29.9s) and Kobayashi (38.9s) in tenth place.
At the start of lap 46, Vettel slows, Alonso passes - the Red Bull engine blows up - Vettel pulls to the side of the track with his rear smoking in flames.
On lap 47 Sutil tries to pass down the inside of Kobayashi, the two touch and Sutil goes off the outside of the corner, and is out with suspension damage.
At lap 50 Alonso leads Hamilton by 2.8 seconds, followed by Massa (15.4s), Schumacher (29.0s), Barrichello (33.6s), Hulkenberg (37.8s), Kubica (38.2s), Liuzzi (38.6s), Kobayashi (60.6s) and Heidfeld (63.3s) in tenth place.
On lap 52 Hulkenberg spins and then pits from eighth place for new tyres. Button spins.
Barrichello gets passes for fifth by Kubica, then gets passes by Liuzzi.
Alguersuari pressures Heidfeld for ninth place. Alguersuari goes wide but continues.
Alonso holds on to win the first Korean Grand Prix and retakes the lead in the drivers championship.