Korean GP 2010
OCTOBER 23, 2010
Qualifying Report - Vettel pips Webber to Korean GP pole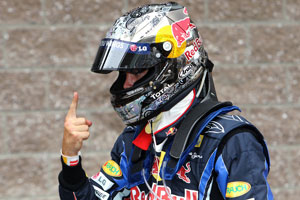 © WRI2, All Rights Reserved: www.wri2.net
Sebastian Vettel (1:35.585) clinched another crucial pole position by the same seven hundredths of a second margin that separated him from team mate Mark Webber at Suzuka.
Despite lower track temperature making it difficult to get the heat in the tyres, Vettel snatched the top spot with a single lap final Q3 run while Webber did a two lap run to demote Fernando Alonso to third on the grid. It's not an ideal starting position for the championship leader, however, with the dirty side of the grid in Korea likely to be dirtier than ever.
"Again it was very close," Vettel said. "On my first Q3 run I was happy with the car but lost time in the first sector. The second and third sectors have nice flowing corners but it's easy to make a mistake. I'm really happy because yesterday wasn't smooth running -- we tried something and it didn't work, and there was also a puncture. I tried to save the car a little bit this morning so I was pleased that I got into a good rhythm. Turns 9-10-11 into an off-camber right-hander at T12 are difficult and you have to understand how much kerb you can take before you go into the dust, so the rhythm is important."
Webber's body language betrayed disappointment on missing out on a sixth pole of the year by such a tiny margin again. "I wasn't happy on the first timed lap," he admitted, "so I was more comfortable being able to do two timed laps for the final effort. It would have been nice to get pole but I can still get a good result from here..."
Fernando Alonso (1:35.766) set the pace on the first Q3 runs in the Ferrari but was satisfied to end up third, just 0.18s behind Vettel's pole. "It was a smooth qualifying and P3 was our maximum potential today," he said. "We seemed closer to Red Bull, which is good for tomorrow and there are doubts about rain, so we need to stay calm and make sure we finish the race. Tomorrow maybe not all five championship contenders will finish and we can't afford to be one of those."
With McLaren hoping that Lewis Hamilton could challenge for pole, the team had to content itself with fourth for Hamilton (1:36.062) and a disappointing seventh for Jenson Button (1:36.731), who was almost three quarters of a second down on his team mate.
"I think I got more out of the car than was in it," Hamilton said. "We are still there in the fight but I don't know where the others found half a second. I had a bit of a moment on the big bump coming into the pit lane practicing my in-lap, which was nearly a big shunt! I think we are competitive on long runs and I will give it the best I can."
A frustrated Button explained: "The car was good yesterday and this morning but I couldn't get the tyres up to temperature and struggled with locking fronts. I'm disappointed to be so far down and there's a bit of head scratching to do, but at least I'm on the clean side of the grid and there's a couple of long straights..."
Splitting the two McLarens are Nico Roberg's Mercedes (1:36.535) and Felipe Massa (1:36.571). Ferrari will be a little non-plussed by Massa's effort with the Brazilian having tuned a 1:36.139 in Q2 and it hardly leaves him best-placed to assist Alonso's championship quest.
Robert Kubica (1:36.824) did not live up to the threat of FP3 with eighth quickest time, and said: "The car had a lot more oversteer and if we'd got everything right we might have been a couple of tenths quicker but we're right on the limit here. Unfortunately I will be on the dirty side of the grid and the two sides were massively different when we tried them this morning, but maybe if it rains there won't be so much difference. Everyone is very close as well, so it could be a tough race."
Michael Schumacher (1:35.950) qualified the second Mercedes ninth, four hundredths quicker than Rubens Barrichello (1:36.998), who was very miffed when his former team mate blocked one of his Q2 runs.
"I don't want it to become personal," Barrichello said, "but we've had one or two problems, like Hungary. I'm down to earth and cool and I try to respect both the quick cars and the slower ones. Michael apologised and said that the team didn't tell him, but you do have mirrors.... In the end though I did an awesome lap in Q3 and I hoped it would have put us closer. Tomorrow though, anything can happen..."
Barrichello's words could well turn out to be prophetic. The teams' radar equipment is indicating a 60% chance of rain and, on a surface that has not yet shed its top layer of bitumen, through which oil and other chemicals are still emerging, rain would potentially provide one of the most treacherous surfaces the drivers have ever encountered. Alonso's words about finishing the race could be prophetic too...