Korean GP 2010
OCTOBER 22, 2010
Practice 2 Report - Webber tops opening day in Korea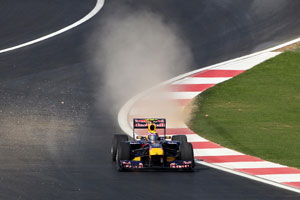 © WRI2, All Rights Reserved: www.wri2.net
Championship leader Mark Webber finished the opening day in Korea at the top of the time sheets with a lap in 1m37.942s as the track evolved and started to rubber in.
Webber was quickest on hard tyres mid way through the session and then underlined the form on the option tyre as well, surviving a quick spin with 20 minutes of second practice remaining. His closest challenger was Fernando Alonso's Ferrari (1:38.132), with Lewis Hamilton (1:38.279) also in close attendance.
Early impressions of the new Korean venue are favourable as far as the track is concerned. Red Bull team principal Christian Horner said: "The drivers quite like it, although I think they would have liked a chicane halfway down the straight! Also the kerb drops away in the last sector and they get their knees knocked together a bit."
Horner's chicane remarks are refence to the track's first sector with its long straights, which many feel could leave Red Bull vulnerable to Ferrari and McLaren on the opening lap even if they claim the front row of the grid. "I was having a word with Bernie yesterday and asked him, are we going the right way round!" Horner joked.
Robert Kubica (1:38.713), who also has a Renault engine of course, did manage to set fastest time in the first sector, suggesting that any Red Bull fears may have been exaggerated. The Pole looked as committed as ever en route to fourth quickest overall time of the day.
Jenson Button (1:38.726) had to content himself with fifth fastest but looks strong, having missed much of the second session with an overheating exhaust that required fire extinguishers as McLaren experimented with different engine modes.
Felipe Massa (1:38.820) put the second Ferrari sixth quickest ahead of Sebastian Vettel (1:39.204), whose option tyre time looked unrepresentative, set early on with the track still evolving.
Vitaly Petrov (1:39.267) was eighth with the second Renault, with the top 10 completed by Nico Rosberg's Mercedes (1:39.268) and Kamui Kobayahi's Sauber (1:39.564).
The session was briefly Red flagged as Sakon Yamamoto spun his HRT to a halt in Turn 16. Bruno Senna got out in the sister car for the final few minutes, the team having to repair the car after the suspension failure in the first session damaged the gearbox.