Korean GP 2010
OCTOBER 22, 2010
Friday Team Quotes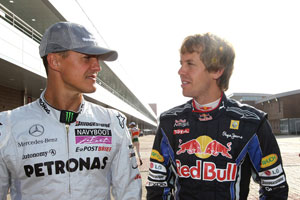 © WRI2, All Rights Reserved: www.wri2.net
McLaren-Mercedes
Lewis Hamilton (3rd, 1:38.279): "This morning, the track was extremely dusty, so all the drivers were sliding around quite a lot. But the track evolution throughout the day has been quite dramatic, so the track is looking quite good now, even if there's still plenty of dust off-line. We look to be quick along the straights, and we seem to be competitive in the second and third sectors too, which is encouraging. The track is very fast - and you need a good car around here, which I feel we've got. Today was spent evaluating some new developments we'd brought to this track. The times suggest we look as competitive as the Red Bulls, but the Renaults and Ferraris also look quick - so qualifying might come down to which driver can pull the most time out of his quick lap."
Jenson Button (5th, 1:38.726): "Our car has been performing pretty well here and I've been enjoying the circuit - it's fun and flowing. While the track was pretty tricky initially because it was quite slippery, I felt like we got to grips with it quite quickly. There's just a lot of dust, that's the only problem. I lost a little bit of time in the afternoon session, which was disappointing because I didn't get to run with high fuel. The car just overheated - so I jumped out in the pitlane because it started smoking - and we lost a bit of time tidying it up. Apart from that, it's been a pretty good day. We're very strong in the first sector, which I guess people expected, but we're also pretty strong in the other sectors, which is encouraging for us. I'm really looking forward to the rest of the weekend, in fact."
Martin Whitmarsh, Team Principal: "Today was an encouraging first day for the Vodafone McLaren Mercedes team. First impressions suggest our new upgrades are working, and that we seem to have the performance to match the other world championship front-runners. We'll be deploying our new rear wing for the remainder of the weekend. Following some extremely in-depth preparatory work undertaken back at the McLaren Technology Centre, both Jenson and Lewis were able to very rapidly get to grips with the new track configuration - something that enabled us to focus even more keenly on set-up development. The front-running teams appear to be very evenly matched, which bodes well for an extremely exciting qualifying session tomorrow."
Mercedes GP
Nico Rosberg (9th, 1:39.268): "The track is nice to drive and it should be good for racing with long straights and hairpins where you can try to overtake. The grip levels were fine after the first few laps and probably not as slippery as we expected. We did a good job with the set-up and the car feels pretty similar to the last few races so there are no particular issues to address. The tyre graining which we have seen today could create an interesting race. We'll keep working to improve overnight and into qualifying tomorrow."
Michael Schumacher (12th, 1:39.598): "The track has been very good and I enjoyed driving it today. Of course a new track with totally fresh asphalt needs to rubber in but it got better and improved massively over the day. I am very pleasantly surprised with the circuit. It is very demanding, challenging and tricky which provides a challenge that I like a lot. It has been a good day for us and we have been able to do a lot of work on track. We look pretty reasonable in terms of speed and pace and my aim would be for the top ten in qualifying and to score points in the race."
Ross Brawn, Team Principal: "We are all very pleased to see the cars running for the first time here in Korea today and credit to the venue for ensuring that everything was ready on time for the practice sessions. We've had a reasonable first day with the car looking particularly strong in the first sector where we showed good straightline speed. The grip levels came in quickly and positively over the day which helped. Everyone is finding that the tyres are struggling with graining on higher fuel levels, particularly on the option, but if the track continues to improve, that may ease. Overall we can be pleased with our start to the weekend."
Norbert Haug, Mercedes Motorsport Director: "A very interesting new track with a layout which is quite unique compared to other circuits. Sincere compliments to the organisers and the thousands of people who worked so hard day and night over the last couple of months to make this race happen. This is a very special new venue for Formula One and whilst every detail is not yet in place, everything will be even better for next year's event. Our first sessions went quite well today and with our current technical package, we managed to be where we have been positioned in the last couple of races. I am sure the first Korean Grand Prix will be a thrilling race."
Red Bull-Renault
Mark Webber (1st, 1:37.942): "The track changed a lot today, obviously it's a new venue and it was slippery in P1. It started to get more sensible as the day went on, but it's the same for everyone and we just have to keep chipping away, doing what we can with our programme and working with the car. It was a positive day and the car ran well; there was a lot of information to gather and we've done that pretty successfully. We're optimistic with today's performance and now we're focusing on getting ready for tomorrow. It's enjoyable to drive here - there are a couple of unique sections and it's always a challenge for a driver to get into a new venue. The pit entry and exit is a little bit marginal to get on and off the track but, apart from that, they've done a remarkable job and I'm clutching at straws to criticise anything."
Sebastian Vettel (7th, 1:39.204): "I think we got a crash course in sliding around and drifting today - it was good fun. The track time was more valuable this afternoon, but I had a puncture early on in P2, which affected our running. As a result we had to go on to the option early and the tyres weren't too grateful for that. But, all in all, it wasn't too bad. I think the pit entry is quite on the edge here because it's blind and someone going into the pits will be going slower than someone who's staying out. If you're trying to pass and they decide to pit, it could be quite difficult. I think qualifying should be good as the pace is there. Mark had a calm afternoon and looked competitive, the first sector is not in our hands, but we can fight back in the second and third sectors."
Ferrari
Fernando Alonso (2nd, 1:38.132): "This track is nice to drive, very interesting with three sectors each different to the other. In the first one, you need a very good top speed, in the second there are fast corners, with the third one featuring slow turns: it will therefore be interesting to see what set-up choices the various teams will make for qualifying and the race. I like the part from Turn 4 to Turn 6, with very different lines and the possibility to overtake: it reminds me of the final sector of the Istanbul track. At the moment there is nothing particularly negative to flag up, apart from the fact the tyres wear rapidly, as in fact one could predict on a completely new track surface: it's not worth worrying about it, because the situation will have improved by Sunday and also, we are more or less all in the same situation. As usual the Red Bulls seem very competitive and the McLarens appear to be very strong here: in fact, Hamilton qualified third in Suzuka and I reckon he is one of the favourites to win this Grand Prix. However, I think the situation is different to that in Japan, where the championship leaders were clearly the favourites: here, we and McLaren could do something interesting. Various parameters make it difficult to make the right choices for the rest of the weekend: the evolution of the track which could even change the gear choice in key corners, the level of aerodynamic downforce and the possibility of rain on Sunday. Obviously, being a brand new track, we have nothing to base our decisions on: it will therefore team work will be even more important than usual."
Felipe Massa (6th, 1:38.820): "I like this track. It is very long with all sorts of corners, with some sections resembling traditional circuits, while others are like a street track. Turn 11 is complicated as there are practically two corners in one and immediately after that there is a change of direction. I struggled a bit to find a good set-up, especially getting the tyres to work the right way as they were deteriorating quickly. The situation will continue to evolve as the track gets more and more rubbered in. The grip level changed continually, so it is difficult to judge where we are exactly when compared to the others, but the general feeling is that we can be competitive. I tried the car without the blown rear wing in the morning, but clearly you need to use it here: it gives you a good edge on the straights compared to the standard one. I also had some oversteer, but I think that is normal in these conditions: there is plenty of room to improve the settings on the car and work on this area. It was good that we were able to run this track on the simulator as in reality we found that the reference points matched those seen in Maranello."
Stefano Domenicali, Team Principal: "First of all, I wish to congratulate the organisers for all the work completed in order that this Grand Prix could take place. This country is investing a lot in its development and that is an important indication for the future. As for the track, obviously today's conditions were unique, with a very dirty surface and a grip level that changed with every passing lap. Therefore today's results have to be evaluated very carefully: what is certain is that qualifying will be very difficult and the race will be hard to predict, especially as it seems likely that it could rain."
Chris Dyer: "It was quite a positive day, with both drivers completing their planned programme without any particular technical problems. It is very difficult to evaluate the results, because the condition of the completely new asphalt changed continuously as it got more rubbered in and cleaned itself up. It is complicated to find the right balance on the car, because the track is very different from one sector to the next, but in the end, both Felipe and Fernando were reasonably pleased. There is definitely much to do, especially to improve stability in the final sector, where today the cars were sliding around quite considerably. As for the tyres, the hards are a bit difficult to manage because the grip level is very low, while the softs work well on the first lap: over a long run the situation is more complicated, but that is the challenge we have had to face at every Grand Prix this year. The track is very interesting and demanding for the drivers: we have seen a lot of them finding the limit today. I expect to see a spectacular race, especially as there are a few places where overtaking seems possible."
Williams-Cosworth
Rubens Barrichello (13th, 1:39.812): "We had a reasonable day. The track is getting better all the time. We started running on a high fuel load fairly early on, so I don't think that where we ended today's running is entirely reflective."
Nico Hulkenberg (16th, 1:40.478): "The track is pretty nice, I like driving here. We had a good first session this morning but we made some changes to the set-up for the afternoon which didn't take us forward. The car felt quite different and I struggled to get the lap time out of it. We were looking competitive all morning though so we'll go back to what we had originally and improve tomorrow."
Patrick Head, Director of Engineering: "It was very interesting to see the track develop and the way both tyres are behaving. I think everyone is experiencing graining on the option tyre, so that may cause some different race strategies. For us, we had a normal Friday, although we'd be happier if our lap times were a bit quicker, but we think we know where that is going to come from."
Renault
Robert Kubica (4th, 1:38.718): "At the beginning of the day the track was very slippery, just as we expected for new tarmac where nobody has run before. The track evolution was big and the track was getting better with each run and by the end of FP2 the conditions were quite good. We tested some different things between the two sessions and now we have to decide which is the best way to go, as well as trying to extract a bit more from the car."
Vitaly Petrov (8th, 1:39.267): "The track was very dirty in the morning and afternoon, but it was always improving. We are still learning about the track and it was not easy to find the grip and a good set-up. The track is nice to drive, very smooth, and the race will be quite interesting because there is a lot of tyre degradation here. We still have a lot of work to do, but our pace is not too bad and we just need to continue to work in the same way tomorrow."
Alan Permane, Chief Race Engineer: "It's been a fairly calm day with both cars. We worked through our programmes and did a little bit more running than we would normally do in first practice because it's a new circuit. Overall we've had a strong, competitive day and we're very happy with the work we've completed. It was very slippery this morning, but it steadily improved throughout the day and it was better with every lap. It's a bit like being in Monaco where the track changes very rapidly. It's difficult to do back-to-back tests because whatever you do the track is invariably quicker the next time you run, so you have to take that into account. In terms of preparing for qualifying, we can try and predict the lap time we expect in qualifying, but you also have to work with the track conditions as they are and maximise the grip you have at the time. It's always difficult to know exactly where you stand on a Friday, but we have a reasonable idea of our competitiveness relative to the other teams and we're quite happy with our day."
Force India-Mercedes
Vitantonio Liuzzi (14th, 1:39.881): "The track was really interesting and fun to drive. The grip for the first 15mins of FP1 was so low it was hard to keep the car on track but after that it was OK and improved all the time. Offline though it is still very dirty and slippery and in the race overtaking will be hard as if you go off the rubber you'll just slide. The programme went well today - we just had a very small problem in the final sector of the final lap of the day when the car started to pull to one side, but it was really nothing to worry about and we just stopped the session a few minutes before. It's difficult to get a clear picture on the tyres at the moment as the graining is really high and I think everybody is struggling with consistency on the long runs, particularly on the soft tyres. In general I think we have a good idea on the balance and the direction to go on the set up with both tyre compounds so it's been a positive start to the weekend."
Adrian Sutil (15th, 1:39.971): "Learning the new track was a real pleasure today. It has a nice flow and some great corners, particularly in the last sector where it bends into the pit straight. For a modern track it has got a lot of character and once we got some grip down it was fun to put the laps in. It got much quicker over the day and we know there is still a lot more to come so part of the challenge today was trying to keep up with those changes. We had a good programme today to get up to speed with the track and everything worked to plan. I didn't do so many laps on the long runs but we have a lot of good and useful information we can use over the weekend. A good day overall."
Dominic Harlow, Chief Race Engineer: "A very good first day of practice at the Korea circuit. It is an impressive track, with an exciting layout that offers different challenges through the three sectors. It's really proven to be as our simulations predicted and we've gathered plenty of data which we can now use to further validate and refine those initial results. There was some graining on the prime tyre and we found the option offered better grip. Tonio had a problem at the rear of the car during his final outing and stopped the car as a precaution, but otherwise it was a fairly normal and productive day. We tested some new parts that have behaved as we intended and, together with a few changes we plan to make overnight, we are looking forward to the rest of this first Korean Grand Prix weekend."
Toro Rosso-Ferrari
Jaime Alguersuari (17th, 1:40.578): "The simulator programme we had for this track has turned out to be one of the closest to the real thing that I have experienced, so our preparation work was useful. Even though I spent some time this morning testing some components, I was able to catch up quickly in the afternoon and that was partly down to the simulator. Car balance was good and our race pace on a long run was better than I had expected, so I feel we can produce a good performance on Sunday afternoon. As for qualifying, the run we did today was not bad even if I think we can find some speed from the set-up and from getting more knowledge of the new track. The times will come down tomorrow as the track continues to improve but that won't affect our position. I like the final corner: very nice, because it is really a driver's corner where you need to take a risk, which can be a bit dangerous as you have walls on both sides. Other parts are also interesting with a mix of different lines and changes of direction."
Sebastien Buemi (18th, 1:40.896): "It's always interesting to discover a new circuit. As expected it was really dirty this morning, improving through the day, which you could see in terms of lap times getting quicker all the time. There are still some corners that have remained dirty or where the asphalt is higher than the kerbs. We ran with no problems all day and now we have a lot of data to analyse, so we need to find the right direction for tomorrow. The simulator version of this track seems to have been quite close to the real thing and the lap times are what we had expected. Overall, it is a nice circuit: quick with a lot of walls, but interesting."
Laurent Mekies, Chief Engineer: "A very nice track layout with an interesting mix of high speed corners and a straight long enough hopefully to have some overtaking on Sunday. Overall, it is quite challenging in terms of defining the best set-up. Other than that, it was business as usual for us today, trying to find the best set-up as well as comparing both tyre compounds. Obviously, the track changed massively from morning to afternoon; probably the biggest change we have seen this season, which is to be expected on a brand new surface. Towards the end of the three hours, things were pretty much back to where they normally are in terms of tyre behaviour."
Lotus-Cosworth
Heikki Kovalainen (19th, 1:42.773): "Today was good for me. I want to say thanks to the race organisers first for having done such a good job to make sure everything was ready for us, particularly when you bear in mind some of the concerns people had about the event, and it was great to see so many fans in the stands on a Friday - I think this very looks good for this weekend and for future races here. On track we had a good day. We found a clear direction for the setup and our pace is strong compared to our direct competitors, so I think we're in good shape. I enjoyed the day's work - the high speed section at the beginning of the second sector is pretty cool, and there are some pretty challenging corners in the third sector. I think you'll see some overtaking in sector one where you have the long straights and tight corners, so while it's not too tough through there, I think it will provide some action. We're all going to have to be careful around the pitlane entrance as it's a bit tight around there, with cars on quick laps having to keep a close eye on the guys slowing down to go into the pitlane, but I'm sure we'll handle it ok."
Jarno Trulli (20th, 1:42.801): "That was a pretty hard day for me - it does feel like quite a few of the things that could have gone wrong did go wrong, but the mechanics did a great job to repair the gearbox twice and make sure I could get a relatively decent number of laps completed. I learnt the circuit pretty quickly, and on the options the car felt good as the track surface developed, which helped me to improve my times lap after lap. Overall I think this is a good circuit. I need to do some more running to really find where I can push, and we'll do some more work tonight to look at the setup for tomorrow and Sunday, so I think we'll be ok."
Riad Asmat, Chief Executive Officer: "I think we're all pretty pleased with how today went. It's obviously great to be in a new country, and the whole Lotus Racing team has been given a warm welcome here, so we will do our best to put on a good show for the fans on track, and make sure we leave Korea having shown what Lotus Racing is all about. One of the most important aspects of today was the fact that none of the problems people were worried about before the race came to light. The track itself was slippery, as we all knew it would be, but that will come good, and the facilities here are great. There were more fans at the track today than we see at quite a few other races around the world, so I think this was a very good first day for the Korean Grand Prix."
Mike Gascoyne, Technical Director: "An interesting Friday and obviously it's always a good challenge when you come to a new track. As expected it was very slippery early on, and the large track evolution has made evaluating the tyres and setup changes very difficult, but we're pleased with where we have ended up. On Jarno's side of the garage we had a couple of gearboxes issues which limited his running today, so he did very well to get as close to Heikki's laptime as he did in the closing stages of FP2. Heikki had a trouble free day and it's again pleasing to see that we finished ahead of our nearest rivals at the end of FP2. Overall today has been much as we had expected it would be, and I want to say well done to the circuit organisers for making sure that everything was ready in time for us to go to work today. I think we have a good weekend ahead of us."
HRT-Cosworth
Sakon Yamamoto (23rd, 1:45.166): "This is the first Korean Grand Prix and therefore first time for everyone to race here at this circuit. As expected, the track was quite slippery in the morning but the grip level got better and better. We did many laps and got as much data as possible. We finally managed to use both tyre compounds in preparation for the race. Now we have to keep on working hard for tomorrow."
Bruno Senna (24th, 1:46.649): "It was not an effective first day for us here in Korea. In the first practice, we had a technical failure and I had to stop the car prematurely. Some parts had to be changed on the car and that's why we could only set one lap time in the afternoon. The mechanics did a great job and managed to fix the car before the end of the session. Now we have to focus on tomorrow, when we will hopefully be more successful."
Colin Kolles, Team Principal: "The circuit was very green at the beginning but it improved during the day and the lap times continuously got quicker. Everyone had to get used to the circuit and learn about it. There are some nice parts and it's a mix of fast and slow corners. In the morning session, Sakon completed many laps and it was very important to get track time. Unfortunately, we had a technical failure on Bruno Senna's car and he had to stop before the end of the session. This is also the reason why he started late in the second practice. After this difficult day for us, we are focusing on qualifying and the race, where we hope to be a bit luckier and get more experience on this new circuit."
BMW Sauber-Ferrari
Kamui Kobayashi (10th, 1:39.564): "The track is quite nice. It is challenging, and the last sector especially is difficult but nice to drive. The only problem is the surface is still too slippery. Tyre graining is massive with both compounds. In the first session we started my programme quite early before the track had improved a bit, and my tyres were completely gone. That's why I stopped a few minutes early."
Nick Heidfeld (11th, 1:39.588): "We expected the track to have a very low grip level in the beginning, but it was even lower than we thought. We started with lap times around two minutes, but then the grease and dirt started to disappear, rubber was laid and the circuit started to be really good fun. It is nice it has a lay-out with corner combinations. This means you need to get the first one right to get into the flow for the following ones, and I like that. The harder tyres took a long time to warm up, while even with the softer compound the first lap wasn't the quickest. Very soon after we reached the right temperature the tyres started graining. I hope this problem will lessen as the grip level improves. I am happy we had a dry and trouble free day to work on the set-up. We learned more and I can see potential to improve it."
James Key, Technical Director: "Not surprisingly it was a busy day learning this new track. As we expected it was very, very slippery in the beginning with the new tarmac having just been laid down. It was quite difficult for the drivers and the engineers to know exactly what issues we had to look at, because the lap times improved very significantly all through the session. But we did our best to go through some set-up changes to get a feel for what the car is responding to. We made some mechanical changes on both cars and did some aerodynamic tests on Kamui's. In the afternoon the track had more grip and was more consistent, so we were able to do a standard programme. We looked at some downforce levels and further set-up changes from the morning, and we evaluated the prime and the option tyres to see how they are performing. There is still a lot to understand, so we are going to be very busy tonight analysing all the data. Overall we are happy with the day, the drivers seem to be fairly comfortable, and I think the track is really good. It looks like a drivers' circuit. Hopefully we can maintain our momentum tomorrow."
Virgin-Cosworth
Timo Glock (21st, 1:43.115): "I really like the new track. It is technically very interesting and it has a bit of everything you need as a racing driver - long straights, hairpins where you can overtake, a very narrow final sector all mixed up into one exciting lap. Once again we were unlucky on the Option tyre but the Prime tyre was not too bad. We lost some time due to traffic but overall not a bad first day."
Lucas di Grassi (22nd, 1:44.039): "My first session at the Korean International Circuit went well and I really like the track. I started my programme this afternoon and got up to speed quite quickly. We still have some upgrades to run on the car tomorrow, by which time I will be even more familiar with the track, so I think we can make good progress again tomorrow."
Jerome D'Ambrosio: "It has been good for me to sample the new track here for the first time. It was really dirty at the beginning, but it cleaned up a lot during the course of the whole session and because of that each lap was getting better and better. I did a lot of laps but because the track was so dirty I got the opportunity to try some new things such as practice starts, which I didn't do before. I am learning all the time and this is the main aim for me for these four days of running I am doing with Virgin Racing."
John Booth, Team Principal: "A promising first day here at the new Korean International Circuit. All three drivers got up to speed quickly and both cars ran very reliably, enabling us to complete plenty of laps. The track grip improved dramatically through the day, which makes assessing setup changes more difficult, but it's the same situation for everyone. The track is a challenging one which the drivers seem to enjoy driving, so we are very pleased to be racing here in Korea and we are looking forward to the weekend ahead."