Italian GP 2012
SEPTEMBER 7, 2012
Practice 2 Report - McLarens top FP2 in Monza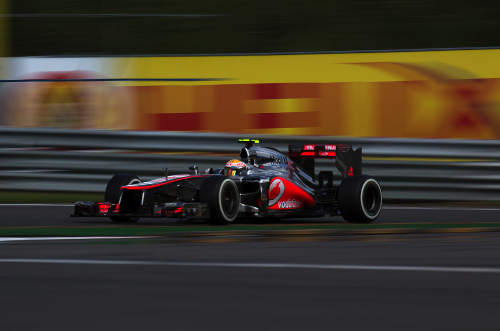 © The Cahier Archive
The McLarens of Lewis Hamilton (1:25.290) and Jenson Button (1:25.328) topped the second session of free practice for Sunday's Italian GP at Monza.
As is often the case at Monza, the times were exceedingly close, with just a quarter of a second covering the top eight cars.
Fernando Alonso's Ferrari (1:25.348) was the closest challenger to the McLarens, just a couple of hundredths behind Button, biut after an engine problem in FP1, stopped out on the circuit with a gearbox issue in the afternoon. As a Friday 'box, however, any need to change it will not incur the championship leader a grid penalty.
Felipe Massa (1:25.430) set fourth quickest time, ahead of Nico Rosberg's Mercedes (1:25.446) and Kimi Raikkonen's Lotus (1:25.504). Just fractionally slower were the two Force Indias of Paul Di Resta (1:25.546) and Nico Hulkenberg (1:25.547), split by just a thousandth of a second.
Sergio Perez's Sauber (1:26.068) and Michael Schumacher (1:26.094) completed the top 10, Michael hampered by an RFA (rear flap adjust) -- or, DRS-- failure.
The Red Bulls of Mark Webber and Sebastian Vettel finished the session 11th and 13th respectively, sandwiching the Lotus of Romain Grosjean stand-in Jerome D'Ambrosio.
As ever though, long run pace and tyre usage in the race will prove more significant than headline pace.