Indian GP 2012
OCTOBER 29, 2012
Race Report - Vettel's Grand Slam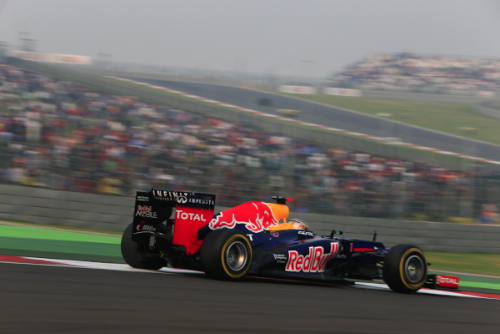 © Active Pictures
Sebastian Vettel increased his world championship lead over Fernando Alonso to 13 points with a fourth consecutive grand prix victory, his second at the fabulous Buddh International Circuit, where he has led every racing lap.
Vettel completed his Asian grand slam with another lights-to-flag victory, his third in succession, and the first time anyone has done that in F1 since Ayrton Senna in 1989.
Alonso, however, is not givingw up. After qualifying fifth he took advantage of the impressive straightline speed of the Ferrari to get in among the McLarens on the opening lap and then used DRS to pass Lewis Hamilton.
Vettel made another of his early race breaks after Mark Webber almost drew alongside off the start and always looked in control. Alonso had similar race pace but not more and by the time the Ferrari had fought its way past Webber, the reigning double champion has a cushion at the front.
The durability of Pirelli's tyres in India suggested that it was always going to be a one-stop race, with fears over wear to the inner shoulder of the right front the biggest worry.
Red Bull's qualifying advances have allowed the team to lock out the front row at the past three races and that has been significant in allowing Vetel to start dominating races in the manner of 2011.
He did it again here, with Webber riding shotgun until he started to experience KERS problems around lap 20. It left him vulnerable to the closing Alonso, who passed him on the straight as if the Red Bull was standing still.
There was nothing Alonso could do about Vettel though. Putting on a brave face, the 2005/6 champion said: "Today is not a negative. We minimised the points loss when our car ddn't quite have the pace and we will have better races." Alonso still seems confident of finding a way to win the title.
At the chequered flag, Alonso was just under 10s down, with Webber another 4s back, under pressure from Lewis Hamilton's closing McLaren.
The team did a great job to change all four of Lewis's tyres and his steering wheel in just 3.1s!
"He reported some gearshift problems and we thought there was an issue with the paddle," team principal Martin Whitmarsh reported. "I was reluctant to change the wheel but we had time and both Lewis and the team did a fabulous job to waste so little time."
Behind Hamilton, Jenson Button finished fifth as the McLarens were the quickest car on the prime tyre at the end of the race, Button setting fastest time on the very last lap."
"It's a bit disappointing," Button said. "The car was not as good on the option tyre in the first stint, we didn't have the pace then, and I think it goes back to not getting a long run in on Friday afternoon - that would have helped."
Felipe Massa, while no match for Alonso as in Korea, helped Ferrari gain a point in its constructors' championship battle with McLaren, with a solid sixth place.
Kimi Raikkonen finished in his wheeltracks, frustrated that for the second race in succession, he did not seem to have the straightline speed to pass people. Some of that will have been the Coanda-style exhaust, seen on both Lotuses in India, but Kimi was not happy with the set-up either.
Nico Hulkenberg scored points once again for Force India in eighth place, with Romain Grosjean and a much more impressive Bruno Senna completing the top 10.
Grosjean started the race outside the top 10 and elected to run the prime tyre first. He finished just over a second behind Hulkenberg at the flag.
It is starting to look ominously like three titles in a row for Vettel, who has run into a rich vein of form at exactly the right time. It's hard to believe that his victory tally has now exceeded Jim Clark and stands one less than Jackie Stewart's 27. At the current rate, that milestone will be reached in a weeks time in Abu Dhabi!