Indian GP 2012
OCTOBER 28, 2012
Race Notes - Vettel dominates Indian GP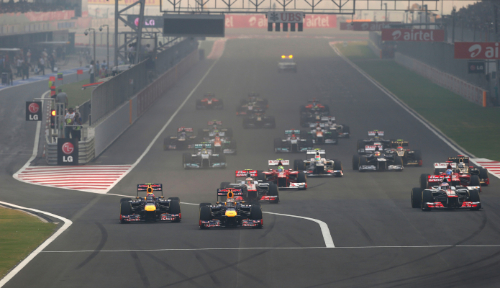 © Active Pictures
Sebastian Vettel dominated the Indian Grand Prix today, taking a flag-to-flag win from pole position in his Red Bull-Renault. Fernando Alonso in the Ferrari was second, 9.4 seconds behind, followed by Mark Webber in the second Red Bull in third, 13.2 seconds behind his team mate.
The victory is Vettel's fourth win in a row, and fifth of the season. Alonso put on another strong performance, starting fifth, and working his way up the field. Vettel now leads Alonso in the drivers championship by 13 points with three rounds remaining.
Lewis Hamilton (13.9s) finished just behind Webber in the McLaren-Mercedes in fourth place, followed by his team mate Jenson Button (26.2s) in fifth, Felipe Massa (44.6s) in the second Ferrari was sixth, Kimi Raikkonen (45.2s) in the Lotus-Renault was seventh, Nico Hulkenberg (54,9s) in the Force India-Mercedes was eighth, Romain Grosjean (56.1s) in the second Lotus was ninth, and Bruno Senna (74.9s) finished in the final points paying position in tenth place.
The weather for the race is dry and hazy. The top ten all start on the Pirelli soft tyre. Only Grosjean, Michael Schumacher, Daniel Ricciardo and Kamui Kobayashi start of the hard compound tyres.
At the start polesitter Vettel takes the lead, followed by Webber Button and Hamilton. Out of the hairpin Alonso makes a run and passes both McLarens, but Button makes a comeback and gets back around into third. At the end of the first lap Vettel leads Webber by 1.2 seconds, followed by Button, Alonso, Hamilton, Massa, Raikkonen, Sergio Perez and Hulkenberg.
In the first corner, Jean-Eric Vergne and Schumacher touch. Schumacher has a punctured right rear tyre and limps back to the pits for a change. Vergne pits for a new front wing.
On lap 5 Alonso passes Button in the DRS zone into turn 4, and takes over third place.
On lap 6 Hamilton passes Button as well and takes over fourth from his team mate.
On lap 7 Narain Karthikeyan is warned to watch his brakes which are overheating. Vettel sets fastest lap at 1m32.0s. The McLarens drop further behind Alonso.
At lap 11 Vettel leads Webber by 3.4 seconds, followed by Alonso (7.9s), hamilton (12.4s), Button (14.2s), Massa (15.0s), Raikkonen (16.9s), Perez (22.0s), Hulkenberg ( 22.6s) and Nico Rosberg (26.7s) in tenth place.
On lap 12 Hulkenberg is pushing Perez hard for eighth place. Webber sets fastest lap at 1m31.5s.
On lap 13 Hulkenberg passes Perez, who then makes his first pit stop, taking on another set of soft tyres. Vettel re-sets fastest lap at 1m31.3s.
On lap 16 Grosjean passes Pastor Maldonado for tenth, Senna follows him through and out of the hairpin passes his team mate as well for 11th.
On lap 18 Perez passes his team mate Kobayashi for 15th place.
On lap 19 Perez attempts a pass of Ricciardo, but locks up his brakes. Later in the lap Perez and Ricciardo make slight contact and Perez limps to the pits with a punctured tyre. Vettel sets fastest lap at 1m31.1s.
At lap 20 Vettel continues to lead Webber by 5.2 seconds, followed by Alonso (9.2s), Hamilton (17.7s), Button (20.4s), Massa (21.7s), Raikkonen (22.7s), Hulkenberg (29.6s), Rosberg (36.0s) and Grosjean (36.8s) in tenth.
On lap 21 Vettel sets another fast lap at 1m30.6s. Perez retires in the pits.
On lap 23 Grosjean passes Rosberg for ninth place. Alonso is slowly closing in on Webber in second place.
On lap 25 Senna passes Rosberg, but the German repasses him.
On lap 26 Button pits from fifth place and rejoins in ninth. Vettel sets another fastest lap at 1n30.4s. The rest of the top ten running 1m31 and 1m32s.
On lap 27 Senna pits and changes to hard compound tyres.
On lap 28 Raikkonen, Rosberg, Maldonado, Ricciardo and Karthikeyan all pit, switching to hard tyres. Massa, Hulkenberg and Paul di Resta pit the next lap. As Massa rejoins, Raikkonen passes him, but Massa comes back and retakes the position.
On lap 30 Alonso pits from third place. switching to hard tyres and rejoining fourth - putting the pressure on Webber.
At lap 30 Vettel leads Webber by 14.6 seconds, followed by Hamilton (21.3s) Alonso (32.8s), Grosjean (45.4s), Button (47.1s), Massa (53.7s), Raikkonen (54.6s), Hulkenberg (61.9s) and Rosberg (74.0s) in tenth place.
Webber pits the next lap and takes hard tyres as well. Alonso is now within a second of Webber.
On lap 32 Maldonado has an off-track excursion, suffering a puncture after contact with Kobayashi.
On lap 33 Hamilton pits from second and has a 3.3 second pit stop, which included a steering wheel change.
On lap 34 Vettel pits from the lead and takes on hard tyres - he rejoins still in front. Alonso is 0.8 seconds behind Webber.
Maldonado and Kobayashi are under investigation by the stewards for earlier incidents.
On lap 37 Vergne pits. Grosjean and Kobayashi are the only drivers yet to pit.
Webber sets fastest lap at 1m30.4s. Vettel comes back the next lap and sets a 1m30.2s.
On lap 37 Grosjean makes his first stop from fifth place, switching to soft compound tyres and rejoins in ninth. Kobayashi pits as well and does the same. Schumacher is under investigation for ignoring the blue flags. Hamilton sets fastest lap at 1n29.6s, as the times continue to tumble on fresh tyres.
Hamilton reports on the radio that he doesn't think his current tyres are going to last.
The stewards announce that no further action will be taken with Maldonado and Kobayashi.
At lap 40 Vettel leads Webber by 11.1 seconds, followed by Alonso (12.8s), Hamilton (19,3s), Button (29.9s), Massa (36.9s), Raikkonen (37.7s), Hulkenberg (44.8s), Grosjean (47.4s) and Rosberg (65.5s) in tenth.
On lap 43 Ferrari tells Massa that he needs to conserve fuel to make it to the finish.
On lap 45 Webber complains of problems with his KERS system. Pedro de la Rosa spins with a brake problem and backs his HRT into the tyre barrier, his day is done.
On lap 47 Alonso closes to one second behind Webber. Hamilton re-sets fastest lap at 1m29.5s.
On lap 49 Alonso passes Webber in the DRS zone and storms away from the Australian. Button sets fastest lap at 1m29.3s.
The next lap Alonso sets fastest lap at 1n29.2s.
At lap 50 Vettel leads Alonso by 11.2 seconds, followed by Webber (13.9s), Hamilton (16.9s), Button (29.2s), Massa (42.8s), Raikkonen (43.5s), Hulkenberg (50.2s), Grosjean (50.9s) and Rosberg (74.2s) in tenth place.
Hamilton sets fastest lap at 1m29.1s. Button beats it the next lap with a 1m28.8s.
On lap 53 there are sparks coming from Vettel's Red Bull, as the front of the undertray is scrapping the ground. Ferrari tells Alonso to push.
On lap 57 Schumacher retires in the pits with gearbox concerns. Hamilton is chasing Webber hard for third place, the Red Bull ailing without KERS.
The order remains the same at the finish, as Vettel wins the Indian GP for the second year in a row. Massa pulls off just after the flag, his Ferrari is out of fuel. Button sets fastest lap on the final lap at 1m28.2s.