Indian GP 2012
OCTOBER 27, 2012
Qualifying Report - Another Red Bull 1-2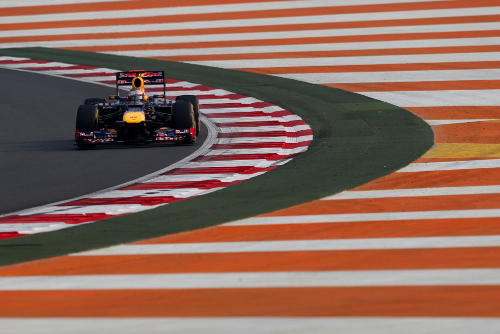 © Active Pictures
Sebastian Vettel (1:25.283) and Mark Webber (1:25.327) made it a hat-trick of Red Bull Racing front rows when they dominated qualifying for the Indian Grand Prix at the impressive Buddh International Circuit.
It was Vettel's 35th pole in 98 attempts but it was a close run thing with team mate Webber, with the world champion's margin just five hundredths of a second as both Red Bulls had problems on one of their two Q3 runs.
"I was a bit greedy in Turn 4 on my first run," Vettel said, "I locked up the right front, the car ran straight and I had to abort the lap. My second run was good though and I'm happy to be starting from the best place."
Webber was quickest after the first runs but found himself behind Button and Hamilton on the circuit as they all prepared for their last attempts.
"I was behind the McLarens, which run slow out laps to prepare for the quick lap, which is not what we do, so I didn't have the grip on my last run, so I was surprised to finish up second actually, and I'll take it."
Lewis Hamilton was also happy with third place, feeling that anything extra was unrealistic.
"On Friday we had race pace which looked as good as Red Bull," he said, "so I'm looking forward to giving them a tough time and, hopefully, a race without any issues."
Good news for Vettel is that his team mate and both McLarens separate him from championship rival Fernando Alonso (1:25.773). Jenson Button's McLaren (1:25.659) starts fourth on a very symmetrical looking grid, which has the Ferraris fifth with Alonso and sixth with Felipe Massa (1:25.857).
Ferrari and Lotus also showed strong race pace on longer runs in second practice and with Kimi Raikkonen seventh (1:26.236), all those expected to challenge are at the sharp end, which promises an interesting race.
Sergio Perez (1:26.360) did a strong job to put his Sauber eighth on the grid, ahead of Pastor Maldonado's Williams (1:26.713) and Nico Rosberg's Mercedes, which did not set a Q3 time and hence retains freedom of tyre choice for the race.
Bruno Senna had looked at least as strong as Maldonado for most of the weekend but when it mattered the Venezuelan beat him by 0.35s to get through into Q3, while Senna starts 13th, behind Romain Grosjean and Nico Hulkenberg.
Grosjean, unhappy with the feel of his Lotus, was unfortunate to be bumped out of Q3 by Felipe Massa, by just two hundredths.
Hulkenberg (1:26.241) was the quicker Force India representative at the team's home Grand Prix and lines up 12th, 0.74s and four grid slots better off than team mate Paul Di Resta.