Indian GP 2011
OCTOBER 28, 2011
Friday Team Quotes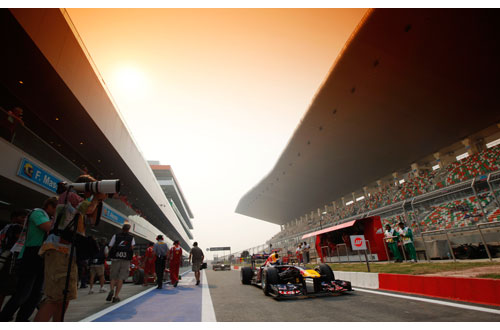 © Active Pictures
Red Bull-Renault
Sebastian Vettel (2nd, 1:25.794): "It's an interesting track, a good challenge. It was very dusty to start with, but the track seems fun, especially the wide entries which give a lot of options to all the drivers. It should be a good race on Sunday. It's dusty off-line, which makes it tricky, so we'll have to make sure we stay on the racing line. It's a good circuit for overtaking I think, with long straights and wide entries. The long run seemed good today, so let's see how we go tomorrow."
Mark Webber (5th, 1:26.500): "It's a good track with good Formula One corners, there are quick left-rights and you can take a lot of the corners in 5th gear. Turn 3 is a unique corner, it's very slow, but it's uphill and quite extreme on the elevation. Turn 4 is also not straightforward, so they're both challenging and I like the two quick chicanes - they're enjoyable. Even though the track is wide, it's quite greasy off-line, so most people will follow the racing line. This morning went well; this afternoon less so, but we'll get it back tomorrow."
McLaren-Mercedes
Lewis Hamilton (4th, 1:26.454): "The track is fantastic - the organisers here in India have done a great job. It's very fast and flowing, the grip-level is fantastic, the run-off areas seem to be good, and the kerbs are probably the best of any circuit we visit: nice rumble-strips that you can drive on. Like any brand-new circuit, it's been gripping-up throughout the day. We looked quick this morning. This afternoon, however, I had a problem with the driveshaft - it felt like it was causing some wear and tear so it prompted me to end the session a little early. We'll fit a new gearbox for tomorrow, so the car will hopefully start behaving a bit better. That should make things closer at the front. Sunday's race will be a long one. Nevertheless, there will be opportunities to overtake: it's a high-downforce circuit and, although it'll be very hard to follow other cars closely, the double-DRS zone should make it a bit easier. We'll get a clearer idea tomorrow of just how quick we really are."
Jenson Button (6th, 1:26.714): "I really like this circuit. It's great fun to drive. There are some tough corners, like Turns Three and Five, but there's also a lot of high-speed stuff and it feels a lot faster than we initially thought it would. What's also been quite a surprise is the amount of grip out there, particularly in the faster corners where the downforce is really working for you. And, because the high-speed corners are pretty smooth, you can really carry a lot of speed through them. It's difficult to get the tyres up to their optimal working temperature range, but, once they're in the operating window, the high-speed grip is phenomenal. From Turn Five onwards, the track is actually very quick. We'll have a lot of fun this weekend and we're hopefully going to be fighting for the win on Sunday."
Martin Whitmarsh, Team Principal: "First of all, I want to congratulate the promoters here in Delhi for having created a truly excellent circuit. The drivers love it, and the teams' facilities are very good too. And of course India, whose population is second in magnitude only to that of China, is a hugely important new addition to the Formula 1 calendar. As is often the case when the Formula 1 circus travels to a brand-new circuit, today was a day of experimentation. As it happened, the circuit offered up more grip than we'd anticipated, which required a set-up review early on. I think we've got a little more work to do in order to unlock our latent first-lap performance, but Jenson in particular completed an extremely encouraging long run. By contrast, Lewis's long run was interrupted by a driveshaft issue, which unfortunately prevented him from being able to complete it. Now, we'll analyse our findings from today, and tomorrow we intend to convert that analysis in to a strong qualifying performance."
Ferrari
Felipe Massa (1st, 1:25.706): "It's always nice to be in first place at the end of a day's work, however we know that Friday's results are all relative. Sure, it would be nice to move through the weekend in the same position, but that will be very difficult to achieve. Today, we concentrated on finding the best set-up on the car and on tyre behaviour on this new circuit. I like the track, it is very interesting and there are corners where driving skill can make the difference. In some places the actual track surface is very wide and so it will therefore be possible to take various different lines in the race, which could make overtaking easier. The car seems competitive, but we must wait and see what McLaren and Red Bull can do tomorrow, as they are still very strong. The tyres? Probably the Hards are too hard for this track and it would have been possible to run the same compounds we had in Korea in two weeks ago, because the track surface is very smooth."
Fernando Alonso (3rd, 1:25.930): "I lost almost the entire morning session because of an engine problem on my car, but fortunately I managed to make up for it in the afternoon, when I was able to run without any problems. Today's priority was getting to know the circuit. Furthermore, given the condition of the track surface, I don't think I lost out that much compared to the others. First impressions are positive: the car seems to behave well and we hope to continue down this route. I like the track, even if it is very dirty and if you go just the slightest bit off line it's like driving on ice: this could create problems during overtaking moves on Sunday, but maybe by then the situation will have changed. It's very nice that the track is wide in some corners and I think it will add to the spectacle, because it means you can take different lines and I think even qualifying should be very exciting, given the rather high average speed, especially through the final sector."
Pat Fry: "It was a very busy Friday, partly because of the work we had planned to carry out and also because of the difficulties we encountered in the first session of the day. In fact, an engine problem meant Fernando missed pretty much all of the morning practice so his work schedule had to be compressed into the afternoon to try and make up for the time lost this morning. That aside, we continued with the now usual parallel programmes: on the one hand looking for the best set-up for the car at this circuit and on the other, working to get a greater understanding of the latest aerodynamic updates, with the new car project in mind. Obviously, we tried to understand as much as possible about the tyre behaviour, but, because of the lack of time it was not possible to do many laps with a high fuel load. Two drivers in the top three? Friday's result has virtually no significance and maybe that's even more the case when there are even more unknown factors than usual, which was the case today. Never before, given we find ourselves at a brand new track, have we had so much data to analyse and so much work to do this afternoon and tonight to be as well prepared as possible for the rest of the weekend."
Mercedes GP
Nico Rosberg (19th, 1:31.098): "The new track here in India is awesome. It has some very interesting corners, and that's why it takes a bit longer to get used to the layout than at some of the other new circuits. Turn two for example is very different; you come from downhill, then go up looking into the sky and so you see the hairpin very late, just before you arrive. In general we had two good sessions and learned quite a few things today so I have a good feeling for this weekend. Hopefully that feeling will continue tomorrow."
Michael Schumacher (21st, 1:31.804): "This is a very interesting track with a challenging layout, and it's certainly enjoyable to drive. As we expected, off-line it is extremely dusty but the racing line became quite grippy over the day. This morning, I was happy with the balance of the car, however this afternoon was more challenging for us. We weren't really able to get into working properly for various reasons, including the red flag, and therefore tomorrow we need to work on the set-up for both qualifying and the race."
Ross Brawn, Team Principal: "We've had a useful first day of practice around the new Buddh International Circuit today. It's always interesting to explore a new track for the first time, and the grip levels changed a great deal during the two sessions, so the trick will be anticipating where they will be by the race on Sunday. The majority of our programme today focused on race preparation and the car seems in reasonable shape. It's exciting to face a new challenge here and I'm sure there will be plenty of opportunities this weekend. We've been very impressed with the new track layout and the drivers seem to really enjoy it."
Norbert Haug, Mercedes Motorsport Director: "First of all, congratulations and compliments to the Indian Grand Prix organisers for building this state-of-the-art race track which certainly does not need to hide behind the best ones in Europe. It is a pleasure for Formula One to be here in India; the friendliness of the Indian people is overwhelming and the excitement to have a Formula One World Championship event in their country quite obviously and understandably makes them proud. Our programme today concentrated on race simulations during the afternoon. We learned a lot and gained experience which should help us tomorrow and on Sunday."
Renault
Bruno Senna (8th, 1:27.498): "I enjoyed today. Both LRGP cars were in the positions they should be and the track looks like it could be an ally for our car. We need to develop and extract more from the set-up, but we definitely have potential here. The track is very good, that's for sure. When I walked it yesterday it was clear it was going to be very dusty, and that was also the case this morning, but it is improving all the time. The corners are very fast and they encourage you to push, push, push so I think we can have a good weekend here. As the grip to improves and the racing line widens we should be able to push even harder!"
Vitaly Petrov (11th, 1:27.890): "The track was very dirty which makes it difficult to get the maximum from the car but it's the same for everyone. We completed today's programme without any mechanical problems which is always beneficial. I am feeling positive about the car and the set-up; we just need to improve a little but we have potential for a good weekend. The layout of the circuit is quite tricky. On some corners you can't see the apex which makes it difficult to find your braking point and turning in point. But we've found more or less a good line and hopefully we'll gain some more speed through P3 tomorrow morning before qualifying."
Williams-Cosworth
Rubens Barrichello (15th, 1:28.691): "It was nice to get to know the Buddh circuit today. We obviously encountered the dirt, like everyone else, and quite normal for a new circuit. We don't know where we stand at the moment because the track is evolving all the time, but hopefully we will have a good qualifying tomorrow."
Pastor Maldonado (16th, 1:28.708): "I would like to thank the mechanics for working so hard to change engines in time for this afternoon's session. The balance of the car seems ok and I am confident we will have a good race pace. Tyre degradation isn't that high, but we will have to look at our strategy as the hard option tyre isn't the best fit with our package."
Mark Gillan, Chief Operations Engineer: "This is a new circuit so the main purpose today was to familiarise ourselves with it. In spite of some challenges, both drivers completed their full Friday race preparation and tyre programme."
Force India-Mercedes
Adrian Sutil (7th, 1:27.316): "We had a good couple of sessions today. We ran an aero upgrade on the car this morning and I could feel the difference in stability straight away, so I think we are going to run it for the race. The circuit is good fun and very nicely done. It has some challenging corners and there seem to be plenty of opportunities to overtake. It should make for an interesting and exciting race on Sunday."
Paul di Resta (9th, 1:27.853): "It was a new experience today for everyone and we had a lot to get through with our programme. The track is quite exciting and the grip seems to be building nicely. It won't be an easy race with the DRS zones being so effective and likely to result in lots of overtaking, but from our work today we are getting where we need to be in terms of the set-up. I still need to find a little bit of speed, but once we sit down and analyse the data I'm confident of more good runs tomorrow."
Dr. Vijay Mallya, Team Principal: "Arriving at the Buddh International Circuit and hearing the sound of Formula One engines in India once again was a very special moment. It's something I have dreamed of for over thirty years and this weekend will be a very emotional one for me. Seeing both Sahara Force Indias as the first cars out on track when free practice began also brought a smile to my face. The Jaypee Group has done an excellent job with this circuit and we can all be very proud of this amazing facility. The drivers have been praising the layout and we all expect a thrilling race. On the track today there was a great deal to learn, but we can be pleased with the work we have achieved. I've made no secret of my desire to see both Sahara Force India cars racing well inside the points on Sunday afternoon and today's work has taken us a step closer to achieving this."
Dominic Harlow, Chief Race Engineer: "It was great to get practice underway here at the Buddh International Circuit in India, which has proved to be an excellent track. There was some early dust on the circuit in FP1, but that quickly cleared and we saw grip levels rise. With an additional set of soft tyres invaluable for our programmes we evaluated some aerodynamic changes to the front and rear of the car with positive indications from the data. Obviously we targeted a slightly higher mileage to increase our data on the circuit and to evaluate the tyre behaviour. Overnight there is much to do to review our results and simulations looking ahead to the rest of the weekend."
Sauber-Ferrari
Kamui Kobayashi (12th, 1:28.050): "The lay-out of the track is really nice, and I have a good feeling driving the circuit. Because it is new it was very dusty and slippery, especially in the morning. The first laps were like driving in the wet. Here we have the soft and the hard tyre compounds. With the hard ones you cannot really drive here, while with the soft tyres it was still not easy to heat them up and get them to work properly, but there is no comparison to the hard ones."
Sergio Perez (13th, 1:28.289): "The circuit is very nice, and I really enjoy driving here. Regarding the set-up work, it is quite challenging because you have many changes of direction and several fast corners as well as slow corners too. But we could complete our programme and have the feeling we are getting there. Of course the track conditions were improving during the course of the day. The hard tyre compound doesn't work, so it won't be easy to create a race strategy in which it makes really sense. However, everyone has to use it in a dry race."
Giampaolo Dall'Ara, Head of Track Engineering: "When you come to a new venue it is always important that you have a trouble free first day, and this is what we had. We completed our normal Friday programme as planned and worked on the set-up of the car. It is impossible to get grip from the hard tyre compound but this didn't come as a surprise."
Toro Rosso-Ferrari
Sebastien Buemi (10th, 1:27.868): "It's always exciting to drive a new track for the first time and today I managed to do a lot of laps, with no issues on the car, so I could push myself to the limit, which is always a good thing. I think we have everything we need in terms of data and understanding to prepare ourselves for qualifying and the race. Therefore I am happy with the way today went overall, the car ran reliably and the team did a good job. Now it's up to us to put everything together for qualifying. In terms of performance we hope we can continue the trend we saw in Korea a fortnight ago. The track is quite similar to what we saw on the simulator. It's a beautiful circuit, I'm happy to be here and I hope we will have a lot of spectators on Saturday and Sunday."
Jaime Alguersuari (14th, 1:28.552): "The track looks really nice and it's a pleasure to drive it. The lap time makes it look like a short lap, because it is so quick, but from a driver's point of view, it is very interesting. We tried a set-up today that did not suit me and I found it quite difficult to keep the car in a straight line out there. I did not feel comfortable and I felt I was on the edge. In the morning, I went over it, losing control and hitting the barrier with the rear of the car at Turn 9. The guys did a good job to get it all repaired for the start of the second session. I am sure we can have a better feeling for the car tomorrow and improve our position."
Laurent Mekies, Chief Engineer: "Quite a good day for us, as we completed the bulk of our planned programme, doing a lot of laps, which delivered plenty of data for the rest of the weekend. The track layout is great and I'm sure all the drivers enjoyed it, as it presents a great challenge with its high speed corners and long straight. The cars ran well today but it is quite difficult to analyse their true performance, because as you can imagine, the track improvement was massive throughout the day, which is normal for a new circuit."
Lotus-Renault
Jarno Trulli (17th, 1:29.332): "That was a very smooth Friday and we made good progress in both sessions, both on learning the track and on the best setup here in India. The track is not too hard to learn but it's interesting - there are a few different lines you can take and I think that will encourage overtaking, so Sunday's definitely going to be fun. The track surface developed quickly today and I hope it continues to do so - off line it's still very dusty and that could catch out a few people, so let's see how it evolves over the weekend. On the tyre side I think we've seen some interesting results today. The softs seem to hang on very well over the long runs but the hard tyres have almost no grip and it seems pretty tough to get them up to temperature. We'll have to see if that's the same tomorrow as it could change as the track keeps developing."
Heikki Kovalainen (18th, 1:30.241): "I'm reasonably pleased with how it went this afternoon but think I suffered a bit from not running this morning. Still, you have to deal with what you have in front of you so we worked hard in the afternoon session to get used to the track and find a balance that gave me the confidence to push. There's definitely quite a lot more to come from the car and as the track evolves I think we'll see that the fact we're pretty kind to the soft tyres should help us, probably more on Sunday than tomorrow, but we'll see."
Karun Chandhok: "It felt great to finally be able to drive an F1 car here at the Buddh International Circuit, and it was a real honour to be the first car to set a timed lap in front of the fans. I want to thank the team for giving me that chance, and everyone at the Jaypee Group and all the people involved in helping create the first ever Indian Grand Prix for doing such a great job on the whole event. In the car I was pretty pleased with how it went today. We completed most of the morning programme and without the yellow flags at the end of the session I'm pretty sure there was another second in hand on my final lap time. The track itself is really enjoyable to drive, particularly the middle section which is very quick, and as it evolves and the times keep coming down I think we'll see some very good racing here all weekend."
Tony Fernandes, Team Principal: "I am delighted to see the Indian Grand Prix get under way in such a good style, both for the Indian fans and the team that put the race together, and for our team who have had a very good Friday on track. It started with an historic moment for Karun as he became the first driver ever to record a timed lap in an F1 car at the Indian Grand Prix, and I am very pleased for him that he finished the session as the fastest Indian driver out there, having completed his program and putting in another strong performance. This afternoon both Jarno and Heikki were also very strong, Jarno finishing FP1 a couple of tenths away from the cars ahead and in the afternoon session both drivers looking strong on heavy fuel on both tyre compounds, which bodes well for the race. We are finishing the season extremely well, both in terms of reliability and performance, and I think that gives us good cause for optimism for the last three races this year, and looking ahead to 2012."
Mike Gascoyne, Technical Director: "An excellent first day here in India for us. We were able to complete a very decent number of laps on both cars and completed the whole program we had set for all three drivers today. This morning Karun was the first car out to set a timed lap here and that was obviously a special moment for him, but he focused on the job he had to do and worked through the aero program we had set him. This afternoon we worked on tyre evaluation and we made good progress on a track that looks to be very exciting for the drivers and fans, and a good challenge for the engineers, so from our perspective this has been a very good day."
Thierry Salvi, Renault: "This was obviously our first time running here in India so the first task was to take a look at how the gear ratios we had run on the dyno worked when we were actually on track. It looks like we have made the right choices as we hit our targets around the whole track, particularly on the full throttle ratio which plays an important role around this type of circuit, which is pretty similar to Korea."
HRT-Cosworth
Daniel Ricciardo (23rd, 1:32.768): "It was our first day here and I can say that it is quite a fun circuit, I'm happy with the layout and I think that most drivers will enjoy it. This morning the track was cleaning all the time so we just did as many laps as we could which is the most important thing. This afternoon we started to work a bit with both compounds. I'm not as happy as in the morning since we made some changes which didn't work as well as we thought they could do. We'll analyse that and work on it for tomorrow. I think we can compete with our main competitors here and give them a good run for their money."
Narain Karthikeyan (24th, 1:32.824): "The first lap was very special; I felt so many emotions driving in India. I just couldn't believe it and there were so many things running through my head. In the first practice we were just trying to get into the swing of things and the second one went much better and we have a lot of things to try for tomorrow. Overall it was a good session for me, considering I haven't driven a full race distance since July, so the body needs to wake up a bit. The track evolved a lot and so times were improving too. We have a few things to try ahead of tomorrow so I'm quite excited to see how qualifying goes."
Colin Kolles, Team Principal: "Apart from what we had heard from Narain, we came to the Indian Grand Prix without knowing much about what we would find and I have to say that we are positively surprised. They did a really good job with the track within a short time. The down side is the amount of dust all over. For us it has been a positive day. We had a program with Daniel and Narain that we managed to follow perfectly. Both drivers improved throughout each one of the sessions and did what they were supposed to, gaining in confidence and taking the cars to the limit without going beyond it. Under such tricky conditions, it was important not to cross the line and bring the cars safely back to the garage. For tomorrow I hope that we can fine tune the cars' set up for qualifying tomorrow and take another step forward."
Virgin-Cosworth
Timo Glock (20th, 1:31.469): "It's been a good first day here in India. The track is just awesome and really good fun to drive. It's been an enjoyable day without any problems. The car felt okay, it has a reasonable balance to it and we were able to get through the entire programme and achieve good set-up work. Now we just have to analyse the data overnight and see what we can do for tomorrow. I can't wait to get back in the car again here!"
Jerome d'Ambrosio (22nd, 1:32.593): "The afternoon session ended quite early for me as I made a mistake out of turn 11 and hit the wall, damaging the rear wing and right rear corner a bit. But apart from that I think I was running fine until then. We have lost some track time but we still have tomorrow's FP3 to make up for it, so that will be the plan."
John Booth, Team Principal: "From the moment we arrived in India and finally got to see the track at first hand, we've all been incredibly impressed with the layout of the circuit and the two days of preparation seemed like an eternity before we were able to see the cars in action. Certainly watching the cars here you can see that the drivers are enjoying this track, however it has caught a number of them out during the two sessions today. FP1 was a fairly straightforward programme for both our cars with a few aero experiments on front wings, followed by runs on the hard tyre to familiarise the drivers with the track. Into FP2 we split the programme, with Timo concentrating more on set-up work with two sets of the Soft tyre and Jerome conducting some of the long run tyre work. Unfortunately, Jerome ended up being one of the drivers that was caught out by the track, however I'm sure he will maximise his time tonight looking through the data and completing his final preparations in FP3 tomorrow ahead of qualifying. Timo and his crew have had a fantastic day and he seems to be pushing his set-ups in a new direction, which is working well for him. Hopefully he will continue building this into a solid qualifying performance."