European GP 2012
JUNE 23, 2012
Saturday Team Quotes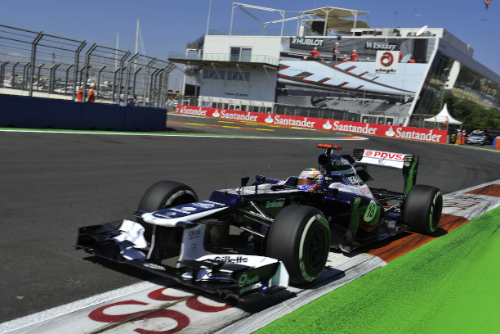 © wri2.net
Red Bull-Renault
Sebastian Vettel (1st, 1:38.086): "I think it was a great recovery from Q1 and Q2 today, as I didn't feel entirely happy in those. It had been a good weekend leading up to qualifying, but conditions changed before Q1. However in the end we pulled it altogether. Everyone has worked very hard with preparing new parts for the car, which seem to be a step forward. Bringing new parts is not always straightforward, as we've seen. Often people try things on Friday, but then go back to their previous set up for the weekend. However this weekend we seem to have made a step forward, although we will give them a proper try tomorrow. We have been good here in previous years, so hopefully we can keep it up for tomorrow. The guys deserve that, they have worked hard all weekend."
Mark Webber (19th, 1:40.395): "I had no DRS, which costs about 1.3 second per lap and made it difficult. The car's put up a big fight today, we only managed to do four laps and three of those were in qualifying. In the first qualifying session we did one lap on the harder tyre and then went out on the soft tyre to try and get through as it was so tight. The lap time actually wasn't too bad considering we didn't have DRS, but it doesn't do anything to help the situation. We have a lot to do tomorrow. We were hoping to fix the DRS for Q2 but we didn't make the cut; we should be able to fix it for tomorrow."
Christian Horner, Sporting Director: "After such a tight qualifying, where at stages the top seven cars were covered by less than a tenth of a second, for Sebastian to deliver a final lap that put him four tenths clear was a remarkable effort. It has earned him his 33rd pole, meaning he matches Jim Clark and Alain Prost, which are two extremely illustrious names. It was contrasting fortune for Mark who, after a difficult morning, had a hydraulic issue with the DRS which prevented him from using it. Nonetheless, he came very close to making the jump into Q2 without it. I'm sure he will have an attacking race from there tomorrow - he's proved before that he can come through the field and we've got no doubt he'll do that tomorrow."
Cyril Dumont, Renault: "A mixed feeling today. It was a great pole position from Seb who finished four tenths ahead. For Mark, unfortunately he had some issues this morning which prevented him from running. Then in qualifying he had an issue with his DRS and wasn't able to use it, which is a big shame. Engine-wise there are some tricky slow speed corners that we have to play with in terms of engine driveability, so there was some work to do during these first two days."
McLaren-Mercedes
Lewis Hamilton (2nd, 1:38.410): "I'm extremely happy to be starting on the front row. To see other teams make big improvements to their cars this weekend, and yet still be starting from P2, is a surprise that I'll happily take. We'd been struggling a little with set-up and front [wheel] locking from the start of practice yesterday, so I went into qualifying really just focusing on getting a decent result and starting as high up the order as possible. So, as I say, managing to bag P2 is very welcome. Nevertheless, it's going to be hard to look after the tyres in the hot conditions we're expecting for the race, so we'll be doing some work tonight to analyse and understand just what I did in the last race to make sure my tyres last as long as possible tomorrow. Overtaking will be very difficult, as always here, but degradation will be a bigger issue for everyone, I think. I'll just be looking to score as many points as I can. If I can finish where I've qualified - second - that would consolidate my world title bid. Anything more than that - a win in other words - would, of course, be a bonus."
Jenson Button (9th, 1:38.801): "The team worked really hard overnight to improve the issues we'd had with front [wheel] locking during Friday practice - and, this morning, I felt we'd improved the car a lot, which was really encouraging. Somehow, however, my car felt very different on fresh rubber at the end of Q3 than it had felt all day up to then. On my final run in Q3, the balance felt very different - I had too much understeer - and, every time I touched the brakes, I locked the fronts. I don't know whether the circuit had changed, but I just couldn't stop locking my fronts. So it's disappointing to be starting ninth, especially as previous races have demonstrated that it's difficult to overtake around here. The key, then, will be to make the right calls on strategy."
Martin Whitmarsh, Team Principal: "Lewis drove a great lap in Q3 to earn a front-row grid slot for tomorrow's race - and, as I said after qualifying in Montreal, where he also qualified second, when Lewis is on the front row, you always fancy his chances, don't you? Jenson was very quick in FP3 and in Q2, and is naturally disappointed that, owing to front [wheel] locking issues and some unexpected understeer, he wasn't able to capitalise on the firm base of pace that he'd built up so far this weekend by carving an equally rapid lap in Q3. But Formula 1 in 2012 is perhaps more fiercely competitive than we've ever seen it before - for example, astonishingly, Fernando's [Alonso] best Q2 time was only 0.218sec slower than Romain's [Grosjean] best Q2 time, yet Romain headed the session and Fernando failed to make it into Q3 - and indeed some fancied runners, such as Mark [Webber], didn't even make it into Q2. It really is incredibly tight these days. That intense level of competition, where a couple of tenths either way on Saturday afternoon can make a profound and prodigious difference to any driver's prospects for Sunday afternoon, calls for nerves of steel not only in the cockpits but also on the pitwalls. It probably causes the pulse rates of viewers at home to race too - but that's as it should be because Formula 1 exists to put on a show, to entertain, and today, on the tortuous confines of the streets of Valencia, that's exactly what Formula 1 did."
Ferrari
Fernando Alonso (11th, 1:38.707): "When you don't qualify for Q3, it's obviously very sad and there's no point hiding the fact. This result is a cold shower, because our expectations were high and the car's potential has also increased, to the extent that in Q2, we were only three tenths off the best. It's easy to say now that with two runs on Softs in Q2 we would have made the cut, but maybe now we would be here lamenting the fact that we did not have two for Q3: it's always easy to judge things after the fact. However, we were not quick enough to be in the top ten in the second part of qualifying and now the race will naturally be tougher. The podium is out of reach and clearly, with Hamilton on the front row, it's easy to expect that we will lose ground to him. However, the race will be very long and will be run in even higher temperatures than today's, which means everyone will have to be very careful when it comes to tyre management. Let's hope that, starting from the clean side of the track I can quickly make up a few places and then we will try to also make the most of the two sets of new Softs we have left: that's at least a small consolation after this far from positive afternoon."
Felipe Massa (13th, 1:38.780): "It's really frustrating ending up outside Q3 by less than a tenth. It was a very close qualifying, with so many drivers very near to one another in performance terms: in Q2, we were three tenths off the fastest time and we were eliminated...A shame because the feeling from the car was very good and I always felt comfortable and capable of fighting with the best. The position does not tell the truth: today we were worth a place in the top three rows. With hindsight, it's easy to say that if we had used two sets of Soft in Q2, we could have made the cut, but we wanted to be in the best possible shape for Q3 and Q1 had shown that we were even quick on the Medium tyre. Tomorrow, strategy will play a very important role and we have seen on several occasions - Canada being the last one - how even those who start from the back have a chance of fighting for the top places. Obviously, we are not happy today, but we know we have a good car and we still have every chance of securing a good result."
Luca di Montezemolo: "Just a few thousandths of a second is all it took to prevent Fernando and Felipe from making it through to Q3 and it's a real shame, because looking at the times in the final part of qualifying and the potential of our car, we could have been in the fight for the rows right at the front. I am very disappointed, because I was hoping for something better: the positions on the starting grid definitely don't reflect the worth of today's Ferrari and on top of that, it has happened at a track where it is particularly difficult to overtake. Tomorrow, we will try to at least make the most of the fact we have two new sets of Softs: tyres are playing a decisive role in this championship and it's up to us to make the best possible use of them."
Stefano Domenicali, Team Principal: "We are disappointed and there's no point in denying it. Q2 is the hardest part of qualifying, because this year everyone is very close and it only takes a mere nothing and you pay a very high price. And that's what happened today to both our drivers. The positions on the start grid do not paint a complete picture of the F2012's potential, given that with their times from Q2, Fernando would have started seventh and Felipe ninth: with a further two sets of Softs to exploit, the times would definitely have been better and I let you draw the inevitable conclusion. Now, clearly, the race will be more complicated, because starting so far back on a track with these characteristics is definitely not ideal. Now we will have to make a virtue of necessity, making the best possible use of these additional sets of tyres we now have carried over for both drivers. We will have to look very carefully at all the strategy options for tomorrow, in order to make up the places we have lost to our main rivals today."
Pat Fry: "Of course, this is not the result we wanted nor does it reflect what we were capable of. We tried to reach Q3 in the best possible condition to fight for the front rows, which meant with two sets of new Softs available and this, with hindsight, maybe cost us something in Q2. A real shame, because we could definitely have started from a very different position on the grid. Now however, we will have to try and limit the damage, making the most of the start and our strategy, aware that tyre degradation will be the key factor, also in the light of a forecast for even higher temperatures tomorrow afternoon. Both Felipe and Fernando will have two sets of new Softs available: maybe that can be a factor in our favour. The updates we brought for this race worked as expected, while other solutions we tried here for the first time still need a bit more development work. In absolute terms, we have got a bit closer to the group of the very best, but there are so many of them."
Mercedes GP
Nico Rosberg (6th, 1:38.623): "We had a lot of potential going into qualifying, but unfortunately I can't be happy with the outcome today. We were quick throughout but when I was just about to start my final lap, Lewis was slowing down in the last corner. I had to start my quick lap behind him which made it impossible to improve my time. We know it's tricky in the last sector here and there is an agreement in place to stop things like this happening so it's frustrating. It will be an interesting race tomorrow from a strategy perspective, and I hope there will be the opportunity to make up some places."
Michael Schumacher (12th, 1:38.770): "What a close qualifying session. Of course, I'm not particularly happy about not making it through Q2 but that was clearly down to me - I didn't get my lap together. On my first run, I was too aggressive in turn 12 on my first timed lap, then had to abort the second lap and pit because the tyres were no longer in good enough condition to improve. After that, I was a bit too conservative on the second run and that cost us, because the times were so close today. On the other hand, my starting position opens up strategic possibilities for tomorrow. I have new sets of tyres available which is the positive aspect of my situation. We will certainly make the most of them."
Ross Brawn, Team Principal: "We had better potential than we showed this afternoon, and I am sure a lot of teams will feel they are in a similar position. Michael didn't put all of his best sectors together on his final lap in Q2, and the times were so close that this meant he missed out by less than 0.07s. Nico had a smooth session, was consistently among the top three and looking good going into Q3. He was quickest on his first run, and had a brand new set of tyres available for his final effort, as the circuit was also picking up pace. However, he found himself sandwiched between Hamilton in front and Maldonado behind, badly compromising his lap, which he eventually aborted. It will be a long race tomorrow with the tyres, and how we manage them, being absolutely vital."
Norbert Haug, Mercedes Motorsport Director: "While Nico's first run in Q3 put him P1, his second ended in traffic as he caught a car in the final sector where you are not allowed to slow down. As his times in Q2 and Q3 proved, it is clear that Nico would have had a shot at the front row of the grid without this handicap. Instead we have to start from the third and sixth rows, after Michael missed Q3 by less than 0.07 seconds and was less than three-tenths slower than the fastest car in Q2. A well-balanced car and a set-up that allows the drivers to look after the tyres during the whole race will be key tomorrow. Our team has worked hard during the last two days to achieve that."
Lotus-Renault
Romain Grosjean (4th, 1:38.505): "Today we got pretty much the most out of the car that we could have. P4 is a good position for the start of the race but of course you want always more and to do better. Sebastian did an unbelievable lap and today we could not have matched it. We have improved our qualifying performance but there is still room to do better. Tyre degradation will be more important than what we saw at the last race. There will be 57 laps in hot conditions on Sunday; we will see what we can do for a good race tomorrow."
Kimi Raikkonen (5th, 1:38.513): "It was very close in qualifying, especially in Q2, so it's good to be fifth on the grid. The car felt good. If we could have improved just a little bit on my last lap then we could have gained a couple of places, but it is an improvement on last time out so I'm very happy with that. We found a few good things with the setup this morning to make the car easier to drive. I'm looking forward to tomorrow. The car usually goes well in the race when it's hot, so let's see what we can do."
Alan Permane, Chief Race Engineer: "We've come from much further back on the grid than P4 or P5 and finished very well. We're very happy with today's performance and both drivers have done an excellent job. Fourth and fifth positions on the grid are excellent places to start and we know the E20 has demonstrated very strong race pace at the majority of circuits this season. I'm sure tomorrow will be no exception. We haven't done anything radically different from our approach at previous Grands Prix. We've certainly had a smoother weekend so far than we did last time out in Montreal, and we seem well suited on the soft tyres. We've looked at the data and given greater consideration to qualifying pace, but our race preparations remain the same. We've come from much further back on the grid than P4 or P5 and finished very well, so we have good confidence heading into tomorrow's race. That said, overtaking is very difficult here even with DRS, so we're not expecting an easy race from that perspective. It's likely to be a very hot race which will give the tyres a hard time and we're confident in those conditions. It's open for a one, two, or three stop strategy tomorrow, so let's see what happens."
Force India-Mercedes
Nico Hulkenberg (8th, 1:38.752): "I think overall it's a great result for the team to get both cars into Q3, but maybe we were hoping for a little bit more than P8 and P10, especially considering how we have performed so far this weekend. I don't think the increase in temperatures helped us because the car felt more difficult to drive today and a bit nervous at times. For the race tomorrow we are still near the front and will take the fight to the cars around us to try and come away with some points."
Paul di Resta (10th, 1:38.992): "It was a strong qualifying session but I feel I could have been higher up the grid because I didn't get the perfect lap together in Q3. We were the quickest car in Q2 and if I could have repeated that lap time in Q3 I would have been a couple of rows higher up the grid. I was trying to squeeze a little bit extra from the car but I locked a wheel and lost time in the final sector. I will try and focus on the positives because we have been strong in all the sessions, the car is well dialled into the circuit, and I think we will have good race pace for tomorrow."
Dr. Vijay Mallya, Team Principal: "Another extremely close qualifying hour and I'm pleased that we were able to get two cars into Q3 for the first time this year. The car has been extremely quick throughout practice and we showed that again today with some very competitive times in Q1 and Q2. When it came to Q3 both drivers didn't quite deliver perfect laps, which costs us a few positions on the grid, but we are still well placed to fight for points finishes with both cars. We expect a tough race tomorrow with very hot temperatures once again, but the car is strong, we have a good understanding of the tyres and our long run pace looks promising."
Dominic Harlow, Chief Race Engineer:
Otmar Szafnauer, Chief Operating Officer:
Sauber-Ferrari
Kamui Kobayashi (7th, 1:38.741): "I'm happy with the car and with the result - the team did a very good job. The lap times are so close. If you make the smallest mistake anywhere you end up nowhere. My lap was okay and I think perhaps the absolute maximum I could have squeezed out was another tenth, but no more. It definitely was worth giving everything in Q3 as we managed to put three cars behind us. We have tried to adapt to the high temperatures here and did a good job on that. One of our targets was to improve in qualifying and we have achieved that today. Now we have to keep the momentum and the performance for the race and I'm pretty confident we can do that."
Sergio Perez (15th, 1:39.358): "Of course I am disappointed with the qualifying, but I have every reason to be confident as we made some changes to the car for the race which didn't help us this afternoon. I believe they will pay off on the longer run. For me the car's balance wasn't good in qualifying, and the car felt a bit unpredictable. For the race I hope we can go at a consistent pace with a good strategy. We have to go for a rather aggressive approach and we have proven we can manage that."
Giampaolo Dall'Ara, Head of Track Engineering: "As expected, the performance level was again very close between the cars. For us the work done overnight paid off. We were closer today than yesterday. Our goal for qualifying was to reach the top ten. We knew this would be very difficult. In the end, Sergio didn't get it right, had some difficulties making it into Q2 and didn't make it to Q3. Starting 15th will obviously not be easy for the race. Kamui did a good lap on medium tyres in Q1, which allowed us to save a set of soft tyres and make best use of them in Q2, where the track was maybe faster in the beginning. This boosted our chances of making it into Q3, so then we took an aggressive approach and waited for the last moment. Kamui then did a good lap. Seventh reflects quite well where we are at the moment and is a good position for the race tomorrow."
Toro Rosso-Ferrari
Daniel Ricciardo (17th, 1:40.358): "It was a fairly tough afternoon. After being off the pace yesterday, we made some pretty big changes to the car overnight. We managed to close the gap a little bit, but not enough to be in contention to fight with our usual competitors. So we decided not to do the second run in Q2, thus saving us some new tyres for tomorrow. We have picked up some positive information from the work we did last night and we have to keep working down that route to try and find more speed. Kovalainen getting ahead of me at the end of Q2? Given my position, it's not so important and in fact it puts me on the clean side of the track, which could actually be better."
Jean-Eric Vergne (18th, 1:40.203): "Up until now this has been a difficult weekend in which we are suffering from a general lack of performance. I am struggling to put together a good lap, especially as I could not get a good feeling from the brakes, which meant that sometimes I was locking all four wheels. All these factors affected my qualifying and I just did not have the speed to get into Q2. For the moment, things are not going the way we want, but we will simply keep on working and not getting downhearted. Often our race pace is better than in qualifying, but I am not sure if that will be the case tomorrow."
Franz Tost, Team Principal:
Laurent Mekies, Chief Engineer: "It is obvious we cannot be happy with where we are on the time sheets this weekend. The gap to our closest competitors is bigger than at the last race. Because of this, we decided to tackle qualifying in a slightly different manner to usual, to learn some lessons that could prove useful for future races, as well as focussing on tomorrow rather than this session. Already between yesterday and FP3 we made some changes to the car to and then, we made the strategic decision not to run new tyres with Daniel in Q2, Hopefully we will reap the benefit of that in the race as he now effectively has two additional sets of new Option tyres."
Giorgio Ascanelli, Technical Director:
Williams-Renault
Pastor Maldonado (3rd, 1:38.475): "We've been working so hard to understand the car but there is still more performance to find on the soft tyre. The team did a great job today though and Williams is getting stronger and stronger. It's not only a good result for the team, but also for my country and there are so many Venezuelan fans here supporting me which is great to see. Strategy will be important tomorrow as it's very hot, but it will make it difficult for everyone. I'm looking forward to pushing for a podium finish tomorrow."
Bruno Senna (14th, 1:39.207): "I'm not too happy with our qualifying result today as I wasn't able to put all my best sectors together which cost me a lot of positions. However, the car feels good for tomorrow so hopefully we can have a stronger race. It's going to be very tough with the high temperatures but we will be pushing hard to come away with some points."
Mark Gillan, Chief Operations Engineer: "As we have seen over the whole season, tyre management is paramount to performing well in both qualifying and the race. This has been clearly evident today with a mixed morning and qualifying session. Pastor did an excellent job with a very strong performance on the soft tyres to finish in third. Bruno was less happy with his tyre balance and finished 14th. Based on our longer runs on Friday we look forward to pushing for a good race result."
Caterham-Renault
Heikki Kovalainen (16th, 1:40.295): "Today's performance was the result of a great effort by the whole team. This morning we weren't sure if we could do it or not but both runs in Q1 were really good. As the temperatures went up and the track kept evolving my car just felt better and better and I really got the most out of it on that final lap on the softs. In Q2 we opted to wait until the end of the session and see if we could improve on the Q1 time and while that wasn't quite possible we achieved the target of beating both Toro Rosso cars and that obviously is a great feeling. I think tomorrow could now be really interesting for us - it looks like we have the chance to race them and that's a significant step forward for our team. We've been getting closer to them in the last couple of races, but this track, the conditions here and the upgrades we've brought give us the chance to make good on our goal of joining the midfield, so now we need to translate today's result into more good news tomorrow and keep moving forwards."
Vitaly Petrov (20th, 1:40.457): "This has been a good day for the team with the upgrades we've brought here helping us take another step forwards. For me I had a good first run on the medium tyres and then was going well on the softs but made a small mistake which cost me a couple of tenths and around this track you only need to lose a small amount of time to drop a few places back. Now it's time to focus on the race and anything could happen here. I think the key to a good race will be managing tyre degradation and so far this weekend we've been reasonably pleased with how our car's been performing here on the long runs. We obviously won't know until tomorrow how our nearest competitors will be able to look after their tyres, so we'll just make sure we put in as good a performance as we can, get the car home and see where we end up."
Riad Asmat, Chief Executive Officer: "Another very good day for our team as we continue to develop in exactly the right direction. Heikki's Q2 appearance shows that we are clearly gaining pace as he was able to mix it with both Toro Rosso cars on the same tyres, with the same track conditions and similar fuel loads. This is down to the continuing hard work everyone in the team keeps putting in to help us achieve our goals, and when we can give Heikki and Vitaly the sort of performance that gives them a chance to really exploit their talents they repay everyone in our team with the sort of laptimes we have seen today."
Mark Smith, Technical Director: "I am delighted with today's performance, as is everyone in the team. We were reasonably optimistic that the updates we have brought here and will have in Silverstone would give us a chance to take another small step forwards and the proof of that is seeing Heikki put his car into Q2. Now we turn our attention to tomorrow's race and the goal is the same as it has been all season - make sure we bring both cars home, take the fight to the cars just ahead of us and be there to take advantage of whatever opportunities arrive in the race."
HRT-Cosworth
Pedro de la Rosa (21st, 1:42.171): "Today's qualifying was very good. After yesterday's incident it took me no time to be quick again, so I applaud my team for their effort last night to fix the car. I'm also happy to have finished ahead of our direct rivals as I wasn't expecting it. As for tomorrow's race, we don't really know what will happen. All the new brake ducts which we brought to this race got damaged in yesterday's crash and now we won't be able to use them so we will be going to the limit but, as always, and even more so racing at home, we will give everything so that our fans can be proud."
Narain Karthikeyan (22nd, 1:42.527): "We made some specific set-up changes for qualifying which definitely helped as we completed our best qualifying session of the season so far. We're ahead of the Marussias, which is very important, and clocking similar times to Pedro so I'm very happy with the result. I hope to carry the momentum over into tomorrow's race where we'll have to keep a close eye on the heat. But we're in better conditions than in Canada and should be able to put in a good performance. I'm heading into the race full of confidence after today and hope to achieve a good result."
Toni Cuquerella, Technical Director: "We're extremely satisfied with the job done by the entire team today. We got things right both in the garage and on the track and we're improving more every time. At a circuit that could have been complicated we have confirmed that we've taken a step forwards since Barcelona and the team is closer to where we want to be. Pedro's lap was very good; in fact it was the best in the season so far. To be precise his time was 103.4%. Narain also did a fantastic job and made the most of his gaps and tyres to complete his best qualifying session to date. This goes to show that the work being carried out by the team is very good. Tomorrow's race will be tough, especially for the brakes, and the biggest question mark is how the cooling will perform over a long distance but we're confident that we'll get both cars over the finish line in front of our fans."
Marussia-Cosworth
Charles Pic (23rd, 1:42.675): "I can't be happy with my position at the end of qualifying today, but I feel that I did everything I could with the car we had today. We have not approached the weekend in the usual way, but in these situations you can only make the best of things and that is what we have done today. We obviously don't know what tomorrow holds just yet but for my side I will be working with the engineers across both sides of the garage tonight to see if we can find a way for the team to make a small step in the race. I wish Timo a speedy recovery."
Timo Glock (24th, No Time):
John Booth, Team Principal: "Unfortunately the weekend continues to run less than smoothly for us and this was certainly the case for qualifying today. Charles drove a very solid lap, but it is clear that we have not yet got all of the areas of the car at optimum performance over a lap and we'll look to improve that for tomorrow's race. After FP3 this morning it was clear that Timo was not sufficiently recovered to take part in qualifying and we felt the best course of action was for him to sit out the session and seek further medical advice. We won't be able to reach any conclusions regarding the race until tomorrow morning, so we wish Timo well and for now we will be working very closely with Charles this afternoon and evening to download as much information as possible. Our objective for tomorrow's race, whatever it may hold, will simply be to do the best job possible in the circumstances."