European GP 2012
JUNE 25, 2012
Race Report - One for the fans from Fernando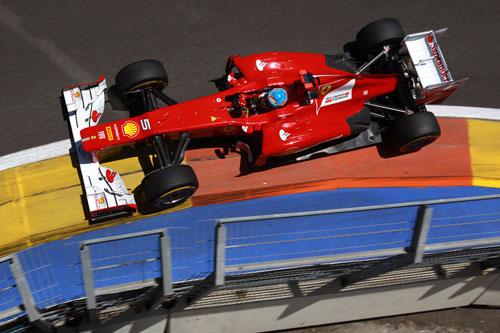 © The Cahier Archive
BY TONY DODGINS
This one meant more to Fernando Alonso emotionally than any previous grand prix win among a total that now stands at 29. Give the man half a sniff and he'll win you the race.
On Saturday evening Alonso was incredulous; Ferrari had improved its car to the extent that he was within 0.22s of the ultimate pace in Q2, and yet he hadn't even made it into Q3! Such is F1's current state of competitiveness that he would start 11th.
There was talk of Ferrari using its freedom of tyre choice to start Alonso on the prime tyre, run him long and get through on a one-stopper. But having gone that route in Canada and suffered, and with most team strategists agreed that a one-stop was a big risk in Valencia, Ferrari chose to go aggressive instead.
The moment the lights went out Alonso was on the move, up three places on the opening lap on a set of new Pirelli options.
But Valencia, even with DRS, is not the easiest of circuits on which to pass. There Alonso stayed until he demoted Hulkenberg's Force India on lap 12.
By this stage pole man Sebastian Vettel was 12.5s up the road, ahead of Romain Grosjean's Lotus, which was 3s clear of Lewis Hamilton's McLaren, then Kamui Kobayashi, Pastor Maldonado and Kimi Raikkonen in close proximity, the Finn 3.5s ahead of the Ferrari.
Hamilton stopped for new primes on lap 13, Kobayashi for another set of used options a lap later, while Maldonado bolted on a set of new primes on the same lap. Raikkonen was in for a used set of options on the same lap but a spot of brain fade with the clutch procedure cost him a couple of seconds and allowed Alonso by when the Ferrari stopped a lap later for another set of new options.
By the time Grosjean and Vettel had pitted and the first stops had shaken out, the Red Bull was still 20s clear of Grosjean, Hamilton was six seconds further back and Alonso was now fourth.
A few laps later, Jean-Eric Vergne misjudged his dice with Heikki Kovalainen's Caterham and the resulting safety car for debris on the track neutralised Vettel's lead.
When the official car departed five laps later, Vettel had ground to a halt with a suspected alternator issue and Alonso was up to second behind Grosjean as everyone filed in for a cheap tyre stop. Hamilton's was a disaster when McLaren's new front jack collapsed. his stop costing a good 10s more than Alonso's, dropping him to sixth.
As soon as the field was back up to racing speed Alonso saw his opportunity and nailed Grosjean around the outside into Turn 2 in a superb move. There was light contact but Fernando got away with it.
"For the next couple of corners I thought something might be wrong with the car but sometimes you imagine it after a contact," he smiled. "I asked the team to check everything and then in the next sector and on the next lap the lap time was there and everything was okay."
Lotus was immediately on the radio to Grosjean telling him not to panic. They had both taken a set of primes on lap 28 and even though Alonso's were new and Grosjean's used, the team was confident that they would have better tyre degradation and that Alonso would come back to them.
Grosjean stayed within a second of the Ferrari in any case until, with 17 laps remaining, the Lotus stopped with what the team's data told them was an alternator problem, similar to Vettel's.
That left Alonso with 4s in hand over Hamilton, who had jumped Raikkonen and Kobayashi. Lewis had also benefited from the retirements of Vettel and Grosjean ahead of him.
Hamilton and Raikkonen had both put on new primes when they pitted on lap 28 but with four laps to go, the McLaren's tyres fell off the cliff.
Hamilton, who had been running in the low 1m45s, saw his lap time drop off by almost a second on lap 54, then by a further 3s next time around, when he was powerless to hold off Raikkonen.
As they blasted over the line to begin the penultimate lap Hamilton also had Maldonado alongside him, but gamely resisted the Venezuelan's move at Turn 2. Pastor tried again around the outside of Turn 12 but Lewis drove him wide. Maldonado kept his boot in and as he rejoined the track clobbered the McLaren's left-hand sidepod and put Lewis into the tyre wall and out of the race.
The stewards ruled that Maldonado had failed to rejoin the track in a safe manner and added 20s to his elapsed race time, scratching the 10th place that he salvaged without the benefit of his front wing for the remaining lap and a half.
Although you could not blame Hamilton for the contact, you did ask yourself if Alonso would have done the same thing? Lewis had hung the Williams out on the exit of Turn 12, he knew who he was racing and he might have anticipated that Maldonado would not back off. In the circumstances, on shot tyres, Lewis might have been better off giving Maldonado three-quarters of a car width and bringing the car home for 10 points given that he had a 7s margin to Hulkenberg with two laps to go.
You can't knock Hamilton too hard for being a fighter but that could be costly at season's end. He would have been unlikely to hold the Williams at bay for the duration in any case.
Flying through the field on options as the race reached its conclusion were Schumacher and Webber, who managed to demote the Force Indias, which had been strong from first thing Friday morning.
Michael was rewarded with the first podium of his return but, for a time, there was a question mark against it. Racing Webber, the pair had caught Karthikeyan's HRT approaching the DRS zone and Michael had deployed his drag reduction device while Webber was told not to by Red Bull.
Drivers have been warned that using DRS in a yellow flag zone will be frowned upon and, at the time, waved yellows were out for Hamilton's demise. Vettel received a drive through penalty for the offence in Barcelona and for a time it looked as if Michael's podium, like his Monaco pole, would suffer a complication.
The race stewards, however, said they were satisfied that Schumacher had reduced speed significantly in the waved yellow zone and that the incident differed substantially from that at Barcelona.
Di Resta had bravely gone for a one-stopper - the only driver to do so -- and managed his race superbly, making his one pit visit for a new set of primes on lap 23. Unfortunately for the Scot, the Safety Car negated much of the benefit and it was team mate Nico Hulkenberg who came through to finish fifth, the best position of his F1 career, having driven much of the race without the benefit of KERS.
Jenson Button suffered his third perplexingly uncompetitive race in as many grands prix to come home eight having started ninth, with Sergio Perez's Sauber ninth and Bruno Senna claiming the final point at the expense of his penalised team mate.
Alonso was as emotional as you could remember seeing him as he embrace raced engineer Andrea Stella on the podium. It was a nice moment, shared by Raikkonen and Schumacher, who also worked with Stella at Ferrari.
"Winning your home grand prix is unique," Alonso said. "I can still remember winning Barcelona in '06 with Renault. The grandstands were full of colour, Spanish flags and lots of atmosphere and emotion.
"There's a lot of pride in being a Spanish sportsman at the moment, with the atmosphere and excitement around Euro 2012, Rafa Nadal's successes and the fact that for Spain it's not the best time at the moment with the crisis and the problems that people have.
"People came here to see a race, sleeping in cars and caravans and trying to enjoy it. You want to give them something and you feel sad when you can't, like on Saturday. Today I felt I needed to do something. It's the most emotion I've ever felt on a slowdown lap or a podium."
It was a quite superb drive and totally deserving of the 25 points that take Alonso 20 points clear of second-placed Mark Webber in the championship table. But, as Ferrari team principal Stefano Domenicali acknowledged on Sunday night, Red Bull's pace looked a touch ominous. Roll on Silverstone.