European GP 2012
JUNE 23, 2012
Qualifying Report - Vettel takes decisive Valencia pole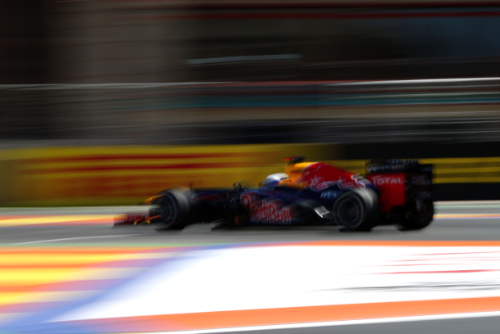 © wri2.net
The double champion equalled the pole position count of greats Jim Clark and Alain Prost when a single option tyre Q3 run gave him his 33rd career F1 pole position.
In another incredibly tight qualifying session, Q2 was amazing. We thought we'd seen something special in China when 0.28s covered the top 10, but here it was 0.22s!
Vettel thought he might make it through with one Q2 run but decided he couldn't risk it. "It was the right decision!" he grinned after using his one remaining set of new option Pirellis to put the Red Bull on pole by 0.33s from Lewis Hamilton's McLaren.
"I felt comfortable in the car this morning but this afternoon I was a bit off compared to the weekend and played catch-up in Q1 and Q2. I knew that if I got the lap together it would be good, I played a bit with the diff and front wing, caught up and had a good feeling on that last lap."
Lewis Hamilton was delighted to maximise McLaren's sitiation and joined Vettel on the front row with a lap in 1:38.410.
"We had to make some guesses in terms of set-up changes," the '08 champion admitted. "It's going to be a tough race tomorrow, for sure. The Lotuses look massively competitive and will be ones to look out for romorrow."
There sems to be something about Pastor Maldonado and Spain! The Venezuelan, after his win in Barcelona,topped Q1 and ended up third on the grid. He, too, was happy.
"The car has been quite quick from first thing but we were struggling a bit with the option tyres and the car didn't feel the same as on the prime. We worked hard to understand and did a good job. The strategy will be important in these hot conditions and difficult for everyone."
Looking forward to those conditions will be the Lotus drivers, Romain Grosjean (1:38.513) and Kimi Raikkonen (1:38.513) who start fourth and fifth after displaying strong long-run pace on Friday. Qualifying pace had been a bugbear for the team at some races but either driver could easily be the eighth different winner of 2012.
Nico Rosberg (1:38.623) starts sixth with Mercedes team mate Michael Schumacher out of the top 10 down in 12th. Kamui Kobayashi (1:38.741) put the first Sauber seventh, just a hundredth of a second clear of Nico Hulkenberg (1:38.752), whose team mate Paul Di Resta (1:38.992) completed the top 10, the Force India pair sandwiching Jenson Button's McLaren (1:38.801).
Di Resta's Q2 time would have put him sixth on the grid and while it was the first time that the team got both cars into Q3 this year, the overall feeling was one of slight disappointment given the speed that the VJM05 has displayed in Valencia.
One of the big stories was that neither Ferrari nor Mark Webber's Red Bull made it into Q3. Alonso paid the price of doing just the one Q2 run and could rightly feel aggrieved that with a lap within 0.218s of Grosjean's Q2 best, he failed to makw the top 10. That's a measure of just how competitive F1 is right now.
Webber, meanwhile, paid the price for a missed FP3 session witth brake problems. Hydraulic issues spoiled qualifying, when the lack of DRS all but guaranteed trouble and meant that the Aussie failed to make it out of Q1. He'll doubtless recall what happened here a couple of years ago when he attempted to come through from the back...