European GP 2011
JUNE 25, 2011
Saturday Team Quotes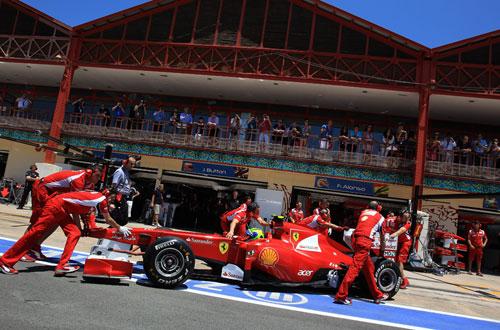 © WRI2, All Rights Reserved
Red Bull-Renault
Sebastian Vettel (1st, 1:36.975): "There was a lot of talk going into this GP about the regulation changes and there will be a lot of talk before the next one. I think everyone will lose out on something, but people expect us to lose more than other teams and that is where I disagree. Overall it was a very good day for us - it's good to have the front row for our team, but it will be a long race tomorrow. It's always tough here. It's a tricky circuit, as there are so many corners - I think there are 25 before we cross the line again, so to get all of them right is very difficult and to get the perfect lap is quite tough. I think my first lap was quite good, I was very happy and Mark was obviously with his second run. So, it's a good result and a good place to start from tomorrow, we'll see what we can do."
Mark Webber (2nd, 1:37.163): "That was a pretty good lap. There are so many corners here that you'd like to put them all together perfectly from all of your runs, but that's not the case and you have to try and put them together when it counts. I didn't have the smoothest build up in qualifying, so the guys did a good job to recover with me. I knew there was more to come on the last lap, I just had to put it all together. Still, it wasn't easy, but it was a good lap and it was good to go a bit faster in the last sector. Seb was strong in the first two, but in the end it is a great day for the team off the back of all the talk. Of course, there are no points today, so we're looking forward to tomorrow's race and we'll go from there."
Christian Horner, Sporting Director: "A tremendous team performance and to have both drivers up on the front row is a great team result. It's thanks to excellent execution in all three qualifying sessions and to the hard work that's going on - not only trackside, but also back in the factory - to ensure that we can continue to produce cars that are capable of challenging for the pole, week in and week out. There are no points for today however and with the double DRS zone that we know will be very powerful here, it will make for a fascinating race tomorrow."
Cyril Dumont, Renault: "So again, another very good qualifying for Red Bull Renault. It was our third one-two of the season and eighth pole position. It was a good recovery from Mark today after the Q1 session, which was not so easy for him. Regarding the new regulation, it's a good result - I think the pace is there, even with the race set up! I hope we have a good race tomorrow."
McLaren-Mercedes
Lewis Hamilton (3rd, 1:37.380): "I'm excited to be in the fight: we can win from this position. Of course, we'll need a bit of luck with the strategy and the pitstops, but our guys are on great form. You've got to be fortunate and maximise absolutely everything to get ahead of the Red Bulls - and, hopefully, that can happen tomorrow. I tried to push a little harder on my final lap - but it's a very fine line between being too greedy and getting it just right - and, unfortunately, I locked up into Turn One and that's where I lost time and bailed out. The team did a great job as always. The guys back at the factory have been working as hard as ever to bring the updates to the track. They're pushed to the limit, but they are delivering, so I'm very thankful for everything they're doing. Our race pace has been pretty good over the past three races and we should be fast tomorrow too - so keep your fingers crossed!"
Jenson Button (6th, 1:37.645): "Sixth position is a bit frustrating because the car felt pretty good in Q2, and I didn't have to push it too much. So I don't know why that changed for Q3. I had quite a bit of oversteer and I couldn't get enough rear grip or traction, particularly in the first two sectors. And that was something I wasn't expecting. The car felt really good this morning in practice, though. Maybe in this heat, the balance didn't work quite as well as it did this morning due to the higher track temperatures. It was the same with the Prime tyre: a bit more oversteer than there was this morning. Still, I'm sure we can change the tyre pressures and aero balance for tomorrow, so we can still have a good race."
Martin Whitmarsh, Team Principal: "In the last three grands prix - Barcelona, Monte-Carlo and Montreal - we've had the quickest race car, and I'm hopeful that we'll have the quickest race car here in Valencia, too. Today, we qualified third and sixth - good but not great - but we feel we can still win tomorrow's race. Getting the strategy right will be a challenge for everyone, but we've got a great race car in the MP4-26 and two great race drivers in Lewis and Jenson - and, although ideally we'd prefer to have qualified on the front row, as I say I firmly believe we'll be able to mount a serious challenge for victory tomorrow."
Ferrari
Fernando Alonso (4th, 1:37.454): "I don't think this was a disappointing qualifying, because even if there were those outside the team who built up expectations, within it, we were well aware of the situation. The aim was to fight with the McLarens and we did just that. Maybe we had hoped to be ahead of both, but instead we find ourselves splitting the two drivers. I did not expect that the very slight change introduced to the rules would change the order of things and that was the case: Red Bull was and still is the favourite. We will see if at Silverstone, where there are more significant changes coming, something will happen, but we need to keep in mind that everyone or almost everyone will suffer a drop in performance. On my second run in Q3, I was giving it my all to try and improve, but once I realised that my time was slower than on my previous one, I chose to pit and save that set of Options as much as possible. I reckon that tomorrow we could see different strategies in terms of pit stops. Our aim is to finish on the podium and we are in with a chance. The development work on the car is progressing well, but we are a long way behind in terms of aerodynamics, which to put a time value on it means two or three months. It will not be easy to catch up but we will do all we can to succeed."
Felipe Massa (5th, 1:37.535): "It wasn't an easy qualifying, even if fourth and fifth places is definitely not a bad result. Maybe the others, especially McLaren, managed to find a little something extra between practice and qualifying, while Red Bull continues to be very strong, as was predictable. We have become more competitive over the past three races and our aim is to keep going down this path. We must push on the development of the car, especially as next year's regulations will be more or less the same, therefore any work we do now could be helpful in the long term too. With the new Medium compound, today we struggled more than yesterday: maybe there is more rubber on the track and the higher temperature did not work in our favour on this front. It will be interesting to see what strategies will be chosen for the race: I don't think doing a one-stop is possible, as was the case last year."
Stefano Domenicali, Team Principal: "All in all, this was a good qualifying. We fought McLaren right to the end for a place in the top three and we only missed out on it by a whisker. Sure, if we look back at the times, sector by sector, we can claim to have had the potential to get both our cars onto the second row, but we know how difficult it is to put together the perfect lap on a track like this. At the past four races, we have always qualified with at least one driver on the front two rows, which is progress compared to the first half of the season. Also, the gap to the quickest has come down, but even allowing for the fact that the circuit characteristics might have been favourable to us, it does mean that we working in the right direction in terms of the development of the car, although we need to give it an added boost. Tomorrow's race looks like being very uncertain: there is a clear favourite of course, but I don't think we should assume the result is a foregone conclusion. We have often seen races turn out to be more closely contested than qualifying and there is no reason why that should not be the case again tomorrow. The podium? I think we can fight for that. It will be important to do a good job of managing whatever situations arise during the race."
Pat Fry: "A very interesting and closely contested qualifying. The gap to the quickest is more or less what we could have expected going into this weekend, given that this track has slightly different characteristics to Montreal, where we were closer to the front. In the final sector in particular, we paid the price when compared to the Red Bulls and also to the McLarens. It's in that part of the track that aerodynamic efficiency of the car counts for the most and that is the area where we have to improve. Now we must concentrate on the race, well aware that it's going to be tough and incident packed, as is usually the case on a street circuit. There is one more unknown factor than usual, linked to how the Medium compound that we are running here for the first time will work out over a long run. I honestly believe that no one has yet got sufficient data to say how this factor will work out in tomorrow's race."
Mercedes GP
Nico Rosberg (7th, 1:38.231): "Yesterday was very busy with a lot of set-up changes but the team and I did a decent job today to improve the car, so I'm quite pleased. It is difficult out on track this weekend and we have to be careful of overheating the rear tyres - that will certainly be something to watch out for tomorrow. I was able to save one set of soft tyres, by running used options in Q2, and this can be important in the race as we aim to score some nice points. I'm looking forward to it."
Michael Schumacher (8th, 1:38.240): "I am ok with today's qualifying result which I would say was an average one. I might have improved by one place but in the penultimate slow corner, I attacked a bit too early, got oversteer and had to lift for a moment which cost me the place to Nico. But all in all, we came in where we had expected to finish. It would be optimistic in my view to expect that we can attack the cars in front of us tomorrow because I think our starting positions realistically reflect where we stand at the moment. So let's see how the race develops and what we can make out of it tomorrow."
Ross Brawn, Team Principal: "Qualifying went pretty much to plan today. All of the drivers in Q3 managed reasonable laps, so we fell into the natural order, with Nico and Michael in seventh and eighth positions. The team has done a good job all weekend to maintain our position and get everything out of the current package. We are in good shape for the race, particularly Nico with a fresh set of option tyres available, and our high-fuel running has not been too bad. We must be aware of potentially even higher track temperatures tomorrow, but today we achieved the maximum that's possible for us at the moment. However, our plan and ambition remains to move forward out of that position over the next months."
Norbert Haug, Mercedes Motorsport Director: "Nico and Michael achieved today what was achievable with our current technical package, which we will improve step-by-step over the season. Both drivers did only one run in Q3 with a new set of options. Nico's and Michael's lap times are split by 0.009 seconds, so a good effort on the limit of the car from both drivers."
Renault
Nick Heidfeld (9th, No Time): "In third practice we tried a few small set-up changes, and it went according to plan with no major incidents. When I reached Qualifying, my Q1 did not go as well as I would have liked because I'd planned to do just one lap in order to save the tyres. Unfortunately, I experienced a bit of traffic during my flying lap, which slowed me down somewhat and so I had to carry on and do more laps than I wanted to try and bring the time down. Q2 was ok, but we knew we needed to improve to get through, so we did another lap on new options which was successful as I managed to squeeze into the top 10 by finishing ninth fastest. Then, when I went out in Q3, we saw that Sutil was not going to do a lap time so we quite rightly came back in because the cars ahead had posted times that were considerably quicker. Of course, when you're in the car and you are called back, you want to stay out and have a go! But, it was the right decision because we've saved tyres. We were targeting higher than P9 and P11 but realistically, on today's pace, that's where we were so we will now look forward to a strong race tomorrow."
Vitaly Petrov (11th, 1:39.068): "The gap between me and P10 was very close, but that's racing - sometimes other cars are faster than you and tomorrow is another day. We didn't have any particular problems, just not quite enough speed so we will try our hardest in the race tomorrow. It's a long race and it won't be an easy one in this heat. We will analyse the data and hope we perform better on fresh tyres. I'm sure there will be a lot of overtaking and much will depend on who can look after the rear tyres the best. Here, the degradation is not as bad as we have seen and we will not see a race like Barcelona so I'm confident we can take a good stride forwards and get a good result."
Alan Permane, Chief Race Engineer: "Today was a disappointing qualifying session. Our target is always to get both cars into Q3 so to miss out by three hundredths of a second with Vitaly was frustrating to say the least. I don't think he had the cleanest of laps, but the real problem is that the car has not had enough pace at this track to assure ourselves of a comfortable top ten position. Well, we do have the slight benefit of being able to decide which tyres we will start the race with tomorrow, and we can make this call for both cars as we didn't complete a timed run in Q3 with Nick. We could see that Adrian Sutil was not going to run and we did not have the pace to go faster than the cars in front, so by conserving tyres and not setting a timed lap we've opened up our race strategy options for Nick. I think we're likely to see a mix of two and three pit stop strategies tomorrow, as it's certainly not as severe on tyres as Barcelona or Turkey. Looking at the weather so far, I'd say it's highly unlikely that will have the rain we saw in Canada. The new medium has performed reasonable well, but it looks to be 1.5 to 2 seconds a lap slower than the soft, so minimising the use of this tyre will be the key, especially as the degradation of the soft is not that bad. We did a reasonably long run on Friday and we're happy with how it (the soft) performs on our car."
Williams-Cosworth
Rubens Barrichello (13th, 1:39.489): "We should have made it into Q3 today. My plan for the race is to do the best I can and enjoy myself. We are only just outside the points and there are opportunities to overtake around this track so we will see what we can do."
Pastor Maldonado (15th, 1:39.645): "We obviously had a problem with the car but we don't know what it is; the engineers are looking into it. It's quite strange because we haven't had any other issues over the weekend. The car feels strong at the moment so I think we could have made it into Q3 today if it weren't for that."
Sam Michael, Technical Director: "We carried out further aero tests on the exhaust and front wing during this morning's practise session. After reviewing the data we decided to revert to the standard exhaust system for qualifying as we were getting inconsistent floor performance from the latest version. In qualifying, Rubens' quick lap on new tyres was looking good for a place in the top ten but he had a lock up in the last corner. We then had an issue with Pastor's car which caused him to stop on the circuit. We're still investigating the reason behind that. We'll be pushing for points tomorrow."
Force India-Mercedes
Adrian Sutil (10th, No Time): "The car has been working pretty well all weekend and I felt that we had a good chance to make it through to Q3 today. But I knew that we would have to get the lap just right. That's why this result feels great because I got the maximum from the car. We didn't go out in Q3 because we felt it was better to save another set of soft tyres for the race. Also, we saw in Q2 that Heidfeld was three tenths away and that it would be difficult to improve on P10. So it's a good grid position, but the race is what counts so hopefully we can convert this into points tomorrow."
Paul di Resta (12th, 1:39.422): "After the problems we had in free practice, I knew that I would be on the back foot today having only completed three timed laps yesterday. But we tried our best this morning to get up to speed with the car before qualifying. On my final flying lap in Q2 I was on the edge and simply made a small mistake at turn 17 - I missed a downshift and ran wide. That meant I lost the advantage I'd made at the start of the lap. So I will start from P12, which is not too bad considering all that has happened this weekend. I'm staying positive and think that we can fight for points from there. The only unknowns are that I haven't done a long run on high fuel and it's difficult to know where to start with the aero balance or when to conserve the tyres. So we will try and make the most of what we know."
Dr. Vijay Mallya, Team Principal: "Today's qualifying performance confirms the progress we have made recently with the development of the VJM04. To see Adrian qualify in the top ten, ahead of one of the Renaults, is a tremendous effort and probably the most that we could have expected today. The car has been competitive right from the start of practice and it is satisfying to see that pace translated into a strong starting position. Paul has also done an excellent job after losing nearly all his track time yesterday. To qualify in P12 shows how well the entire team has worked to recover from a difficult situation. For tomorrow, we will fight hard and hopefully bring home some points."
Sauber-Ferrari
Kamui Kobayashi (14th, 1:39.525): "It is quite tricky. Generally our car improved and, again, I am very confident for the race. We have shown we are much better in race conditions. Again I had warm-up issues with the tyres, and once I find some grip the front tyres overheat. For the future we will try to find a solution for this, but for tomorrow I will be aiming for points as in the previous races."
Sergio Perez (16th, 1:39.657): "Because the track temperatures were going up I expected to be a few tenths quicker, but it turned out not to be that easy. We did more laps in order to get the tyres to work, but this also has disadvantages. However, I think tomorrow it will be possible to get some points and this is my target."
Peter Sauber, Team Principal: "I'm happy we have Sergio back in the car. However, we have a difficult task in front of us for the race."
James Key, Technical Director: "It was a disappointing session today. We made up a bit of ground over night, and the drivers were generally happy with the car this morning, but we knew we needed to make another step in qualifying. Q1 looked okay, Sergio's lap was pretty competitive, and we wanted to improve in Q2. But ultimately this didn't happen. We were unable to extract the most out of the car. It's a real shame, it's not where we want to be, and now we have to focus on our race strategy to try and recover from a difficult qualifying."
Toro Rosso-Ferrari
Sebastien Buemi (17th, 1:39.711): "I had a tough time in Q2. In the first session, I had a very good lap, lying P10 so everything was looking good as we were ahead of our main competitors. Then, in Q2, we waited quite a long time and, just as we were planning to go out on track, the red flag stopped the session and that changed our plan a bit. At the end, I found myself with a two tenths gap, losing the time in the final sector, which represented four places. I am disappointed, but I am still looking forward to tomorrow, because at least we have managed to save a few sets of tyres which will help us in the race."
Jaime Alguersuari (18th, 1:40.232): "That was a difficult qualifying for me, not helped by the fact I was unable to drive in Free Practice 2 yesterday, which meant I was lacking data on the tyres, which is critical here because there is a big lap time difference between the Prime and the Option. On my first lap, which was always going to produce the best performance from the tyres, I got big traffic so could not do a good time. I tried again on the second lap but I was getting a lot of oversteer as the tyres were not at their best anymore. It's a pity, as I would naturally want to do better, but at least we only used one set of tyres which leaves us in good shape for the race from a tyre point of view."
Giorgio Ascanelli, Technical Director: "We did not get it right this afternoon. Seb did not improve on his run in Q2. We chose an aggressive strategy in terms of the tyres, going for a single run in each session, because we expect it will be even hotter tomorrow and we wanted to use just the two sets of tyres per driver. Seb had a completely traffic-free lap at the end of Q2 and he did not make the most of it. In Jaime's case, the whole weekend has been a struggle, for reasons not of his making: yesterday we had a problem we could not solve in time to get him out for FP2 and today, I would say we let him out on track 30 seconds too late. He then found traffic on his first lap and that was it. If you look at the gap to our usual competitors, apart from Sutil who did a good job, I think we are pretty much on their pace with a much smaller gap to the others than we had here last year. The new components we brought here look promising, even if we did not get the best out of them. I think we need more track time to get the most out of these updates. We cannot be happy with our qualifying positions, but I would not say it is a drama."
Lotus-Renault
Heikki Kovalainen (19th, 1:41.664): "For me that was a pretty good performance. I found some more time on my second run and I definitely got as much as I could out of myself and the car, so even though the gap to the cars ahead isn't what we want it to be it's still satisfying to have delivered on that goal. We knew from the practice sessions that the time difference would be about what it turned out to be and despite the hard work put in right across the whole team we weren't able to close it up any more."
Jarno Trulli (20th, 1:42.234): "Traffic played a major role in my qualifying today. Everywhere I went it seemed as if there was someone right on the racing line, so to be honest I'm a bit disappointed. The car felt good and without the traffic I'm sure there was more pace in it, but even though we were all told not to back off in sector three there were other cars doing that and unfortunately that had a big influence on the times. However, now it's all about the race tomorrow and I think we can continue to show that the speed of the car in race trim is good. I want to make sure I have another good start and let's see what happens from there."
Tony Fernandes, Team Principal: "I watched that session from Paris where I have had a very good week working on deals for AirAsia and Team Lotus. Ten years ago we started an airline with just $250,000 and two planes. Two days ago we completed a the largest ever contract with Airbus worth $18 billion and won the title of World's Best Low-Cost Airline for the third consecutive year. After such a momentous week I then had the pleasure of watching Heikki put in yet another very strong drive, and had Jarno not spun on his final lap he would have been right up there with his teammate. With performances like that, and the hard work the whole team puts in every single day, I can't help but feel that AirAsia's history will eventually repeat itself with Team Lotus. I do love our little team."
Mike Gascoyne, Technical Director: "A reasonably good qualifying session for us. We are a little further down than we expected to be here, but we are well clear of the cars behind. Tomorrow will be a long hard race and the goal for us is to have a reliable two car finish and see what we can pick up."
Thierry Salvi, Renault: "During FP3 we completed a good programme with Heikki. We had a small electrical issue with Jarno but that was quickly fixed and from our perspective that was a good session. One of the goals was to give the drivers the right engine maps to maximise performance in the slow speed corners and with the mileage we completed we were able to achieve that. In qualifying the result was not quite what we had hoped for but we definitely know where we have to improve the car and I am confident we are going in the right direction."
HRT-Cosworth
Vitantonio Liuzzi (22nd, 1:43.584): "Yesterday we had some trouble with the balance of the car; the rear tyres were overheating and we were sliding coming out of slow corners but this morning we improved the balance. We knew it would be a difficult qualifying session especially because our main opponents made some steps forward but we have to look forward to tomorrow which will be a difficult race because the rear tyres are struggling in these hot conditions but tomorrow is another day and we will see how it goes. Obviously the competition is still on and we will be fighting until the last lap as usual. We have to try and understand the car better for the future and keep pushing for our target. It will be important to try and jump ahead of Timo at the start tomorrow and then keep the rear tyres alive. Even though tomorrow will be a difficult race, we will push to try and get the best result possible for our home fans. After the result in Montreal, people and the fans can believe in the team as we proved we are pushing night and day. It's a shame we're facing these tough conditions at a home grand prix but we will not give up until the end."
Narain Karthikeyan (24th, 1:44.363): "It was a difficult session. I just didn't catch up the time lost on the track yesterday with the gearbox issue. Braking stability on our car wasn't the best so I'm a little bit concerned about that but, apart from that, there aren't any major issues. The track is tricky and penalizes you a lot if you make a small mistake because all the corners lead into long straights so if you don't stop the car enough or if you lose the apex by a few inches, you get penalized all the way down the straight. There isn't much grip offline so you have to be pretty precise. I would have liked a few more laps perhaps but the important thing is that we've qualified and now have to take on the race tomorrow. It's my first time here so this is all experience I'm gaining and we should take it all as a positive. Now we need to try and improve the car and improve myself and see how we do."
Colin Kolles, Team Principal: "Qualifying could have been better. We lost too much time, especially in the second sector and also in the third sector. I don't think that we achieved the optimum therefore it's quite disappointing, now we have to see what was the reason for us losing so much time in the second and third sector. I hope that the engineers will find a solution for the upcoming races and that we have a good setup for the race tomorrow. Under normal circumstances there won't be any change in the weather conditions tomorrow so I think it will be quite an interesting race but not as interesting as Canada, the main target is obviously to finish the race with both cars, let's see what happens."
Virgin-Cosworth
Timo Glock (21st, 1:42.553): "I'm very pleased with how things have gone so far this weekend and today my car crew did an amazing job, so thanks to them as everything has been very smooth. One little mistake we made was sending me out in a bit of traffic on my second run. Petrov blocked me into turn one which put me in the way of other cars which were on a fast lap and I had to get out of the way, so I didn't get the best chance on my second set of tyres and therefore set my best time on my third timed lap. Overall though a much better day. I was only 0.3s away from Trulli, my lap was good and hopefully we can have a good race with Lotus tomorrow."
Jerome d'Ambrosio (23rd, 1:43.735): "A bit of a disappointing end to the day. We've had a good weekend until qualifying, when something broke at the rear of the car. But at least it's better that it happens today rather than tomorrow so we still have the opportunity for a good race."
John Booth, Team Principal: "As we've seen on a number of occasions this year, it's a case of mixed results. Timo continued his good start to the weekend and stepped through some set-up changes in FP3 which seem to have improved the car again, so going into qualifying he was happy with the balance of the car. Unfortunately we made a little mistake with the timing of his second run which undoubtedly lost him some time as he was unable to set his time on the optimum lap for the tyres. With this in mind we are looking forward to the race tomorrow where I'm sure further improvements will be seen. Jerome was also running well and again experimenting with set-up in P3, although we chose to make a reasonably big change on his car going into qualifying, as it had shown good results on Timo's car. This is always a risk with the driver not having used the set-up before, however Jerome was initially running quite well. Unfortunately on his second run, whilst braking for turn 17, he felt a problem with the car. From the data and an initial inspection of the car, this was found to be a problem with the rear spring. We will inspect under Parc Ferme and rectify the issue for tomorrow, after which I'm sure Jerome can look forward to an equally good race."