European GP 2011
JUNE 25, 2011
Qualifying Report - Red Bull locks out European GP front row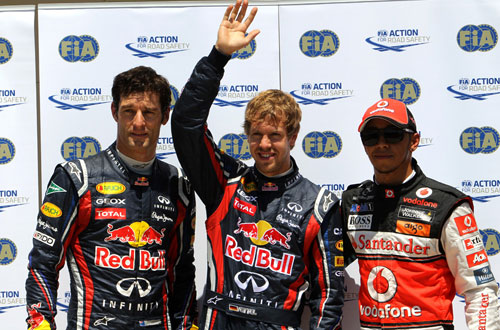 © WRI2, All Rights Reserved
The need to use race engine maps in qualifying - a 'clarification' to the F1 rules introduced in Valencia - could do nothing to stop Red Bull Racing taking the front row of the European Grand Prix grid.
In truth, it wasn't much of a surprise. The bigger effect, in magnitude if not changes to the order, is likely to come when the use of hot and cold blown diffusers is banned at Silverstone in a fortnight's time. Here though, the Red Bull steamroller continues unhindered.
Sebastian Vettel (1:36.975) took his seventh 2011 pole in eight races. His time, set on his first Q3 run always looked like affording him a big enough margin to sit out the rest of the session and save a set of soft Pirellis for the race. Although he came out again as Mark Webber, Fernando Alonso and Lewis Hamilton also emerged for second runs, he was there to cover his pole only and aborted the second run when he was sure it was unnecessary.
"There was a lot of talk before we came here and there will be a lot more before the next GP," Vettel said. "People were expecting us to lose more than others but that's where I disagreed. It will be a long race tomorrow though, with 25 corners a lap on what is a tough circuit. I felt comfortable in the car and it's a good start but strategy could be interesting with different approaches at different times."
Team mate Webber (1:37.163) was unhappy with his RB7 in Q1, when he used the Pirelli primes and looked as though he may struggle to get through, as in China, with a lap that was 0.84s shy of his team mate. It worked out in the end though, and he banked a set of options, as did all of the Red Bull/McLaren/Ferrari men save Felipe Massa, who ran a set of options to top the session, the Ferrari notoriously poor at switching on the harder tyre compounds. Alonso managed it, however, setting 13th fastest lap, a quarter of a second quicker than Webber on his primes.
"I didn't like the car at all in Q1 and we were in big trouble," the Australian explained. "I had a brake balance issue and we also put some more front wing in. We did a good job to recover the front row in Q3 and I put a strong last sector together. It's a very challenging final corner here, one of the most challenging on the calendar with a high entry speed and a bit of a kink before. It's hard not to misjudge the braking point."
McLaren was also having trouble switching on the prime tyre in practice, at times seeing almost 3s difference between that and the option. "It was much better in qualifying," Hamilton (1:37.380) said after qualifying third quickest. "We could still have an exciting race."
Home hero Alonso (1:37.454) lost the 'best of the rest' battle to Hamilton by just 0.07s, with Massa (1:37.535) ultimately qualifying the second Ferrari a similar distance behind his team mate.
Jenson Button's best lap (1:37.645) was a quarter of a second adrift of McLaren team mate Hamilton and qualified the second Mclaren sixth. The Canadian GP winner was a little disappointed after being third quickest in Q2 and finding more oversteer in the final session. The team remains confident of a strong race, however.
The Mercedes pair of Nico Rosberg (1:38.231) and Michael Schumacher (1:38.240) were closely matched but more than half a second from the McLaren pace. The 0.009s between them amounted to just 62cms across the start/finish line but Rosberg appears to be in slightly better shape for the race, having run a used set of option tyres in Q2 and saved a new set for the race.
Nick Heidfeld put his Renault into the top 10 for the fourth time and was joined by the Force India of Adrian Sutil, who managed the feat for the first time in 2011. Neither man set a time in Q3 having used option rubber in Q1 and Q2.