European GP 2010
JUNE 27, 2010
Race Report - Vettel back in championship hunt after Valencia win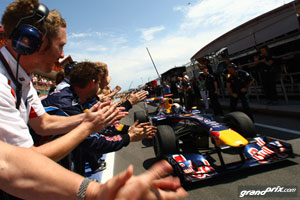 © Grandprix.com, Photo: Andrew Hone
Sebastian Vettel put himself right back in the championship fight with a dominant lights to flag win in the European Grand Prix at Valencia.
The biggest threat to Vettel came on the opening lap when a fast starting Lewis Hamilton tried to get down the inside of Turn 2 and the pair made light contact. The Red Bull escaped unscathed but Hamilton reported a slight vibration, which wasn't enough to stop him finishing the race second, ahead of McLaren team mate Jenson Button.
The defining moment of the race came on lap 9, when Mark Webber had an enormous accident from which he was fortunate to emerge unscathed. Webber made a slow start from second place on the dirty side of the grid and found himself down in ninth place at the end of the opening lap.
It is almost impossible to pass on the Valencia street circuit and Webber made the decision to make an early stop to go onto the prime Bridgestone tyre, hoping to run in clear air and make up ground on the leaders that way. But, as he moved to go past Heikki Kovalainen's Lotus he made a misjudgement and cart-wheeled over the back of the Lotus. After hitting a signpost, the Red Bull came back right-side up and Webber cannoned into the tyre barrier.
The ensuing Safety Car saw a huge rush into the pits, which defined the order for much of the rest of the race. Vettel maintained his lead, Kamui Kobayashi's Sauber leapt up the order to fourth place after electing not to stop, and Rubens Barrichello's Williams-Cosworth pitted out in fourth place.
"We really didn't expect to be that strong, quick enough to pull away, find a gap and carry the car home," Vettel said. I saw the SC board on the main straight and thought that the cars following might get a stop for free but it was okay. The restart was tight, I had a huge lock-up at the last corner trying to brake as late as I could and after that I had a bit of a flat spot. Then I got the message that Lewis had to go to the pits for a Drive Through penalty and I could back off a bit. The most important thing is that Mark is okay after such a big shunt. People say that F1 is very safe now and nothing ever happens but things like that just remind you how high the speeds are and how badly wrong things can go."
The fact that Kobayashi was running third created a bit of a buffer for Hamilton, who was able to open up a big enough gap to serve his Drive Through penalty without losing track position.
"I don't remember too much about the Safety Car incident," Hamilton said. "I thought that I was past it and just continued. From the touch at the start I had a bit of a vibration and was concentrating on bringing the car home in one piece."
For Button, it was a positive result having started seventh. "Starting there and finishing third is really positive," he said. "I had a crazy first lap, side-by-side with Robert Kubica all the way from T1 to T11, and we went either side of Webber in T8, then I was helped out by the Safety Car, which allowed me to jump Robert. I then got stuck behind Kamui, who was doing a good job I have to say. I was running pretty low downforce and I just couldn't get the corner exits I needed to get a run on him.
Barrichello gave Williams and Cosworth its best result of the season when he held off Kubica for the remainder of the race, with Adrian Sutil finishing sixth in the first of the Force Indias.
Kobayashi ran until just four laps before the end before stopping for a set of supersoft Bridgestones. He came back in ninth place, right in the wheeltracks of Sebastian Buemi's Toro Rosso and Fernando Alonso's Ferrari. He delighted the Sauber team by using the additional grip of the option tyre to pass both of them in great style and finish seventh. Behind Alonso, Pedro de la Rosa made it two Saubers in the top 10, until the FIA had finished investigating speeding transgressions while the Safety car was deployed, that is.
Button, Barrichello, Hulkenberg, Kubica, Petrov, Sutil, Liuzzi, Buemi and De la Rosa were all guilty of going quicker than the time delta for pitting while the Safety Car was deployed but due to the mitigating circumstance of being so close to the Safety Car line, were given just 5s time penalties to be added to their race times. Timo Glock was also given a 20s penalty for ignoring blue flags.
The penalties had no effect on the classification of the first seven places, but Buemi dropped to ninth, behind new eighth place man Alonso, and De la Rosa was demoted to 12th, costing him his first point of the season. That went to Nico Rosberg, who moved up two slots. Felipe Massa gained three places to 11th, Jaime Alguersuari was promoted two places to 13th, Petrov dropped three places to 14th, Schumacher gained a place to 15th, Liuzzi dropped three to 16th, Chandhok gained a slot to 18th and Glock dropped to 19th.
The result means that Hamilton now heads the championship on 127 points, six points clear of team mate Button, with Vettel now 115 and Webber, 103. In the constructors championship McLaren has 249 points to Red Bull's 218.