European GP 2010
JUNE 27, 2010
Race Notes - Vettel wins European GP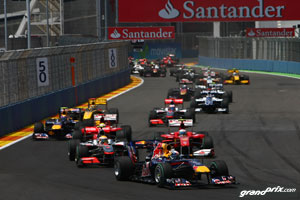 © Grandprix.com, Photo: Andrew Hone
Sebastian Vettel took a flag-to-flag victory today at the European Grand Prix, in Valencia, Spain, in his Red Bull-Renault, 5.0 seconds ahead of the McLaren-Mercedes of Lewis Hamilton in second place. His team mate Jenson Button finished third, 7.6 seconds behind the leader.
Rubens Barrichello (20.6s) in his Williams-Cosworth finished in fourth, followed by Robert Kubica (22.1s) in the Renault in fifth, Adrian Sutil (25.1s) in the Force India-Mercedes in sixth, Kamui Kobayashi (30.9s) in the BMW Sauber-Ferrari in seventh, Sebastien Buemi (31.2s) in the Toro Rosso-Ferrari in eighth, Fernando Alonso (32.8s) in the Ferrari in ninth, and Pedro de la Rosa (42.4s) in the second Sauber in the final points paying position in tenth place - his first point of the season.
In a race that was shaped by a huge accident by Mark Webber, from which the Australian emerged unscathed, and the Safety Car period that ensued afterward - the stewards are investigating nine drivers after the race, including Button, Barrichello, Kubica, Sutil, Buemi and De la Rosa, and the final positions are still in question, and might change.
The win is Vettel's seventh in his career and second of the season (his last win coming in Malaysia). Hamilton continues to lead in the drivers championship with 127 points over his team mate Button with 121. Vettel jumps from fifth to third, with 115 points, followed by Webber with 103 and Alonso with 96. In the Constructors Championship the order remains the same with McLaren and Red Bull extending their lead (with 248 and 218 points respectively) over Ferrari with 163 and Mercedes with 108 points.
At the start Vettel gets the lead from pole, while Hamilton jumps to second and fights with Vettel, the two make contact but continue - Hamilton complaining of a vibration. Alonso takes third followed by Massa, Kubica passes Button for fifth, while Mark Webber falls back from his second starting position back to ninth at the end of the first lap.
Jarno Trulli pits for a new nose on lap 1.
At lap 2 Vettel leads, Hamilton by 2.3 seconds followed by Alonso, Felipe Massa, Kubica, Button, Barrichello, Nico Hulkenberg, Webber and Buemi in tenth.
Alonso tell his team that bits of Hamilton's McLaren at falling off.
On lap 5 Jarno Trulli pits again, stuck in gear. Michael Schumacher is being warned that his brake temperatures are very high.
On lap 6 Vettel stretches to a 3.3 second lead over Hamilton, who is 2.0 seconds ahead of Alonso. Red Bull reports that Webber has no mechanical problems, but remain stuck in ninth.
On lap 7 Webber pits early for hard tyres and rejoins in 18th place. Nico Rosberg pits the next lap and rejoins in 19th, while Alonso sets the fastest lap and starts to close on Hamilton.
On lap 9 Webber comes up behind Heikki Kovalainen on the straight. Webber jinks out to pass the Finn and collides with the back of the Lotus, flies up in the air and flips - a spectacular shunt - the car landing upside down and then righting itself again. Webber ends up in the barriers, but is unhurt.
Kubica, Button, Barrichello, Hulkenberg, Buemi, Sutil, Vitantonio Liuzzi, De la Rosa and Karun Chandhok all pit - the leader Vettel, Hamilton, Alonso and Massa have already passed the pit lane entrance and have to pit on the next lap. Schumacher pits the following lap changing to soft tyres. Ferrari is the big loser - Alonso back in 10th place, Massa in 15th.
At lap 13, behind the Safety Car, Vettel leads Hamilton, Kobayashi (yet to pit), Button, Barrichello, Kubica, Buemi, Sutil, Hulkenberg and Alonso in tenth place.
Alonso complains that Hamilton drove too slowly as the Safety Car came out, holding him up from getting past the Safety Car and putting him back in the pack.
On lap 13 Schumacher pits again, switching to hard tyres, and rejoins in 21st.
On lap 14 the Safety Car pulls in, Vettel locks his tyres in the final corner but takes the restart - Hamilton is not able to take advantage. Alonso passes Hulkenberg for ninth place.
A line of cars follows Kobayashi as Vettel and Hamilton break away from the pack, the two drivers trading fastest laps.
Hamilton is told by his team to save fuel now and attack latter.
At lap 21 Vettel leads Hamilton by 1.9 seconds, followed by Kobayashi (11.3s), Button (12.8s), Barrichello (14.3s), Kubica (15.1s), Buemi (16.6s), Sutil (17.2s), Alonso (18.0s) and Hulkenberg (18.9s) in tenth place.
Hamilton is under investigation by the stewards for possibly backing up the pack under the safety car.
Rosberg is being warned to conserve his brakes.
Hamilton is given a drive-through penalty. The replay shows that as the Safety Car emerged during the Webber incident - Vettel was ahead, and Hamilton backed off as the Safety Car emerged from the pit lane, and crossed the line behind the Safety Car, and then went on to pass the Safety Car and continued around to pit on the next lap.
On lap 27 Hamilton pits to serve his penalty, but as Kobayashi has been holding up the pack he has pulled enough of a lead to rejoin still in second place just ahead of the Japanese driver.
A bottle appears outside the line of a corner, rolling around - after a few laps a marshal runs out and retrieves it, the race continuing under green.
At lap 30 Vettel leads Hamilton by 14.0 seconds, followed by Kobayashi (16.7s), Button (18.2s), Barrichello (21.6s), Kubica (22.6s), Buemi (25.0s), Sutil (26.1s), Alonso (27.3s) and Hulkenberg (28.9s) in tenth place.
Kubica is told that his car is running a little hot.
On lap 36 Schumacher pits for a third stop, back on soft tyres.
Senna and Glock battle for 19th place as the leaders come to lap them, the two make contact, Glock coming in with a punctured tyre and Senna having a broken front wing - pitting the next lap.
At lap 40 Vettel leads Hamilton by 11.2 seconds, followed by Kobayashi (17.4s), Button (18.5s), Barrichello (24.9s), Kubica (25.7s), Sutil (28.4s), Buemi (30.3s), Alonso (31.1s) and Hulkenberg (32.0s) in tenth place, with some smoke appearing from his car. Massa remains in 15th place, and Schumacher - in 17th place - sets the fastest lap.
On lap 43 Di Grassi makes his only pit stop.
The stewards announced that they will investigate Button, Barrichello, Hulkenberg, Kubica, Petrov, Sutil, Liuzzi, Buemi and De la Rosa after the race as to whether they lapped too quickly during the Safety Car period.
On lap 47 Hamilton sets the fastest lap, and is down to 7.9 seconds behind Vettel.
On lap 50 Hulkenberg pulls off the road and retires while running in 10th place. More debris appears on the track but the race continues.
At lap 51 Vettel continues to lead Hamilton by 6.9 seconds, followed by Kobayashi (15.7s), Button (17.0s), Barrichello (26.8s), Kubica (27.7s), Sutil (29.0s), Buemi (33.3s), Alonso (34.2s) and De la Rosa (43.4s) in tenth place.
On lap 53 Kobayashi pits for his only stop of the day from third place and rejoins in ninth place behind Alonso.
Button, worrying about a possible time penalty after the race, puts the hammer down and sets fastest lap.
Alonso battles with Buemi for seventh place, Kobayashi following closely behind. Kobayashi passes Alonso for eighth - he then passes Buemi for seventh place on the final corner of the race.
Sebastian Vettel crosses the line to win the European Grand Prix - a solid performance from the German.