Chinese GP 2016
APRIL 17, 2016
Race Notes - Rosberg wins sixth in-a-row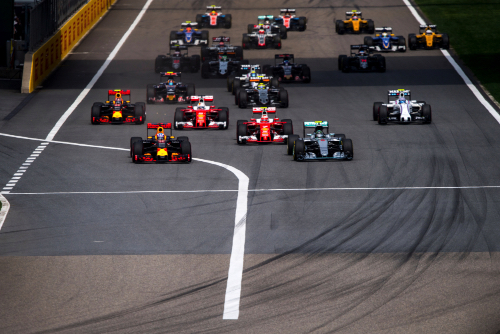 © Active Pictures
Nico Rosberg won the Chinese Grand Prix today in his Mercedes GP - his sixth win in-a-row, since the Mexican GP last season.
Sebastian Vettel finished in second place in his Ferrari, followed by Daniil Kvyat in third in his Red Bull-Tag Heurer.
Rosberg takes his 17th career win and extends his championship lead. Rosberg now starts the 2016 season with his third win in succession.
Kvyats Red Bull team mate Daniel Ricciardo finished in fourth place, followed by Kimi Raikkonen in the second Ferrari in fifth place, Felipe Massa in the Williams-Mercedes was sixth, Lewis Hamilton, in the Mercedes GP was seventh, Max Verstappen in the Toro Rosso-Ferrari was eighth, with his team mate Carlos Sainz in ninth, and Valtteri Bottas in the second Williams finished in the final points position in tenth place.
Before the start, drivers are looking at various strategies, with Rosberg - starting on soft compound tyres expected to gain an advantage over the other drivers starting on supersoft tyres, and most expecting three stops this afternoon.
Rosberg starting on pole position with Ricciardo starting alongside him on the front row. Ferrari drivers Raikkonen and Vettel on row two, Bottas and Kvyat on row three, Perez and Sainz on row four and Verstappen and Massa rounding out the top ten places.
Last years winner Hamilton will start from the final position on the grid.
Alonso returns to the grid after sitting out the Bahrain GP due to his injuries in his accident in the Australian GP.
At the appointed time the grid clears and the field sets off on the formation lap.
Polesitter Rosberg comes to the grid, the lights go out and the Chinese GP is on with Ricciardo taking the lead over Rosberg. Vettel and Raikkonen touch and Raikkonen spins. Meanwhile Hamilton is touched by Nasr, and losses his front wing.
Ricciardo leads Rosberg, Kvyat, Perez, Hulkenberg, and Sainz.
Raikkonen, Hamilton, Grosjean and Nasr all pit at the end of the first lap.
On lap 3 Rosberg passes Ricciardo, and as he passes the Red Bull, Ricciardos left rear tyre goes, and he heads for the pits.
Roberg leads Kvyat, Perez, Hulkenberg, Sainz, Vettel, Button, Bottas, Massa with Verstappen in tenth.
Hamilton and Raikkonen run fast at the back of the field.
On lap 5 the Safety Car is deployed, and many drivers dive in the pits.
Following the safety car, Rosberg leads Massa, Alonso, Wehrlein, Gutierrez, Kvyat, Palmer, Haryanto, Perez and Bottas in tenth. Hamilton pits multiple times, and switches back to soft tyres. and runs in 21st.
At the end of lap 8 the safety car comes in and the race resumes, with Rosberg in the lead.
On lap 9 Vettel passes Hulkenberg for 12th, Kvyat passes Alonso for third.
Vettel moves into tenth - Hamilton runs in 18th.
On lap 10, Hamilton passes Raikkonen for 16th, as there continues to be a lot of jockeying for position after the restart.
Rosberg leads Massa by two seconds, followed by Kvyat, Alonso, Perez, Vettel, Wehrlein, Bottas, Gutierrez and Button in tenth.
Vettel and Bottas made contact, but both continue.
On lap 14, Hamilton chases Ricciardo and is now up to 12th. Kvyat passes Massa to take over second place at the end of the straight. Vettel passes Perez, and then Alonso for fourth place.
Vettel loses part of his front wing. Raikkonen and switches to medium tyres - he rejoins in last.
On lap 16 Perez passes Alonso for fifth, and Alonso then makes his first pitstop switching to medium tyres.
On lap 17 Vettel pits and switches to soft compound tyres, along with Hulkenberg.
On lap 20 Kvyat pits from second place for more soft tyres. Vettel sets fast lap at 1m40.884s.
On lap 21 Rosberg makes his first pitstop from the lead. Vettel passes Button in fifth place. Bottas pits from second place. Sainz and Ricciardo both pass Alonso. Hulkenberg is given a five-seocnd penalty for driving too slowly in the pitlane.
On lap 23, Roberg, on new tyres sets fast lap at 1m40.631s. Ricciardo passes Sainz for ninth place.
At lap 24 Rosberg leads Kvyat, Vettel, Button, Massa, Perez, Bottas, Ricciardo, Sainz, Raikkonen, and Hamilton in eleventh.
On lap 26 Perez, Button and Bottas are battling for fifth place. Rosberg sets another fast lap at 1m40.580s.
Bottas pases Button for sixth. Ricciardo gets by Button as well.
On lap 28 Bottas passes Perez for fifth. Button pits,
On lap 29 Ricciardo passes Perez for sixth - Perez then dives in the pits for his stop for medium compound tyres.
Rosberg holds a 23.3s lead over Kvyat.
On lap 31 Hamilton makes his fifth stop putting on medium tyres - he now runs 14th place.
Vettel closes to within a second of Kvyat in second place. Massa pits from fourth and switches to medium tyres as well.
On lap 33 Alonso pits again. Hamilton passes Gutierrez for 11th. Sainz pits as well.
Hamilton pases Perez for tenth.
At lap 35 Rosberg leads Kvyat, Vettel, Ricciardo, Raikkonen, Verstappen, Massa, Bottas, Hamilton and Perez in tenth.
On lap 36, Kvyat and Vettel pit from second and third together, Kvyat on medium tyres. Rosberg pits from the lead the next lap, switching back to medium tyres.
On lap 37 Vettel passes Kvyat down the back straight for third place. Ricciardo pits from second place for medium tyres. Raikkonen pits for soft tyres.
On lap 38 Rosberg, comfortably in the lead, sets another fast lap at 1n40.418 seconds.
On lap 40 Massa passes Verstappen for fourth place.
Verstappen then pits. Hamilton passes Bottas for fifth. Ricciardo passes Bottas for sixth.
On lap 41 Raikkonen passes Perez for eighth. Hamilton chases Massa, followed closely by Ricciardo.
On lap 42 Verstappen sets fast lap at 1m40.399 seconds.
On lap 43 Ricciardo makes the move for fifth on Hamilton, who was lining up to pass Massa. Later in the lap Ricciardo passes Massa for fourth place.
On lap 44 Raikkonen passes Bottas for seventh palce. Hamilton is chasing Massa for fifth place with Raikkonen just behind.
Raikkonen dives down the inside of Hamilton and takes sixth place.
On lap 47 Button sets fast lap, then Grosjean setting it at 1m40.037s.
On lap 48 Raikkonen takes Massa for fifth place.
On lap 48 Grosjean goes quicker again at 1m39.923s, then Hulkenberg the next lap at 1m39.824s.
At lap 50 Rosberg continues to lead 33.5 second again of Vettel, Kvyat, Ricciardo, Raikkonen, Massa, Hamilton, Bottas, Verstappen and Sainz in tenth place.
On lap 55 Verstappen passes Bottas for eighth. Sainz chases Bottas as well.
Rosberg crosses the finish line and wins ahead of Vettel and Kvyat.