Chinese GP 2012
APRIL 14, 2012
Qualifying Report - First Mercedes pole since 1955!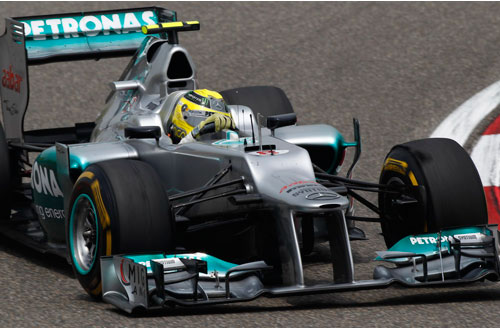 © Active Pictures
Nico Rosberg (1:35.121) took the first Mercedes pole position since Monza 1955 when a superb first Q3 run left him with half a second in hand over Lewis Hamilton's McLaren (1:35.626).
It means that after a five place grid penalty for an unscheduled gearbox change is applied to Hamilton, Mercedes will have the Chinese GP front row to itself after Michael Schumacher (1:35.691) set the third fastest time.
"It's a great feeling and good to have got the lap together," Rosberg beamed. "It's a perfect start for us so far and shows that the team is moving forward but at the first two races it's been clear that in the race we haven't been as quick.
"It's difficult to know exactly where we are going to be. It might be a bit colder which could help us. In qualifying the temperature coming down helped the rear tyres a bit and tomorrow may depend on that."
It's an interesting one. The colder conditions of Friday practice may have helped the Mercedes rear tyres but it also caused a bit of front graining and so predictions ahead of the race are difficult.
Hamilton looked distinctly happier about being outqualified by his former karting team mate than he does on the occasions that team mate Jenson Button manages it.
"Mine wasn't such a bad lap but big congratulations to Nico," he said. "It's quite a cool feeling that when we were team mates back in 2000 we dreamed of being on the front row for F1 and here we are. I won't be starting there though, so I will have to work hard to catch him up!
"I could maybe have gone another tenth quicker on my last run but it wasn't enough to trouble Nico, so it was better to save the tyres."
Schumacher's time (1:35.691) was more than half a second from Rosberg's. It was evident just how much Michael wanted to be the man to give the three pointed star its first pole for over 50 years when he radioed in and asked: "What was Nico's time?"
He probably didn't like the answer but, for most of last year, Rosberg enjoyed a qualifying speed advantage but Schumacher's race pace was a match.
Fourth place was a surprise with Kamui Kobayashi (1:35.784) proving that Sergio Perez's second place in Malaysia was no flash in the pan. There were no changeable conditions here, Perez himself was fourth in Q2 and lines up eighth (1:36.524). Clearly, there is not a lot wrong with the Sauber.
On the opening day of practice Lotus did not spend too much time chasing a set-up, knowing that conditions, track temperatures in particular, were going to be different for qualifying. They were proved right and Kimi Raikkonen (1:35.898) planted the first car fifth on the grid with Romain Grosjean also getting the second one through to Q3.
Jenson Button (1:36.191) starts fifth, with team mate Hamilton one slot behind him when his grid penalty is applied. Mark Webber (1:36.290) lines up seventh, a tenth of a second slower.
The Aussie, running his RB8 in the latest specification, was the only Red Bull driver to make it through to Q3, with Sebastian Vettel, having reverted to the older pre-final Barcelona test exhaust layout, eliminated in Q2 when Fernando Alonso's Ferrari pipped him by five hundredths. Alonso (1:36.622) starts the race ninth.