Chinese GP 2012
APRIL 13, 2012
Practice 2 Report - Schumacher goes top in China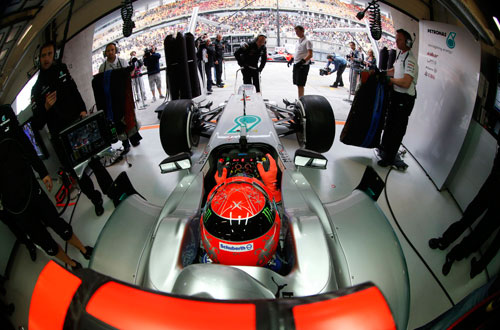 © Active Pictures
Michael Schumacher (1:35.973) set the fastest time for Mercedes in the second session of free practice for Sunday's Chinese GP, round 3 of the 2012 FIA Formula 1 World Championship.
In terms of longer run pace, however, McLaren and Red Bull look strong again, with Lewis Hamilton (1:36.145) also finishing the session second quickest, just a couple of hundredths faster than Sebastian Vettel's Red Bull (1:36.160) and then Mark Webber (1:36.433).
Nico Rosberg's quickest option tyre time (1:36.617) was fifth best but some way shy of Schumacher's pace. Team principal Ross Brawn has explained that Rosberg is still not entirely comfortable with the way the current car reacts under braking and that they are trying to improve the situation.
Jenson Button (1:36.711) was sixth fastest with the second McLaren, commenting early in the session that the traction was better, although he found himself suffering too much understeer later on.
Kamui Kobayashi's Sauber (1:36.956) was seventh fastest, a hundredth clear of Paul Di Resta's Force India, then Nico Hulkenberg (1:37.191), Fernando Alonso (1:37.316) with the first of the Ferraris, and Sergio Perez (1:37.417).
Kimi Raikkonen (1:37.836) finished up a disappointing 13th in the first of the Lotuses, the team slightly perplexed by the performance level, which they suspected was the set-up not suiting the colder temperatures, with track and air both less than 15 degrees.