Chinese GP 2012
APRIL 13, 2012
Practice 1 Report - Hamilton tops fist Shanghai session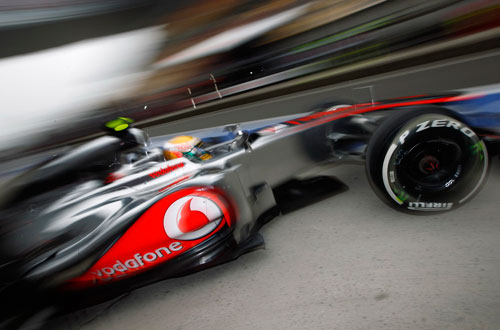 © Active Pictures
Lewis Hamilton (1:37.106) topped the first session of free practice for Sunday's Chinese GP with a lap more than a second and a half quicker than the corresponding session at last year's race.
Most of the quick times came in the last 10 minutes of the session as a dry line emerged after cold weather and drizzle greeted drivers as the session got underway.
With track and air temperature down around 13 degrees for much of the session, getting Pirelli's soft and medium compound rubber into the right operating window looks to be one of the major challenges facing teams this weekend.
McLaren has now indicated that the decision to change Lewis Hamilton's gearbox and incur a five place grid penalty has not been definitively taken although team principal Martin Whitmarsh admitted it looks "99% certain" with a final decision due to be taken this evening. A cracked component is the issue and the problem is not loss of performance but rather whether the 'box would last the event.
The Mercedes pair of Nico Rosberg (1:37.106) and Michael Schumacher (1:38.116) set second and third fastest times, ahead of Malaysian runner-up Sergio Perez (1:38.584) and Kamui Kobayashi (1:38.911) in the Saubers.
Mark Webber (1:38.977) and Sebastian Vettel (1:39.198) did back-to-back testing of differing exhaust configurations for defending champions Red Bull Racing and finished the session sixth and seventh, ahead of Jenson Button's McLaren (1:39.199) and the Toro Rossos of Daniel Ricciardo (1:39.748) and Jean-Eric Vergne (1:39.768).
Fernando Alonso (1:40.056) and Felipe Massa (1:40.153) were 11th and 12th with the Ferraris, with Valtteri Bottas (1:40.298) again impressive in an FP1 outing for Williams in place if Bruno Senna.