Chinese GP 2011
APRIL 17, 2011
Race Report - Hamilton derails the Vettel express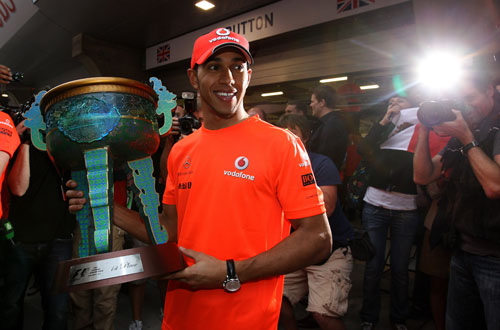 © WRI2
By Tony Dodgins
Lewis Hamilton scored a tremendous victory in the Chinese Grand Prix as McLaren used a three-stop strategy to overcome two-stopping pole position man Sebastian Vettel. The importance of making the right strategic calls were emphasised by Mark Webber who, starting 18th after a disastrous qualifying hour on Saturday, used a three-stop strategy to make it all the way through to claim the final podium position, finishing just 7s behind Hamilton and right on the tail of Red Bull team mate Vettel.
Hamilton, still apparently sore at the way Malaysia panned out, so very nearly had more heartache before the race had even begun. The McLaren would not fire up in the garage, a fuel leak was diagnosed and the team mechanics frantically corrected the problem and got the car out of the pit lane with just 45s in hand. They finished putting the car back together on the grid!
When the lights changes Vettel bogged down with too few revs and Jenson Button took full advantage to head the pack into Turn 1. Vettel went into damage limitation mode and attempted to squeeze Hamilton to the inside. Lewis, having none of it, kept his boot in and made it a McLaren 1-2 on the first lap, leaving Vettel to fend off the advances of Nico Rosberg.
Webber, meanwhile, took the decision to start on the prime tyre, which could have been adjudged inspired or foolhardy depending on your point of view. One way of thinking was that down there at the back in 18th slot, with a Red Bull that potentially still had a KERS issue, you wanted as much pace as you could get in the opening stint to try to get through as many midfield runners as possible, so take options. On the other hand, you knew you were going to be compromised and unable to run to the car's full potential embroiled in all that traffic, so you might as well get your stint on the primes out of the way at the same time. But even so, as Webber admitted, "when you see P17 still on your pit board after quite a few laps, you do wonder if the race is going to come back to you..." It did, and how!
At the front, Button was unable to break away and the first stops were going to be crucial in terms of maintaining track position, the season having proved thus far that the undercut of an early stop is decisive. Teams regularly give first pit stop priority to the driver who either qualifies ahead or is ahead on the road and so, with Button satisfying both criteria, it was no surprise to see Jenson heading into the pitlane first, after 14 laps, with Vettel covering him. What was a huge surprise though, was to see Jenson coming to a halt at the Red Bull pit!
"I was looking down in the cockpit and just went into the wrong pit..." admitted an embarrassed Button. It meant that Vettel was able to jump Button in the pits, with Jenson still maintaining track position against team mate Hamilton, who pitted a lap later.
Rosberg had dropped around 4s behind the Button/Hamilton/Webber train but stopped two laps earlier, achieved the undercut and now led. Michael Schumacher adopted a similar tactic to get out ahead of Fernando Alonso, with the Ferraris of Felipe Massa and the Spaniard having run fifth and sixth. From early in the race, however, Rosberg was being asked to 'lift early' because the team data was showing much heavier fuel consumption than anticipated.
As the second stops approached, Button was first in, with Rosberg and Hamilton responding next time around. Nico managed to stay ahead of the McLaren pair and when Vettel did not respond it became obvious that the team intended to get Sebastian through on just the two stops. Their situation was not helped by the loss of radio communication.
Alonso then re-passed Schumacher into Turn 14 and it became obvious that Ferrari, too, was going for the two-stop option. The question was whether the three-stoppers were going to have the pace to go by once they caught up. The answer was yes. Rosberg went inside Alonso into the last corner, Button passed him with better traction on the exit of the T14 hairpin and Hamilton was through next lap as well.
Passing cars on different tyres is one thing, but Lewis Hamilton now showed what a superb racer he is by starting to dispense with opponents on the same strategy. Exiting T14 faster than team mate Button on lap 35 of the 56 he closed right in, got a cleaner exit from the last corner, towed Button down the straight and charged inside into Turn 1. Button could either turn in and have an accident or give Lewis room. No doubt much to the McLaren pit wall's relief, he chose the latter.
Within five laps Hamilton was on Rosberg's tail. The Mercedes has prodigious straightline speed and Nico is an adept defensive driver but still could not stop Hamilton getting down the inside of Turn 6. Lewis was now third with 14 laps remaining and just the two-stopping Vettel and Massa ahead of him.
Hamilton wasted no time behind Massa, getting a better exit from the final turn and passing him on the run to T1. With tyres seven laps newer, he homed in on Vettel. Sebastian defended the hairpin well but it looked to be only a matter of time and, indeed, with four laps to go, Hamilton deployed his KERS with good effect and shot by on the inside of Turn 7.
"It was a good move and it caught me by surprise a bit," admitted a magnanimous Vettel. "I tried hard staying on two stops, but my middle stint should have been a bit longer. I tried to defend as much as possible without losing time to the guys behind, but still finished second and I'm happy with that. We had some KERS problems too. The pace was there but once we'd decided to go two stops you have to be patient and if it doesn't work, it doesn't work."
With such a huge qualifying margin it seemed unfeasible that Vettel would lose the race if he had no problems but, team boss Christian Horner explained: "we made the commitment to two stops and we came up four laps shy of making it work. We made the decision based on Sebastian being P3 at the time and felt it was the best way to beat the McLarens. If we'd made three stops behind them we'd probably have stayed behind both of them."
Rosberg, of course, had led both McLarens after the second stops as Mercedes enjoyed by far its best display of the season, but having been outfumbled by Hamilton, Nico then went too deep into T14 trying to pass Massa and was re-passed by both the Ferrari and Button's McLaren. Rosberg got Massa again on the exit of the last turn, pushing the Brazilian wide in the process, but the man to watch now, was Mark Webber.
Webber's Q1 elimination on prime tyres on Saturday had left him with a full complement of Pirelli options and once he'd got that difficult opening stint out of the way on primes, Webber was the fastest man on the track for the rest of the afternoon. Having reached the front-runners, the Australian passed Alonso, then Massa, nailed Rosberg up the inside of Turn 7 on lap 54 and went inside Button at the T14 hairpin next time around. The final spot on the podium was no more than he deserved.
"That felt like one of the best races I've ever driven in," beamed a delighted Hamilton. "The last race was tough but I came straight here after Malaysia and just tried to reset. I knew Sebastian is good at defending and had a great car with good traction and slightly better downforce. I had to find a way of getting him where he was not expecting it. I had a bit of a flat-spot from overtaking Nico and at the end I was just thinking, don't go on me! It was one of the best grands prix I can remember."
Hamilton went out and grabbed the race by the scruff of the neck with a superbly aggressive drive. It was a display of clinical overtaking of the type that is supposed to be impossible and, truth told, was worth 50 points rather than just the 25. Team mate Button and Rosberg must have been left ruing races they might have won - both were ahead of Lewis after the final round of stops.
"It was very disappointing that we had to start looking at fuel saving with Nico, which ultimately cost him at least a podium," explained Mercedes team principal Ross Brawn. "We need to look into why both cars suffered so much higher fuel consumption in the race."
Massa got the first Ferrari home sixth, not too far short of a Red Bull on a similar strategy, while Alonso paid for time lost behind Schumacher early on and just beat the seven times champion to the line for seventh place. Vitaly Petrov's Renault and Kamui Kobayashi's Sauber claimed the final points.
Anyone still against the artificiality of degrading tyres will be forced to think hard by the events in Shanghai. Even Mark Webber might be convinced...