Chinese GP 2010
APRIL 18, 2010
Sunday Team Quotes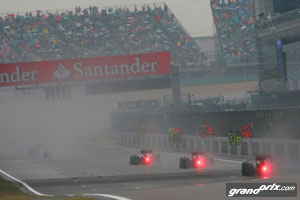 © Grandprix.com, Photo: Andrew Hone
McLaren-Mercedes
Jenson Button (1st): "This was my best victory in Formula 1. Every race you win becomes your best, but this was an extremely special win in very tough conditions. And it's especially satisfying because it was a really dominant victory for the whole Vodafone McLaren Mercedes team. We scored a one-two today, and the reason we did so was that every single element within the team worked perfectly. From the strategy calls to the pitstops, you need to get everything just right if you're going to win in conditions like these. And today we did indeed get everything just right. It's not luck that brought us out on top today. We made the right decisions - the guys on the pitwall and back in Woking made the calls brilliantly, and I couldn't have asked for better support. My first few months with Vodafone McLaren Mercedes have been extraordinary - I really feel a real part of the team now - so today's result gives us great excitement, encouragement and enthusiasm as we head to Barcelona, and the start of the European season. We hope to be even stronger there."
Lewis Hamilton (2nd): "First of all, congratulations to Jenson - he did an incredible job and made an excellent tyre choice in what were very tricky conditions this afternoon. It was very tough at the start - it started to rain right away, and it was a difficult call to decide to pit for intermediate tyres. I made a very late call when I thought I'd heard a comment over the radio, and pulled into the pits when I was halfway round the final corner! Unfortunately, it wasn't the right choice - the tyres started graining almost immediately and I needed to stop again, this time for dry tyres. But, after that, I got my head down and made up a lot of positions before the rain got heavier. I want to thank the team for making not only some pretty impeccable strategy calls, but also for executing some fantastically slick pitstops. I think the team was operating right at the top of its game today, and I want to thank all the guys for such an incredible effort. Towards the end of the race, my tyres really weren't in good shape. So, while I was able to get past a lot of cars, I wasn't able to catch Jenson. But we both had an absolutely fantastic afternoon, and I think the whole team deserves this incredible one-two result. I hope the spectators and viewers enjoyed it, too! We know we still have to make some improvements to our car, but two wins from four races and the lead of both world championships only make us even more determined. The team is very strong at the moment, and it's just fantastic to be a part of that. We're confident of making an even bigger step for the Spanish Grand Prix next month, and I want to pass on my thanks and encouragement to all the men and women working so hard in Woking and Stuttgart: your efforts are enormously appreciated, and today's result could only have been achieved with all your incredible efforts."
Martin Whitmarsh, Team Principal: "Today's race was seriously challenging for drivers and teams alike. The strategy was very tricky to call correctly, but in the end we probably selected two different strategies that suited Jenson and Lewis very well. Lewis produced a storming drive characterised by all the passion and flair we've grown used to seeing from him - I thought some of his overtaking manoeuvres were simply stunning. Jenson drove like the world champion that he is to record a truly brilliant win in extremely testing conditions. You won't see many better drives than that, I can tell you - he was very, very impressive today. The team did a fantastic job, too. It was a very busy afternoon for all the pitcrews, but I thought ours performed particularly well. Credit should also be given to Mercedes-Benz for not only supplying the winning engine but also powering the first three cars home - it was the first all-Mercedes-Benz podium in Formula 1 since Aintree 1955. Lovers of Formula 1 trivia may also be interested to know that today's result marks the first all-British one-two since A1-Ring 1999, where Eddie Irvine led David Coulthard home. Now, we're hoping to get our cars and ourselves out of China, home, and then on to Spain just as soon as we can. We're already looking forward to racing in Barcelona, where we hope to be very competitive yet again."
Mercedes GP
Nico Rosberg (3rd): "It's fantastic to be on the podium for the second race in succession. It was an eventful race and we made very good choices which put us in contention for the result today. Following advice from Jock and the team, I decided to stay out on slicks and give it a go when the first showers hit. I was out there just thinking please stop raining! But it was the right call and it was a nice feeling to be leading the race for a while. When it started raining again, I suffered quite badly from tyre degradation on the intermediates and Jenson was able to get past. We didn't seem to quite have the pace on inters but third place is great and we've made a step in the right direction this weekend. There's more to come from the team so it's really good to be heading into the European season with some strong results and second place in the Drivers' Championship."
Michael Schumacher (10th): "Today was one of those races that you do not want to remember, just like the whole weekend really. It was not good for me and not good from me. You have to take it as another experience and accept it even if it is frustrating that I was not able to get my tyres together better. My strategy in that respect was not very impressive as in the last 10 laps my tyres were just gone and seemed to be more slicks than intermediates. I was one of those drivers who had gone onto the last set quite early and we should have done that differently and positioned the tyres better. In general I had some good and tight fights which was fun but with my last stop being probably too early, in the end I just couldn't do anything and my fights were quite hopeless then. Congratulations to Nico who made it to the podium and at least one of us scored good points. I am looking forward to going home now but let's see if we manage to!"
Ross Brawn, Team Principal: "We had a very good race with Nico today. He drove extremely well in difficult conditions and the team did everything right on the tyre stops, making good strategic decisions. We lost some of our advantage with the safety car which was a shame but overall an excellent day and a great drive from Nico. With Michael, we clearly had a more difficult time but at least we got a point out of it. We have some issues that we need to understand as the deterioration of his tyres and therefore his pace is a problem that we need to resolve before the next race. We haven't quite got the car at the moment but when we do, we know that we can get the job done."
Norbert Haug, Mercedes Motorsport Director: "A great result for Nico and everybody at MERCEDES GP PETRONAS today. Well done to all of our team members on the second podium in a row with two third places for Nico and our team. Nico is now second in the points standings after four races and certainly one of the most remarkable drivers of this young season. Congratulations to our friends at Vodafone McLaren Mercedes and to Jenson and Lewis for their one-two result. This was the 70th victory for a car with Mercedes power since Melbourne 1997 here in this important Chinese market for Mercedes-Benz. A special thank you from my side and on behalf of our Board to all of the hard-working guys at Mercedes-Benz High Performance Engines in Brixworth and Stuttgart. A great job from you all! It was not a good race weekend for Michael unfortunately. We will investigate what the problems were and I am convinced we will all see much stronger results from him rather sooner than later."
Red Bull-Renault
Sebastian Vettel (6th): "It was a difficult race - on nearly every second lap there was a car to pass or I got passed. I lost quite a bit of time with the first pit-stop, but we fought our way back and ended the race in sixth. We started on pole, with a one/two actually, but we didn't finish there. I think today it was very chaotic and to take sixth can be quite important. Obviously our main competitors finished ahead, so that's not nice. We struggled quite a lot in some of the conditions with the car, it was okay when we were in clean air, our pace was decent, but it's very on and off in these conditions. It's a lot just to maintain your track position. I had battle with Lewis (Hamilton) in the pit lane. At the stop I was ahead; I don't know why he pulled to the left and was keen to touch me. I hoped I didn't get a puncture from that - I don't really understand why he did that as I was a bit ahead of him and had the advantage anyway."
Mark Webber (8th): "It was a difficult race for us and we got a bit blown away - we weren't quick enough, simple as that. There were very changeable conditions during the race, I know it's the same for everyone, but the cars are very sensitive when it's not going one way or the other. So, an interesting grand prix. We know where we lose out in these difficult conditions and we will improve it. I went for another set of intermediates towards the end of the race to try and make up some places. I thought it might work, it did, but then we weren't quick at the end."
Christian Horner, Sporting Director: "It was a very chaotic race today. Both drivers elected to stop early on when the rain came. Unfortunately Mark hit the front jack and damaged his front wing, which ultimately cost both drivers a bit of time. Then, a few laps later as the circuit dried, they ended up coming back in for slicks. Seb got out ahead of Lewis and then they rapidly caught Sutil but, as Seb was passing Sutil, Hamilton got back past him. He lost quite a lot of time at that stage during the race. After the restart, Mark got pushed wide a lost quite a few positions. We took a gamble and opted to put him onto another set of intermediates early. By doing that he was able to leapfrog the cars ahead of him. Unfortunately the tyres were very worn by the end of the race, but it elevated him from twelfth at the time to eighth. Sixth and eighth isn't the result that we were looking for from first and second, but it is such a lottery in chaotic conditions and they are still valuable points. It's not often you get a race like that and when you're first and second you've got everything to lose, rather than everything to gain. Things went right for McLaren today, with Lewis on an identical strategy to our guys. So, well done to them and we'll fight back at the next race."
Fabrice Lom, Renault: "I hope people enjoyed the show. I'm sure it was a very good race to watch from the outside, but for us it was bad. We recovered a small amount of points, but it was much less than we expected to get here. The good thing is that the engine behaved correctly in these difficult situations, which is always good. We now just have to focus on the next race; we have three weeks to find more pace and be stronger."
Ferrari
Fernando Alonso (4th): "In a race like this, anything can happen. We did five pit stops to change tyres, which is definitely unusual: all in all, I think we took the right decisions at the right time. In a race like this you only understand at the end what would have been the best thing to do, as neither on the pit wall nor in the car do we have a crystal ball! I made a serious mistake at the start as my reflexes let me down and I left early. It's never happened to me before and I am very disappointed with myself. Luckily, despite the penalty, I managed to finish fourth. The passing move on Felipe? If he was not my team-mate, there wouldn't be so much talk about it and for me it was a normal move and it definitely won't compromise our relationship. We have a great potential and we must hope we get some normal races like the one in Bahrain. The start of the championship has gone well: we have shown we are competitive on all the tracks and we have what it takes to win the title. Clearly, we have to up our points tally and improve our qualifying performance. McLaren deserve the top spot, because even though they might not have the best car they have got the most out of it every time."
Felipe Massa (9th): "This was a very complicated race and clearly I can't be happy with the result. Of course, two points are better than nothing, but in the upcoming races we have to do better and that means working on the development of the car. Right from the start, it was difficult to make the right choice in terms of what tyres to use because of the changeable weather. As for the passing move Fernando made, I ended up on a puddle of water coming out of the hairpin and slightly lost control of the car: he managed to get inside me, passing me going into the pit lane. I lost some places because of it, as I had to wait for his stop to be finished. In the closing laps, I was struggling a lot with the tyres, but Michael was suffering worse than me and I managed to pass him. We have seen how the situation can change radically from one race to the next: we need to work as hard as possible to try and get the most out of the potential at our disposal."
Stefano Domenicali, Team Principal: "First of all, I want to compliment the pit stop crew, who did an amazing job today, handling three double stops without making the slightest mistake and also helping the drivers to make up places. As for the strategy choices, especially for the first stop, it's clear from the top four finishers that two drivers made one choice and the other two a different one, which means it is difficult to give an instant assessment of which was the right one. With hindsight, Button's paid off better, but it can also be said that, but for his penalty for a jumped start, Fernando could definitely have fought for the victory. As for the passing move involving Felipe and Fernando, we only saw it afterwards on the television replay and I think it was just a racing incident and there is absolutely no problem between the two drivers: when you are always racing to win, you can have moments like this. There's a slight feeling of regret after these first four rounds of the championship. We have definitely ended up with less than we were capable of, sometimes because of incidents beyond our control and sometimes because of things that were down to us. Having said that, we are still fully in the fight for both titles and that is already very important. Now we must continue to push on the development of the car and its performance, especially in qualifying. Starting in Barcelona, we must get back on the podium and that is completely possible."
Chris Dyer: "An extremely difficult race, affected by the changing weather and, in Fernando's case, by the incident at the start. After the start of the race, we opted to go for the intermediates, but the track did not stay wet enough for long and so we had to go back to slicks. Then, when the rain came, we went back to wets and both cars proved to be very competitive and the drivers did the best job possible of managing the tyres, better than many of the others, thus managing to gain some places. After the penalty, Fernando drove a great race, just as the pit stop guys did an exceptional job and very well done to them for that."
Williams-Cosworth
Rubens Barrichello (12th): "The race didn't go as planned. I was called into the pits for the intermediate tyres early on, it was a hard call and the race developed from there. I think we made good calls after that but by that time it was too late to recover."
Nico Hulkenberg (15th): "It was a tough race and obviously not very satisfying for the team. Looking at the positives, it was good experience for me to complete the full race distance and experience all of the different conditions that we faced today. In particular, it was helpful to see how the car and tyres handled and we now have some good data for any races which might be similar in the future. Results-wise, though, this is nowhere near close enough to where we want to be."
Sam Michael, Technical Director: "It was disappointing not to score points today with either car. Some of the calls on our pitstops were wrong, some were right, but overall we weren't fast enough and didn't make the right decisions. Rubens made a good start so we have improved in that area since Malaysia. We're now looking ahead to Barcelona to take a step forward with our performance."
Renault
Robert Kubica (5th): "It was an exciting race today and it's good to have scored some more points. At the start of the race I made a bad start and lost a lot of positions, but we made the right decision to stay out on slicks when it started to rain and I was able to move up through the field into third place. However, the critical moment of my race was when the safety car came out, which ended my hopes of a podium because I lost the big lead I had to the cars behind me. So although I'm happy to finish fifth, I still feel a bit frustrated to have missed a podium."
Vitaly Petrov (7th): "I'm happy to finish my first race in Formula 1 and to score my first points. It was a difficult race and it wasn't easy to make the right decisions today. In the beginning, when it started to rain, some drivers came in for intermediates, but we decided to stay out on slicks, which was the right decision. Then I kept talking on the radio with the team to decide when we would change to intermediates, and again we got the timing right. When I changed to my second set of intermediates, I knew it would be important to look after the tyres, but we didn't know if it would continue raining or if the track would dry out. But I kept pushing, the engineers told me that I had good pace, and in the final laps I had some good overtaking moves, especially with Schumacher and Webber, to gain some more places."
Eric Boullier, Team Principal: "To get two cars in the points today is a great result for the team and I'm very pleased with our performance. To see Vitaly score his first points is fantastic, especially in such spectacular style with a fighting drive where he showed great pace. It's good for him to have a race distance under his belt and I'm sure he will take a lot of confidence from this excellent result. Robert, too, had another brilliant race, and didn't make a single mistake all weekend. I also want to pay tribute to the team who have worked so hard recently, both here at the track and back at the factory in Enstone. They have not made any mistakes all season and have made great calls with the strategy: today's result is a great reward for all their efforts."
Alan Permane, Chief Race Engineer: "What an exciting race and another strong performance from the entire team. Robert drove an excellent race and we can be happy to have picked up some more good points with a strong fifth place finish. It's great to see Vitaly score points today and deliver such a mature drive. In the closing stages he did an excellent job to look after his intermediate tyres and it was very rewarding to see him overtaking much more experienced drivers. However, we're a little disappointed because we were in third and fourth places before the second safety car period. Without that, we could probably have finished on the podium."
Remi Taffin, Head of Engine Operations: "Two cars in the points today and a superb performance from both drivers, especially Vitaly who showed good, consistent pace in very difficult conditions. He also overtook lots of drivers today, including a certain former world champion. Robert drove another faultless race and has scored some more important points. As a team there were no problems during the race, which went very smoothly, and we can be pleased to have maximised our potential to come away with fifth and seventh places."
Force India-Mercedes
Adrian Sutil (11th): "It was a real strategy race this time. At times it was difficult to know which was the best tyre to be on, as it would rain and then dry and then rain again. We started on the dry tyre and then pitted for inters under the safety car on lap one. At this point it was the right decision as it was raining quite a bit and it was easy for me to overtake a lot of cars. Then it eased and we switched to the dries for a few laps but then there was more rain.On the second set of inters we put on on lap 19 I was able to fight with the top guys, including Lewis, Sebastian and Felipe for quite a few laps, but then the tyres grained up and I had to pit again. I lost a couple of positions in this final stop and that was what dropped me back to 13th. Although we could close to within a second of Michael I just ran out of laps to get past. But that's how it is, sometimes you win in this type of race and sometimes it just doesn't go your way."
Vitantonio Liuzzi (DNF, Accident): "Unfortunately I had a problem warming up the brakes on the formation lap due to the cold and the rain and then when I went into corner four on the first lap and braked, the rear completely locked and I lost control of the car and went off. It was a shame as we had had a really good start and gained three positions in just the first corner and it could have been a very interesting race, particularly with how the conditions panned out. But that's how it is, it didn't go our way this time, but we will keep pushing for the next races."
Dr. Vijay Mallya, Team Principal: "It is disappointing to see our run of points end and not to have been able to make more of these conditions, but that's sometimes what happens in this type of conditions: it can become a bit of a lottery. There are still some positives from the weekend - Adrian again proved his wet weather prowess and also that we are genuine top ten. We've got some work to do now that Renault has opened up a sizeable advantage but we have some developments in the pipeline and the season has a long way to run. We'll regroup and come back strongly in Spain I'm sure."
Toro Rosso-Ferrari
Jaime Alguersuari (13th): "I tried to get points today, but in the end it wasn't possible as I made a mistake lapping a Hispania, who was slower than me and was shown the blue flag, but he moved from side to side. I tried to get past on the right, but he came back on me and touched my wing, which is how I lost it. We tried to switch to Intermediates before everyone, but in the end I had to pit for an additional set. I did what I could in what was a crazy race. On the slick tyres, we were really fast and I got past Sutil and there were some good passing moves, but I'm disappointed with the result. Now we go to my home race in Barcelona where I hope to challenge for points again."
Sebastien Buemi (DNF, Accident): "Not running on Friday was my first problem, because that means you don't qualify so well and once you have to start the race from the middle of the pack, the risk of this type of accident is always greater. I don't want to blame anyone for the crash, but Liuzzi lost his car and crashed into me. It has been a very difficult weekend and now we need to work and see what we can do in Barcelona. I also need a bit more luck."
Franz Tost, Team Principal: "Sebastien made a good start, but unfortunately, he was hit by Liuzzi, who spun under braking. This was the second time this season that Sebastien has been involved in an accident not of his own making. Overall, he performed well this weekend up to that point, recovering from his lack of running on Friday. I'm sure a good result will come his way soon. Jaime drove another good race, even if the changing weather conditions were not so easy for him to deal with. He had to make two extra stops, once after the first lap when he thought he had damaged his front wing, after touching Kobayashi. But when he came in, we did not see any damage, so did not change it. The second stop came when he lost the front wing after a coming together with a backmarker and, but for these two extra stops, I'm convinced he could have finished in the points once again. Our car performance was good here and the team worked well in this afternoon's complicated conditions, so we are looking forward to Spain."
Lotus-Cosworth
Heikki Kovalainen (14th): "This was a great way to round off our first four races. I think we had the correct strategy today in what were pretty tricky conditions. The pace was good - we were again ahead of the other new teams, and this time had a good battle with Williams. The decision to stay out early on dry tyres was made by me and the team together - it wasn't wet enough to come in and as soon as the race started I could see the rain had calmed down so we agreed it was the right call to stick with the plan. The other cars on wet tyres were obviously struggling so that worked out very well. It might not always work out like this for us, but today it showed we're a good team who make the right decisions, so I'm really pleased, for everyone in Lotus Racing, and all our fans."
Jarno Trulli (DNF, Hydraulics): "It was a tough day out there from the start, which is a shame because we'd had a trouble free weekend and I was able to push for quite a few laps. The conditions weren't too bad and I was enjoying myself , but I had more hydraulics issues which brought me in on lap 18. The team did a good job to get me back out again but unfortunately the problems struck again and I had to retire. We've got a bit of time now before Spain to work on the new upgrades, so let's see what happens when we reach Barcelona."
Tony Fernandes, Team Principal: "I'm really happy today as we've accomplished what we said we'd do. We wanted to see at least one car cross the line for the first four races, and we've done that, but it's kind of bitter sweet today. It's obviously a great result for Heikki but a real shame for Jarno as he seems to take the brunt of the issues - it's a bit odd as it does seem to be just his car. The conditions today made it very tense out there and it's very satisfying, and shows how we're progressing, that today we were racing Williams, who we beat on track. Another great thing for me was to see how the Lotus Racing dream is spreading, in China, Asia and across the world. We saw a load of Lotus Racing flags in the stands, and this time next year let's hope we see even more fans out there cheering for us - we'll do our best to give them something to be very proud of!"
Mike Gascoyne, Technical Director: "Whilst I'm obviously pleased I want to say first how disappointed I am for Jarno. He's had a lot of bad luck so far - it seems all our bad luck has been on his car, so apologies to him, but it was a fantastic race from Heikki. We judged all the calls correctly and were on the right tyres all the way through, so congratulations to the whole team for that. I'm also very pleased to see our race pace was very good, especially at the end on the wet conditions. These first four races were always going to be tough, but we've achieved what we set out to and now we're looking ahead to Barcelona and seeing how the updates we've been working on help us move forward."
HRT-Cosworth
Bruno Senna (16th): "I am very happy to finish the race again. We had no experience in really wet conditions like today and the car was a bit difficult to drive. The ceiling was low and it got a bit dark. Overall, my visor was a bit too dark for those conditions. I enjoyed racing on the wet track. I'm happy for the team who did a great job again to have another two cars finishing the race."
Karun Chandhok (17th): "I am fantastically happy to have finished this race again today after our difficult debut in Bahrain and it was not easy today with the rain. Because of a necessary change of hydraulic components on the car, I had to start from the pit lane. This change was profitable as the car was fully operational until the end of the race. It was a bit difficult as we had less front grip and I was struggling with it. Because of the rain I went off a couple of times but I made it to the finish. For the team it is encouraging to finish with both cars again. A great thank to the team. To finish was very difficult today but I am happy I have done it."
Colin Kolles, Team Principal: "A good day for the team completing our second two-car finish in the rain in our fourth race. Karun Chandhok and Bruno Senna drove their second wet race after Australia. Again we reached our goal with two cars finishing the race and we gathered quite a lot of data on this track that can be used for the European season. Congratulations to the team. Now in the three weeks to come, we must work on more developments for the team's home Grand Prix in Barcelona."
BMW Sauber-Ferrari
Pedro de la Rosa (DNF, Engine): "Of course I am deeply disappointed. We made all the right tyre decisions. I started on slicks and managed to stay out in the drizzle. I enjoyed overtaking and then I was in fourth. When you are in a situation like this you really have to finish. We missed a great chance today. I don't know what exactly happened. I felt there was something wrong with the engine and then stopped in turn nine."
Kamui Kobayashi (DNF, Accident): "It is such a shame. The track conditions were difficult today and this always opens up chances, even if you are not high up on the grid. I'm sure we would have scored points today. My start was good, but after a few corners Vitantonio Liuzzi's car just flew into mine and I was out."
James Key, Technical Director: "Obviously it was a very exciting race today for watching, but frustrating for us. Kamui was unfortunately the victim of an accident that was happening behind him, and was caught out by a car coming across the track. It was not his fault. Pedro was driving an excellent race, he made a great call on the tyres and the team went with that decision. He stayed on the dry option tyres while others changed to wets, which was a very good call by the driver and the team. He ended up fourth - looked fairly strong, was battling with Vitaly Petrov and the lap times were good. Sadly there was a problem with the car. It is engine related but we can't say whether it's a specific engine problem or a problem related to the chassis. We still need to analyse that when the car comes back. It was a points' opportunity today, but unfortunately it didn't happen."
Virgin-Cosworth
Lucas di Grassi (DNF, Clutch): "This is obviously not a great way to end our weekend and that is very frustrating because we had two very good days of running on Friday and Saturday. I know we will work hard to identify the problems, fix them and get back to the kind of performance we experienced in Malaysia because we have what it takes to continue to be the best of the new teams."
Timo Glock (DNF, Engine): "A very difficult day for myself and the whole team. Everything was going well until late into the Grid procedure, so the problem came out of the blue and there was nothing we could do to make the start. It proved to be a great Race - one that we would obviously have wanted to be part of. At times like this, when things are so disappointing, you just have to make use of the frustration and get something good from it. I know everyone will want to get to the bottom of what happened for us and fix it and I think that process will ensure that we have a much better start to the European season."
Nick Wirth, Technical Director: "Following the overnight Parc Ferme, we started the cars this morning and discovered that the clutch on Lucas' car was not functioning correctly. We changed the clutch before the Race, but it still wasn't working properly even when we eventually got Lucas out and into the Race and ultimately we had to retire him. Timo's car lost engine valve system air pressure on the Grid, which required us to move him back to the garage. We attempted to refill the air system but it was clear that there was a substantial air leak from the system in a place which was difficult to access quickly, so we were also forced to retire his car. All in all, a very disappointing day, but I know that we will get to grips with the problems and bounce back in Barcelona."