Chinese GP 2010
APRIL 16, 2010
Practice 1 Report - Button fastest in first session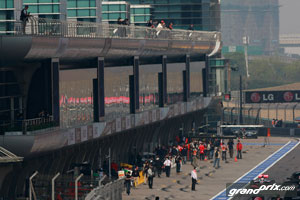 © Grandprix.com, Photo: Andrew Hone
Jenson Button (1:36.677) topped the first session of practice for the Chinese Grand Prix, round four of the F1 world championship with just a tenth of a second separating the reigning world champion, Nico Rosberg's Mercedes (1:36.748) and team mate Lewis Hamilton (1:36.775) in the second McLaren Mercedes.
The session talking point, however, was a dramatic incident involving Sebastien Buemi's Toro Rosso, which had spent much of the session in the pits with a leak in the brake system. Not long after Buemi re-emerged, the Toro Rosso shed both front wheels under maximum braking at the end of the main straight. The forces were such that the wheel tethers were unable to do their job, with one of the errant wheels narrowly missing a camera man before bouncing over the retaining fence into a public area, thankfully without causing injury.
Buemi looked concerned and a little angry when he returned to the pits and the team was awaiting the return of its crashed chassis to further investigate the root of the problem.
The other incident of note was Fernando Alonso's Ferrari pulling off at Turn 6 early in the session with an engine failure. Ferrari confirmed that the unit in the car was actually the one which was changed for precautionary reasons before the season-opening Bahrain Grand Prix, which Fernando won. The team claims that Alonso's engine failure at the last race in Malaysia was due to the fact that he drove most of the distance without a clutch, but with drivers limited to just eight engines before penalties are applied during the 19-race season, the team must have concerns.
With the long straights, particularly in the final sector of the Shanghai lap, McLaren is expected to be very strong this weekend, aided by its controversial 'F-duct' which stalls the rear wing on the straight, reducing drag. Simulations estimate that it could be worth as much as half a second a lap in China and Button and Hamilton are already setting very strong sector three times. The latest information is that both Saubers and Alonso's Ferrari will also also run an F-duct in China.
Michael Schumacher's Mercedes (1:37.509) was fourth quickest, ahead of Sebastian Vettel's Red Bull (1:37.601) and Robert Kubica's Renault (1:37.716).