Chinese GP 2010
APRIL 16, 2010
Friday Team Quotes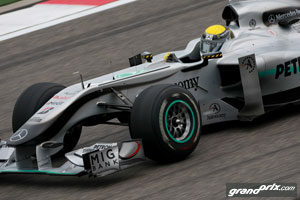 © Grandprix.com, Photo: Andrew Hone
McLaren-Mercedes
Lewis Hamilton (1st, 1:35.217): "We may have topped the timesheets in each session, but I don't necessarily think today's times make us the favourites for this race. The car does feel good, but our pace looks pretty similar to some of the other cars on long runs. Everyone talks about us having a straight-line advantage, but that's not true - other cars have the same speed as us at the end of the straight. We're a little bit quicker than some teams, but, equally, they're able to run more downforce. It's about getting a good balance - and we feel we've got that. We're continuing with the good feeling we felt in Malaysia, but we've made some further subtle changes and they were encouraging. I come out of today with a positive feeling - we'll now keep our heads down and concentrate on gaining a strong qualifying position tomorrow."
Jenson Button (3rd, 1:35.593): "Today's been good. This afternoon was a little frustrating: on my new-tyre run I ran into traffic - which you seem to get in every session - but the actual work we've done, and the direction we've taken, has been positive. There are a few more things we need to do, but we're almost getting the maximum out of the car - especially on the long runs. We're moving in the right direction. There are a few things we can still tweak over the course of this evening, but I think we've come here with a pretty good car from lap one. Of course, some of the teams haven't shown their hand yet, but you can tell from the long-run times that they're competitive. Maybe we're not on their pace yet, but we've got tonight to make further improvements to the car."
Martin Whitmarsh, Team Principal: "A successful day for Jenson and Lewis - they were both happy with the balance and performance of their cars. We're aware that some of the other teams have yet to show their true pace, but we're confident that we'll be able to maintain the positive progress we've been making over the past few races. Our aim for this weekend is further to improve our performance in qualifying and also to enjoy a trouble-free race in order to pick up the maximum possible points - in that respect, we feel we've got off to a perfect start."
Mercedes GP
Nico Rosberg (2nd, 1:35.465): "We made good progress on the set-up over the course of the day and tried some new directions which all seemed to work ok. I did lose a little bit of balance with too much oversteer at the end of the afternoon so we need to look into the reasons for that. The long runs were pretty good on my side and with the work that Michael completed, we should be in a good position on our tyre evaluations. The pattern looks pretty similar to Malaysia in terms of our pace compared to other teams but we'll have to wait and see how it works out tomorrow."
Michael Schumacher (4th, 1:35.602): "Today's practice sessions went better than I had expected. The handling was pretty much ok and it seems that we have made a small step forward. We brought some improvements here including the new rear wing which have helped. So I am quite confident for the rest of the weekend even if the overall ranking will not change much from the first three races. I was a bit unlucky this morning as I had a puncture on my rear left prime tyre so we had to use one from the afternoon's allocation. That meant I only had three new tyres in the second session but it worked out fine in the end."
Ross Brawn, Team Principal: "Generally a positive day and initial evaluations are that we have made some progress with the car. As we know the two tyres well now, we focused more on the mechanical and aerodynamic set-up of the car today. We are not quite there with the balance over the entire lap but Nico and Michael achieved some respectable lap times. We are improving step-by-step but there is a long way to go and we won't be happy until we can consistently compete with the cars ahead."
Norbert Haug, Mercedes Motorsport Director: "A very busy day today with a lot of learning for us. Our lap times in race trim did not look too bad in my view and both Nico and Michael have been reasonably quicker with lesser fuel. Having said that, I am not expecting that a lot has changed in terms of performance amongst the teams since the Malaysian Grand Prix a fortnight ago. We still have some fine tuning to do in tomorrow's third practice session and I hope we can make a further step forward from today."
Red Bull-Renault
Sebastian Vettel (5th, 1:35.791): "That was good, we had no big issues and the car was working fine. We did quite a lot of laps so it was a solid day. It looks very close; the Mercedes look competitive, as well as the McLarens and Ferraris. It will be tight tomorrow, but we will see. I had a good race here in 2007 when I finished fourth for Toro Rosso and then last year with the victory, so there are a lot of good emotions and memories attached to this place."
Mark Webber (6th, 1:35.995): "That was pretty good; it was our first really clean Friday, which was encouraging. We have a lot of stuff go through tonight about how the tyres are round here - it's the first track where they are behaving a little differently to other venues. I think qualifying is going to be tight again and there's supposed to be a bit of moisture floating around on Sunday afternoon, so it looks like the fans will yet again be given an action packed race. I'll look forward to the challenge and to getting something out of it."
Ferrari
Fernando Alonso (10th, 1:36.604): "Clearly I'm not happy to have had an engine failure, but I'm not the slightest bit worried by it. The engine I had this morning was the one we had changed after qualifying in Bahrain and we knew that, sooner or later, it could break. It happened today, but it won't have much effect on our original engine management plan. We also did various tests of new aerodynamic components, such as the rear wing. It is pointless looking at today's time sheet, because each team follows its own work programme and that makes it impossible to compare the times. We stuck to our plan and we are pretty happy with what we achieved. I think we will be competitive at this track."
Felipe Massa (11th, 1:36.944): "I am satisfied with the way this free practice day went. We did a lot of kilometres, concentrating mainly on preparing the car for Sunday's race. We also evaluated new aerodynamic components, not just for this race, but also for mid-term development, gathering significant data which will now be analysed by the engineers. On top of that, we managed to do a comparison between the two types of tyre that Bridgestone has brought here. I think several teams are going to be very competitive: not just McLaren and Red Bull, but also Mercedes who have made a step forward. Let's hope we will be in the fight with them."
Stefano Domenicali, Team Principal: "Today, we had various new components on the car, including a new type of rear wing and other aerodynamic parts, which required a specific work schedule. Clearly we could have done without the problem we had with Fernando's engine but, overall, this did not lead to any specific consequences, apart from time lost in this morning's first session, as our management programme relating to available engine use remains substantially unchanged. We are reasonably happy with the work we did and now we will concentrate on analysing the date and on preparing the cars for qualifying and the race. While it is always difficult to evaluate the pecking order based on what happens in free practice, we are not expecting a very different picture to the one we have seen in the first three races of the season: in other words, everyone is very closely matched, meaning the grid positions could be decided by the smallest detail."
Chris Dyer: "We had a very busy programme for today and we can say we got through it in a positive way. We have a new aero package for this race, which needed validating on track and then we had some parts relating to a new concept for the rear wing, which we wanted to check out before moving on to develop it for forthcoming races. We are pleased with the data we gathered and with the way the new aerodynamic package is working. In the afternoon, we looked mainly at the comparison between the two types of tyre Bridgestone has brought for this Grand Prix. In the morning, we had a problem with Fernando's engine, which had little consequence, apart from bringing forward by one session the previously planned engine change."
Williams-Cosworth
Rubens Barrichello (15th, 1:37.657): "Today went as planned working through set-ups and some aero modifications. We run the engine quite safe on Fridays so our times are expected. Our target tomorrow is to get into qualifying three."
Nico Hulkenberg (17th, 1:37.867): "It was pretty hard work today. We have a few problems to solve before qualifying tomorrow, but I am confident we will get there. We were running a new front wing on the car which gave us some positive results."
Adam Parr, Chairman: "We had a very full programme today, working through the normal set-up routine and testing some development parts. We've made good progress."
Renault
Robert Kubica (9th, 1:36.389): "The first session was not especially productive for us, but in the afternoon we made some changes and found a better direction and a more normal balance with the car. We managed to get through most of our programme with some set-up work and a couple of runs for tyre evaluation. We still need to improve the overall balance of the car because we are still lacking overall grip, especially on low fuel runs, but the car felt much better on heavy fuel."
Vitaly Petrov (12th, 1:36.986): "It was a good day of practice for me with no significant issues with the car. We spent most of the day trying some different set-up options and analysing the new parts, and it feels like the car has improved. I'm quite happy with the overall balance but we are still missing some grip, so we need to look over the data tonight to see where we can improve."
Alan Permane, Chief Race Engineer: "The track was very low grip today and a bit dusty, but conditions slowly got better during the day. Having said that, even at the end of the day we felt the circuit was still lacking grip, but the situation should continue to improve up to and through qualifying. We have the same specification of tyres here as at the last two races (the hard and soft compounds). Both compounds are performing reasonably well, although the hard tyre takes a little bit longer to warm up. The soft tyre seems a little bit quicker and will probably be the preference for qualifying. We had some issues in the first session with Robert when he had some oversteer and the car was lacking grip, but we made a change between the two sessions and he was happier with the car in the afternoon. He was particularly pleased with the balance during his longer, high-fuel run in the afternoon. Vitaly suffered from some understeer but the car was generally quite well balanced. He had an encouraging and trouble-free day, completing lots of laps and posting competitive times."
Force India-Mercedes
Adrian Sutil (7th, 1:36.254): "It was quite a good day, with no real problems. The track conditions were not very good out there to start with. It was very green and hard on the tyres, particularly the harder set we used in the morning. The grip improved over the day but even at the end it was still very low. The balance of the car was good though and I think we looked pretty strong on both types of compound so, with this in mind, I'm expecting a similar qualifying and race performance to Malaysia."
Vitantonio Liuzzi (16th, 1:37.804): "It was difficult out there today. The prime tyre, which was my first run of the day, was good. The car was behaving well but then after we changed to the soft tyre we were sliding all over the place and struggling to get the temperatures in the tyres. It was a big frustration as the car was not there any more. It was strange as it was such a clear change from hard to soft. We need to look into this problem but I think we can be positive about the rest of the day as on the hard tyres we seem to be quite strong."
Paul di Resta: "It was a very difficult session as the conditions were quite tough out there. The track was green with little rubber to start with and the low temperatures and the hard tyre compound made grip levels very, very low. I still managed to learn a few things about the car and of course the circuit. It's a tricky track with some blind corners and variety of speeds and it's hard to get into an easy rhythm straight away. Unfortunately I flat-spotted one of the front tyres, which compromised how much I could get out of the last two runs but we still got what we wanted out of the session and I have learnt another track so, all in all, it was productive day."
Dominic Harlow, Chief Race Engineer: "Sunny but still quite cold today. The early track grip has been low, and the tyres a little difficult to warm-up, that's all as expected really. We have a reasonable balance, but need to work hard to get the grip. With Paul driving Tonio's car in FP1, we ran our usual combination of tyre evaluation and set-up programmes between the three drivers, and apart from a couple of small issues in FP2 and the bigger bumps this year, it was a reasonably smooth day."
Toro Rosso-Ferrari
Jaime Alguersuari (8th, 1:36.377): "Another new circuit for me: it's impressive, tough and technical but enjoyable to drive. Today went well for me, as we completed a lot of work, trying different fuel loads and working on set-up, as well as a tyre comparison. The hard tyre definitely takes a lot longer to come up to temperature, while the soft tyre seemed to work very well for us and should be good in the race. We still have work to do to improve tomorrow, but I am happy with what we have achieved so far."
Sebastien Buemi (24th, No Time): "There's not much to say about what happened in FP1. I braked, the wheels came off and that was it. Physically, I was fine though. But I have to say, I am extremely disappointed that, once again, through no fault of my own, I have been unable to run for almost all of the three hours available. I will have to try and catch up on Saturday morning and we will be relying on Jaime's data from today to see which way to go."
Giorgio Ascanelli, Technical Director: "Sebastien's accident this morning was down to a technical problem on the right hand upright, which proved simple to identify once we got the car back. We have resolved the problem, which the many laps completed by Jaime this afternoon confirms. Sebastien's FP1 session was interrupted shortly after the start because of a fluid leak around the pedal area, which we discovered after his installation lap. Apart from the upright, the afternoon accident caused some damage to the gearbox and a combination of fixing this problem and changing the front end meant that, despite the best efforts of the mechanics, we could not get Seb out before the end of the day. Fortunately, Jaime did a lot of laps in a trouble free session, after we had stopped him as a precaution towards the end of FP1, until we had identified the problem on his team-mate's car. For his debut on this circuit, Jaime did quite a good job today."
Lotus-Cosworth
Jarno Trulli (18th, 1:39.624): "A trouble free day today which is good, and hopefully the whole weekend will go without any issues. I'm still struggling a bit with the setup, finding a balance that really lets me get the best out of the car, but we tested different tyres today and focused mainly on our setup for the race, so I'm reasonably happy. Grip levels improved throughout the day and our lap times showed that by the end of the day the circuit was really bedding in."
Heikki Kovalainen (19th, 1:39.947): "It was good today, apart from the small problem we had at the end of the day which was nothing major. The engine switched itself off because we had an oil pressure warning but we got through the whole program today and I think we're in good shape for tomorrow and for the race."
Mike Gascoyne, Technical Director: "It was a satisfying day today and we achieved everything we wanted to on both cars, despite the fact grip levels were very low in the first session and both Jarno and Heikki were struggling slightly with rear grip. Jarno lost a front strake on his first run of the day and we replaced that quickly for his second run. Over lunch we changed the gear ratios on both cars and sent them out for the beginning of the afternoon session on hard tyres. Heikki pulled over after 30 laps as he had a low oil pressure warning and he stopped the car, but it's not a problem and we're looking forward to getting out again tomorrow."
HRT-Cosworth
Karun Chandhok (21st, 1:41.008): "It was a good practice. We could learn things about the circuit and we got the base line. Unfortunately, we noticed a lot of graining on the front tyres. The second practice was useful for us as I could cover 52 laps today and some long runs."
Bruno Senna (23rd, 1:41.345): "The first practice session was okay. We had no problems. Although we are a bit struggling with the air temperature here as it was not very warm. We experienced therefore a low grip level and we have to work on this despite a dusty track. The second session was a good practice again. We fulfilled our program without any problems. We are looking forward to the qualifying tomorrow."
Colin Kolles, Team Principal: "Both Karun and Bruno have put as many miles as we could on the car. With their engineers, they covered the testing program and drove good laps. We used the second session to test a number of final details in order to improve the car's performance. The practice sessions were positive for the team in view of the qualifying session. We need to continue to improve the car. But I am pleased to see the team pushing so hard even if it is a steep learning curve."
BMW Sauber-Ferrari
Pedro de la Rosa (13th, 1:37.421): "We treated the day very much as a test day. We tried different set-up options and in the end the car was a bit better. At the end of the second session we compared the option and the prime tyres. The lap time with the softer compound, the option, actually wasn't good enough compared to the harder prime compound. We have to look into that now. All in all it was a trouble free and productive first day."
Kamui Kobayashi (14th, 1:37.431): "The track improved a lot during the day. It was very dusty in the morning and then the usual conditions came back. We had no problems or any issues, and the programme was fine. The balance of the car is okay, but still we have to find a better pace. It is a nice and challenging track and I expect us to see some good overtaking on Sunday in the race."
James Key, Technical Director: "It was good to see the team operating for the first time with the cars and drivers on the track. I think fundamentally we made some progress today. We tried a couple of smallnew directions on the car, some of which gave us data for the future, some of which we are using now. So I think we found some time today with the changes we made. We've got a little bit of work left with the rear wing for the remainder of the weekend. And also some work to do with the tyres in order to fully understand how to get the most out of them, because clearly the warm up was difficult today for both tyres. We will work through the data tonight and see what we need to do for tomorrow."
Virgin-Cosworth
Timo Glock (20th, 1:40.233): "We made some good progress over the course of the two sessions and generally we have managed to improve the car quite a lot through the day. The characteristics of this track are proving a little difficult for us. There are more low speed corners and we seemed to struggle with these a little bit, but it might just be the grip level. We now need to look at everything we have learned today and make sure we choose the right direction. There's a lot of data to go through tonight but I'm optimistic that we can have a good weekend from here. I'm looking forward to the rest of it."
Lucas di Grassi (22nd, 1:41.107): "We had a very good day today, completing 55 laps - almost a race distance. That was our main objective today - to get through our programme and identify any potential issues. Everything is looking good so far and there is still a lot of performance we can bring to the car. I hope we can just get better and better tomorrow and in the race and ensure we finish the weekend as the best of the new teams once again."
Nick Wirth, Technical Director: "We've had a positive but eventful day today. Shanghai is the first circuit we've come to where we've had less than perfect track data for our Simulators and along with some of the other teams we were caught out by the huge bump going into turn 1. We had been a bit brave on our initial front ride height, which resulted in Timo's front wing hitting the ground hard, necessitating a wing change. However, once we'd allowed for this bump in the set-up, the rest of the day was trouble-free, and our improving reliability allowed us to try a range of tests that we haven't previously been able to do. The circuit is extremely bumpy and we've explored different ways to cope with this using the tools on the car that we have available right now. Tonight we have a lot of data that we can analyse, and I'm sure we'll make more progress tomorrow."