Chinese GP 2009
APRIL 18, 2009
Qualifying Report - Bull in China shock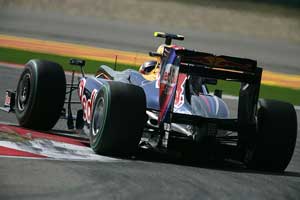 © The Cahier Archive
The Red Bull team has looked very good this year, even if the diffuser cars have dominated the first two races. After the diffuser decision by the FIA we expected more of the same in China, but by the end of qualifying there was a fair amount of eyebrow-lifting going on. The Red Bulls were just about believable but a Renault in second place? Flavio Briatore is a great showman (and provided plenty of laughs with his complaints about the diffuser decision) but getting Fernando at the front of the grid was like watching a monstrous bunny popping out of a very small hat.
Now, the cynics would tell you that the super-soft Bridgestone tyres are only good for a handful of laps on some of the cars and that some of the teams may therefore have concluded that they might as well qualify with next to no fuel - because they were going to have to pit early in any case. That would guarantee them some good publicity on Saturday, some TV exposure on Sunday and then they would fade back into the midfield and leave the race to more serious contenders. Perhaps there might be a chance at the end of the race to close up on the frontrunners when they had to use the softer rubber...
One way or another, it would all come out in the wash... These things are often forgotten on Sunday afternoons and so a team might perhaps escape the accusation that all it had done was embark on a rather clumsy PR diversion.
Other cynics suggested that with three Renault-engined cars at the front, using one to hold up the opposition would allow two to get away was an option to be considered...
Whatever the details the pole position belonged to Sebastian Vettel with Fernando Alonso alongside. Mark Webber was third. Given that the cars have remained in Asia since Malaysia and the only real upgrading has been with a few aerodynamic parts flown out from Europe, this all seemed rather miraculous. The order further back was a lot more recogniseable. Rubens Barrichello, Jenson Button, Jarno Trulli and Nico Rosberg. These have been the men thus far this year and there they were all together in fourth-to-seventh places. Was that a coincidence?
It was almost normal to see Kimi Raikkonen in eighth and Lewis Hamilton ninth, but the appearance of Sebastien Buemi in 10th in his Toro Rosso suggested a little more conjuring.
All this had an effect further back on the grid where folk who would not look out of place in the top 10 were pushed back from their normal positions. Nick Heidfeld was 11th, Heikki Kovalainen 12th, Felipe Massa 13th and Timo Glock 14th. Kazuki Nakajima was the last of those who had survived Q1.
It was a bit of a shock to see Robert Kubica in 18th but he said he had made a mistake.
Having Sebastien Bourdais, Nelson Piquet and the two Force Indias at the back was no big surprise.