Chinese GP 2008
OCTOBER 18, 2008
Saturday Team Quotes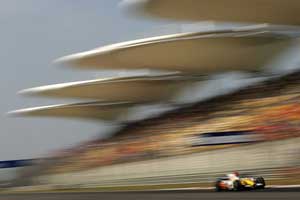 © The Cahier Archive
Ferrari
Kimi Raikkonen (2nd, 1:36.645): "Finally, things seemed to go right for me in qualifying. It's too late for the title, but we definitely learnt a lesson which will be useful for next year. All weekend we've struggled to find the right settings on the car, but then all the work we put in finally came good in Q3, when the car was pretty good. Certainly, even putting aside what the choices have been in terms of fuel loads, today it would have been difficult to beat the McLaren, but I am happy with the overall result for the team. We can count as usual on being more competitive in the race than in qualifying, so we can look to tomorrow with confidence, as we try to get the best possible result for both championships. The weather could be very changeable so we have to be ready to deal with every eventuality."
Felipe Massa (3rd, 1:36.889): "I can't deny I'm a bit disappointed with this qualifying: starting from the front is always important even if the race is very long, but I will do my utmost to get a great result. Today, it was hard to find the right balance for the car, especially in Q3. Tomorrow, things could change as the car has shown it is good over a long run. We will have to attack to make up positions and we believe we have a good race strategy. Sure, our competitors went well and will be very competitive: let's hope we are more competitive than they are!"
Stefano Domenicali, Team Principal: "All in all, this is a reasonable result. With both drivers on the front two rows, we have every chance of making the most of our situation in tomorrow's race. Of course, in front of us, we have a competitor who has shown himself to be very strong all weekend. Tomorrow's race will be a very long one and there is also some doubt about the weather. At the risk of repeating myself, the crucial elements in getting the right result here will be the usual ones: first and foremost reliability, then tyre performance, the work of the team and drivers, strategy and car performance. If all these elements come through at their best, then we can do it."
Luca Baldisserri, Head of Trackside Operations: "A very tough qualifying, up against a very strong rival. I would say the main problem we have at this track is the inconsistency of our car performance. We worked hard to get around it but so far, we have not managed to resolve the problem completely. We must try and do that for tomorrow's race, but we can take heart from the fact that, usually, over a long run, we have always gone better than in qualifying."
BMW Sauber
Nick Heidfeld (7th, 1:37.201): "I think this was the best I could manage today, and I'm glad the positive trend in qualifying I had in the last three races has continued. I feel sorry for Robert. Apparently he struggled here and this grid position reduces his championship chances, but certainly we'll never give up."
Robert Kubica (12th, 1:35.814): "A very disappointing qualifying! I was struggling with the balance of the car all weekend. We made some changes before qualifying, but they had a negative effect. The car was difficult to drive and I couldn't push as I wanted. I expect a tough race because now we are not allowed to change the set-up."
Dr. Mario Theissen, BMW Motorsport Director: "That was a disappointing qualifying for Robert and the whole team, especially because he didn't progress from Q2. Throughout the whole weekend Robert has not been happy with the balance of his car, and this did not change in qualifying. The only advantage in this situation is we can choose our own strategy for Robert tomorrow. From the team's point of view we are relying on Nick for our chances. He did a good job in Qualifying and managed to set the seventh best time."
Willy Rampf, Technical Director: "The result is obviously not what we were hoping for. With Robert we were not able to bring the good result from the third free practice into qualifying, which meant he was unhappy with the balance of his car and only ended up 12th. Nick did a good job and qualified where we expected him to be."
Renault
Fernando Alonso (4th, 1:36.927): "I'm very happy with my qualifying session. We had a few problems with the balance of the car this morning, but everything went well this afternoon and the car was much easier to drive. I know it will be very difficult to fight for the victory tomorrow, but my grid position means that I can hope for a great race and I will be ready to make the most of any chances that come our way."
Nelson Piquet (11th, 1:35.722): "It's frustrating to miss out on a place in Q3 by just seven thousandths of a second as I would have really liked to reach this part of qualifying. I am going to work with my engineers this evening and I'm hopeful of a strong race tomorrow. I will do my best in any case."
Pat Symonds, Executive Director of Engineering: "This morning was very difficult, but not just for us because the grip for all the cars seemed to be surprisingly low. We didn't make major changes for this afternoon, but the circuit seemed to come to the car. Just 0.007s would have put Nelson into Q3 but Fernando's starting position looks good for tomorrow."
Denis Chevrier, Engine Operations Manager: "Fernando had a very good qualifying session and even though Nelson did not make it through to Q3 today, the potential was there and it was a good effort from him, especially his last attempt in Q2. Everything is open for the race tomorrow, but we have confirmed our overall performance from Fuji and we can now hope for a great race tomorrow afternoon."
Williams-Toyota
Nico Rosberg (15th, 1:36.210): "It's very dispiriting to be starting the race in 15th place (he gains one position and starts 14th due to Mark Webber's penalty) like last weekend in Japan. I gave everything in the sessions and extracted the maximum out of the car, but it just didn't come together today. As a consequence, tomorrow's race will be difficult starting from this far back. Apparently it may rain, and if that happens, it may help us to achieve a better result. We will all be doing our best to have a stronger performance tomorrow."
Kazuki Nakajima (17th, 1:36.863): "I knew it would be quite difficult today in qualifying from my experience during P3 this morning. There were some points on the track where I really needed to improve, but I didn't manage to make any headway during qualifying. Of course the outcome is not what I wanted, but I guess I now need to try harder to improve in the race itself."
Rod Nelson, Senior Operations Engineer: "Naturally it was a below par qualifying session. This circuit shows up the main deficiency in the car, which we have improved but not corrected - we are slow in sector two, which is made up of high-speed corners, so with this in mind, we have probably done the best we can in the circumstances. Looking forward to tomorrow, the weather forecast is a little variable and it is possible that there may be some rain, which might mix things up a bit."
Red Bull-Renault
Mark Webber (6th, 1:37.083): "Unfortunately a penalty for an engine change drops you five rows back - and it's difficult enough anyway these days with the field being so tight. In Fuji I would have had a chance to make up some places during the race, as it's easier to pass there, but there are some really quick corners here making it more difficult. Let's hope for some rain tomorrow."
David Coulthard (16th, 1:36.731): "I'm extremely disappointed with what Nick Heidfeld did at the end of Q1 on the last out lap. All the cars were bunching up on the second to last corner, as they jostled for position, but Nick suddenly passed me on the inside into the last corner, just as I was about to start my flying lap. It was very unlikely he was going to do a better lap on prime tyres and he was on the dirty side of the track, so he wouldn't have done a faster lap by squeezing through the inside at that point - and he came in before the end of that lap anyway! He would have known he was in the top ten already, so for me it was very un-sportsman like behaviour, as all he did was screw up my last flying lap - there wasn't any intention of him doing a quicker time."
Christian Horner, Sporting Director: "Despite losing track time with an engine failure in this morning's practice, Mark did a good job to finish P6 in today's qualifying session. Unfortunately he takes a grid penalty tomorrow due to the engine failure and subsequent engine change, but it was a good lap from him. David had the pace to go through to Q2, but an incident with Heidfeld cost him time on his last run and, with the circuit improving, unfortunately he just missed the cut."
Fabrice Lom, Renault: "We are very sorry for Mark and apologise to him for the engine failure. It's a shame as he had good pace today and easily got through in to Q3 to finish P6. David was blocked during Q1, so wasn't able to show his real pace today. It wasn't a good day, I hope Sunday will be better."
Toyota
Jarno Trulli (9th, 1:37.934): "Today was a hard qualifying session. We expected a bit more but after our good performance from yesterday and today in practice. But this afternoon something must have changed with the track. The tyres were sliding more and the grip seemed to be missing so that was a bit strange. For tomorrow we will see. Our race pace has looked strong during practice here but the weather forecast is uncertain. As usual we will be hoping for warm conditions because of the way we handle the tyres. Needless to say we will push for as many points as we can."
Timo Glock (13th, 1:35.937): "This has been a difficult weekend for me and this afternoon was a hard qualifying session. The whole weekend we have struggled to find the right balance in the car. The first two runs in qualifying felt okay so we made a step compared to yesterday. But I struggled to get anything out of the softer tyres and I couldn't get it right. The traffic was fine but the car felt different on every lap and it was difficult to get a good feeling. So it's been hard to get the set-up right all weekend but we will try to regain ground during the race tomorrow."
Pascal Vasselon, Senior General Manager Chassis: "That was obviously a very disappointing session compared to our expectations. The practice sessions went well, especially for Jarno. Timo had been struggling a bit more but he seemed to have recovered in Q1. But then things went wrong in Q2 and Q3. Putting all the sectors together it was possible for Timo to qualify in the top ten but it did not come together at the right moment. For Jarno we only marginally made it into Q3. It's hard to say a lot more, we have to look into what happened. At certain points we had some very bad sectors which are difficult to understand at the moment so we have work to do tonight. At least the tyre situation is relatively clear now. For qualifying the best tyre was obvious and for the race the choice is also clear."
Toro Rosso-Ferrari
Sebastian Vettel (8th, 1:37.685): "A difficult day yesterday and also this morning. But before qualifying we made a few changes that helped us. We can be very happy with this result, I don't think I could have done better and it's better than we expected. Tomorrow in the race, I think it will be hard to catch the guys in front, so I will run my own race, do the best I can and if we can bring the car home, then we will see what we have achieved."
Sebastien Bourdais (10th, 1:38.885): "I was very happy to make it through to Q3 but then the final part of the session was pretty tough as we had no option tyres left at the end. I am very happy with this result. I think we are looking good for the race as we have a sensible strategy."
Giorgio Ascanelli, Technical Director: "Bourdais has done a solid performance all weekend, doing a very good job. But with Vettel we struggled through P1, P2 and P3 and then we tried something different on the car before qualifying as he was clearly unhappy and I am certainly pleased with the result those changes brought. It was impressive."
Honda
Rubens Barrichello (14th, 1:36.079): "It was a really nice lap to progress into Q2 today as I had a slow out-lap because everyone was backed up and I was worried about the lack of grip, so it was a really good effort. I then had probably my best lap around this circuit to make a 1.36.079 by getting everything possible out of the car. I don't think we would have been able to produce anything more than that. I'm pleased with our performance today, particularly after the difficulties that we had in practice yesterday, so we can be very satisfied with our grid position for the race tomorrow."
Jenson Button (18th, 1:37.053): "I was reasonably happy with the balance after practice this morning, but unfortunately the car went away from us in qualifying. We just weren't able to find a good balance this afternoon with a real lack of front grip on the prime tyres and difficulty with traction out of the corners. We need to look into why this happened and why we were unable to get the best out of the car. It will be a tough race from here tomorrow."
Steve Clark, Head of Race & Test Engineering: "As we suggested yesterday, our performance wasn't as bad as it might have appeared on Friday's timesheets. We saw this morning that the option tyre was going to be difficult to get to work, so we took the prime for Q1. This worked well for Rubens, who got the most out of the car, but Jenson didn't have a balance on his last run. With the track warming up in Q2 we saw that the option tyre, which Rubens was running, was a few tenths quicker, so a different tyre choice might have got Jenson through to Q2. In Rubens' second run in Q2, the balance wasn't perfect and he lost a few tenths. Even with a better lap it was unlikely we would have made it into Q3."
Force India-Ferrari
Adrian Sutil (19th, 1:37.730): "The balance changed quite a lot in qualifying. Normally you would always find grip, but this time the level was lower and so under braking I had lots of oversteer and locking at the rear and the traction was very bad everywhere, which made it quite difficult to do a perfect lap. I did three laps and although they were all okay it makes you think maybe there was a little bit more in it as the car is difficult to drive round here. We do have a better race pace though so we should improve on our starting position."
Giancarlo Fisichella (20th, 1:37.739): "I'm not so happy with today as we struggled again with the balance and on my last lap I couldn't improve. I had some really big oversteer through sector two and lost around four tenths and then again through turn eight I lost some more time so I couldn't go faster than my second lap. It's a shame we couldn't start higher, but we do know we can stay with the others under race conditions so we have to look to have a good strategy tomorrow."
Mike Gascoyne, Chief Technical Officer: "I think we knew from yesterday that it was going to be a difficult qualifying session. We have been struggling to get the tyres to work and in qualifying both drivers have struggled with the grip so we ended up pretty much where we expected. We do know though that our race pace is always better when we get the tyres to run during the longer runs so we'll look to have a more competitive day tomorrow."
McLaren-Mercedes
Lewis Hamilton (1st, 1:36.303): "I got a bit out of shape during my first run in Q3; I ran a bit wide at Turn Eight and over-steered onto the marbles, which put me on the wrong line for Turn Nine and left me cleaning my tyres for the rest of the lap. But I pulled it all together for my final attempt - and it was as close as I could get to a perfect lap. Our whole weekend has gone well, I can really feel the support from the team and my family and we'll give it our best shot in the race tomorrow."
Heikki Kovalainen (5th, 1:36.930): "Q1 and Q2 went very well for me and I started Q3 feeling optimistic. But, unfortunately, on my last run, my tyres didn't seem to deliver the grip levels I'd expected. It's a pity, because I was hopeful I could get a better grid position than P5. But I'm still very encouraged by the progress we've made since yesterday, particularly with the balance, and I'm confident I'll be even more competitive in the race tomorrow."
Ron Dennis, Team Principal: "Lewis produced another very strong qualifying lap to record his second successive pole position - and we're confident that he's got a good strategy for the race. Heikki has continued the strong form he showed at Fuji last weekend and we should therefore be in a position to deliver a very competitive team performance with both drivers tomorrow."
Norbert Haug, Mercedes Motorsport Director: "Lewis kept it thrilling until the closing stages but then put his car on pole position. This was probably the most important one of all the seven he clinched this year. Heikki was very convincing in his first attempt, being fastest, but he finally missed the front row by three tenths of a second and third place by less than half a tenth. Tomorrow, both Lewis and Heikki should be in a position to run quick and consistent lap times according to our long runs on Friday. It will be a very important day and all the team wants to make the best out of it. Having said that, we certainly will not forget that we have got strong competitors that won't make it easy for us."