Chinese GP 2008
OCTOBER 17, 2008
Friday Team Quotes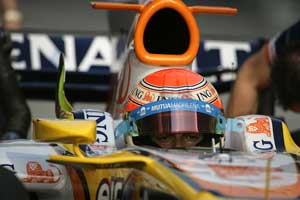 © The Cahier Archive
Ferrari
Felipe Massa (6th, 1:36.480): "We did a good job and I think we will be competitive at the track. The performance level improved bit by bit as the track got more grip. In the first session, the car was a bit twitchy but then, especially in the second part of the afternoon session, its handling improved. I think we are working in the right direction in terms of car set-up. My aim for the weekend? Obviously I'll be trying to win or at least to get as many points as possible."
Kimi Raikkonen (8th, 1:36.542): "It was nice to see so many fans in the grandstands to celebrate my birthday. As usual it's difficult to judge the relative strengths of the teams just by looking at the results sheets. At the start, it could have been that our main rivals were quicker but then the situation seemed to balance out and I think that's how it will be for the rest of the weekend. Overall, the car's not bad even if there are still some areas that need to be improved."
Stefano Domenicali, Team Principal: "Today, we completed our usual Friday work, concentrating solely on fine tuning set-up on both cars and on the comparison of the two types of tyres Bridgestone has brought here. We covered a big distance without experiencing any problems. It is always difficult to deliver an instant verdict. We played our part, but I have to say that our main rivals seem to be pretty much on the ball. Now we have to look at all the data acquired to be as well prepared as possible for tomorrow's qualifying, which as usual will be crucial."
Luca Baldisserri, Head of Trackside Operations: "A Friday just like any other: the only difference worthy of note was the wind which changed in direction and intensity, thus making our track work a bit tricky at times. As for the rest, we got through everything on our programme, which means finding the best set-up on the two F2008s and the comparison, both over a single lap and over a distance, of the two types of tyre we have at this Grand Prix. We definitely face a day of hard work to be as well prepared as possible for the rest of the weekend."
BMW Sauber
Nick Heidfeld (9th, 1:36.553): "In the second session especially I was quite happy with the long runs, as well as with the single laps. We have done quite a lot of set-up changes in the course of the day and during both sessions. Not every step was one in the right direction, but we understood and learned a lot."
Robert Kubica (12th, 1:36.775): "As usual on Friday, we did the tyre evaluation and worked on the set-up of the car. We tried all kinds of different things, but I'm not happy yet with the balance of the car, and the overall level of grip is poor. We have to analyse the data carefully to make the right changes for tomorrow. There is still a lot of work to be done."
Willy Rampf, Technical Director: "So far it is hard to make a judgement on the performance here in Shanghai. Up to now we haven't found the perfect balance for both cars. With regard to the car's setup, it is difficult to find a good compromise between both tyre compounds. We did a complete race distance with both cars today and gained a lot of valuable data, which we shall now evaluate. We had no technical problems."
Renault
Fernando Alonso (2nd, 1:36.024): "We were able to complete our programme without any problems and we now have lots of interesting data, which will allow us to approach the rest of the weekend positively. We still have some things to improve, but we have clearly made progress today."
Nelson Piquet (3rd, 1:36.094): "I gained a lot from the three hours of practice available today. I did a lot of laps and collected some interesting data that I'm now going to examine with my engineers. The balance of the car can still be improved, but I'm sure that this is something we can work on tomorrow during the final free practice session."
Pat Symonds, Executive Director of Engineering: "We ran our usual Friday program today. Nelson quickly got on top of learning the circuit and did some useful testing work. Our evaluation of the tyres shows them to be very similar, but the balance of the car is not yet where we want it to be."
Denis Chevrier, Engine Operations Manager: "We completed more than 300 kilometres between our two cars, which is a good effort and we are happy with that. Like Fuji, Shanghai is a circuit that we know and where we already have lots of data, but we still had lots of parameters to examine and so we completed a busy programme with both drivers. Everything went well and we now have lots of information to analyse this evening, so it has been an encouraging first day of practice, not only because of our positions in the sessions."
Williams-Toyota
Nico Rosberg (10th, 1:36.556): "I am broadly okay with how things went today as I remember how difficult we found it here with our car working the tyres last year, but this time round the tyres are performing well. That said, we are still not quick enough, but we have progressed the car well since this morning, working on the weight distribution which positively affected the balance, which in turn helped the tyres. We'll just have to wait and see how qualifying will shape up tomorrow."
Kazuki Nakajima (16th, 1:36.975): "Today went quite alright in my view. We tried a couple of set-up directions and we improved steadily throughout the sessions, and learnt lots about the new tyre on this track. Although I didn't race here last year, the Friday practice time I had out on the circuit helped me get off to a good start."
Rod Nelson, Chief Operations Engineer: "We ran through a normal Friday programme, with the morning focused on finding the balance on the car, while in the afternoon we did the tyre test, running the prime against the option, as well as some longer runs for race preparation. The circuit was fairly dusty off-line, which caught a few people out at turns 11 & 12, but we managed to avoid any problems. The cars ran reliably and as usual from here will look at the data in preparation for tomorrow."
Red Bull-Renault
Mark Webber (5th, 1:36.375): "We did quite a few laps today, it was a good day of running. The track's in reasonable shape already, as I think the GP2 cars did some running here last week, so we could start straight away with checking the car's balance. The car ran faultlessly all day, so I'm looking forward to tomorrow."
David Coulthard (14th, 1:36.808): "Generally, it feels like the balance itself isn't so extreme, but that rear traction stability is the main issue, I think that's got a lot to do with the nature of the track here though. Regarding overall load, we just don't seem to be generating a lot of grip."
Toyota
Jarno Trulli (4th, 1:36.159): "It was a good, productive day for us. In general the car seems to be behaving well. We tested several things, both mechanically and aerodynamically, and we made some good progress on set-up and balance. We also did some long runs which will help us to understand about the behaviour of the different tyre compounds. Everything went smoothly so I am happy. Now we will keep pushing to get the most out of these last two races and bring as many points away as we can."
Timo Glock (11th, 1:36.615): "Both sessions were a bit tricky for me because I've found the car quite difficult to drive today. I haven't found the right direction to go yet in terms of set-up and it has been hard to find the right balance. But we will work hard on the information we collected today and try to make an improvement for tomorrow. I know this track from 2004 when I raced here for Jordan, I've been impressed with the reaction of the fans here and now we must look to get a good result."
Dieter Gass, Chief Race Engineer: "Overall I'm really happy with the day. It was a very similar Friday to what we had last weekend in Fuji where we were performing well. Again, we did some basic work on both cars in P1 which set us up well for P2 and the rest of the weekend. The track evolved but not as much as usual here in Shanghai and we were able to gather a lot of information on the tyres. We had no major problems and we're obviously in good shape on car performance. Timo was struggling a bit more than Jarno with an inconsistent balance but we are confident that we can improve his situation for tomorrow. Now we can look strongly to the weekend and try to improve on what we saw in the race in Fuji."
Toro Rosso-Ferrari
Sebastien Bourdais (7th, 1:36.529): "It's my first time here. I like the track, even if it seems quite hard on tyres because of all the long corners. Aside from that, it's a nice combination, requiring different techniques for different parts - interesting. We seem to have found a good pace right from the morning session and we kept the momentum going through the day. Hopefully we can do the same tomorrow and have a good qualifying. Right at the end, I lost the rear of the car on my first lap of my final run at the first corner. Maybe I was just a bit too optimistic."
Sebastian Vettel (15th, 1:36.925): "We are not where we want to be, although the time sheet makes it look worse than it is. The circuit is in quite good shape and there is some graining on the tyres, but in terms of the car set-up we still have work to do to get the balance of the car right. We will have to take a good look at the data to see how to improve tomorrow. There's a bit of work to do, but that's our job!"
Honda
Jenson Button (19th, 1:37.800): "We were struggling to find a good balance today and unfortunately nothing that we tried improved the car. The problem seems to be that we find the limit of this car fairly quickly and that can be seen on Friday mornings when we are reasonably competitive. After that, we are unable to make further improvements. It's frustrating but as always we will make the best of what we have."
Rubens Barrichello (20th, 1:39.904): "Much as we expected to find at this circuit, the car is lacking performance here. It has been difficult to find a balance and the car is not particularly nice to drive with problems with both understeer and oversteer. The traction is also poor and we have a lot of work to achieve overnight to try and make improvements before qualifying tomorrow."
Steve Clark, Head of Race & Test Engineering: "This morning we conducted our usual tyre and set-up evaluations and did some good work with downforce levels. This afternoon it has been difficult to find a balance with the car and we were graining the tyres early on, so we weren't getting the first lap performance. We don't believe our performance is quite as bad as the timesheet suggests, as we were doing sensible race preparation as opposed to qualifying runs. Nonetheless, we are still expecting this to be a tough weekend for us."
Force India-Ferrari
Giancarlo Fisichella (17th, 1:37.473): "This morning the balance wasn't great as we were struggling with grip and the tyres as well. For the afternoon session we made a step forward with the set-up so it was more comfortable and we could improve a fair bit. I still think there is still some room for improvement tomorrow."
Adrian Sutil (18th, 1:37.617): "Today was a pretty normal Friday and we got through all the work we needed to. We are still struggling for grip a little and to get the tyres to work, but we did improve over the day and there's still one more practice tomorrow. We seem to be more competitive on the low downforce tracks like Spa and Fuji, so with the corners and higher downforce levels we use here this track doesn't suit us as much. We'll still push to be as good as we possibly can."
Mike Gascoyne, Chief Technical Officer: "A normal first day of running, with no real mechanical problems on either car. We are struggling with a lack of grip and getting the temperature into the tyres, but all in all we got through our programme and things look good for the weekend."
McLaren-Mercedes
Lewis Hamilton (1st, 1:35.750): "From the moment we hit the track this morning, the car felt well balanced and positive - and that really allowed me to get into my day's programme without any problems. No matter what we changed on the car, it just kept getting better and better and the grip and balance kept improving. This is the best possible way to kick off any weekend and has given me extra confidence for the next few days: I feel in a very good place right now."
Heikki Kovalainen (13th, 1:36.797): "The circuit felt surprisingly dirty and dusty this morning, but everything went well in both sessions. We were immediately quick - which is always encouraging - and spent both sessions just working on the balance of the car. I'm fully focused on the job ahead of us in the next two races and today shows that we have started well. I'm looking forward to the rest of the weekend and feel positive we can achieve another good result."
Ron Dennis, Team Principal: "A promising start to our weekend in China. As usual, we spent both sessions focusing on our race set-up, sacrificing ultimate single-lap speed in the pursuit of good balance and tyre-wear over a long run. Both Lewis and Heikki reported that they were happy with their cars and, while it is still difficult to tell at this early stage, we feel happy with our pace relative to the opposition."
Norbert Haug, Mercedes Motorsport Director: "A good start for Lewis this weekend. The comparison between prime and option tyres worked well and the team saw encouraging results. Lewis's lap times were not only good but also consistent on both compounds. Heikki is still not totally happy with his car - something his lap times reflect - but I am sure he and his engineers will be much better off after going through the data this evening. These were two good Friday sessions with lots of laps for us, however things can quickly change and look different tomorrow; we certainly do not feel like having the job for the weekend already done."