Chinese GP 2007
OCTOBER 6, 2007
Saturday Team Quotes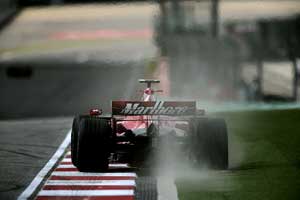 © The Cahier Archive
McLaren-Mercedes
Lewis Hamilton (1st, 1:35.908): "A very good qualifying for me and the team. I was pretty confident that we were fast enough to beat the Ferraris here; however, they looked very strong, particularly in the fast corners. I made my first run on the prime Bridgestone Potenza compound, which had been the more consistent tyre so far, however we opted to do the final run with the option tyres and luckily this worked perfectly for us. I still expect a very close fight for tomorrow's race but we have a strong strategy and I am optimistic."
Fernando Alonso (4th, 1:36.576): "This was not an ideal result for me to be honest, I really thought I made no mistakes with my laps, but I am still starting on the second row and the forecast for tomorrow is possible rain, so perhaps that could help. Anything could happen in the race, so I have not given up and I will be pushing 100 percent for the win."
Ron Dennis, Team Principal: "Both drivers did a very good job. We expect it to rain tomorrow, and the best place to start in those conditions is near the front, so it should be exciting. Our competition are still going to be strong, but hopefully with our strategy we will have a good clean race and a great fight for the championship."
Norbert Haug, Mercedes Motorsport Director: "A first class job of Lewis's at the right time. Fernando will start from the second row and still has all the chances in the race. With rain predicted for tomorrow it will be crucial to be at the front of the grid, but of course we are sure to face strong competition. This is the team's eighth pole position in the last 12 races which shows that our performance is heading in the right direction."
Renault
Heikki Kovalainen (14th, 1:36.991): "Clearly my final timed lap could have been better: I made a mistake by running wide in turn 13 before the long back straight, so I then had only one real opportunity to make the time back up, which was in turn 16. I tried to carry too much speed, and it went wrong: the car ran over the rumble strip, and the lap was gone. It was touch and go whether I could have got into the top ten, but I had to be right on the limit all the way round the lap to make it, and unfortunately a little mistake cost me. The times were very close today, and I would imagine there have been some different approaches in terms of set-up, although the top speeds are all quite close so perhaps the variation is not that big. But the car has a pretty neutral balance, it's just that the speed wasn't there today. Now, we need to see wait and see what happens tomorrow."
Giancarlo Fisichella (18th, 1:37.290): "This was a really disappointing and frustrating session. I have been struggling with the car since Friday morning, and we only started to find the right direction with the set-up on the final run in third practice this morning. That meant I went into qualifying quite under-prepared. After that, we ran the soft tyre for the second run, and I had some graining at the end of the lap. I made a mistake in the last corner which cost me two tenths - and that meant I didn't make it. All we can do now is wait for the conditions tomorrow, and try to take advantage."
Pat Symonds, Executive Director of Engineering: "Giancarlo has been chasing a problem with the car all weekend, and we only got fully to the bottom of it by qualifying. That meant we lost a lot of set-up time in practice and at a circuit where the R27 is not as competitive as we would like, that has cost us dearly. We could see in the first qualifying round that Heikki would be right on the cusp of the top ten, and in attempting to make it through he had to take some unusual risks with the car. Unfortunately, it didn't come off, and it meant neither car is in the top ten. All the local forecasts are predicting heavy rain tomorrow, and that is always an equalizer in terms of performance. Regardless, though, these are not good positions to be starting from."
Denis Chevrier, Engine Operations Manager: "To qualify fourteenth and eighteenth is clearly a big disappointment that we must attribute primarily to a poor level of competitiveness today. While morning practice had suggested that Heikki might be a top-ten contender, the level playing field in qualifying proved this was not the case today. Of course, we are aware that conditions tomorrow afternoon are predicted to be wet, and we need to see what the race brings. But we have not made our job any easier with today's performance."
Ferrari
Kimi Raikkonen (2nd, 1:36.044): "Of course it would have been better to be on pole, but all things considered, second place is a good result, especially when you consider the uncertainty about how much fuel those in the top ten are running. I am very happy with the handling of the car this weekend: we have shown we are competitive in all conditions and I think that should be the same even if it rains, which seems likely. I am confident. We know the situation in the championship is pretty compromised but I will do my all to try and win."
Felipe Massa (3rd, 1:36.221): "A very close qualifying, from start to finish. With four very closely matched drivers, all of them capable of taking pole you have to always go to the maximum. I tried to do that and, on my second run in Q3, it went wrong. I made a small mistake which with the times being so close, made the difference. All the same, I think I will be competitive in the race, whatever the weather. If it rains, the important thing will be to stay out in front and not make any mistakes. I will be trying to win, but clearly if it is required, I am ready to help the team and keep alive its chances of winning the Drivers' title."
Jean Todt, Team Principal: "Right from the start of the weekend, we have seen a competitive Ferrari and also in today's qualifying we had a confirmation of that, with one car on the front row and the other on the second, with Kimi in second place and Felipe third. The weather forecast predicts a strong chance of rain, which makes it ever harder to make predictions and introduces an additional one to those that usually decide the result, which are strategy, reliability and the performance of the team and drivers. For our part, we will do our best to win this race, run in a country which is becoming ever more important for Ferrari in commercial terms. We can count on two fantastic drivers, cutting edge technical partners, I'm thinking for example of the work Shell has put in to developing the V-Power fuel and commercial partners who guarantee us an essential support, such as Philip Morris. We want to win to please our fans, who have always supported us both in the good times and the bad."
Luca Baldisserri, Head of Trackside Operations: "It was a closely contested qualifying, with four drivers all capable of taking pole. The car confirmed it is competitive on this track, which was already evident yesterday. Both Kimi and Felipe pushed to the limit to be in front and missed out by very little. I think we can win, whatever the weather tomorrow. At Fuji we saw we were also competitive in the wet even if our race was compromised right from the start."
Honda
Jenson Button (10th, 1:39.285): "I am happy, and to be honest a little surprised, to be in the top ten again this weekend. It was unexpected but we were able to get the best out of the car today and have over-achieved in terms of where this car should be qualifying, which is a nice feeling. The forecast for tomorrow seems to be for another wet race so we will give it our best shot from here as points are a real possibility."
Rubens Barrichello (17th, 1:37.251): "I got a good lap in Q1 today but unfortunately we just missed out on making it through to the second session. There was really very little difference between the times so it is frustrating to just miss out. It will be interesting to see what the weather brings for tomorrow and we will just have to see what can be done from here."
Jacky Eeckelaert, Engineering Director: "In practice this morning we evaluated a number of set-up changes to prepare for this afternoon's qualifying. The track conditions were fairly similar to yesterday although there was a stronger wind. In qualifying, we were surprised by how close all of the cars were in terms of lap time. Unfortunately Rubens just missed out on the second session by 0.02s after a very good effort which saw him sandwiched between the two Renaults. Jenson did an excellent job to get the car through to the final session to finish in 10th and we are all very pleased at how much he was able to get out of the car."
BMW Sauber
Nick Heidfeld (8th, 1:38.455): "I don't want to complain as my car was okay. However, the time I lost in both Friday practice sessions definitely influenced the result. It was only in Q2 that I was able to drive on the limit, but this was not in every corner. In Q3 the balance was not so good with the fuel on board. Our weather forecast says rain for tomorrow. There is a typhoon in the area, but perhaps it will move elsewhere although at the moment that is not really clear."
Robert Kubica (9th, 1:38.472): "I have to be honest and say I was expecting more from today. This morning I was a lot happier with the car and felt we were going in the right direction for the set-up. However, this afternoon just didn't go right for me. I now have to concentrate on the race and hope the strategy I have can help me recover from this disappointing result."
Dr. Mario Theissen, BMW Motorsport Director: "We had no problems during qualifying, and as has happened at every race this season we got both cars into the third qualifying session and this time we will be eighth and ninth. With rain forecast for tomorrow we will see what these grid positions are worth."
Willy Rampf, Technical Director: "Nick and Robert reached the crucial third Qualifying without any problems. Secretly, we hoped for better positions than eight and nine. Anyway, for the weather conditions we expect tomorrow we are in good shape."
Toyota
Ralf Schumacher (6th, 1:38.013): "Obviously we are happy with what we achieved today in qualifying. It was a decent session overall and the car felt good throughout, even if it was a bit more difficult to drive with the fuel on board in Q3. So I'm happy to have made it into the top six. Nonetheless it will be a tough race because there is heavy rain forecast so anything is possible. I'm sure some people will have amended their strategies given what we saw last week in Fuji but we'll find out tomorrow. We weren't very strong in that race so we will hope for better here. It's really great to see so many local fans in the stands here in Shanghai. I hope they will come again for the race and I hope we will do a good job for them."
Jarno Trulli (13th, 1:36.959): "This has been a difficult day which started this morning when I had a problem finding grip in the car. Straight from the first lap I noticed the balance had changed compared to yesterday and I just couldn't understand how. The more laps I did the worse it seemed to get. The wind is stronger today but that didn't really affect things. So this afternoon I was really short of pace and I was just able to make it through the first session but that was it. If we cannot find out the cause of the problem tonight I may have to switch to the T-car tomorrow. Of course we are expecting another wet race so that will have a massive effect but I will go out there and push as hard as ever to bring home a result."
Pascal Vasselon, Senior General Manager Chassis: "It was quite a contrast today. Ralf's preparations have gone well all weekend and he is pretty much where we expected to be on the grid. Following the practice sessions, the conclusions in terms of tyre choice and set-up were very clear. So for Ralf I would say that everything has gone according to plan so far. For Jarno it's a different story. Yesterday the two cars were in similar conditions with similar conclusions and a similar direction. But it started to go wrong for him this morning and he was really struggling to find tyre grip. It seems that other cars may have faced the same problem because some teams are not where we would expect them to be on the grid. But now we will have more work to do to analyse why that has happened. For tomorrow we clearly expect a wet race so we have tuned our preparations, set-up work and strategy to optimise everything for that. Now we will push hard for a good finish in the race."
Red Bull-Renault
David Coulthard (5th, 1:37.619): "Fifth is a great position to start from tomorrow, it's a while since I've been in the top ten. I'm a little bit surprised to be honest, I drove in exactly the same way as I have in the previous few qualifying sessions, but for some reason there are more cars are behind me here! I'm not complaining, the car obviously suits this track. The weather's due to be wet and a bit difficult tomorrow, but it can't be anywhere near as difficult as it was in Fuji last weekend. Starting in the points is obviously better than having to fight our way there from further back, as we did last week. I'm happy - I'm happy for my guys who work directly on my car and for the team as a whole. Their work's been overshadowed a little with some of the reliability problems we've had this year, so I'm pleased for them."
Mark Webber (7th, 1:38.153): "We were concentrating on our strategy ahead of the race tomorrow and the wet weather that is forecast. The team performed very well today and it's nice timing to get both cars in to the top ten at this stage of the Championship, as it puts a little bit of pressure on Williams in our battle for fourth place. This also gives confidence to the team going into next season; I'm looking forward to tomorrow."
Christian Horner, Sporting Director: "A great team result. Finally, after having missed out by such a small margin so often this season, we have comfortably put both cars in the top ten. Our two drivers have been evenly matched all weekend and have been pushing each other. David did a very strong job and has given us our best qualifying position of the year in fifth, while Mark's lined up seventh. It's a strong result and, strategically, we believe we're well placed for the conditions that may arise tomorrow."
Fabrice Lom, Renault: "We are very pleased with our performance today. Our positions confirm the progress we made in Jerez during our last test session. Our package performed very well, as we had hoped, and our drivers did a fantastic job in qualifying to make it into the top ten. The added bonus was that Williams did not qualify well today, which is very good for our fight for the Championship! We just hope now the weather conditions won't be too bad tomorrow as we would like to race in dry conditions."
Williams-Toyota
Nico Rosberg (16th, 1:37.483): "We had problems getting the tyres to work on our car. Sometimes it was losing grip and sliding at the front, sometimes it was the rear. With these characteristics, there was no possibility of setting a quick time due to the lack of predictability. Our performance was poor and the final outcome in qualifying today will make tomorrow difficult for us. Now I think we should hope for some rain tomorrow - not as much as in Fuji - but enough to give us a chance."
Alexander Wurz (19th, 1:37.456): "After morning practice, I felt the car was going to be pretty strong and we would be okay. In qualifying, the car felt alright in terms of balance but we just didn't have the speed. We will have to accept the situation and see what we can do tomorrow."
Patrick Head, Director of Engineering: "Obviously today saw a very weak performance from us. We seem to have difficulty getting the time out of the option tyre, but other teams haven't so we have to look to ourselves for the cause of that and it's going to be a very difficult race tomorrow starting where we are on the grid. Meanwhile, it seems as if there is the possibility of some mixed weather conditions tomorrow and we will have to make the best of them and get what we can from the race."
Toro Rosso-Ferrari
Vitantonio Liuzzi (11th, 1:36.862): "Overall a good qualifying and I think the whole team can be proud of this result achieved in dry conditions. Yesterday went well and this morning, we worked hard on getting the best set-up possible, always thinking that we might have a wet race tomorrow. In Q1, I had a bit of traffic so I could not get the best out of the car, but we still made it safely to Q2. Maybe I could have done a little bit better if I had made my run later as I had some understeer, but to be eleventh, so close to Q3 means we have done a good job."
Sebastian Vettel (12th, 1:36.891): "This performance was better than we expected. It is a very good result for the whole team. There was not much between us: in Q1 I was slightly ahead of Tonio and in Q2, he was quicker. The key thing is that we managed to lap consistently. I only missed out on Q3 by a little margin, so this is clearly an improvement over yesterday and shows we are quite competitive in qualifying specific. Let's see what we can do in the race. I am looking forward to it whatever the conditions."
Giorgio Ascanelli, Technical Director: "Our best qualifying of the year in the dry. Already in Japan we saw that our car has made a step forward and here it was better still. Although I am happy with this performance there is still a very slight feeling of regret, as I think we could have got at least one car into the top ten, but we have to be happy with this and, if we get a wet race, it's the same for everybody."
Spyker-Ferrari
Adrian Sutil (21st, 1:38.668): "We were hoping for maybe one more place today. The lap was OK and the car balance seemed good, but no one made a mistake and I think this was our maximum today. We just need more top speed as we are losing a lot on the straights, although hopefully in the race we will pick up some more places. In general I don't think that this circuit suits the car and I'll be hoping for a wet race tomorrow."
Sakon Yamamoto (22nd, 1:39.336): "This is a bit disappointing for us. My car balance didn't really improve from yesterday and we tried to do our best, but the lap time showed we still have a lack of speed. I don't know what to expect for tomorrow but as we think it will be a wet race, we might be OK. We know we can do better in these conditions, so we are going to look at the data and hope for more tomorrow."
Mike Gascoyne, Chief Technical Officer: "Today was reasonably disappointing as we are not as competitive as we have been over the past few races. But with the expected conditions tomorrow, we compromised the set up to take into account the predicted rain and I am sure we will be more competitive in the race as we always are."
Super Aguri-Honda
Anthony Davidson (15th, 1:37.247): "It was a very satisfying day. I doubted that we would be able to make it through into Q2 after our running on Friday, but the track has slowly come to our car. As more rubber came down it felt like we had more balance and I was able to make it through to Q2 successfully. In view of tomorrow we are still unsure of exactly what the weather will be, but I think that we have a nice compromising set-up, so I am looking forward to the race."
Takuma Sato (20th, 1:38.218): "I am very unhappy with the car as I could not get any bite. I could not generate any grip throughout the session and tried various things in an attempt to rectify this, but we never solved the problem and then ran out of running time. We then felt that we needed to make a radical set-up change to try to improve the performance for the Qualifying session, however the result was the same, there was no bite. There is very little that we can do before the race tomorrow, but we really need to understand what the problem is."
Graham Taylor, Sporting Director: "It was another normal Saturday morning session where we worked away on balance. Early on it became apparent that Takuma was struggling a little, but Anthony was taking small steps forward and that carried over into Qualifying. It was an excellent effort by Anthony, bouncing us back into Q2. We explored another avenue with Takuma before Qualifying, but again failed to reap any reward from a lap time point of view and we need to understand why that is."