Chinese GP 2007
OCTOBER 7, 2007
Race Incidents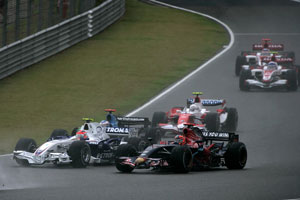 © The Cahier Archive
* Pre-race: Change in climatic conditions declared.
* Lap 1: On pole for the sixth time this season, Lewis Hamilton makes a good start to beat Kimi Raikkonen to Turn One. Felipe Massa loses out to Fernando Alonso through the first complex, but regains third before the lap is through. David Coulthard stays in fifth place but Ralf Schumacher spins from sixth to last at Turn One. Nick Heidfeld takes sixth and Tonio Liuzzi makes a terrific start to rise to seventh ahead of Mark Webber, Robert Kubica, Heikki Kovalainen, Jenson Button, Sebastian Vettel, Jarno Trulli, Anthony Davidson, Rubens Barrichello, Takuma Sato, Alex Wurz, Giancarlo Fisichella, Nico Rosberg, Adrian Sutil, Sakon Yamamoto and Schumacher. Hamilton leads by 0.6s.
* Lap 2: Hamilton leads by 1.5s. Barrichello hits Davidson at Turn One and both spin to the tail of the field. Vettel and Trulli pass Button.
* Lap 3: Hamilton extends his lead by another 0.5s. Schumacher, Davidson and Barrichello pass the Spykers.
* Lap 4: Hamilton laps in 1m46.372s, his best yet, and edges 2.7s clear. Liuzzi passes Heidfeld for sixth. Rosberg passes Fisichella.
* Lap 5: Rosberg passes Wurz for 15th. Barrichello passes Davidson.
* Lap 6: Hamilton leads by 4.0s. Kubica takes eighth from Webber. Schumacher passes Fisichella. Sutil pits.
* Lap 7: Vettel passes Kovalainen for 10th. Rosberg passes Sato. Yamamoto pits.
* Lap 8: Hamilton posts a 1m45.686s to lead by 5.2s. Trulli passes Kovalainen. Wurz and Schumacher pass Sato.
* Lap 9: Fisichella passes Sato.
* Lap 10: Hamilton ups his pace again - 1m45.677s - to lead by 6.6s.
* Lap 11: Schumacher passes Wurz. Davidson pits.
* Lap 12: Hamilton laps in 1m45.545s: his lead grows to 7.2s. Barrichello passes Sato. Davidson pulls off to retire.
* Lap 14: Quarter-distance. Hamilton leads Raikkonen by 8.6s. Massa is 5.3s further adrift in third, Alonso 2.0s behind him in fourth. Rosberg passes Button for 13th.
* Lap 15: Hamilton makes his first stop, for fuel only, and slips to fourth. Raikkonen leads.
* Lap 16: Leader Raikkonen sets fastest lap so far: 1m45.036s.
* Lap 17: Raikkonen laps in 1m44.372s. Massa pits. Rosberg passes Kovalainen. Schumacher passes Button.
* Lap 18: Raikkonen posts a 1m43.853s. Alonso pits. Schumacher passes Kovalainen. Sutil spins his lapped Spyker at Turn One.
* Lap 19: Raikkonen, Coulthard and Liuzzi pit. Hamilton regains the lead.
* Lap 20: Hamilton leads Raikkonen by 4.0s. The top four remain as before.
* Lap 21: A new fastest lap for Hamilton: 1m43.831s. He extends his advantage to 4.5s.
* Lap 22: Hamilton sets a 1m43.181s to lead by 5.3s. Schumacher passes Rosberg.
* Lap 23: Schumacher spins at Turn One while trying to pass Liuzzi. The German pits at the lap's end. Webber pits, too.
* Lap 24: Fisichella passes Button. Wurz sets fastest lap - 1m42.154s - on dries. Kovalainen and Button pit, as do the Spykers. Dries are the call - but more rain is said to be imminent.
* Lap 25: Kubica pits, as do Trulli, Rosberg, Fisichella, Barrichello and Sato.
* Lap 26: Alonso passes Massa - who pits almost straight away. Vettel and Coulthard also stop. Schumacher spins into retirement. The lapped Sutil crashes out.
* Lap 27: More rain. Hamilton is slowing significantly and Raikkonen is close behind.
* Lap 28: Heidfeld pits.
* Lap 29: Raikkonen passes Hamilton. Rosberg is pincered by the Renaults and ends up in the Turn One gravel. Kovalainen runs wide, too. Rosberg pits at the end of the lap.
* Lap 30: Hamilton is getting slower: his tyres appear to be down to the canvas. Yamamoto pits.
* Lap 31: Hamilton comes in - and drives into the gravel at the pit entry. He's out. Liuzzi, Webber, Rosberg and Barrichello make more conventional stops.
* Lap 33: Button, running sixth, posts a 1m40.076s.
* Lap 34: Leader Kubica pulls off to retire. Button laps in 1m39.901s - he's the quickest driver on the track by some margin.
* Lap 35: Alonso laps in 1m39.820s. Button passes Vettel for fourth.
* Lap 36: Raikkonen posts a 1m39.465s.
* Lap 37: Button posts a 1m39.055s.
* Lap 38: Fisichella passes Liuzzi.
* Lap 39: Fisichella laps in 1m38.900s.
* Lap 41: Alonso trails Raikkonen by 7.9s.
* Lap 42: Button pits and drops to sixth.
* Lap 43: Raikkonen laps in 1m38.880s. He leads by 8.5s. Massa is 6.7s behind Alonso, in third.
* Lap 45: Fisichella pits from fifth.
* Lap 48: The top two set personal bests, but Raikkonen is quicker on 1m38.587s. He leads by 8.3s. Kovalainen passes Webber.
* Lap 50: Raikkonen laps in 1m38.449s to move 10.1s clear.
* Lap 51: Raikkonen laps in 1m38.315s.
* Lap 52: Raikkonen laps in 1m38.285s, Massa in 1m37.989s.
* Lap 54: Massa laps in 1m37.895s.
* Lap 55: Massa continues to close on Alonso, with a 1m37.560s, but is too far back to challenge for position.
* Lap 56: Raikkonen wins by 9.8s from Alonso to ensure a three-way title fight in Brazil. Massa sets a definitive fastest lap: 1m37.454s. Vettel is a career-best fourth, from Button, Liuzzi, Heidfeld, Coulthard, Kovalainen and Webber. Hamilton continues to lead the championship table, by four points from Alonso and seven from Raikkonen.