Chinese GP 2007
OCTOBER 6, 2007
Qualifying Report - Lewis leads from the front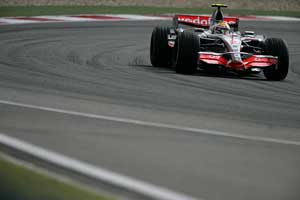 © The Cahier Archive
Lewis Hamilton took pole position for the Chinese Grand Prix with an impressive lap that was a tenth of a second faster than the best that Kimi Raikkonen could manage. The big question was that of fuel loads because the Ferrari had been ahead throughout practice on Friday and Saturday. But with Typhoon Krosa heading towards the Chinese mainland and likely to arrive on Sunday night or Monday morning, Shanghai was bracing itself for a rocky and rainy Sunday. Fuel loads were pretty irrelevant in Japan and the same may be true on Sunday so Hamilton's gamble - if indeed this is what is was - was a good decision. The chance of rain on Sunday was reckoned to be 90% and with odds like that being in the front was a good idea. The key point for Hamilton was to finish and if possible pick up points. Wet races are unpredictable and more hazardous than those in the dry.
Raikkonen and Felipe Massa were second and third on the grid with two-tenths of a second between them with Fernando Alonso three-tenths behind Massa.
There was then a full second back to the best of the rest which on this occasion was David Coulthard in his Red Bull-Renault. He was clear of Ralf Schumacher in his Toyota with Mark Webber seventh for Red Bull ahead of the two BMW Saubers of Nick Heidfeld and Robert Kubica. It was a little more difficult to work out from the speed traps who was running with which settings but the fastest on the straights were the two Ferraris with the McLarens right with them. Heikki Kovalainen was next but his qualifying was spoiled by a wild moment on his flying laps, suggesting that the downforce levels were not great. The Williams of Nico Rosberg, on the other hand, was much slower than we have seen in recent races and so there is a suspicion that the team is gambling on a wet race.
And so, for the second race running, we were waiting to see what tomorrow would bring in terms of the weather.
The grid positions outside the top 10 were Tonio Liuzzi 11th in his Toro Rosso ahead of Sebastian Vettel, although he was later dumped five places on the grid for getting in the way of another driver. This meant that Jarno Trulli moved up to 12th place with Kovalainen 13th and Anthony Davidson 14th. Nico Rosberg was 15th and Rubens Barrichello 16th. Vettel slotted back into the field in 17th ahead of a lacklustre Giancarlo Fisichella, Alexander Wurx, Takuma Sato and the two Spykers of Adrian Sutil and Sakon Yamamoto.
The focus on Formula 1 on Saturday night was back on racing, which was good news after all the shenanigans of recent days.
Let us hope that it remains firmly on the racing on Sunday.