Canadian GP 2015
JUNE 10, 2011
Friday Team Quotes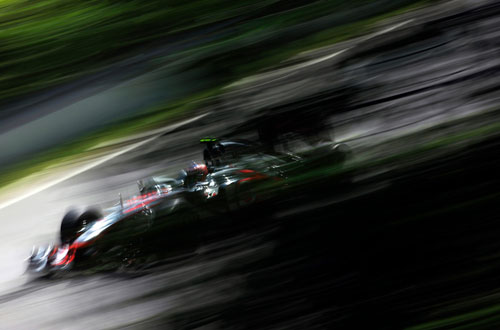 © The Cahier Archive
Red Bull-Renault
Sebastian Vettel (2nd, 1:15.476): "I had an incident this morning. I lost the rear, but by the time I hit the wall I had low speed, so the crash was quite mild. There wasn't much damage, so we could fix the car and get back out this afternoon. McLaren and Ferrari look strong here, although I haven't seen all the times from practice yet. For us, I'm happy with the car's balance and how it performs, so we will see. It's a special circuit here, it's quite rough with the kerbs and chicanes, but I like it. The target is to win, but it's a long weekend and a lot of things can happen. It's important to finish and do your best, whatever that is."
Mark Webber (7th, 1:16.102): "We were a bit compromised with the red flags at the end of P2, so we could have had a smoother end to the final session, but it wasn't too bad. We tried different fuel loads today and now we just need to chip away and get the car a bit quicker. It's a tricky venue here and we might have some different weather conditions thrown into the mix over the next 24 hours."
McLaren-Mercedes
Lewis Hamilton (4th, 1:15.977): "It was a very good session and a positive day for me. In P2, I think some debris from one of the incidents must have caused my puncture because I'd only just left the pits when I suddenly felt the rear sliding about. Nevertheless, we got through a lot of test components. I'm still trying to find the exact balance I need, and I'm not quite sure which direction I want to follow with my car, so I'll sit down with my engineers to analyse the data this evening. Our long-run pace is pretty good; the speed is there. It looks very close once again between Red Bull, Ferrari and ourselves, so we'll work on qualifying, get the car nicely dialled in and then I'll keep my fingers crossed. It's surprising to see so many incidents here, but it's such a demanding and slippery circuit that I guess some people just got caught out today. We're all testing the limits of our cars and you can't blame people for trying. There's no room for mistakes around a place like this and, unfortunately, some people paid the price today - but they'll bounce back tomorrow."
Jenson Button (5th, 1:15.989): "It's very difficult to make effective set-up changes when there are so many red flag stoppages. It's a very tough circuit here - one hit of a kerb in the wrong way can send you into the wall. But we did some high-fuel runs on the Option tyre; it was key to get some laps on the Supersoft. It's all useful information and I'm confident we can still improve the car's balance on low-fuel. We didn't do any low-fuel running on the Supersoft because of the two red flags, so we just filled the car up and sent it out at the end of the afternoon. It's pleasing that the car felt pretty good on high-fuel. The Red Bulls are quick, so are the Ferraris, the Mercedes and ourselves - I think it'll be a little bit closer than it's been in the past few races."
Martin Whitmarsh, Team Principal: "Today's sessions showed how unforgiving this circuit can be: you only need to get the car slightly off-line, or hit a kerb at the wrong angle, and you can end up in the wall. Happily, all the drivers emerged unscathed, and the marshals did a fantastically efficient job of clearing the track and sweeping away all the debris. Despite the unusual number of stoppages, we still managed to make some positive progress, evaluating a number of minor modifications we'd introduced for this race and carrying out our tyre comparison programme - albeit with some disruption owing to the red flags. Both Lewis and Jenson are pretty happy with the balance of their cars, although there's still some work to be done to improve the set-up. As usual, the competition looks evenly matched - particularly so this weekend - but the unpredictability of the weather and the unforgiving nature of this circuit all look set to make for another close race."
Ferrari
Fernando Alonso (1st, 1:15.107): "As usual on a Friday, the times don't mean much because we don't know what programme the others were running and especially because rain is forecast for Sunday: the data acquired today could turn out to be of not much use. We followed our programme, trying out the different types of tyre and various aerodynamic solutions. It was definitely one of our best Fridays - it does not happen often that we see our cars in the top five places - but it is true we were also quickest on both Thursday and Saturday morning in Monaco and then, in qualifying, we found ourselves nine tenths down on the Red Bull: that's when they show their true potential and that's why they are still our main rivals, along with McLaren and Mercedes, who seem to be very strong here. We saw various accidents, probably when drivers were working on long runs. It's hard to drive in these conditions and then there are three or four places here where the slightest error sees you end up in the wall. In the race, I expect the safety car will play a part. Once again, it looks like the Soft tyres should suit us and so too does the new Medium compound, which is due to make its debut in Valencia and which, even if I only did five laps on them, gave me a good feeling. This track could allow us to exploit the DRS more than at others: between turns ten and twelve and then on the pit straight, I think it will work well in the race. Unfortunately the red flags hindered me on my runs with the Supersofts and in the end, we had to modify our programme, switching to gathering as much data as possible from both cars running different fuel loads."
Felipe Massa (3rd, 1:15.601): "It was a good day, maybe the best Friday since the start of the season. The car seems competitive and the balance wasn't bad for a first day of practice. Obviously, it's only Friday so it is difficult to have a clear picture of the situation, partly because we don't know if our competitors are trying different things, but I am reasonably pleased. Unfortunately, because of the red flags, I wasn't able to use the Supersofts the way I would have liked, so I concentrated on the long run with the appropriate fuel load on board. The fact we can use the moveable rear wing at two points on the track definitely helps for overtaking. The tyres are working well and the degradation is not excessive, so I don't think we will see that many pit stops during the race. However, we have to take into account there is a very high threat of rain for Sunday, so we could end up having a wet race."
Pat Fry: "These days there are few moments to catch your breath during Friday's two free practice sessions because you are always trying to reconcile the car's development programme with the normal tasks of a race weekend, which include finding the best set-up on the car and comparing the two types of tyre available. Here, we also had the new Medium compound from Pirelli to test for the forthcoming European Grand Prix and, on top of that, the many red flags significantly slowed down the planned programme, for us and I imagine for everyone else as well. Therefore, it is harder than ever to interpret the results, especially as practically no one managed to get the most out of the Supersofts. From the little we can understand, our car seems reasonably competitive at this track. Rain is forecast for Sunday: it's a further unknown to keep in mind when it comes to making the final decision as to set-up."
Mercedes GP
Nico Rosberg (19th, 1:18.601): "It was a positive start to the weekend, and we seem to have made some progress with our race pace. I felt comfortable with the car today and we completed a lot of laps despite the interruptions, which was good. The tyres are holding up well so it will be interesting to see the comparison once we start working on low fuel tomorrow. Overall, I'm quite happy."
Michael Schumacher (20th, 1:19.209): "We covered quite a lot of work today. Obviously we didn't do any times on lower fuel and just concentrated on high fuel due to the red flags shortening our programme this afternoon. That's why we are at the opposite end of the timesheets to this morning, when it looked encouraging for a weekend that we did not enter with the highest expectations. We will now sit and analyse our performance and hope for another encouraging day tomorrow."
Ross Brawn, Team Principal: "We've had a good day to start our Canadian Grand Prix weekend. Today's running was obviously interrupted with the various incidents, however we have focused very much on our race preparation, particularly this afternoon. The loss of track time meant that we did not complete any low fuel running, but from our long run work, the car looks reasonable."
Norbert Haug, Mercedes Motorsport Director: "A good and productive first day for us here on the Ile de Notre Dame at this great track. In the afternoon we concentrated on race simulations with both types of tyres: Nico's times looked consistent in both cases, but for Michael there is still some more set-up work to be done. Nico's time this morning was comparable to the best times from the afternoon when the track in Montreal has more grip and is therefore usually quicker. Today was certainly one of our better Fridays. The weather forecast for tomorrow currently predicts a 75% chance of rain at 1300 when qualifying starts, and it is possible that this will be the first wet running of the weekend, because P3 should still be dry. Qualifying could therefore be even more interesting and challenging than usual; hopefully we can repeat our good form from today."
Renault
Vitaly Petrov (8th, 1:16.324): "It was frustrating not to get many laps during the first practice session; to start with, my car radio needed to be rectified, then the throttle pedal had to be replaced. With the red flag out there, my time was even more limited. However, I managed to get some good laps in the second session and found the supersoft tyres had a little more grip. I was pleased with P2 because we achieved all that we were planning to achieve. We found a good balance with the car and did some long distance runs, so all in all I think it was a satisfying day's work. One thing we should consider is that the track will evolve over the weekend, so things can change over the next day or two."
Nick Heidfeld (9th, 1:16.422): "A busy Friday, but with no drama from our side. We've been able to assess both types of compounds and there were no surprises on that front, although we still need to improve the balance of the car with the softer compound. Also, the new rear wing and DRS system seemed to be performing well. The only bad news is that I've been unable to make any long run this afternoon because of the red flags. Although it has improved since this morning, the track remains slippery, and a few of people have been caught out by these tricky conditions. Finally, the next two days should be cooler; we are also expecting some rain, so we'll have to remain really flexible during the weekend. It's been good to see many fans in the grandstands on a Friday - it almost felt like a race day."
Alan Permane, Chief Race Engineer: "Montreal is a track that can be heavy on the brakes so today saw a large part of the first session devoted to examining this. This included driving on high fuel, with some long runs. Pirelli's soft and supersoft tyre compounds were run effectively, with no major issues reported in P1 or P2. We used flow-viz paint this morning in order to assess our new rear wing. Vitaly lost some track time in the morning but it did not affect his weekend preparations, as he was able to complete a lot of laps in P2."
Williams-Cosworth
Rubens Barrichello (10th, 1:16.687): "The team worked well today. We had a lot of things to get through so we had to split our test programme between mine and Pastor's car. Everyone did a good job to get it all done and we now have a lot of information to work through which I'm happy about. We seem to be in better shape here and that might give us a couple of positions over the weekend. We will still have to work hard to make it into Q3 tomorrow, but I think it is achievable."
Pastor Maldonado (12th, 1:16.941): "That was a positive day, although we did have some problems on my car in the morning which meant we didn't get to run the prime tyres, only the medium. We had a better afternoon and our pace appears strong, even over long runs. All seems to be working ok so let's see what we can do in qualifying."
Sam Michael, Technical Director: "Even with the red flags, we had a really productive day with both cars. We evaluated front wings, rear wings and diffusers throughout both sessions and happily all of the new parts are working well. The tyres improved a lot over the course of the day and that will continue into the race weekend. We will now turn our attention to qualifying."
Force India-Mercedes
Paul di Resta (6th, 1:16.089): "Today was really about familiarising myself with the circuit and getting up-to-speed. The track was quite low grip in the first session with a lot of dust on the road, but the conditions had improved quite a bit by the afternoon. We made a few changes to the car, looking at the ride height and aero balance, and I think the direction we've taken has been pretty positive. There is still some more speed to come, but I'm pleased with the progress we've made today."
Adrian Sutil (11th, 1:16.905): "I had quite a big workload to get through this afternoon so it's a shame to lose so much track time. I was pushing hard on the option tyres and touched the wall on the exit of turn 7. That caused some damage to the suspension and I had to park the car. However, I think we still have a nice balance and we seem to be quite competitive this weekend. There's a lot of work to do tomorrow morning because I missed a couple of long runs and I haven't done many laps on the option tyre, but I'm sure we can still have a good weekend."
Nico Hulkenberg: "It was great to have an extra set of tyres available today - the medium compound - and they worked well and gave good consistency. I then used one set of the usual prime tyres, which felt okay with no signs of graining. The car was quite together today; there was a good balance with our new medium downforce wings and I think we've made a strong start to the weekend."
Dominic Harlow, Chief Race Engineer: "We ran our usual Friday programme today, and also had a new medium tyre compound available as a precursor to Valencia. This performed well in FP1, whilst Nico and Paul evaluated the Canada aerodynamic package for the VJM04. In FP2 the circuit continued to evolve, and Paul compared the race tyres available here. Adrian touched a wall during his outing on the options and so wasn't able to complete the session. As we've seen today that is easily done in Canada. All in all the car is performing quite well and we are looking forward to the qualifying session tomorrow and, of course, trying to weigh up what the weather will do on Sunday."
Sauber-Ferrari
Kamui Kobayashi (15th, 1:17.757): "We have had quite a busy programme today. In the morning it was very difficult to drive because the track was so slippery. I found it difficult to judge the car's balance on the new tyre compound we have had for testing. Despite this I tried different downforce levels and worked on the set-up. For the afternoon session the car was better, but then I made a mistake when I tried to do a fast lap on super soft tyres and hit the wall. It was obviously my fault. In respect of my new temporary team mate, I obviously know Pedro very well from last year and I will try to support him here over the weekend. For Sergio, I wish him a good and speedy total recovery."
Pedro de la Rosa (18th, 1:18.536): "First of all I hope Sergio gets well soon. For me it was unexpected to jump into the car today. We had to get a lot of things ready for me to get into the car, but luckily we managed to do one proper run. Of course I have to learn a lot about the 2011 car, but the most important thing now is I have to get comfortable with the seat and pedals. However, I feel ready and just need a little bit of time in the car."
James Key, Technical Director: "It is a shame Sergio wasn't well enough to drive, but obviously it is thanks to Pedro for stepping in on such short notice. Of course we know Pedro very well, which helps. The team, the engineers and mechanics did a great job to do a driver seat fitting and get the car out all within the time frame of the afternoon session. It was important for Pedro to get a feeling for the car before tomorrow. Kamui did a normal programme in the afternoon. Then he just put the car on a kerb and ran wide when he was on super soft tyres. He wasn't able to continue. Until then there was a good improvement. We still have some work to do, but we are looking forward to having a productive day tomorrow."
Toro Rosso-Ferrari
Sebastien Buemi (13th, 1:17.051): "Good to be back in the car, because having had Spain and Monaco one after the oter, it has seemed like a long wait to go racing again. I didn't run this morning, which is fine, but it makes the afternoon more important. It went well and we have a good scan of what the tyres are doing, including the prototype Medium which we tested here for Valencia in two weeks time. I did many laps which is positive, given that it was a tricky session with some cars going off track. We ran low downforce wings of course for this circuit and we have a good understanding of how they are working. It's very nice to drive the car in low downforce configuration, with a very high top speed which is exciting. This track is always demanding for the brakes and so we pushed really hard on them today and now we must look at the data to see if we have made the correct cooling calculations."
Jaime Alguersuari (14th, 1:17.694): "I feel I have made a step forward here in terms of my understanding of the car, because I suffered a bit in recent races, so that is a positive aspect of the day. I am still struggling a bit to get the tyres to work properly over a single flying lap so we must work on that, although it might be difficult to do that tomorrow morning as I hear rain is forecast. On the other hand, I was very impressed with our long run race simulation, because the car seemed to perform much more consistently than in the past. For example, degradation on the rear tyres does not appear to be much of an issue. As for the brakes, I had a better feel for them here than in Monaco, so I think overall we are making good progress."'
Daniel Ricciardo: "I attended the race last year but this is the first time I have been on track here. It's awesome and walking the track, or driving it on the simulator does not give you a real impression of how good it is. It's really more than I expected. I love being able to get out on track and really attack it and use the kerbs. Getting close to the walls gives the driver the impression of really owning the car and manhandling it which is good fun. So, a very enjoyable session. I ran a slightly different programme to the other races this year. I went out and did a couple of runs as a base line as usual and then I did a longer run at the end, although we had to change the plan a bit because of the red flag. Actually, this was the most laps I have ever driven consecutively in a Formula 1 car, doing 19 laps. It was good fun experiencing the Toro Rosso in more of a race trim for the first time. I learned a bit about the tyre behaviour even though the track was very dirty for the first two runs. Apart from the Prime, I was also able to try the Pirelli Medium which we have been given to test for Valencia. It was only for a short run and the level of grip they gave seemed quite nice and I am sure they will be good to race on in Valencia."
Lotus-Renault
Jarno Trulli (16th, 1:18.470): "That was a good Friday for us. We ran well all day with no problems, got through the tyre evaluation programme and put good mileage on both the compounds. The grip level this morning was as dusty as we expected it to be and then it improved throughout the day, but with wet weather coming I think it will be harder work for everyone over the rest of the weekend."
Heikki Kovalainen (17th, 1:18.482): "Overall I'm pretty satisified but it was a bit of a strange day. In the early runs this morning it felt like one of the hardest Fridays I've had this year in terms of the balance and overall performance of the car, but as we kept putting more laps in we made some good improvements with the brakes and the setup and I think we pretty much got what we wanted out of it by the end of P2."
Tony Fernandes, Team Principal: "Today's performance in both sessions is a good way to mark my first visit to Canada. We have obviously made good strides on the reliability of the cars and that sets us up well for the whole weekend which is key to our development on track, so I am very pleased with how today has gone. Off track we have also had a very good lead up to the Canadian race by completing a number of very exciting deals for both Team Lotus and AirAsia. We will unveil everything we have been working on in due course and when we do I am confident that it will serve as proof positive of how successfully we are growing both the F1 team and the airline."
Mike Gascoyne, Technical Director: "A very useful day for the team and good preparation for the weekend ahead. Both drivers completed their full programmes and we ran all day with no mechanical issues on either car. This morning we ran on the development tyres and both the primes and the options in the afternoon and were pleased with how well all the compounds behaved. We have definitely made some progress on the setup, particularly on Heikki's car, so that goes down as a good day."
Thierry Salvi, Renault: "Another good Friday for us. We generated a lot of data from the mileage we ran, particularly on maximising performance on the very long straight here, and both drivers have given us good feedback about the maps we worked on so we have definitely achieved what we set out to today."
HRT-Cosworth
Vitantonio Liuzzi (22nd, 1:20.284): "Overall, today was not a bad day at all. We had a lot of things to test: the aero upgrade, the new exhaust, our new "Montreal" rear wing. We found that we improved our balance and overall speed a bit, now we need to work on tuning the exhaust system. I'm happy about taking another step forward in our competition against our nearest rivals and I think tomorrow's qualifying will be interesting. I enjoyed some long runs today and it seems the car is even better for the race than qualifying. Overall we can be positive about the rest of the weekend."
Narain Karthikeyan (23rd, 1:20.311): "Today we had a lot of new parts on the car: the diffuser and the rear wing which was specifically made for this track amongst others, so we have to fine-tune this. But it is a positive step. We have to find a good balance and mechanical grip for tomorrow because you need to save your tyres here, the track takes its toll on the rear tyres, so we must be careful and work on that. Tomorrow we have to wait and see what the weather conditions will be and hope to improve from here."
Colin Kolles, Team Principal: "We had a lot of upgrades on the car today and it seems like there is some improvement but we still have to evaluate the data. Today we worked on the setup for the race; now let's see if we can make another step forward in FP3. We are feeling more positive this weekend than in Monaco, we have all the new parts we planned and it looks like there is some improvement but I can't say how much yet. The reality of this is seen in qualifying but it certainly looks positive."
Virgin-Cosworth
Timo Glock (21st, 1:19.810): "I would say today was a bit of a crash fest, and that messed up our programme quite a bit, especially in the second practice. In the morning we were just trying to evaluate a bit of downforce and I think we got enough data to be able to work on a reasonable setup for the rest of the weekend. The second practice was all about trying to see how the tyres behave here on a long run. Unfortunately due to the red flags we were not able to complete a proper run and I had to rush to try to get at least a run on the Super Softs. The weather looks like it might play its part in what could be an interesting rest of the weekend, so I think we can expect an exciting race."
Jerome d'Ambrosio (24th, 1:20.922): "The day was going pretty well today. I had a good feeling with the car and I really enjoy driving here. But then I made a mistake in turn 3, which pushed me wide on to the kerb at Turn 4. I couldn't turn in and so I ended up hitting the wall. It's a shame to finish the day like this but I was happy how the car was behaving on the circuit so I'm sure we can bounce back tomorrow, I'm just very sorry for the team as the guys now have a lot of work to do tonight."
John Booth, Team Principal: "It has been a particularly tough start to our weekend in Montreal and as a consequence the mechanics and engineers have a long evening ahead of them to get us back on track. Unfortunately J©rme's crash is going to require a chassis change due to extensive damage to the nose fixings and this is a big job that will take us late into the night. The engineers meanwhile will be spending most of the evening analysing slightly less data than we would normally have gathered during a Friday session due to the frequent red flags - one of which was caused by us of course. Nevertheless it is clear that we need to make the most of the data we have and try to improve the car overnight."