Canadian GP 2012
JUNE 9, 2012
Qualifying Report - Vettel takes decisive Montreal pole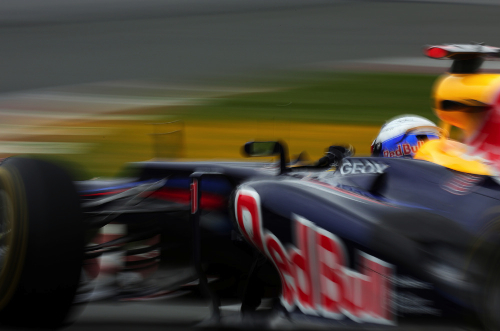 © The Cahier Archive
Sebastian Vettel (1:13.784) took a strong pole position for the Canadian Grand Prix, enjoying an unusual three tenths advantage over Lewis Hamilton's McLaren (1:14.087), with Fernando Alonso's Ferrari (1:14.151) third quickest.
"It's not as if we've had major changes or a different approach," the double champion said. "We've learned from mistakes at the last couple of races and the way things are this year a bit of a mistake puts you far away because there's not just one or two cars to take advantage, there's 10.
"From yesterday to today we've taken a bit of a step forward and it seems that the warmer the conditions the better, and the cooler it is the more that we are in trouble."
For Lewis Hamilton and McLaren, the opposite seems to be the case. Whereas track temperatures were lower than 30 degrees on Friday, for qualifying they were 10 degrees hotter throughout.
"Yesterday we had good pace in the cooler conditions," Hamilton admitted, "but we struggled today and I didn't expect to be as far up to be honest."
Team mate Jenson Button will start the race from 10th on the grid, having run the Q3 session on Pirelli's prime tyre, the only one of the top 10 to do so. Hamilton, however, revealed that the move had not been tactical.
"Jenson just didn't have anymore tyres," he explained. "I had one set of supersofts left in Q3 otherwise I would have been a bit further back too. Our long runs seemed okay yesterday but it's going to be tough now that it's hotter although hopefully we can have a good race and get good points from where we are."
Alonso, meanwhile, equaled his best grid slot of 2012 (third at Barcelona), the championship leader seemingly happy with the progress Ferrari is making.
"It's been a smooth weekend for us so far," he said. "We found good grip and the new car parts (including a revised exhaust layout) worked as expected. In Barcelona, Monaco and now here, we have been competitive, so that's a good sign for us and down to very good team work.
"But the races this year are difficult to predict. What we think on Saturday afternoon is often not what happens on Sunday. But, Montreal's a great place and it's the 30th anniversary of Gilles Villeneuve (since the great French-Canadian lost his life at Zolder in '82), so it would be nice to offer the fans a good result."
Alonso admitted he did have one concern, however. With Spain playing Italy in the European football championship, he joked that if his native country is victorious, there won't be any Ferrari mechanics waiting or him when he pits tomorrow...
Monaco winner Mark Webber (1:14.346) could not get within half a second of his team mate but can be expected to figure more strongly in the race.
Nico Rosberg (1:14.411) after missing the final practice session with hydraulic problems, did a strong job to place the first Mercedes fifth, ahead of Felipe Massa in the second Ferrari (1:14.465) and Romain Grosjean's Lotus (1:14.645).
Paul Di Resta (1:14.705) qualified the first Force India an excellent eighth, ahead of Michael Schumacher's Mercedes (1:14.812) and Button's prime-shod McLaren (1:15.182).
Kamui Kobayashi's Sauber (1:14.688) will line up the first of those with free tyre choice, the Japanese driver only failing to knock Button out of Q3 by eight thousandths of a second.
The team left contemplating what might have been, for the second race in succession, was Williams. On his final Q2 run, on the option tyre, Pastor Maldonado set the quickest first sector time of all and, although he lost a couple of tenths in sector two, was still easily on course for Q3 when the FW34 got away from him at the final chicane and ended the session in 'champions wall.'
It was the second visit to the concrete for the team after Bruno Senna's Friday shunt and it means that the Williams pair will start 16th and 17th, but with a car capable of much more.