British GP 2011
JULY 10, 2011
Race Report - Ferrari hits back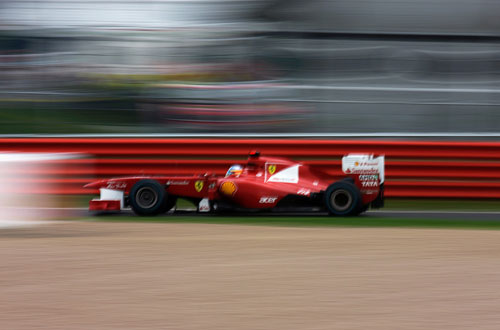 © The Cahier Archive
BY TONY DODGINS
Fernando Alonso produced a first class drive to claim the British GP at Silverstone, the first win of 2011 for Ferrari. It put the Spaniard on a career 27 grand prix wins, equalling the total of three times champion Jackie Stewart. And it firmly boosted Ferrari expectations for the second half of the year.
Alonso enjoyed some good fortune en route, in the form of a slow second pit stop for race leader Sebastian Vettel, but the win was still a deserved one given the improvement in pace demonstrated by Maranello.
With sections of the track still very wet as the 1pm start time approached, intermediate tyres were chosen by everyone. Vettel made a better start than pole man Webber and looked comfortable in the early stages, opening out an 8s lead by the time that Michael Schumacher pitted for a switch to slicks.
Michael's move was not wholly tactical, however. The seven times champion, who'd made a strong start, misjudged his braking as he used DRS for the first time in an attempt to take seventh place from Kamui Kobayashi's Sauber.
Schumacher thumped the C30 up the rear, ultimately causing an oil leak that put Kobayashi out after 23 laps, and needed to pit for a new nose himself. On rejoining Michael was quickly setting purple sectors, signaling that it genuinely was time for slicks.
The order at the front was Vettel, Webber, Alonso, Massa, Hamilton (devastatingly effective on intermediates during the early laps), Button, Di Resta, Sutil, Kobayashi and Rosberg.
Button was the first of the leaders to stop, on lap 11, and gained by it, with Webber, Alonso and Hamilton in next time around. Vettel and Massa stopped on lap 13 and when the order shook itself out, Vettel's lead was down to 1.2s from Webber, the team having prioritised Mark to protect his position, having calculated that Vettel had a big enough margin not to lose the lead. It worked well.
Hamilton was up to third, ahead of Alonso, Button and Massa. That's the way it stayed until Hamilton pitted on lap 24 for a new set of Pirelli softs, having been passed by Alonso's Ferrari in the DRS zone.
Webber and Button responded two laps later and then leader Vettel and Alonso came in at the end of lap 27. The stop did not go smoothly for the world champion.
"The rear jack broke, which dropped the car on the floor and then by the time we'd engaged the spare rear jack, he'd lost more than 5s and that unfortunately conceded track position to Fernando and also put him behind Lewis Hamilton," explained Christian Horner. "The next stint he spent fighting Lewis and in the one after we had to go for the undercut to make it work, which meant a lengthy final stint."
Once in front, with Vettel slowed by the McLaren, Alonso had the race in his pocket. The Ferrari had strong pace, as shown in qualifying, and Alonso finished the 52 laps more than 16s clear of the Red Bulls. He also set the race's fastest lap, 0.65s quicker than Vettel.
It was interesting too, that Massa set the second fastest lap. The Brazilian was hard on it in the closing laps trying to catch Hamilton, while Webber was intent on closing down Vettel. They both set their quickest laps three laps from the end and the Ferrari's was a couple of tenths quicker than the Red Bull's. Granted, Massa's tyres were three laps fresher but it was still indicative of the significant step Ferrari has made.
Would Alonso have won without Vettel's pit stop problem?
"It's hard to know," Fernando admitted. "We had very different conditions: wet, then a bit drier with intermediates, then the inters were struggling a bit and we were very quick then. It was the same with the dries. I was relatively slower when the circuit was damp but quick when it was dry. But with no mistakes I knew the car had pace. Hamilton overtook me when we fitted the dry tyres, but I stayed calm and knew our opportunity would be later in the race.
"When I overtook Hamilton again it was thanks to KERS and DRS. They offer you opportunities these days that you didn't have before, so perhaps I could have passed Sebastian on the track but, for sure, it would have been more difficult."
So here was the Ferrari, excelling on the kind of high-speed, downforce circuit that has previously been an Achilles Heel. Remember Barcelona, where Alonso was lapped, just four races ago?
A point worth noting is that at the Spanish GP, Alonso made a great start and led the opening stint on the soft Pirelli. But, on the prime (hard) tyre, the Ferrari simply didn't work. Pirelli's tyre selection was the same for Silverstone but, thanks to the fact that the race started in damp conditions with everyone on intermediates, it meant that at no stage did Alonso have to run the hard tyre.
"It's a good point," Alonso admitted. "There's a question mark over how the car would have performed with the hard tyre but, in the final free practice and in Q1, we were very competitive with the hard and so we approached the race with none of the doubts we had in Barcelona."
The facts bore him out. Previously, whenever the hard Pirelli has been the prime, Massa, who struggles more than Alonso to get them up to temperature, has been obliged to use a set of options to make sure of clearing Q1. This time in Q1, Alonso was only six hundredths shy of Vettel and Massa was fourth overall. The difference was night and day.
Where has the newfound Ferrari strength come from? It might be tempting to think it is down to the change in exhaust blown diffuser regulations in force at Silverstone, but it would likely also be wrong. The Ferrari had a very big aero upgrade at Silverstone that was initiated much earlier in the year, before the run of street circuits. It included a new floor, top body, rear wing and exhaust layout and it has obviously had a strong effect. As Alonso pointed out, the car was quickest in sector two, the fastest part of the revised Silverstone layout.
"It's a huge boost to us," Alonso said. "High speed corners have not been a strong point for us the last couple of years."
So, Alonso was beaming, Vettel was philosophical and happy enough as he banked another 18 points (he has only finished first or second in 2011), but Webber was stone-faced.
His final stop was two laps later than Vettel's and towards the end of Sebastian's final 16-lap stint to the flag, Webber reeled him in. But, four laps from the end, he got the call: maintain position. He was not happy and he ignored it. As Webber saw it, he needed the points more than his team mate. But still, he didn't quite make it by.
Christian Horner said he was disappointed at Webber's action. "With the leader out of reach and fourth place no threat, imagine how stupid we'd have looked if we'd ended up with two cars in the fence throwing away 33 points." You can see it from both sides and it all depends on your viewpoint. The pace shown by Alonso and its implications for the rest of the season may have helped prompt the instruction...
With Hamilton starting 10th, McLaren calculated that he would be in traffic for much of the race but that was counting without Lewis's early lap damp track brilliance. The upshot was that his fuel consumption was significantly higher than expected, to the extent that he had to go into conservation mode. The car did not have Ferrari/Red Bull pace at Silverstone but Hamilton still got it to the line ahead of Massa, by the skin of his teeth on a fantastically entertaining last lap.
Button was also going better than McLaren's qualifying performance suggested but he was out at the third round of stops on lap 39, when McLaren had a problem with its right front wheel gun. The lollipop man released the car in error, without Jenson's right front securely attached.
It was a frustrating afternoon for Mercedes. With a revised floor and exhaust layout there had been hopes of strong progress but Rosberg lost places at the start and Schumacher's race was compromised by his collision with Kobayashi, for which he took full responsibility. He admitted he deserved a penalty but thought that a stop-go rather than a simple Drive Through, was a tad harsh.
Michael fought back to ninth while Rosberg, who made an awful start from ninth on the grid, managed to salvage useful points for sixth. On the plus side, Rosberg and Schumacher managed 22 lap and 21 lap stints respectively on a final set of soft Pirellis, suggesting that progress has been made with the car's previously unhealthy appetite for rubber.
Sergio Perez delighted Peter Sauber with a mature two-stop run to seventh, in front of Heidfeld's Renault and Jaime Alguersuari claimed the final point for 10th place with his third successive scoring drive. The man you had to feel sorry for was Paul di Resta after a superb performance to qualify sixth for his first home grand prix.
Just after Force India had told Di Resta to pit, team mate Adrian Sutil announced that he had a puncture and was pitting.
"We made the switch to dry tyres at the right time," Di Resta explained, "then I got a call to come into the pits again but when I got there the team were expecting Adrian, so there was obviously some confusion. It cost me quite a lot of time because the boys had to run back into the garage and fetch my tyres. That cost us about 25 seconds, which pretty much ended my chances."
An entertaining race with a more than interesting outcome. Vettel might have 92 points in hand over Alonso, around double his margin at this stage last year but, as he said: "Ferrari had very good pace. We have to respect that and take it into account." He's comfortable but he won't be taking anything for granted just yet.