British GP 2011
JULY 10, 2011
Race Notes - Alonso wins British GP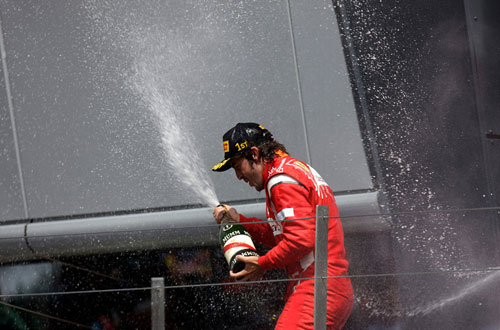 © The Cahier Archive
Fernando Alonso won the British Grand Prix in his Ferrari in a damp-dry race, over Sebastian Vettel in second place in his Red Bull-Renault, 16.5 seconds behind, and his team mate Mark Webber right behind in third, 16.9 seconds behind the winner.
Vettel made a fast start and overtook pole-sitter Webber, but Alonso took the lead when Vettel had a slow pitstop, suffering a problem with a wheel-gun. Alonso then made the most of it turning strong laps to stretch his lead to the finish, taking Ferrari's first win of the season in a difficult half-wet, half-dry race.
The win is Alonso's 27th career victory - tying Jackie Stewart on the all-time wins list.
Lewis Hamilton (28.9s) finished fourth, fading towards the end while conserving fuel in his McLaren-Mercedes, followed by Felipe Massa (29.0s) in his Ferrari was fifth, Nico Rosberg (1m00.6s) in the Mercedes GP was sixth, Sergio Perez (1m05.5s) in the Sauber-Ferrari was seventh, Nick Heidfeld (1m15.5s) in the Renault was eighth, Michael Schumacher (1m17.9s) in the Mercedes GP was ninth, and Jaime Alguersuari (1m19.1s) in the Toro Rosso-Ferrari finished in the final points paying position.
Earlier a shower had come through the area, making certain areas of the track damp. Everyone will start on intermediate wet tyres.
With spray coming off the cars, Webber leads the cars around the formation lap to the grid.
At the start Vettel gets a fast start and takes the lead from Webber, Button passing Massa, Hamilton up to seventh.
On the first lap Massa re-passes Jenson Button for fourth. Vettel leads Webber, Alonso, Button, Massa, Hamilton, Paul di Resta, Kamui Kobayashi, Schumacher and Pastor Maldonado.
On lap 2 Hamilton passes his team mate for fifth place.
On lap 3 Heikki Kovalainen retires to the pits with a gearbox problem. Vettel leads by 3.4 seconds, Webber in second has a 3 second lead over Alonso.
On lap 4 Hamilton goes wide into the run-off at Brooklands corner but continues in fifth. On the radio Schumacher thinks it will take two or three more laps before changing to dry tyres.
On lap 5 DRS is now enabled. Heidfeld, Vitaly Petrov and Sebastien Buemi battle for14th place. Buemi passes Petrov.
Rosberg passes Maldonado for 11th. Perez passes Maldonado as well and pressures Rosberg.
On lap 9 Alonso closes to within a second of Webber. Kobayashi is spun by Schumacher, who misjudged the braking in the DRS zone. Kobayashi continues losing a spot to Sutil. Schumacher pits with a damaged nose and switches to dry tyres. Hamilton pressures Massa for fourth place.
At lap 10 Vettel leads his team mate Webber by 8.1 seconds, followed by Alonso (9.4s), Massa (14.2s), Hamilton (15.0s), Button (22.8s), Di Resta (25.8s), Adrian Sutil (31.8s), Kobayashi (35.7s) and Rosberg (36.8s) in tenth.
On lap 12 Button, Sutil, Kobayashi, Maldonado, Buemi, Petrov and Rubens Barrichello. Schumacher sets fastest lap.
On lap 13 Webber, Alonso Hamilton, Di Resta, Rosberg, Perez, and Alguersuari pit. Vettel and Massa pit the next lap. Button sets fastest lap.
Button battles and passes Massa for fifth place in Club corner. Hamilton passes Alonso for third place. Webber closes up on Vettel in the lead.
On lap 17 Schumacher pits and serves a stop-go penalty for coming together with Kobayashi. Vettel responds and pulls out to 3 seconds ahead of Webber. Hamilton sets fastest lap, the first in the 1m39s.
Heidfeld passes Kobayashi for 11th place - Alguersuari passes Kobayashi as well.
On lap 19 Maldonado runs side-by-side with Kobayashi, but the Japanese driver stays ahead.
On lap 20 Kobayashi pits and serves a 10-second stop-go penalty for an unsafe release on the pit stop.
At lap 20 Vettel leads Webber by 3.0 seconds, followed by Hamilton (7.4s), Alonso (9.2s), Button (13.3s), Massa (17.4s), Di Resta (30.0s), Sutil (31.4s), Rosberg (36.6s) and Perez (38.1s) in tenth place.
On lap 23 Schumacher passes Petrov for 15th place.
On lap 24 Alonso closes and passes Hamilton in the DRS zone to retake third place. At the end of the lap Hamilton pits for new tyres, along with Di Resta and Maldonado. Alonso sets fastest lap at 1m38.4s.
On lap 25 Kobayashi pulls off with smoke coming from the rear of his car. Sutil pits for new tyres. Button and Massa pit the next lap. Alonso sets fastest lap at 1m37.5s.
On lap 27 Webber pits from second place. Buemi limps around with a left-rear puncture after making contact with Di Resta, but retires on the track.
Vettel and Alonso pit - a long stop for Vettel with a problem with a wheelgun, and Alonso passes him in the pit lane.
Alonso leads from Hamilton, Vettel and Webber. Alonso sets fastest lap at 1m35.5s, and stretches to a 3 second lead. Vettel and Webber close on Hamilton.
At lap 30 Alonso leads Hamilton by 3.2 seconds, followed by Vettel (4.0s), Webber (5.2s), Button (10.4s), Massa (13.6s), Rosberg (25.3s), Perez (28.1s), Heidfeld (40.7s) and Alguersuari (44.1s) in tenth place.
On lap 30 Rosberg and Heidfeld pit. Alguersuari, Schumacher, Barrichello and Glock pit the next lap.
On lap 32 Alonso pulls out to a 7 second lead - Vettel stalks Hamilton for second place. Alonso setting another fastest lap. Perez pits.
On lap 35 Schumacher passes Alguersuari for 12th place.
On lap 36 Maldonado pits. Vettel continues to press Hamilton.
On lap 37 Vettel pits for soft tyres, pitting early to get clean running. Alonso leads Hamilton by 11.8 seconds.
On lap 38 Hamilton pits for new tyres and comes out behind Vettel. Webber pits the next lap. Vettel sets fastest lap at 1m35.5s. Vettel passes Massa for fourth place.
On lap 40 Alonso pits from the lead, along with Button. On exiting the pits Button pulls over and stops, the right-front wheel nut is not on and the wheel is loose - his day is over.
On lap 41 Hamilton passes Massa for third place. Massa pits at the end of the lap. Alonso sets fastest lap of 1m34.9s.
McLaren informs Hamilton that he needs to save fuel to get to the finish - perhaps taking on less fuel at the start gambling on a wet race.
At lap 42 Alonso leads Vettel by 14.1 seconds, followed by Hamilton (17.2s), Webber (19.8s), Massa (34.1s), Rosberg (44.2s), Perez (45.1s), Heidfeld (62.0s), Schumacher (62.7s) and Alguersuari (63.9s) in tenth place.
On lap 44 Hamilton locks up his brakes as Webber starts to close in. Red Bull on the radio to Webber wonders whether McLaren is bluffing to get them to use up their tyres.
On lap 45 Alonso stretches his lead to 16 seconds over Vettel. Webber cleanly passes Hamilton for third place.
On lap 47 Perez is pressuring Rosberg for sixth place - both on a two-stop strategy. Massa, seven seconds behind Hamilton, is closing at two seconds a lap.
On lap 52 Webber closes on Vettel, pressuring him for second place. Massa is on Hamilton's rear. Webber battles with Vettel - Red Bull radio's Webber to hold his position.
Hamilton and Massa battle, Massa dives to pass on the outside and makes contact, Massa runs wide in the last corner and Hamilton comes down the inside to take fourth.
Alonso takes the win ahead of Vettel and Webber.