British GP 2010
JULY 9, 2010
Practice 2 Report - Webber heads Silverstone times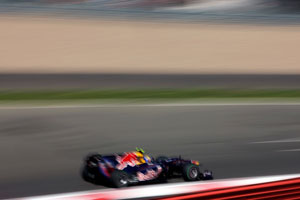 © The Cahier Archive
Mark Webber produced the perfect response to his spectacular first non-finish of the season in Valencia when he finished the opening day's action at Silverstone comfortably at the top of the time sheets.
The resilient Australian lapped the revised 3.666-mile Silverstone in 1:31.234 to head Fernando Alonso's Ferrari (1:31.626) by almost four tenths. Sebastian Vettel made it a Red Bull 1-3 with 1:31.875 and it looks as if last year's team superiority at Silverstone could well be carried forward.
"It's great to be back at Silverstone and and see so many people here on a Friday," said Red Bull team principal Christian Horner. "The changes to the track we were concerned might take away the character a bit but is seems to have worked pretty well. The only real miss is Bridge Corner, which was spectacular but the new section also puts some emphasis on slow speed performance. There's a big bump through Abbey which is a little bit interesting and the track is different not better, not worse, but different. The drivers seemed to enjoy the new elements, were testing different aspects and were pretty happy. An electrical issue on Mark's car at the end of the session gave Mark a bit of down time but that was the only issue today."
Felipe Massa (1:32.099) was fourth fastest in the second Ferrari, ahead of Nico Rosberg (1:32.166) and Michael Schumacher (1:32.660) with the two Mercedes.
"So far it's looked better," said Mercedes' Ross Brawn "but we've often had good Fridays! We're basically trying to consolidate changes from the last couple of races and try to get the most out of them rather than add a lot of new stuff. The car seemed respectable on high fuel but it was a bit tricky out there later on in the session with gusting winds."
Vitaly Petrov (1:32.745) set seventh quickest time for Renault, which was a hundredth faster than Lewis Hamilton (1:32.757) with the first of the revised McLaren-Mercedes cars.
McLaren's update parts were still arriving at Silverstone at 1.30am on Friday morning and Martin Whitmarsh said: "It was a difficult day with a new package and a lot of learning. We now have to turn the information into making the car quicker and the drivers were not really that comfortable for most of the day. With the changes we're evolving on the car it requires different approaches, driving styles and set-ups and nailing that can be a challenge within the time frame."
Adrian Sutil (1:32.787) was ninth fastest with the first of the Force Indias, ahead of Rubens Barrichello's Williams-Cosworth (1:32.967).