British GP 2009
JUNE 20, 2009
Saturday Team Quotes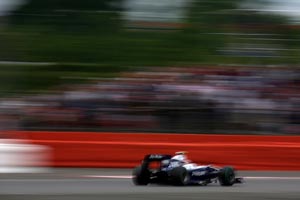 © The Cahier Archive
McLaren-Mercedes
Heikki Kovalainen (13th, 1:19.353): ºTodays result is obviously disappointing for the team but, given the circumstances, Im satisfied with my performance: I gave it my all and couldnt have gone any quicker. I didnt make any mistakes and was on the limit all the time. Its a pity that Lewis couldnt improve on his time due to the red flag in the first session as Im sure he would have joined me in Q2 as well. We knew this circuit wouldnt suit our car and that it would be difficult to get into Q3, but the balance was quite okay this afternoon. Were all working extremely hard to address the cars lack of downforce. The guys worked hard overnight to make a lot of changes to the car and we worked really well together to get the most from the car during the morning session. The work doesnt stop here, however, and our immediate aim is to maximise our strategy and finish the race.¹
Lewis Hamilton (19th, 1:19.917): ºI did the best I could today. I was pushing as hard as I could but our car is too slow. I gave it my all and there wasnt really much more I could have got from the car. I was pushing on that final lap - but it was nothing special. However, we live to fight another day and anything can happen in the race tomorrow. Well keep pushing on and hopefully put on a good show for all the fans. The great thing is that Ive had incredible support these past few days from the fans - theyre the ones who are really helping me to get through it, so a big thank-you to all of them.¹
Martin Whitmarsh, Team Principal: ºWhile a starting position of 13th for tomorrows race might not sound like a spectacular result, I think Heikki can be pleased with his efforts given the circumstances. Lewis was a little unlucky to have his final quick-lap cut short by Sutils accident. Todays result is not a surprise, but it demonstrates that we still have work to do to address MP4-24s weaknesses in high-speed corners. Nonetheless, were already fully focused on the race tomorrow and mindful that we could still produce a strong result in front of the many thousands of passionate fans who will be cheering us on.¹
Norbert Haug, Mercedes Motorsport Director: ºQuite painful for Lewis and everybody at Vodafone McLaren Mercedes to start from the last row after dominating this race last year. He just drove into his last qualifying lap in Q1 when the track was red-flagged. Otherwise a start from as high as the sixth row could have been possible, albeit unlikely. Heikki and his guys did a competent job in extracting what was possible from the car with its deficits in high-speed corners - plenty of which youll find at Silverstone. Well all stick together through these tough times and everybody will work very hard to come back to where we used to be in the last two years, when Lewis started 21 of his 42 grands prix from the front row. Its time to get back to that place!¹
Ferrari
Kimi Raikkonen (9th, 1:20.715): ºTo be honest, I didnt expect much more. This is our current performance level and today it was difficult to do any better. Each weekend we try our best: again on this track, the F60 was well balanced but, as we have seen so often this year, we dont have enough grip. I did a good lap in Q2 but, with race fuel on board, the car was not as quick as the others. We have improved the car in these last two races, but it seems the others have taken a bigger step forward than we have."
Felipe Massa (11th, 1:18.927): "Not a great weekend for us, theres no point denying it. Today I missed out on getting into Q3 because I made a mistake in the final sector. Up until then, I was a few tenths up on my previous best time. We must always push to the limit because the car doesnt give you a margin to make it through in qualifying and that can lead to one making mistakes. The F60 feels balanced but we are not quick enough. In the last two races, some teams have made significant progress in their development, while we havent improved our performance enough. It will be a hard race, but maybe something will happen that could see us getting a good result. From our side, all we can do is give it our best shot and try all the time.¹
Stefano Domenicali, Team Principal: "Clearly this is a bad result, but frankly we hadn't expected much better. It's pointless to look for one specific element to blame: this is our current rating in this sort of temperature range and on a track with so many fast corners. The car does not have enough aerodynamic downforce to generate the required grip through the tyres. Having said that, we must not lose heart. We know we face having to try and race our way up the order tomorrow, trying to bring home some useful points for the classification."
Chris Dyer: "Definitely not a very exciting result, but it matches what we had expected from yesterday. We have improved the performance of the car since then, but not enough to fight it out with the best. Tomorrow's race will definitely be very difficult for us. We will try and do our best to get both cars home in the points."
BMW Sauber
Robert Kubica (12th, 1:19.308): ºThis has been a very difficult weekend so far. Yesterday, I had technical problems in both sessions and then again this morning. During the three free practice sessions I had maybe ten laps without any problems, which was simply not enough to do the necessary work. No surprise that the set-up of the car was not very good in qualifying. P12 was the maximum I could achieve under the circumstances.¹
Nick Heidfeld (15th, 1:19.448): ºBeing 15th on the grid is obviously disappointing, although I have to admit I didnt have too high expectations before we came here. We brought a new front wing to this race, but other teams apparently have bigger updates. It will be difficult to collect points from where we are starting - that is if it stays dry, which is something you never can rely on here in Silverstone. However, for the next races we have more new parts, so we will keep working and never give up.¹
Mario Theissen, BMW Motorsport Director: ºObviously we are not satisfied with the qualifying result. Our goal was to get into the top 10. It did not help Robert that he has had technical problems in every free practice session, and therefore was not able to do proper set-up work.¹
Willy Rampf, Technical Director: ºSo far it has been a very difficult weekend for us, and that continued in qualifying. With starting positions 12 and 15 we are not satisfied. A main problem was getting the ideal tyre temperatures in these cold conditions. Even with our new aero-update that did not work out.¹
Renault
Fernando Alonso (10th, 1:20.741): ºToday we were carrying quite a bit of fuel as we decided it was better to do this than start light and lose track position by having to pit early. I think points could be possible in the race, but we have to hope that the strategy will come to us around the time of the pit-stops. I think the most important factor tomorrow will be managing the tyres because Silverstone is very demanding on them. So we need to look after them, especially the softer compound, on the long stints.¹
Nelson Piquet (14th, 1:19.392): ºThe car felt good at the start of the session and we had improved it since free practice, but something didnt feel right at the rear of the car at the end of Q2 and so I had to abort the lap. I would have liked to have been a bit higher up, but we needed a couple of extra tenths to make it into Q3. Tomorrow will be a tough race as its difficult to overtake here, but with a good start and strategy we could challenge for some points.¹
Pat Symonds, Executive Director of Engineering: ºThe car looked very good this morning on fuel loads similar to those run in third qualifying, but unfortunately this afternoon we havent met our expectations. Something broke at the back of Nelsons car towards the end of Q2 which we are still investigating.¹
Toyota
Jarno Trulli (4th, 1:20.091): "We had a very good run today in qualifying so I am pleased with the result and I am very happy with the car. We have made some aerodynamic upgrades for this race which have improved our performance and the gap to the fastest cars in low-fuel qualifying was quite small so this is a positive sign. The team has done a great job this weekend because from the first practice session the car felt strong and was very competitive. This has continued all through the weekend so far. Maybe my lap in Q3 could have been slightly quicker and we could have made it into the top three but in the end I think we are where we deserve to be. I have to admit I don't normally enjoy Silverstone and I haven't had much luck here so I am really happy to be at the front of the grid for what could be the last Grand Prix here for a while."
Timo Glock (8th, 1:20.490): "The result is pretty good and I have to be happy about being in the top eight because I was not sure it would be possible after practice yesterday. I have been struggling a bit with the car and compared to Jarno I haven't been able to achieve the same lap times. The problem for me has been getting temperature into the tyres and that has caused me to struggle for grip at times. I've not been completely happy all weekend but the result today looks decent so I hope I can score points tomorrow."
Pascal Vasselon, Senior General Manager Chassis: "All in all today's practice and qualifying went well and we have a good chance for the race tomorrow. We are not on the front row but we are in a strong position. It is also satisfying to see we are much closer to the fastest cars than we expected after yesterday's practice. So we are very much looking forward to the race because we believe we have a very strong strategy and genuine reason for optimism. The tyre situation at this race is a bit more standard in terms of one-lap pace and degradation so we should not see too many different strategies in the race. Also I have to say we are happy with the updates we have brought here and I would like to thank the people at the factory back in Cologne for all the hard work done to achieve this."
Toro Rosso-Ferrari
Sebastien Bourdais (17th, 1:19.898): ºI think we improved the car by two or three tenths compared to Turkey, but so did the others. Our car is much nicer to drive and a bit quicker. I felt comfortable inside the cockpit and I think I had the pace to make it into Q2, but the red flag came at just the wrong time for me. Its a real shame. This is an awesome track and when you get the car set up right, a qualifying lap is an unbelievable feeling.¹
Sebastien Buemi (20th, 1:20.236): ºIts been a bad weekend so far, with a few small problems and if you dont get many clean laps without any trouble, then when you go into qualifying, you really pay the price. It is disappointing that I couldnt use the quick-shift on the gearbox in qualifying, which cost me at least three tenths and that is a big difference here. But thats racing and now we will have to see what we can do tomorrow. It will be a difficult race whatever happens.¹
Giorgio Ascanelli, Technical Director: ºWe had two reliability issues today, both on Buemis car: a hydraulic problem in the morning and then a gremlin with the quick shift, which is why we sent him out again at the end of Q1 to try and identify it. Bourdais did a reasonable job, but he lost his last flying lap because of the red flag. I think 15th was the best we could hope for today. We experimented with various elements in free practice to improve our pace and we were a little bit better today on that front.¹
Red Bull-Renault
Sebastian Vettel (1st, 1:19.509): ºIts been a fantastic weekend, we havent had a single problem. We brought new parts here, which seem to work very well and weve made a good step forward. Theres always tension in qualifying and you try to do your best. It was quite difficult today and we were struggling a little bit with traffic. Its tricky when you have cars ahead of you - even when theyre three seconds ahead, it does still affect you. In Q3 we had two very good runs, especially the last one, I think it was the lap of the weekend. Normally you think you could have got a bit more, but this lap was very good. I was able to use the tyres perfectly and when I got to the chequered flag I was surprised how quick I was - and it was enough for pole! All I can say is huge compliments to the guys back at the factory, they have been working so hard to get this car to where it is now - so its all down to them. Both of us have proved the car is working very well and Im looking forward to tomorrows race.¹
Mark Webber (3rd, 1:19.868): ºIts been a good weekend for us so far. I would have liked a slightly cleaner lap on my last run, but Kimi was dreaming or something - I dont know. He was on the racing line, which wrecked my rhythm into Stowe so I was tight into there. I would have liked to have got more out of the car on that last lap, but it didnt happen and Im third. Congratulations to Seb, he did a great job and I think both of us are getting some good results out of the car now. So, to everyone at Red Bull, a big thank you for all your hard work!¹
Christian Horner, Sporting Director: ºA great team performance today. First and third in front of so many members of the Red Bull team at our local race is a very good start to the weekend. Mark was unlucky to get traffic with Kimi Raikkonen, which spoilt his last run, otherwise Im sure we could have locked out the first row today. But, both guys have been driving fantastically well all weekend and it puts us in a good position for tomorrow.¹
Fabrice Lom, Renault: ºA great result, the car is very fast here. We have good drivers, a good car and a good engine - which makes for a very good performance! We hope to get a good result tomorrow. Mark seemed to be on for pole, but finished third in the end as he was blocked by Raikkonen, so again that gives me a little bit of mixed feeling. But, first and third is a very good result for qualifying, so lets be happy and see what happens tomorrow.¹
Williams-Toyota
Kazuki Nakajima (5th, 1:20.216): "Fifth is the best qualifying result Ive had so far so Im really happy. After yesterdays practice, I thought we could be quite strong today because the car is working really well here. We seem to have taken a step forward so many thanks to the team as theyve brought a really good upgrade package to this race. To be sitting in fifth position on the grid and racing on my favourite track tomorrow is great and my goal will be to have a solid race and score some points for the team."
Nico Rosberg (7th, 1:20.361): "On the one hand, I²m pleased because weve made progress with the car and are looking competitive. On the other hand, it wasnt the perfect day for me today because I didnt manage to get the best out of the car in Q3. Im still really pleased with where we are with the car, though. The team has done a fantastic job, even on this track which is normally one of the most challenging for us. Being in fifth and seventh shows were up there and, with a strong strategy tomorrow, we should score points. And that was a good job by Kazuki whos been quick all weekend here. Ill try to catch him tomorrow!"
Sam Michael, Technical Director: "That was a satisfying qualifying session from the team. Our development programme of the car, and the direction were taking, is going well. Kazukis performance in qualifying today was the best of his career so far and he did it well, carrying over the speed he showed in practice and then in the earlier qualifying rounds. Nico also did well and his strategy will pay off in the race. Our focus now is on tomorrow and getting the best strategy in place in order to score points with both cars at our home Grand Prix."
Force India-Mercedes
Giancarlo Fisichella (16th, 1:19.802): "We made an improvement but unfortunately on the last set of tyres, Buemi was in front of me and I slowed down on my first lap. Then on the second lap there was the red flag due to Adrian's accident and I couldn't improve. I was looking at a top 12 start so it's a shame, but it's just too bad this time. Tomorrow I want to get to the end of the race and it would be nice to score a point but it will be difficult."
Adrian Sutil (18th, 1:19.909): "Firstly, I think we have had a good weekend in general and until the accident quite a good qualifying. I had a brake problem and then had no brakes going into the complex. I pushed on the pedal but there wasn't anything. I tried to avoid a big accident but it was impossible so I crashed really hard. I'm completely OK, I was just taken to the medical centre for some checks as it was a big crash. We've now got a lot of work to do on the car. Of course it's disappointing as both cars lost their positions and definite possibility to go into Q2."
Dominic Harlow, Chief Race Engineer: "Fortunately Adrian is okay, and we take any potential car problem that could cause an accident like that very seriously. We will fully understand what happened and ensure that it is addressed. The cars were clearly fast enough for top 15 and unfortunately both traffic and Adrian's shunt meant we were denied our deserved starting positions. We can however look forward to a competitive race were we will try to convert our improvement in pace to points."
Brawn-Mercedes
Rubens Barrichello (2nd, 1:19.856): "I'm really happy to be starting from the front row of the grid tomorrow on a track that I love and feels like home to me. After some hard work overnight we changed the car a little and my engineers did a great job to get the set-up to my liking ready for qualifying. I really got everything out of the car today and we were able to achieve a little more than we expected. It's clear that the Red Bulls have made a good step forward so I'm delighted to have put the car on the front row and split Sebastian and Mark. We hoped for third today so it's great to go one better. Now I hope that we can go one better tomorrow as well!"
Jenson Button (6th, 1:20.289): "Whilst qualifying in sixth is by no means a bad result of course I'm hugely disappointed not to be starting my home Grand Prix from further up the grid. We knew that we would find it difficult here as our car doesn't work so well at low temperatures and I really struggled to get the tyres into their working range. I struggled massively with understeer in the high speed corners and then had oversteer at low speed so it wasn't the best balance for such a competitive qualifying session. My aim as always in the race will be to score as many points as possible and I hope that we can put on a great show for the thousands of fans who will be here to enjoy the race at this fantastic circuit."
Ross Brawn, Team Principal: "An excellent performance from Rubens today at a track which is one of his favourites and second place on the grid puts him in a very strong position for the race tomorrow. Jenson struggled a little more than Rubens with the tyres at the low temperatures that we experienced today and he was not happy with the balance of the car throughout qualifying. Unfortunately he was also affected by a misunderstood communication on the pitwall which resulted in us bringing him in a lap earlier than we perhaps should have and that cost him a place. If the temperatures warm up a little tomorrow, both cars should be in good shape for the race and we will do our best to ensure that we secure as many points as possible at our home Grand Prix."