British GP 2009
JUNE 20, 2009
Saturday Press Conference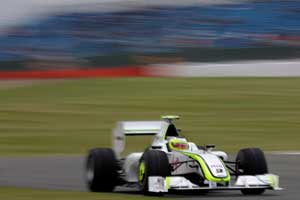 © The Cahier Archive
20 JUNE 2009
DRIVERS:
1. Sebastian VETTEL (Red Bull), 1m19.509s
2. Rubens BARRICHELLO (Brawn GP), 1m19.856s
3. Mark WEBBER (Red Bull), 1m19.868s
TV UNILATERALS
Q: Sebastian, fastest car all weekend here, a great final run, you look to be in very good shape.
Sebastian VETTEL: Yeah, fantastic weekend. From the beginning to the end we didnt have a single problem. All the new parts we brought here seemed to have worked very well, so I think we have made a step forward but you know, when it comes to qualifying there is tension there. You try to do your best. It was quite difficult today. At the beginning of qualifying I was struggling a little bit sometimes here and there with traffic. The wind was not such a big issue today but it was always a bit tricky when you have cars ahead of you, you can feel it even though you are three or four seconds behind. So in the first two qualifying sessions I was struggling a little bit. Then in Q2 we put on the soft tyres and then from there onwards I was quite happy with the car. And in Q3 we had two very good runs I would say, especially the last one. I think that was the lap of the weekend. From the beginning to the end it was very close to being perfect. Of course, as a driver you always think there is a little bit here, a little bit there, but this lap was very good. I was able to use the tyres perfectly well and yeah, I brought the lap to the chequered flag and I was surprised by how quick I was at that stage and finally it was enough to get pole position, so thats the most important thing. I can only say and I dont do it because everyone usually does it at this stage but I can only say very, very big compliments to all the guys back in the factory. Its only half an hour from Silverstone and they have been working so hard to get this car to where it is now, so its all down to them. I think both of us have proved that the car is working very well and yeah, Im looking forward to tomorrows race.
Q: Rubens, its been a tough weekend for Brawn Grand Prix. Youre second, your team-mate, Jenson Button, is down in sixth place. It looks like its been hard work; you must be pleased with the outcome today.
Rubens BARRICHELLO: Very, very pleased. I think those guys have been doing a fantastic job the whole weekend. For me, too, it was the best lap of the weekend in Q3 where I took the extreme of the car. I need to check if I breathed during the lap because it was such a nice one. Silverstone has always been quite good and I want to thank all my engineers for their hard work because we found a good balance and Im pleased to be in the middle of them (the Red Bulls) at least. Its going to be hard to beat them tomorrow but thats what Im here for.
Q: Mark, youve been trading fastest laps with your team-mate all weekend. This Red Bull car looks absolutely fantastic but right at the end there it just didnt work out for you; what happened?
Mark WEBBER: Yeah, as you say, its been a good weekend for us so far. I would have liked a slightly cleaner run on my last Q3 lap. Kimi (R§ikk'nen) was, I dont know, drinking some vodka or dreaming or something I dont know what the hell he was doing. He should have been on the right and hes on the racing line, dreaming, so that wrecked my rhythm into Stowe, I was very tight into there and so... Anyway, no-ones here to listen to a shopping list of excuses. I would have liked to get more out of the car on the last lap, it wasnt the case but were still third. Congratulations to Seb, he did a good job. I think both of us are getting some good results out of the car now, so all the guys at Red Bull, all their hard work is now being realised. Were definitely in for a good result tomorrow if we can have a clean race.
Q: Sebastian, this car is obviously good here. Its good in the slow sections and in the fast sections and Jenson Button, the championship leader is down in sixth place. Do you see this as a potential turning point weekend in your season?
Vettel: I can tell you after tomorrows race. Its sixty laps around here, this circuit is very, very tough for both the car and us, the drivers, so we will see. Its a long way. Obviously if you ask for the championship ranking he has the advantage, so he has quite a comfortable gap but we are here to fight, we want to win races and today I think we did the best possible job, it put us in the best position for tomorrows race but still its a long race. I can tell you now that we have a fantastic car. We have a chance to win tomorrow but you never know what will happen, so we will definitely fight. Of course, I would be lying to you if I said that I hoped that Jenson (Button) was straight behind me, so its good to hear that hes not sitting with us in this room now but on the other hand its a long race. I think they have very strong pace, they have always proven so far on Sundays that they are extremely competitive, so even if he starts sixth I think he can still come back and score a lot of points which I hope he doesnt but they have proven in the past that they are able to do it, so lets see tomorrow. We focus on ourselves, I focus on myself and we try to have a clean race and try to do the best we can.
PRESS CONFERENCE
Q: Your second consecutive pole, of course Sebastian, but the car seems to have been good all weekend, your name has kept popping up to the top of the timing screens throughout the weekend.
Vettel: Yeah, its a good thing for me, obviously. Im very pleased with today and also I think big, big compliments I know usually everyone says this at this stage but big compliments to the team. On Wednesday, prior to the Grand Prix, I have been in Milton Keynes and it was incredible how much work was behind all that. We brought a couple of some quite new parts to the car and it was a huge effort by the team, a hell of a lot of work and they have been working flat out to make this happen and its good that both of us are in the top three and we have proven that the new parts are working, so I think weve made a step forward. But this is Saturday, you get points on Sunday, so the main task is tomorrows race. Two weeks ago we were also in a very strong position on Saturday but then on Sunday, unfortunately, we were proved that there is still a little bit that we have to improve. But I think this weekend the circuit suits us very well, its a pleasure to drive here. Its only my second time, so its a shame that we wont come back. But yeah, I really enjoy this circuit and today has been a fantastic day. I was struggling a little bit in Q1 and Q2. I didnt really feel the car but then in the last run in Q2 with the soft tyres I was able to get a proper feeling and improved a little bit here and there, so was able to make a step which was, I think, very important, and then for Q3 the first run I was quite happy and then on the second run with new tyres I was very pleased, the lap was very, very good, very close to perfect. Theres obviously always a little bit to come but I would say it was a very strong lap and I think we should be in a strong position for tomorrow, so lets see.
Q: Looking at the modifications, particularly the new nose and new front wing as well, you seemed to use them all day yesterday, yet you reverted to the old wing this morning for a little while.
Vettel: I think the wing you put in qualifying is the preferred one. I dont think we have to go into that.
Q: What about the tyre temperatures here; its quite cool, yet you have quite a hard tyre as well. How difficult is that to get up to temperature?
Vettel: Its not easy. You can play around with pressures and the way you bring the tyres in, the pace you have on the out lap and so on and some of the guys are weaving more, some are weaving less, so its quite tricky. The first lap is extremely important, you start a lap here and then you go down through turns one, two, three, four and five, very high speed corners. Apart from having the pressures ready and the tyre ready, the temperatures, you need to have the confidence to do it, otherwise you lift your foot too much and you lose time. I think thats the big secret. It was quite tricky. With the hard tyres youre struggling a little bit more to get the temperatures in whereas with the softs it seems to be a little bit better but I think both tyres are pretty similar, theres not much between them, so we will see tomorrow. It will be a challenge which tyre to use at which stage of the race but we have a night to think about that.
Q: Rubens, similar question to you: has it been a bit more difficult for Brawn to get the tyres up to temperature?
Barrichello: Overall, it has been a little bit more difficult to get the lap done. Basically we seem to be where we wanted to be but we think Red Bull just made a step and they are better, so Im delighted to be here, right now, splitting them because it was a really good effort from me with the car on the track and from my engineers to put everything together. It was a good thought this morning but the car was still not the way I like. Silverstone, for me, is very special, I love it and I took everything I could out of the car in qualifying, apart from Q1, when I could only manage one lap because of Sutils accident. I was really, really happy with the lap and I thought today P3 was the best I could manage and P2 is one better and I hope I can do one better tomorrow.
Q: How much did you change the car overnight, how much did you change the car between this morning and this afternoon?
Barrichello: Well, Formula One nowadays is funny, its really good to work on it because you change so much from day to day. Its not like it used to be: a touch on the front wing or a touch of this or that. You change things, especially with myself and the enthusiasm I have to change things overnight, you just do so and see what happens. If you dont you have a baseline on which you can faith. We did change the car a little bit from yesterday, it wasnt that good this morning but then we fine-tuned for qualifying which was to my liking again.
Q: Tell us a little about your love affair with Silverstone.
Barrichello: Ive had two pole positions here. For me, there is a positive and a negative about it. The negative is why the hell are they taking this race away from here? You can see the fans, you can see they made such a big effort on the outside to make the traffic better. I know they cannot make an effort to improve the weather but thats England. If you change to anywhere in England its going to be the same. The track is safe. You saw Sutil today walk from what looked like a very hard impact, so it is safe. The positives are that I love this place that since Formula Three Ive run here so much and I get on with the circuit, so its really nice.
Q: Mark, I guess theres real disappointment not to be on pole or at least on the front row?
Webber: Well, second is not the greatest starting position but I would like to be on pole, of course. I was happy with every lap I did in qualifying to be honest, except the last one. It was a pretty good lap, I had a big distraction from Kimi because he was totally asleep on the back straight. He couldnt have done a better job to distract me into Stowe. He sat on the racing line and just basically didnt care what was happening, so that was very frustrating for me because it broke the rhythm. These laps need to be absolutely perfect, so it wasnt the tidiest and cleanest of laps to finish the important lap and the most important part of qualifying, so thats some frustration inside, but hey, Im not tenth, Im third. Seb did a good lap, the teams done an incredible job this week, so theres still a huge amount of positives but obviously these days, when were aiming a lot higher, its easier to get more disappointed. Thats the way it was today.
Q: What about the progress over the weekend, particularly with the modifications that have come on the car?
Webber: Yeah, weve made a few changes and theyve definitely helped us. This is the quickest the cars ever been this year. Slightly little modifications to the nose and engine cooling and a few things like that have put us in the right way, yeah.
Q: And theyve obviously been very positive.
Webber: Theyll be staying on, Im sure.
QUESTIONS FROM THE FLOOR
Q: (Bob Bull BBC Three Counties Radio) I know the guys back at Milton Keynes have had some very frustrating seasons, so how pleased are they when you actually get back to see them? Do you get a positive reaction from them?
Vettel: Yes. They are very happy, every single one. Just yesterday, before I went back to sleep, I was in the garage, spending some time with the boys and independently, whether its the guys at the circuit or the factory, they are very, very pleased. You walk by, the music is playing and everyone is kind of dancing but still focussed and working very hard to get the car ready. I think we have a fantastic atmosphere. If you have such a good car and if, as a driver, you enjoy every single lap so much, especially on circuits like this, I would almost say its your duty to perform well, you have to deliver. The boys deserve that and you have to deliver. Its a fantastic situation for us, the drivers and obviously for the team which, as you said, hasnt had a very easy time over the last few years, so now its our time, which is very good.
Webber: I was also at the team when it was under a different name, so there have been many personnel there who have gone through a lot, as the questioner referred to. Theyre now in a new situation, theyre incredibly proud. Obviously the work thats gone in has been working because theres nothing worse when youre breaking your balls and it doesnt work. At least now were definitely on the right path and were doing our absolutely utmost to get the best results and trying to race Brawn who have been doing an incredible job which has been a big challenge for us. Theres still a long way ahead in both championships, were aware of that and were doing our best to close up.